eFront is a mobile-ready learning management system (LMS) with compelling features for businesses that want to train employees, customers, and other outside audiences. It comes out of the box with advanced features such as gamification, e-commerce, and skill gap testing.
With state-of-the-art security and almost endless options for integration, eFront can be customized to support the most complex learning environments. Clients can choose between self-hosted and cloud-hosted systems.
---
Who is eFront LMS for?
eFront is a great LMS software choice for companies that want control over every aspect of their learning environments and have the technical capabilities to make it happen. It's also a powerful solution straight out of the box for companies that want to train remote teams, educate external audiences, and sell training online.
eFront is optimized for mobile learning on any device. This includes the ability to download courses and work offline when the internet is unavailable. eFront automatically syncs back up when the user is online again.
This quick tour of eFront's features can help you decide if it's a good choice for you.
---
eFront LMS's features
Here are highlights of eFront's key features and functionalities.
Straightforward navigation
eFront's user interface is clear enough, with a broad menu of options tucked under simple icons that cover all the bases. From the admin dashboard, it's easy to see where to go to build a course, tweak your e-commerce settings, or manage users.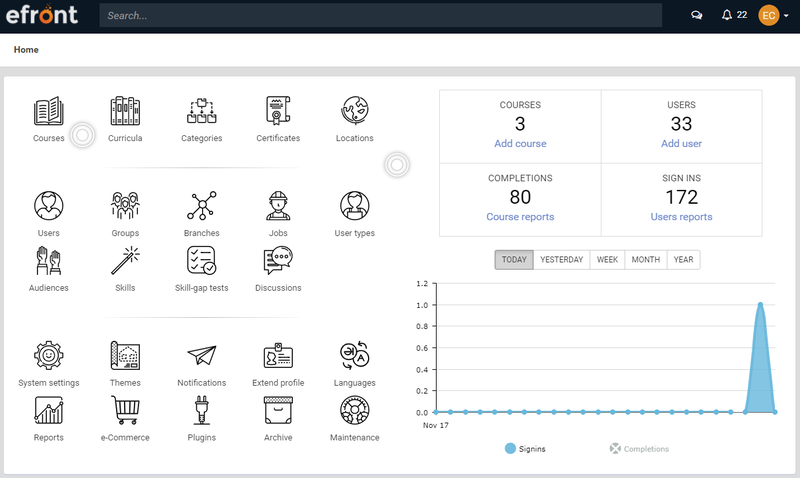 eFront divides users into branches, fundamental divisions that can be arranged in hierarchies. It also notes a user's job title and user type within the LMS. Groups are merely tags based on logical criteria such as subject matter.
You can also assign users to audiences based on logical criteria such as "new home office hires" or "CPR certified." Audiences allow eFront to perform tasks such as automatic enrollments or notifications based on the rules you set.
User types are eFront's roles, which include administrator, instructor, and student. It's easy to customize permissions and create custom roles in eFront.
Skill gap testing
eFront further lets you assign job titles and skill sets to employees and conduct skill gap testing, a unique feature useful for hiring, employee development, and promotions. Skill gap testing can also be conducted after training to measure its effectiveness.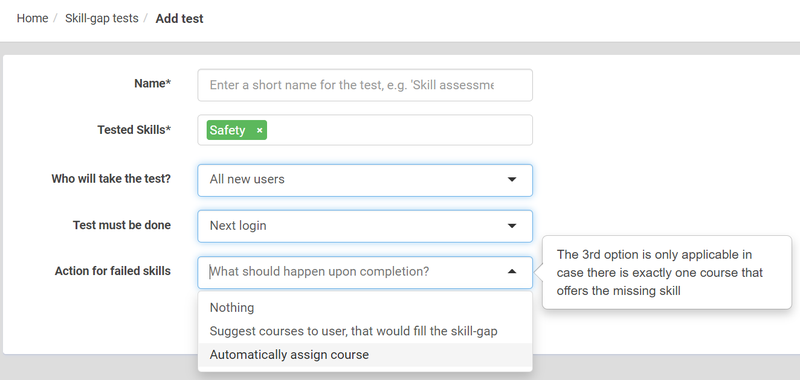 To create a skill test, you can pull questions from existing course content or create new ones. Employees tagged with a skill are automatically assigned to the corresponding skill test. If they pass, they earn the associated skills. If they fail, training can be automatically assigned to develop them.
Full course-building tools
eFront lets you build or import course content including documents, presentations, videos, and Shareable Content Object Reference Model (SCORM) and TinCan materials. You can also create interactive HTML5 content using eFront's H5P editor and embed content from the web.
In addition to on-demand content, eFront makes it easy to schedule live training sessions to be held on-site or via video conferencing.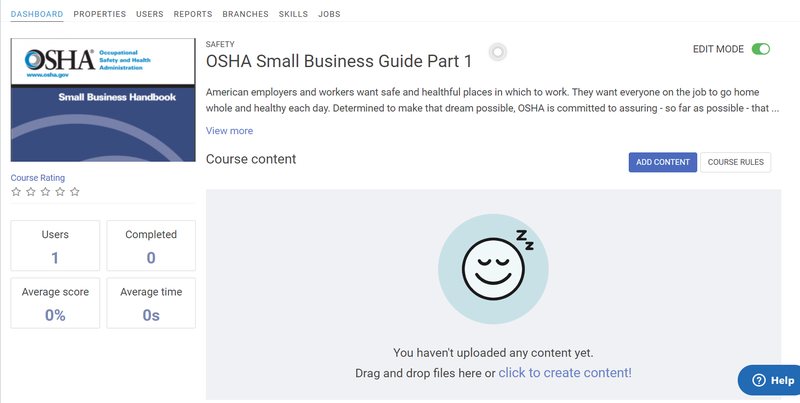 Courses can be threaded into learning paths and curricula, including settings for course parameters such as timing and prerequisites.
eFront's test and survey builders are outstanding, with more than a dozen question types built-in. Its built-in course surveys feature a simple star rating system to keep the feedback flowing both ways.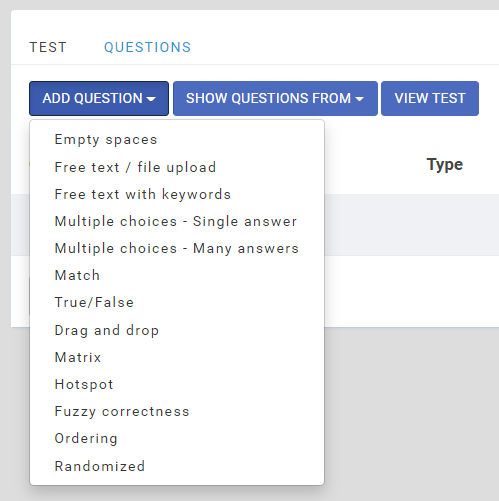 Users can collaborate via eFront's native email system and through discussion forums. This is a very rich set of tools for creating course content and learning paths.
Gamification
It's rare to find full gamification as standard fare in an e-learning software package. eFront provides full functionality, with certifications, customizable badges, and leaderboards built in. You simply set the criteria and let the games begin.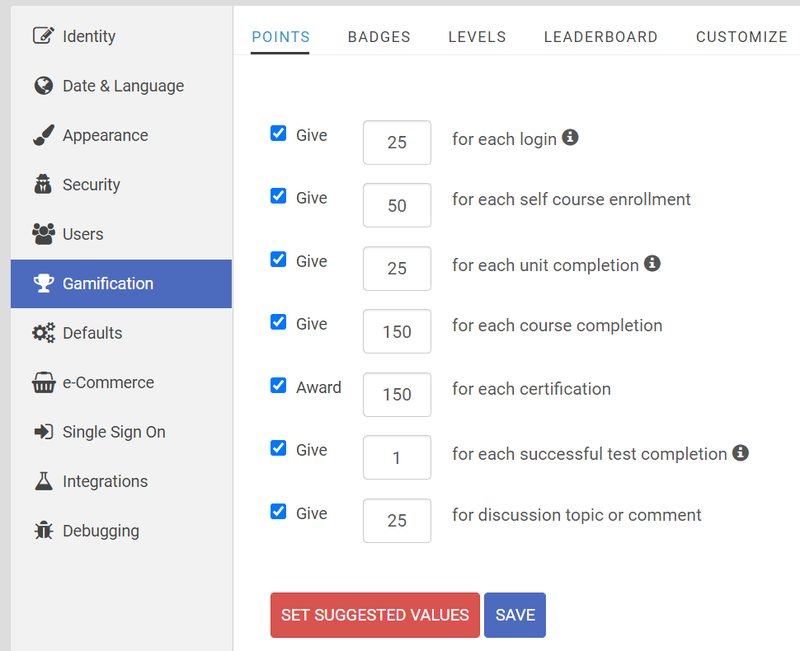 eFront even provides suggested values for many fields to help you get started.
Here's how eFront client IHS Markit incorporated its gamification features into the learner interface.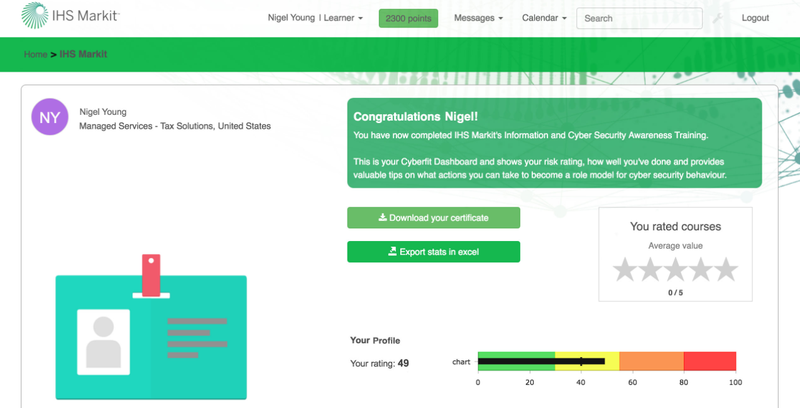 Gamification is a great feature to engage learners more deeply in ongoing training.
Customizable learning portals
eFront also comes ready to build multiple white-labeled learning portals within your account. Provide different branches of users with custom learning environments, complete with their own look, learning tools, and content.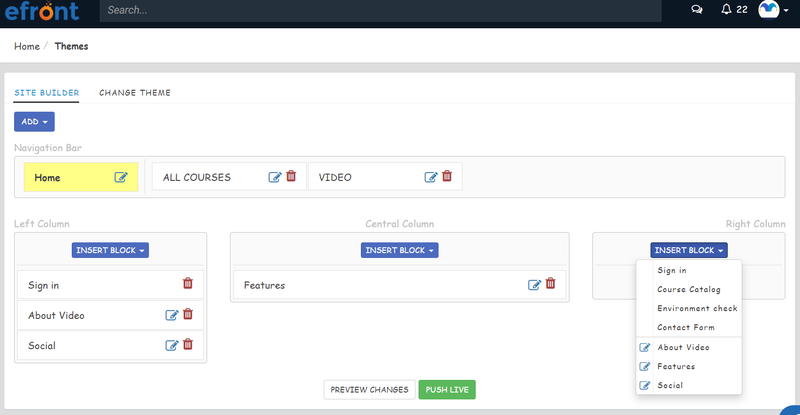 eFront comes with numerous built-in themes. You can easily set custom colors and elements such as background images, buttons, and breadcrumbs. You can further customize your portals using cascading style sheets (CSS) and eFront's native website builder.
Advanced security
eFront provides exceptional security features to protect your system, data, and users' personal information. In addition to encryption, eFront allows you to secure your site with IP whitelisting, captchas, two-factor authentication, account lockout, and password rules.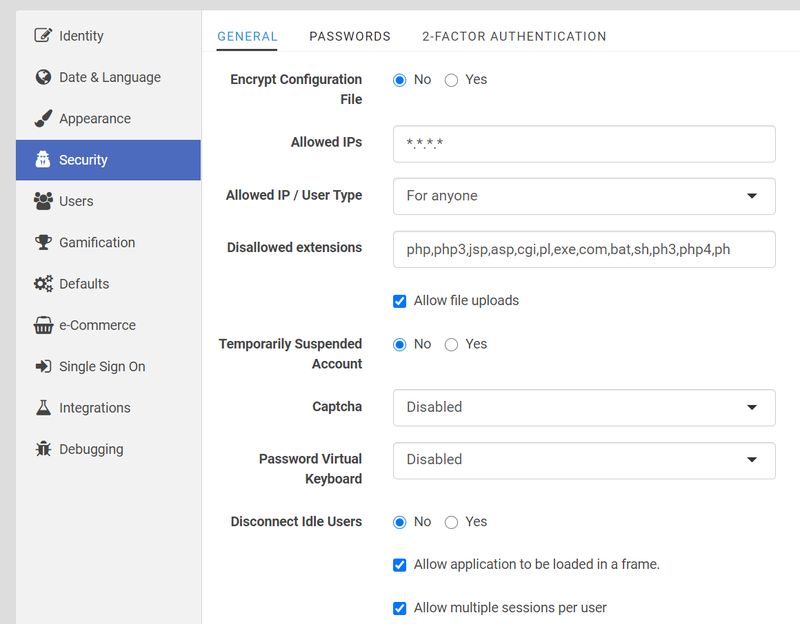 These settings let you design secure, low-hassle login and checkout experiences for your learners.
Reporting
eFront comes with a standard array of default reports, including activity by system, users, user groups, courses, and curricula. You can filter reports easily, save your settings, and email reports automatically to a list of recipients.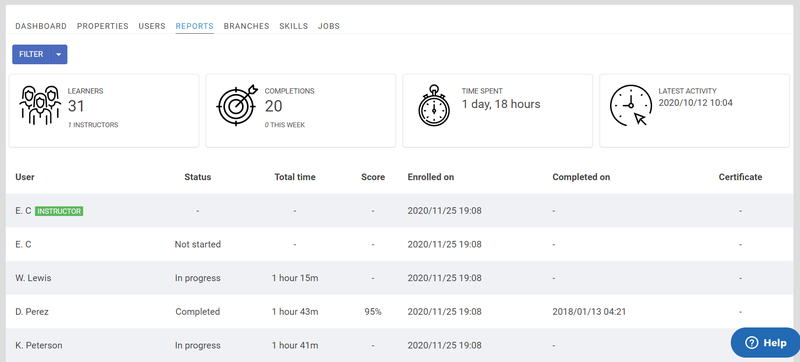 eFront automatically reports useful stats in featured areas of its user dashboards.
Integrations
eFront comes with extensive pre-built integrations and multiple avenues for connecting further systems. Its native integrations include:
Zoom, GoToMeeting, Webex, and BigBlueButton video conferencing
Single sign-on (SSO) through SAML 2.0, LDAP, Microsoft Active Directory, NTLM, Google, and Facebook
Google, Outlook, and Yahoo calendars
SCORM, Tin Can (xAPI), and Aiken/Gift content
OpenSesame, H5P, MathJS, and Encode Magic materials
Zopim, Google Analytics, and other JavaScript-based web services
eFront also comes with plug-ins for features such as bookmarking, comments, and billboards as well as a custom plug-in editor. eFront has a no vendor-lock policy and provides access to its source code to all clients, ensuring your content and data are truly yours to control and keep.
---
eFront LMS's ease of use
While the interface isn't as compelling as it might be, eFront is easy to use out of the box. It has simple navigation and a full set of features to help beginning users command a wide range of tasks and capabilities.
eFront is also easy to customize, thanks to its powerful REST API, integrations, and plug-in editor. If you have access to developer resources, eFront provides exceptional power and control over your learning environment, no matter how big or complex.
---
eFront LMS's pricing
eFront offers refreshingly transparent, straightforward pricing. Packages start with the Business option at $1,000 per month for up to 1,000 registered users, billed annually. The Enterprise package costs $1,500 per month for up to 2,500 users, and the Large Enterprise package costs $2,500 for up to 5,000 users.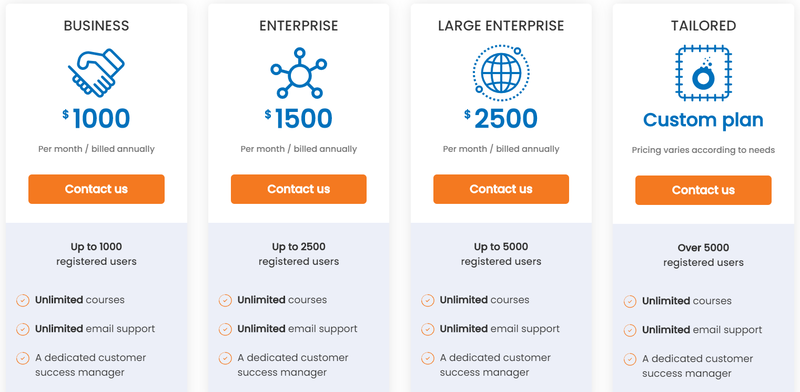 Custom plans for more than 5,000 users are available by quotation.
eFront keeps the math simple by providing every account with the complete feature set and a dedicated customer success manager.
If you like eFront's capabilities, be sure to check Epignosis's budget-friendly, accessible learning solution, TalentLMS.
---
eFront LMS's support
eFront provides generous support including a customer success manager for every client and unlimited email support. The company also provides an online knowledge base.
---
Benefits of eFront LMS
eFront is a powerful online training software package with an exceptional range of capabilities for enterprise-level training. It provides advanced customization and security with your choice of a self-hosted or cloud-hosted solution.
eFront comes loaded with features for course building, assessments, automated enrollments and notifications, and certifications. It also includes desirable features such as skills testing, gamification, e-commerce, and the ability to create and manage multiple themed learning portals.
eFront's pricing is transparent and affordable on a per-user basis. The company also provides a free trial account with full capabilities, so you can test eFront for yourself before committing.
---
An open-door LMS
eFront is a powerful LMS with outstanding security and flexibility. It comes loaded with features and ready to customize to your brand and specifications. Best of all, eFront offers transparent pricing and free trial accounts with no hassle or credit card required.
If you're planning a substantial training system, you should definitely sign up for a test account and see what this powerful LMS has to offer.
---
Frequently Asked Questions for eFront LMS
How much does eFront cost?
eFront offers plans starting at $1,000 per month for the Business package, which supports up to 1,000 registered users. The Enterprise package costs $1,500 for up to 2,500 users, and the Large Enterprise package costs $2,500 for up to 5,000 users. Larger accounts are priced by quotation.
eFront is an excellent LMS for training employees, customers, partners, and other audiences. It is a good choice for companies looking for advanced security and customization in a self-hosted or cloud-based system. eFront is also an ideal solution for businesses that want to sell courses online through custom-branded academies.
eFront was originally an open-source LMS, but it transitioned to a subscription-based solution in 2015. The LMS retains its open-source orientation by providing access to its source code and expansive tools for integrating and customizing the system.

eFront is a highly secure, customizable LMS ideal for enterprise-level training. Sign up for a free trial and see for yourself what eFront has to offer your business.
eFront is a highly secure, customizable LMS ideal for enterprise-level training. Sign up for a free trial and see for yourself what eFront has to offer your business.
The Motley Fool has a Disclosure Policy. The Author and/or The Motley Fool may have an interest in companies mentioned.