Who is Elastic Email for?
Elastic Email might be confusing for novice users because it assumes you already have email marketing knowledge and are familiar with industry concepts (such as A/X testing, which is what Elastic calls A/B testing), even though it boasts an attractive design. Elastic Email is more targeted at users who are already familiar with email marketing software and advanced marketing concepts.
Elastic Email's features
Elastic Email packs in a huge amount of features, but they aren't immediately obvious, and you need to be familiar with email marketing software to not only understand what they do, but also how to find them in the menus and set them up. There are some features I know are included but are difficult to find.
Autoresponders, for example, are included alongside the send and schedule options. Landing pages are also tricky to locate. You have to go into the Account/Settings menu to access a simple, automatically generated landing page link.
Elastic Email has plans to release full landing page capabilities later in 2019. 
Campaign creation
Elastic Email takes a very straightforward approach to creating email campaigns — there are only four steps to go through and not very many options. This is where you start to feel that they have focused too much on getting the visual experience right at the expense of some much-needed features you need to make your email campaigns stand out.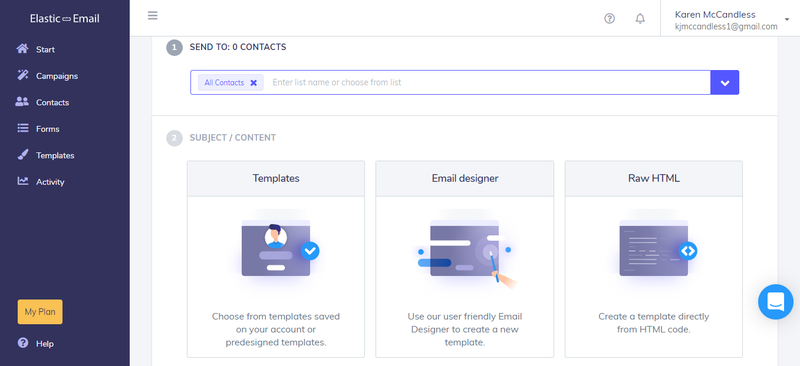 The template editor is very basic, and it lacks the ability to add crucial elements such as videos or edit styles such as background color, although you can choose to use the built-in email design feature or build it yourself from raw HTML (if you know how to code). 
Elastic Email has worked harder on some feature sets than others. Send options, for example, are excellent. You can choose the option where Elastic Email sends to the most engaged contacts first to improve delivery rates, or choose to send to contacts at an optimal time over the next 24 hours. 
Contact management
There's more confusion here, even for users familiar with common email marketing software features.
Aside from the usual options to add contacts manually or upload them, you can create lists and segments. There are advanced and granular segmentation options including variants of contact status, but you really have to know your stuff if you want to use them all.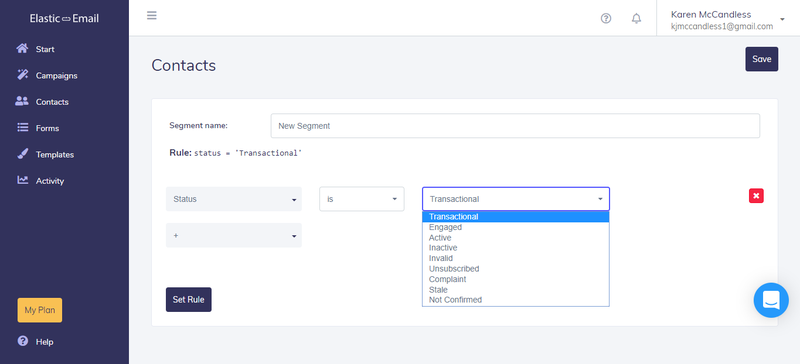 You can only create a list (which is different from a segment) by uploading a list of contacts, not by selecting contacts you have previously uploaded to Elastic Email.
Despite Elastic Email mostly having great navigation, the user experience in the contact management tab is confusing. There's no back option, and the general layout of the page is not intuitive. Too many options are grouped under the "manage contacts" button — it took me a while to figure out how to create a list or segment before discovering it was hidden there. 
Form creation
If you want to build up your email list, you need to create forms to get your customer contact details. While some of the templates look a bit dated, the form creation customization options are excellent. For example, you can choose the webpage contacts see after they sign up, making it a different webpage than the one they see after they activate their account.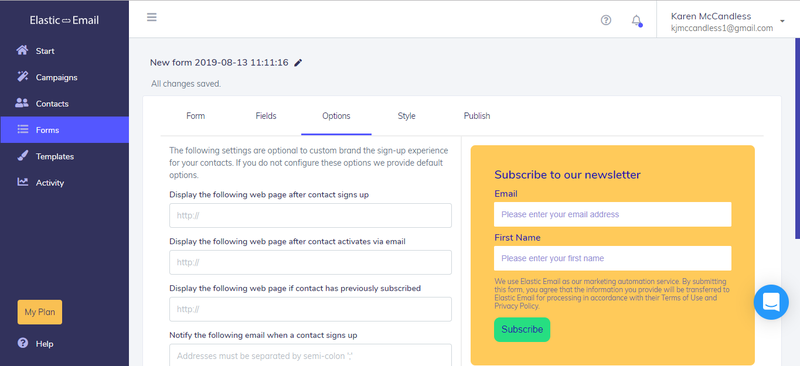 However, Elastic Email only allows you to create embeddable forms, not landing pages, another basic feature that would have been nice to have.
Analytics
Elastic Email creates some beautiful graphs with your data because, let's face it, we all need some charts and graphs in our lives.
The ability to see metrics from campaigns that are in progress and haven't fully been sent is an interesting and unique feature, while being able to see bounce details and unsubscribe reasons can help you keep your email lists clean. You can also filter by channel, campaign, date range, and automated emails.
Benefits of using Elastic Email
If you're switching from another email marketing solution and want to make sure your data makes it across safely, Elastic Email has you covered. It gives you the option to import your data from another solution before you even start using Elastic.
Elastic Email also makes it so easy to create a beautifully designed emails and see the results in interactive, visual graphs that give you the insight you need to continuously improve your campaigns.
Working with Elastic Email's support
Elastic Email has a sticky button that's accessible at all times — no searching required — and in all menus, that opens up a live chat pop-up where you can talk to a real person. Something that makes Elastic Email support stand out is that live chat is available 24/7 for all price plans, not just premium plans — or you can choose to email instead. And all of this is for free.
There are tons of articles and videos in the help center as well, which provide useful tutorials.
There are different tiers of help available depending on if you're willing to pay extra:
Priority support: Your issue gets answered before non-priority customers.
Premium support: You get an account manager, and your live chat questions are answered immediately. This starts at $199 a month, so it's likely a bit pricey for most users.
Elastic Email pricing
You can sign up for Elastic Email for free and send up to 100 emails a day. If your needs are greater than that, you'll need to upgrade to a paid plan. There are two paid plans, both of which let you send unlimited emails, and the price varies according to how many contacts you have.
The Unlimited plan starts at $9 per month and lets you send emails to up to 2,500 contacts. The pricing increases to $19 when you move up to the next tier, which allows you to send emails to 5,000 contacts. The Unlimited Pro plan starts at $29 per month for up to 2,500 contacts. The next tier costs $39 per month. The Unlimited pricing plan is one of the most cost-effective email marketing plans out there. 
You pay on a monthly basis, and there are no discounts offered up-front if you want to pay on a yearly basis.
Elastic Email's ease of use
Elastic Email is one of the only email marketing software that starts by proactively asking you whether you would like to import data from another solution, which makes it much easier for anyone switching from a competitor (and a great selling point for Elastic Email).
Some parts of Elastic Email are easy to use — creating an email campaign is straightforward — but others feel like they have been designed by tech-focused software developers rather than marketers as they aren't intuitive and take longer than they should to understand and use, such as the autoresponder functionality.
Being able to see the secondary navigation at all times would also help with user experience. 
Getting started
Elastic Email's modern, well-designed user interface with its vertical navigation, clever copywriting, and good use of icons makes it easy on the eyes, and getting started is easy and straightforward.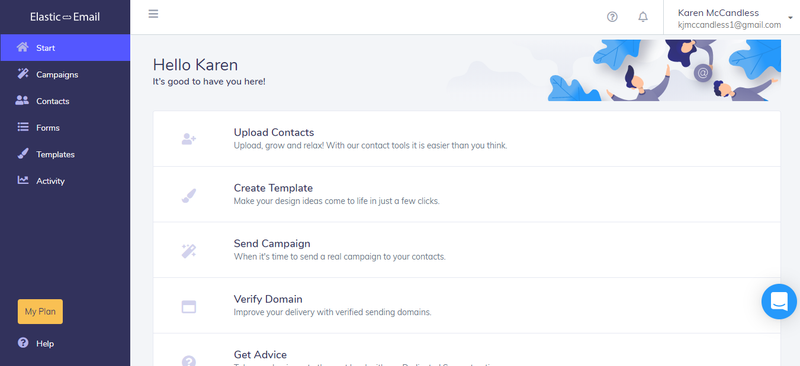 For the most part, it's a well-laid-out and organized solution. The main navigation is visible on all pages. While this may seem like a small detail, it actually makes navigating around the software much easier. The same is true for having a "Start" option in the main navigation, which takes you back to the dashboard in one click.
However, when you get into other menus — such as contact management — navigation starts to get more complicated. 
Step-by-step approach
Elastic Email is not light on features, but its expertly-designed user interface and well-thought-out approach to user experience make it easy to understand and use most of its functionality.
Instead of organizing different steps on different screens — which means sometimes you don't know how long a process is going to take before you start — Elastic Email includes all the steps on one screen. This makes the process of creating email campaigns much smoother and faster, and you can easily pause the process, do something else, and find your place again.
Elastic Email Frequently Asked Questions
How do you use Elastic Email?
You can sign up for a free account in seconds without entering any payment details. All you need to do is enter your email address, and then you can get started.
There is a free pricing plan that lets you send up to 100 emails a day. The paid pricing plans start at $9 per month and let you send emails to up to 2,500 contacts.
Does Elastic Email let you build landing pages?
No, you can create pop-ups as signup pages, but you need a third-party integration to build landing pages.
Does Elastic Email offer live chat support?
Yes, all customers -- no matter which pricing plan they are on -- can access 24/7 live chat support.
How Elastic Email Compares
If you're looking for a super-advanced, expertly-designed email marketing software, then Elastic Email might be a good fit for your business.
The Motley Fool has a Disclosure Policy. The Author and/or The Motley Fool may have an interest in companies mentioned.