Email marketing is not dead, and it isn't dying. It's still a thriving marketing channel that not only can generate high return on investment but also increase loyalty and raise brand awareness.
But because most of us receive a deluge of emails every day, you need to use every trick in the book to make your recipients open your emails and also take the time to read, engage, and click.
Below you can read all about why you should use background images in your emails.
---
Overview: What are email background images?
Email background images are added in the background of your newsletters under blocks of text, videos, buttons, and other content. These differ from foreground or hero images, which stand on their own as email content.
You can rely on your email marketing software to resize and optimize your images, or you can code them using the HTML editor.
---
Benefits of adding background images to your emails
It's easy to add background images to your emails, but they can have a significant impact on your open and click rates.
1. Makes your email stand out
If you look through the email newsletters in your inbox, you'll see that most companies are still using standalone images. They have often created beautiful, stylish images with tons of useful information. But as this is the standard approach, they often don't stand out or make the email pop.
Adding email backgrounds will make your readers sit up and take notice since you aren't using the same approach as everyone else.
2. Provides a better user experience
Even if you extensively test your emails, it's impossible to guarantee that every image will show up correctly in every email client or on every device. If your email ends up in a subscriber's junk folder, or if they have blocked images, then the images won't show up. This negatively affects the user experience.
Often companies put crucial information on discounts, sales, and new product lines in beautifully designed images. If these don't show up, then you've wasted your time designing images, and your customers can't take advantage of the offers.
Take the newsletter below from the British chain Costa Coffee. Even though I haven't disabled images, and this landed in my inbox because I'm a regular subscriber, the images didn't show up. Not only does it provide a sub-par user experience, it meant the email didn't make sense because the details of the Christmas coffee giveaway were in that image.

But if you have added an email background image, even if it doesn't display, there is other content layered on top of this image. Your recipients still get an excellent user experience whether or not the email images show up.
---
Best practices for adding background images to your emails
Your email marketing software can add your background images automatically — all you have to do is upload the file in the usual image formats, or you can choose to code HTML background images yourself. Whichever approach you choose, here are three best practices you need to be aware of.
1. Check which email clients support background
Before spending time creating emails with background images, check which email clients support backgrounds (spoiler alert: not all do). Then cross-reference that information with data on which email clients most of your subscribers use.
If most of your subscribers use email clients that don't support background images, then you should think hard before using them.
Also, consider if you need to use a certain style to increase the likelihood of the images displaying. For example, do you need to center the background images, or do they need to be a specific width?
2. Have a backup
If your background image doesn't show up, you don't just want white space or an error message to display instead. Pick a background color as a backup so your email will still look visually attractive and well put together even if the image doesn't display. You want everything in your email to look like it was done on purpose.
3. Automate the newsletter testing process
Just because your emails will still provide a decent user experience even if the images don't show up is no excuse for not carrying out extensive testing before you send them. Make sure you send it to at least one other person (ideally more) to check over before sending.
Email marketing software can also help automate the process by checking links and providing previews of how your newsletter will display in each browser. VerticalResponse's Test Kit feature shows you a screenshot of how your email will look in different email clients, including Gmail, Outlook, and Yahoo.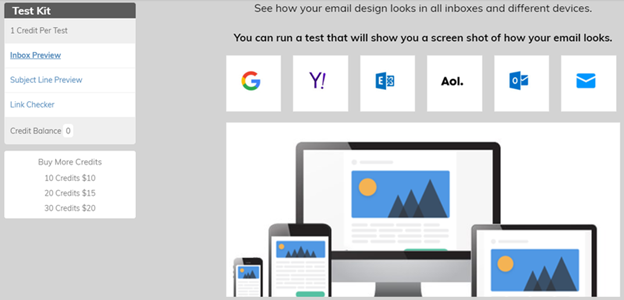 ---
2 creative email background examples
If you're unsure how to get started, or you don't know what kind of content to place over your images, you can take inspiration from the examples below of companies that have nailed the use of background images in their emails.
1. Chapel Down
This email from vineyard and wine merchant Chapel Down layers text over its background images. While the background images make the email more attractive, if they don't show up the email still makes complete sense, and it doesn't negatively impact the user experience.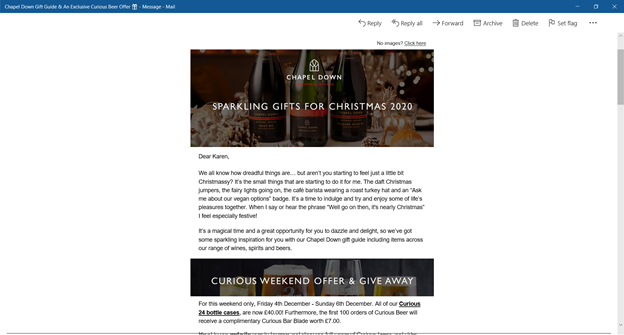 2. Pixi
Beauty brand Pixi smartly added its offer of 10% off products and a CTA button to take you to the site as a text box layered over a background image. Even if the background image doesn't show up, you can still see the offer and quickly click on a link to get to the website.
If Pixi had added the offer to a standalone image, then the discount would have been lost, and there would have been a lot of blank space if the image hadn't shown up.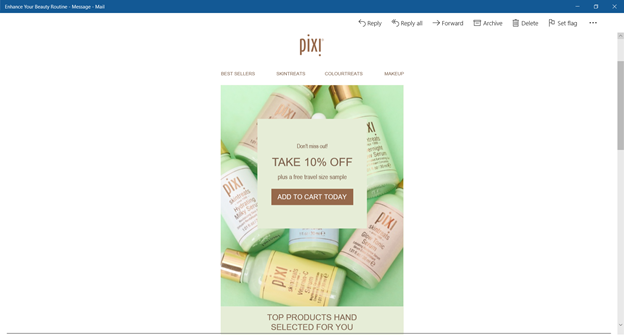 ---
Test what works
Data is an email marketer's best friend. To get that data, you need to test as many elements as you can. If you introduce background images into your emails, you need to test how they affect the performance of your campaigns.
A/B testing is a great way to do this. Send emails with background images to a percentage of your email list and send the rest of the emails with either hero images or no images. Compare the performance side by side, and use that data to inform future campaign designs.