While offering content in exchange for your prospects' email addresses is a great way to get email signups, you can take this strategy to the next level by using email lockers. When used correctly, email lockers can help expand your email list, which, in turn, will bring you relevant traffic and sales down the line.
In this guide, we'll share the ins and outs of leveraging an email locker and how this will benefit your business and bolster your small business email marketing efforts.
---
Overview: What is an email locker?
An email locker is a form of content locker. But while most content lockers require readers to click social sharing buttons to access the content, email lockers require readers to enter their emails instead.
If you're creating value-packed content, you can use an email locker to capture your prospects' email addresses instead of letting them access your content freely. Some email lockers "lock" the entire post while others only sections of the post.
---
What does an email locker do?
Email lockers are used to capture emails or generate signups. Since site visitors can't read a page's locked content, they are compelled to share their email address to access it. This helps business owners generate leads, which they can turn into sales after ample amounts of nurturing.
Email lockers usually blur out all, or just certain portions, of your website's content and display a popup that requires readers to enter their email addresses to view the entire content.
---
3 benefits to using an email locker
Below are some undeniable advantages of using email lockers to support your email marketing strategies.
1. Affordable
Email lockers don't require a considerable investment. There are plenty of plugins available in the market to easily install on your website for free or at minimum cost. They help you generate more leads and email signups without spending a large amount of money.
2. Help you leverage your existing content
Email lockers are added to existing content. You don't need to develop an entire campaign or ecosystem of content and marketing initiatives to use them. You just need to add them to your existing content, and they will pretty much do the job.
Email lockers help you get the most value and mileage out of your existing and future content.
3. Compelling
Web visitors clicked your link and landed on your page because they found your article titles interesting. In most cases, they clicked because they believed the promise your content offers will address their issues.
When readers land on your page only to see locked content, they'll be eager to unlock it. All this is because you've created a buildup and captured their interest, making them keen to fix their problems. This eagerness will compel them to share their email address.
---
5 email locker strategies to attract more subscribers
To get the most out of your email lockers and improve the outcome of your email marketing campaigns, follow the five tips below.
1. Focus on your most valuable content
Manage your content effectively by adding locks on your most valuable content. Readers share their emails expecting great content in return. If you add content locks on articles or any types of material that don't offer much value, there's a good chance you'll frustrate your audience.
On the other hand, if the content provides lots of value, your audience will have a great experience with your brand, and you won't break their trust.

Bonus tip: Avoid locking content essential to your search engine optimization (SEO) efforts, such as content you want search engines to crawl and index. This could negatively impact your pages' search rankings.
2. Keep the sign-up process short
Whether you're using an email locker, mobile content locker, or website locker, remember that your readers' main objective is to access your content. They aren't expecting to encounter content lockers.
To keep your audience from feeling frustrated, make your sign-up process super short. The quicker they can access your content, the better. Below is an example of a short, quick sign-up process.

A short sign-up process makes your email locker less distracting. Because users don't need to spend too much time and energy accessing your content, they won't mind sharing their email addresses just to get rid of the email locker.
3. Use compelling headlines
No matter how amazing your content or how short your sign-up process, none of your web visitors will give up their emails for the whole article if your headline is dead boring.
That's why it's crucial to use compelling headlines that are both relevant and catchy. Use keywords and phrases that address your readers' pain points or terms that they're commonly searching online.

Remember that readers can't see your content when they land on your website. The only clue they have of whether or not your content has value is your headline. Your headline convinces your audience that your content is worth unlocking with their email addresses.
Bonus tip: Split test your headlines to uncover which ones generate the most conversions.
4. Create audience segments
Not all your website visitors want to get the same email marketing content. After all, people who share their emails through your content lockers have varying preferences and needs. Some prefer receiving how-to tips, while others want discount offers.
That's why segmenting your email recipients into groups is crucial. It allows you to send relevant content and keeps you from alienating portions of your email list by sending something irrelevant.
Use email marketing software, such as Mailchimp, to create granular segments from your email list using attributes, such as the contact's last action, information specific to your business, and subscription date, among others.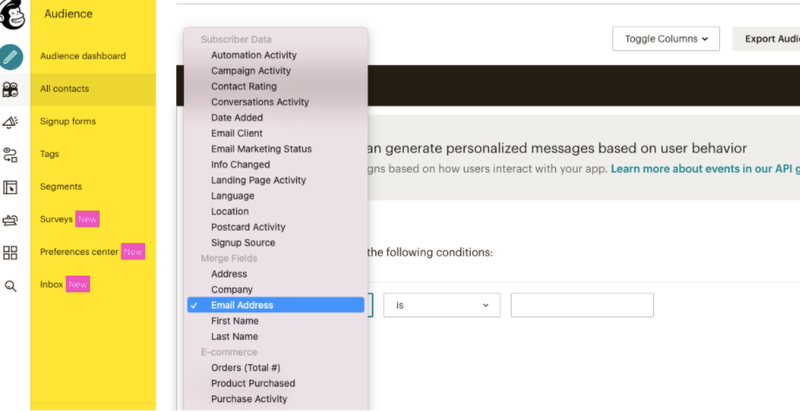 By using reliable email marketing tools, managing your email list becomes a lot easier. You can segment your contacts with ease, send automated emails, view reports, or even create sign-up forms from within the platform.
5. Highlight the benefits of signing up
Don't just tell your audience to share their email addresses. Give them a good reason to do it, other than merely unlocking your content.
Emphasizing the benefits they can get from being on your email list is a good strategy. Be sure to align the benefit that you'll highlight with your content's headline.
For example, if your article's headline is "X Reliable Platforms Where Freelancers Can Find High-Paying Customers," your pop-up copy can be about the strategies freelancers use to win premium clients and gain a six-figure income.
---
Unlock the potential of email lockers for your business
Using email lockers requires a bit of a balancing act. As long as you offer relevant content in exchange for getting your visitors' email addresses, you're on the right path to success. Armed with the right approach, using email lockers can put your email marketing campaigns on steroids.