It's no secret that email is one of the most effective direct marketing channels. There's also no shortage of email marketing best practices and email marketing strategy tips online.
While concepts and general tips are great, sometimes seeing a real-world example can really drive the point home. It makes sense then that seeing a few good email examples can help you better understand how to create your own.
In this piece, we'll examine some of the best email marketing examples and review how you can learn from them to optimize your campaigns.
---
What all successful email marketing campaigns have in common
From drip campaigns to newsletters, there are plenty of ways to use email marketing. Just like other marketing channels, each type of email campaign has its own nuances, but there are commonalities among many of the most successful campaigns.
Great subject lines
People today are bombarded with messages vying for their attention. If your subject line doesn't stand out and give someone a compelling reason to click, your email is likely to get lost in the heap.
Good email campaigns include subject lines that grab the reader's attention and make them want to see what's inside.
Clear and concise messaging
A good email campaign has a well-defined message and relays it to the reader efficiently.
For example, an email telling your reader "save 15% next week" trumps "learn how to save". The former tells them exactly what they can get if they click, the latter is ambiguous.
In addition to being clear, good marketing emails also keep things relatively short and sweet. They're not the place to explain the finer points of your value proposition in detail. Save that for your content marketing.
Relevance to the target audience
An email blast that lands in thousands of inboxes doesn't do much good if the content isn't relevant to the recipients. In order to get your subject line to be compelling or messaging to be engaging to your reader, it has to be relevant to them. This is why many excellent campaigns start with customer segmentation and use it to target their email blasts.
Measurements of success
This point is more about consistently sending good emails than making any single email good in a vacuum. The popular saying: "if you're not assessing, you're guessing" definitely applies to email marketing. In order to learn what works and what doesn't, you need to track performance.
Email marketing software can help you both send campaigns and track marketing KPIs like bounce rate, click-through rate, and ROI (return on investment). As you see certain campaigns succeed and others flounder, you can refine future campaigns to do more of what works.
---
Popular email marketing examples your small business can learn from
Now, let's jump into looking at some examples of good emails your small business can learn from. I've compiled this list based on both emails that hit my own inboxes and popular campaigns from around the web. Each example includes specific aspects you can integrate into your own campaigns.
1. Pocket's Curated Content
As a Firefox user, Pocket's article suggestions caught my attention. They curate content from around the internet and provide suggestions when I open a new Firefox tab. Their email campaigns have the same brevity and can spark the same "hey, that's interesting… let me click it" response because of their great execution.
For example, as I often need to do research on IT security or technology in general, their "how to be anonymous in the age of surveillance" subject line is more likely to jump out at me.
Additionally, the preview text, the unbolded text after the subject line, tells me what else to expect in the email.

Similarly, once I open the email, the images and intro sentences help me to scan and make a quick decision on what's worth clicking.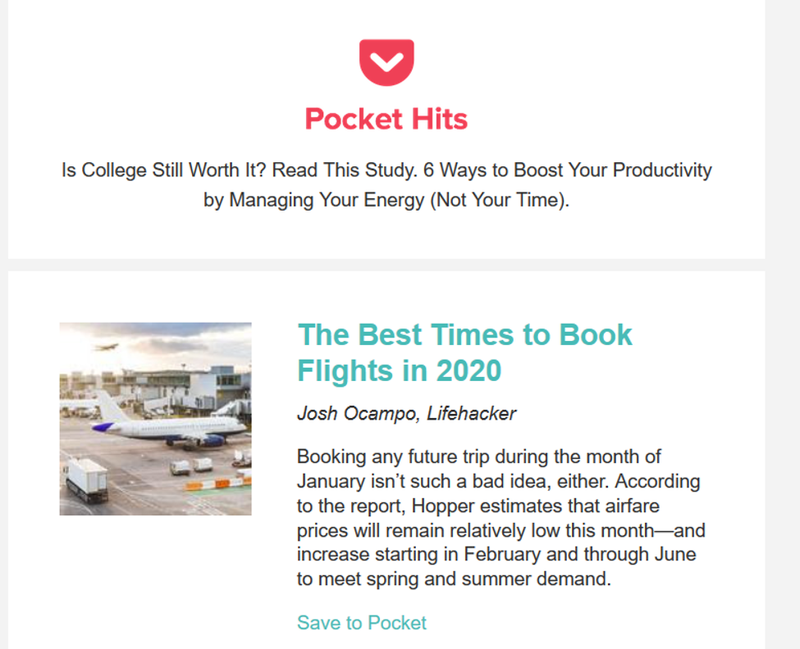 Key takeaways from Pocket's Curated Content emails:
The subject lines and preview text give me a good idea of what's inside, which is probably the most important takeaway here.
Then, once I open the email, there's a list of curated content with the same type of summaries I'm used to. Here are three things you can learn from Pocket:
Use subject lines effectively: Just like a good headline, Pocket email subject lines grab the reader's attention. Since they have a wealth of headlines to choose from, it makes things easier. However, your small business should strive to achieve the same goal of attention-grabbing headlines.
Don't forget about preview text: In addition to subject lines, email preview text is important. It gives readers more detail on what's inside the email and helps them decide if it's worth clicking. By default, preview text is the first few words of an email, so craft your intros well.
Meet reader expectations: While it's important to grab a reader's attention, it's also important not to create clickbait. Pocket's emails do exactly what I expect: provide content suggestions. If they didn't, that'd give me a compelling reason to unsubscribe. Make sure your emails aren't misleading and "do what they say on the tin". Otherwise, you may end up losing subscribers.
2. FreshBooks Cloud Accounting Announcement
From Campaign Monitor's list of best announcement emails, this is one of the best B2B email marketing examples on the list. Just by looking at the content of the email, you learn a lot about the product. There's also direct download links for the app and contact information if you have questions.
This approach is effective because it takes advantage of "a picture is worth a thousand words." Describing the look and feel of software with words alone can be tedious.
Showing it instead gives us an idea of what to expect. From there, FreshBooks keeps it short and sweet with the verbiage, describing a few scenarios their target audience can relate to and tying that to the problem they solve.
Additionally, the links to get the app and get support help ensure the reader can take action directly from the email.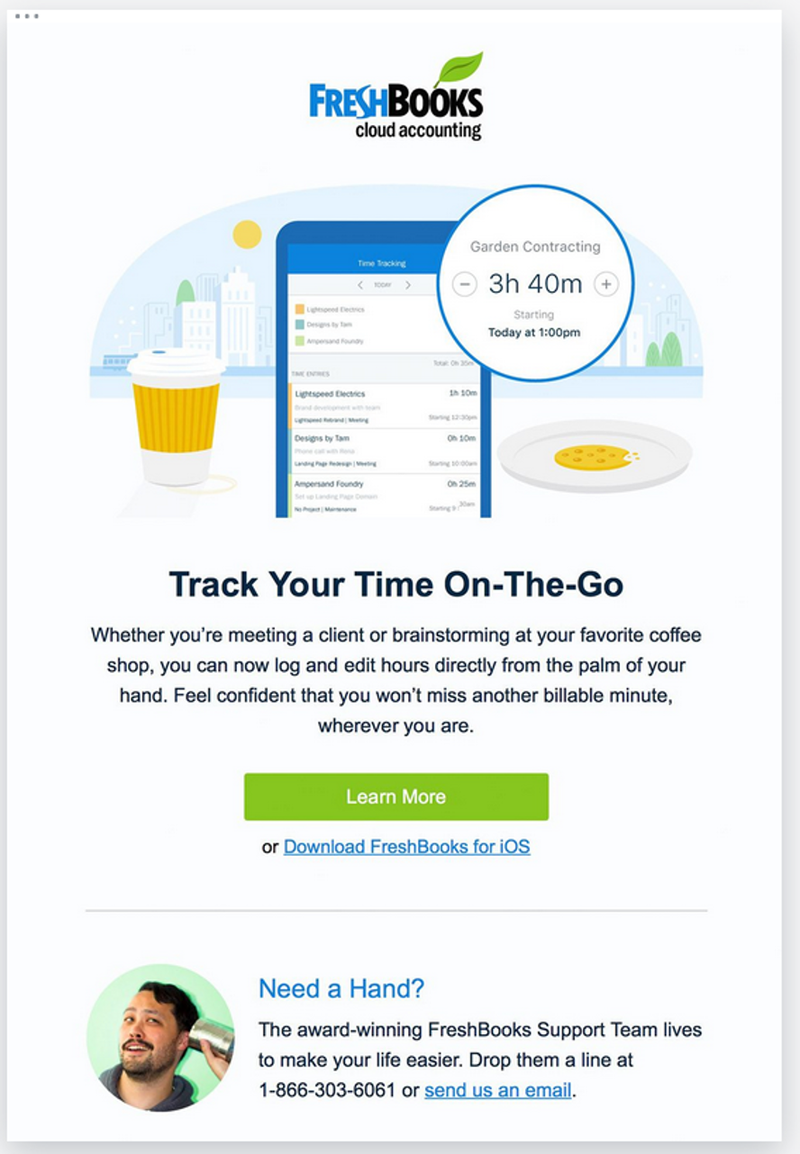 Key takeaways from FreshBooks Cloud Accounting Announcement email:
So, what can you learn from FreshBooks and apply to your small business? Two things:
Highlight the main point: The point of this email was to build awareness about FreshBooks' cloud accounting software. With a well designed image and a few sentences, they did so concisely. They also provided the reader with specific links to allow them to take action if they're interested.
Offer support: It's not uncommon for software products to be confusing for new users. If an interested user has problems setting your product up, they may disengage. Providing easy ways to get access to support can help mitigate those challenges and save a customer. Keep that in mind if your products have some level of complexity.
3. HireVue Customer Retention Emails
HubSpot highlighted HireVue's approach to customer retention as a good email marketing example, and I agree.
No one wants to lose a customer, but being too pushy can do more harm than good. HireVue found a light-hearted way to prompt subscribers to re-engage with their brand, or unsubscribe if they chose.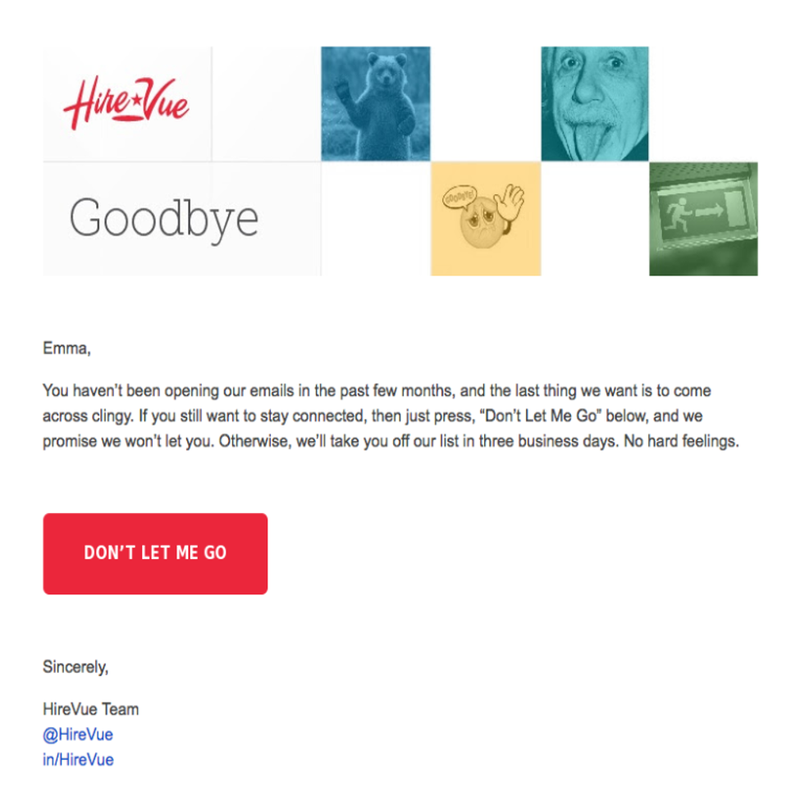 Key takeaways from HireVue Customer Retention Emails:
It seems likely HireVue tracks open rate, and this allowed them to contextualize their emails and send them at a time it makes sense to nudge. It also makes them a good case study in email marketing analytics and provides these two takeaways for your small business:
Use context: Content has to be relevant to your audience and the situation. In this case, HireVue found a way to reach out to customers they may be losing, provide a contextualized message, and likely retain a chunk of them.
Nudge, but don't be too pushy: Sometimes subscribers want to opt out. Make sure you aren't proactively denying them that right. Coming off as pushy can do more harm than good for your brand. HireVue's approach makes it more likely customers interested in their services will stick around, while those that want to move on can without too much friction.
4. BuzzFeed's targeted newsletters
BuzzFeed's newsletters are often used as examples of effective email marketing. What they do well is simple: segment their list from the beginning and provide relevant content. As you can see in the sign-up form, there are plenty of options for subscribers to choose from.
This allows BuzzFeed to send content based on explicitly indicated subscriber preferences, which makes it much more likely for emails to be opened and read.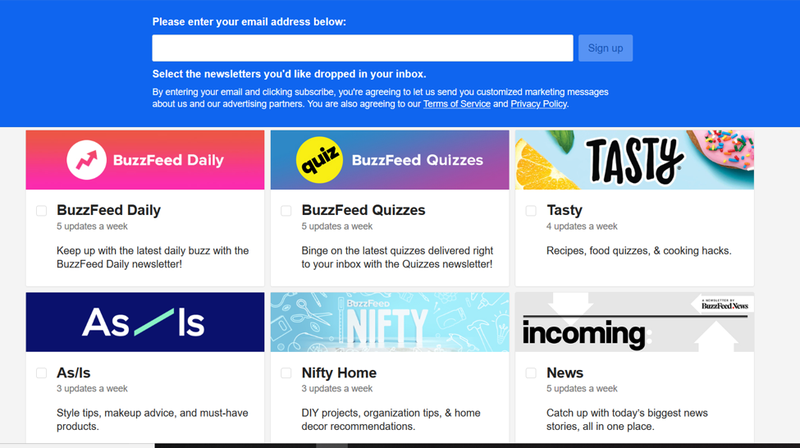 Key takeaways from BuzzFeed's Targeted Newsletter emails:
The lessons to be learned from BuzzFeed are all about making sure readers get relevant content. If you sell more than one product or service, or have more than one target customer base, you may benefit from a similar strategy. Specifically, try integrating these two points to your next email campaign:
Segment your email list: Customer segmentation helps you keep your content relevant to your readers. You can segment your list based on demographic and regional data you collect on your subscribers, preferences, as BuzzFeed does above, and the actions they take, such as abandoning a shopping cart.
Target your content: This is the other side of the customer segmentation coin. Once you have your list segmented, make sure to use that information to send targeted content.
5. MexGrocer.com Rosca Reminders
While MexGrocer could have done better with their preview text, they did a number of other things right.
Rosca de Reyes is often served to celebrate Three Kings Day, and as January 6th gets closer, demand goes way up. About a week away from the holiday, MexGrocer.com sent this email to previous customers, knowing they'd be likely to be in the market for a Rosca pastry.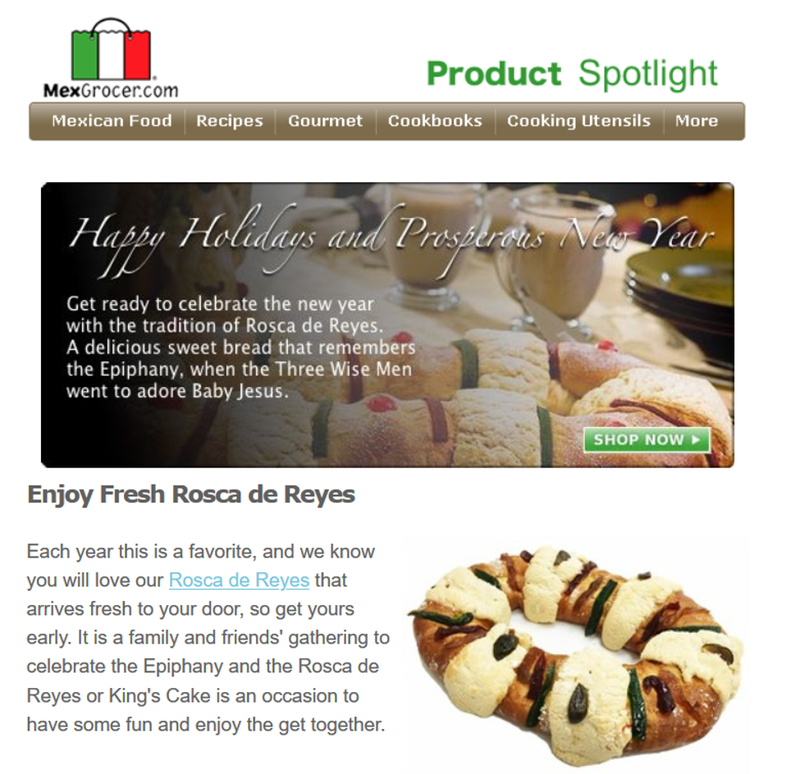 Key takeaways from MexGrocer.com Rosca Reminder emails:
This is another example of good context in an email campaign, with a slightly different twist. The two big takeaways for your small business are:
Be Timely: Any other time of the year, I probably wouldn't give any serious thought to buying a Rosca. However, on Three Kings Day, they're common. Keep what's going on in your customer's lives, such as weather, holidays, recent purchases, etc. in mind when designing your next campaign. Doing so may help you make a few additional sales.
Know your audience: I'm not sure if MexGrocer.com used analytics or inference on this one, but they guessed correctly that Rosca is something my household might want around Three Kings Day. By analyzing your audience, you can better understand what content will be relevant to them.
6.UNICEF New Zealand
Another example from Campaign Monitor, this UNICEF New Zealand campaign was for a nonprofit, but can offer inspiration for nonprofits and for profits alike.
The images elicit an emotional response and the body of the email clearly summarizes the challenge UNICEF needs to help solve. Additionally, it's clear what readers can do to help solve the problem.
The result: an email that grabs the reader's attention, concisely describes the problem, and gives them an immediate way to help. Even if you're not a nonprofit, this campaign is a solid example of how you can use images, concise wording, and a call to action effectively in your next email campaign.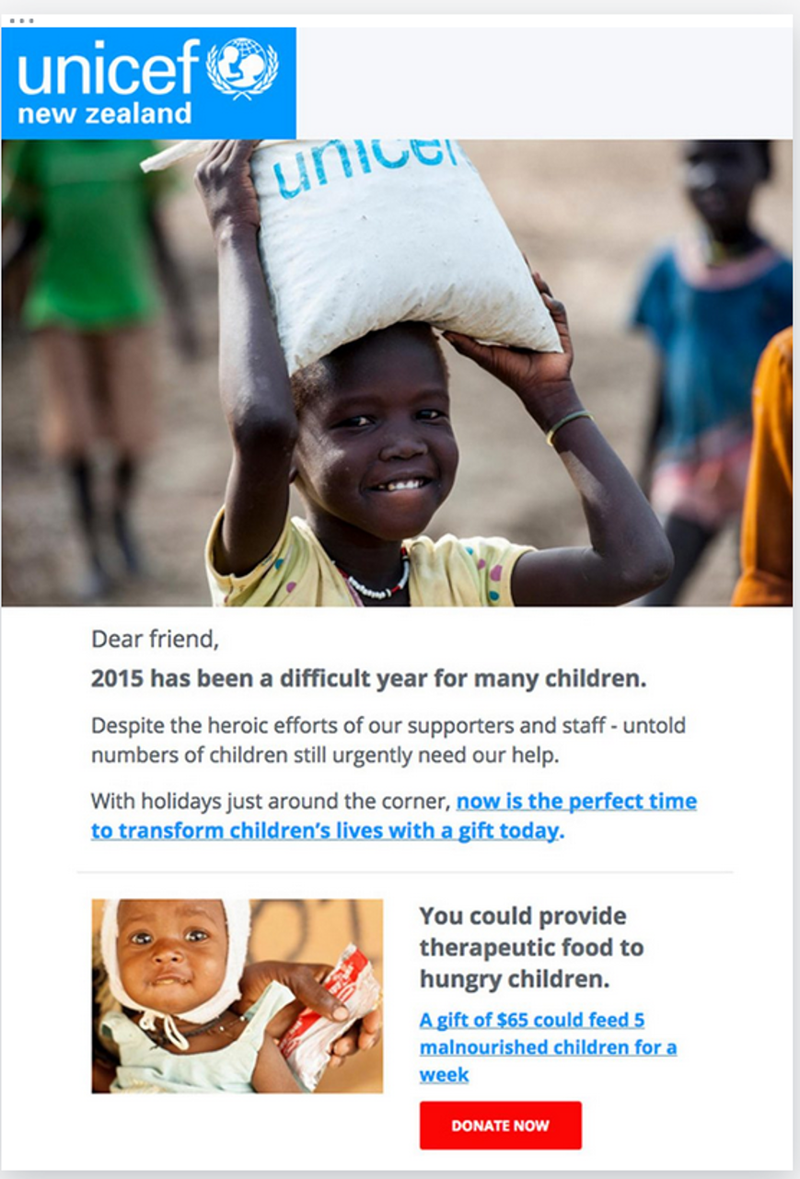 Key takeaways from UNICEF New Zealand's donation emails:
So, what exactly did UNICEF do that you can apply to your small business? In addition to clearly defining a problem and solution, here are three tips:
Appeal to emotion: The images in the email give a face to the problem and are likely to elicit an emotional response. Keep in mind you don't have to look to get the same emotional response (compassion, concern, etc.) as UNICEF did here, but you do want to compel action. A sense of urgency, fear of missing out, and curiosity are all examples of emotions that could help here.
Use images effectively: The images in the campaign really drive the point home and help make it more tangible. For your small business, a few well-placed pictures can help demonstrate a particular product, service, or result your customers may be interested in.
Provide a way to take action: The Donate Now button is the call to action here. Readers can take action directly from the email. The takeaway here is to make it easy for your readers to engage further with your brand.
---
The best email marketing software for a responsive campaign
Now that you have some inspiration for your email campaigns, let's take a look at a few software products that can help you implement your ideas. While a concept is important, email marketing services can go a long way in helping you develop and track your campaigns.
While you'll need to provide the creative idea to begin with, the right software can help you segment your email list, track your performance, and send targeted email blasts.
Here are our picks from our list of best email marketing software to help you get started.
1. Mailchimp
Mailchimp is one of the market leaders in the email marketing software space. Mailchimp's intuitive interface and email templates make it easy for beginners to get started with. Additionally, their analytics, A/B testing, and performance tracking features help you improve your campaigns as you go.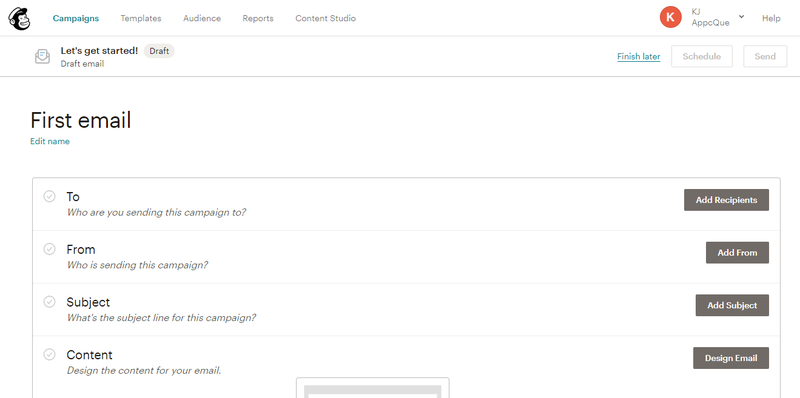 2. HubSpot Marketing Hub
HubSpot Marketing Hub also offers templates, analytics, and performance tracking functionality. It's particularly useful if you want to create highly personalized campaigns.
Additionally, it does much more than just email marketing, and has robust CRM (customer relationship management) functionality.
However, while it does offer a free trial, the price point for some tiers may make it impractical for very small businesses.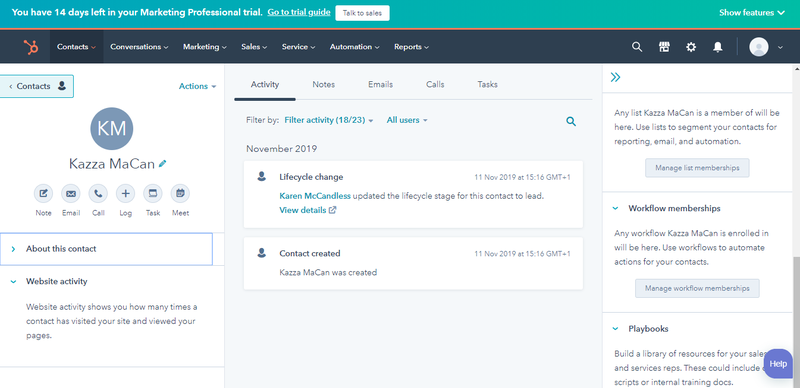 3. Zoho Campaigns
After a 2018 redesign, Zoho Campaigns is able to compete with the big names in email marketing software. It has the template, contact management, and performance tracking features that are table stakes for email marketing.
Additionally, its redesign has made the interface more intuitive and easier to work with.
The free tier that allows 12,000 emails per month to 2,000 or fewer subscribers also makes it accessible for small businesses with a tight marketing budget.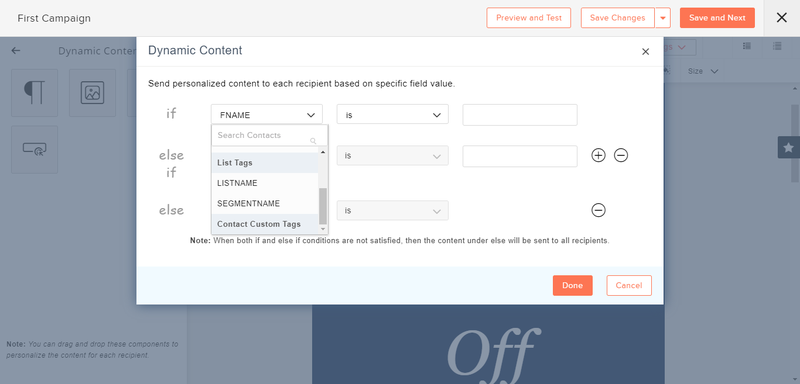 ---
Final thoughts: be concise, use context, and analyze
At this point, let me summarize our big takeaways: don't write a novel in your email body, make sure your content is relevant, and analyze your performance to see what you're doing well and where you can improve.
If you keep these points in mind as you build your next campaign, you'll be more likely to succeed.