Are your small business email marketing campaigns effective? Or, are you losing money without even knowing it?
I hope you aren't experiencing the latter. After all, given how competitive the business landscape has become, you need every bit of profit you can generate to survive, let alone thrive.
To make sure you aren't losing money from your email marketing initiatives, we'll take a look at the ins and outs of email marketing return on investment (ROI). We'll cover how to calculate your ROI, the benefits of calculating it, and some key considerations before you do so.
---
Overview: What is email marketing return on investment (ROI)?
Your ROI in email marketing is a marketing metric that measures your email campaign's performance and effectiveness in order to determine its profitability.
A basic equation for calculating email marketing ROI looks like this:

Essentially, computing your email marketing ROI helps you assess whether your campaigns are worthwhile.
---
3 considerations before calculating email marketing ROI
Among the many marketing channels available online, email marketing consistently yields amazing results. It's a go-to marketing method that business owners and marketers use to generate sales.
Ask yourself these questions: Is your email marketing proving to be an asset to your business? Are you seeing positive email ROI? Or, are your numbers looking grim?
If you're looking to track your email ROI to learn how your campaigns are performing, consider the three points below.
1. Calculation type
There are several types of email marketing ROI calculations. You can do monthly, annual, or campaign-based computations, among others. Choose your calculation type based on your objectives for computing your email marketing ROI.
For example, if you want to know which months are ideal for aggressively running your email marketing campaigns, you can do the monthly computation. If you want to figure out whether one email marketing campaign is better than another, a campaign-based computation would be best.
2. Email marketing costs
Examine the costs involved in your email marketing campaigns, then factor these into your ROI calculations. This includes the costs of using your email service provider, your email marketing team's working hours, tools and templates, etc.
Obtaining your email marketing costs is a lot easier when you have a robust email marketing software, so invest in one early on. It helps you with tracking and analyzing your marketing expenses, allowing you to be more efficient in managing your marketing budget.
3. Revenue
Determine how much your email marketing campaigns contribute to your revenue. Track your sales, email open rates, click-throughs, the number of emails that end in customer purchases, and other factors that add to your email marketing revenue.
---
3 benefits of calculating your email marketing ROI
Below are three benefits you can enjoy when you monitor your email ROI.
1. Team alignment
The number of opened emails, clicks, and replies you get out of your email marketing campaigns is meaningless if they don't convert into sales down the line. It all turns to vanity if the customers don't end up buying.
Your marketing team needs a constant reminder of this. They need to remember that sales pay the bills and not email replies or clicks. By constantly tracking and calculating your email marketing ROI, your team is reminded of the bigger picture of what's really important — profit.
2. Know when to continue or stop your campaigns
There is no point in allocating a budget on a losing email campaign. The sooner you figure out which campaigns are an absolute flop, the better, so you can avoid needless expenses.
That's why monitoring your email marketing ROI is crucial. It tells you whether you should stop or continue your campaigns. And because you're looking at hard, cold numbers, the accuracy and reliability of your basis for making decisions are dependable.
Remember, without putting the numbers together and running your ROI computations, you'd be relying on gut feeling alone.
3. Learn how to improve your email marketing campaign
You can't compute your email marketing ROI without putting together your numbers. You need to know your campaign's expenses, gains, the duration it ran, etc., so you can have a clear picture of its performance — even on a granular level.
As you acquire and study data, you can pinpoint gaps and areas of improvement. For example, if you invested most of your marketing budget on campaign x, yet its performance pales in comparison to campaign z, it should prompt you to invest more on the latter.
You can even see the amount you spent on your copywriters and which one garnered better conversions.

You are bound to see these crucial pieces of information when you gather and study your numbers every time you compute your email marketing ROI.
---
How to calculate email marketing ROI
There are several ways to calculate your email marketing ROI. Depending on the depth and complexity of your marketing campaigns, the details of the email marketing ROI formula and calculation process can be complicated. So you aren't overwhelmed, we'll discuss a simple and easy-to-understand formula for how you measure ROI.
Calculate your revenue
For the most part, you can obtain these data by tracking how many emails you sent, your open rates and clicks, and how many of these emails eventually converted into a sale. This is fairly easy to carry out if you're using an email marketing software, such as Mailchimp. Go to the software's reporting page, and you'll see loads of data.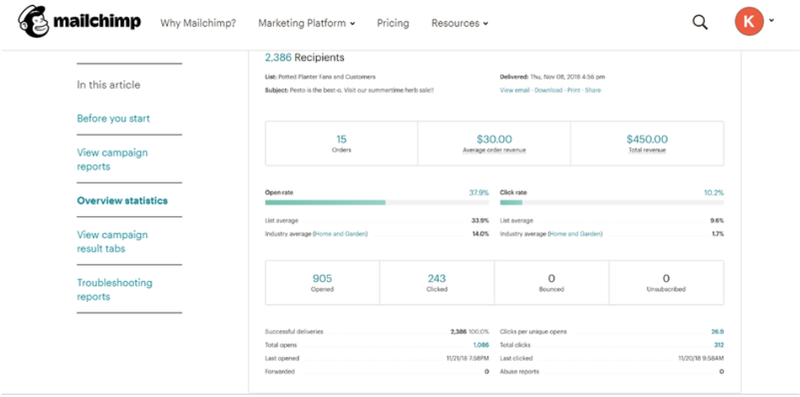 You can obtain the number of emails opened and clicked and the total revenue produced without doing manual work. This makes computing your email marketing ROI a breeze.
Calculate your costs
This includes the money you invested in your email campaigns, such as the amount you spent for your email autoresponder, copywriters, graphic designers, and email marketing staff.
Don't be complacent. Give your expenses a closer look so you don't miss a single expenditure. Other business owners and marketers may rush through this calculation and miss out on several items, causing them to come up with inaccurate computations.

If you paid for a plugin to capture emails on your website, be sure to include the cost. If you paid influencers to send your email content to their email list, you ought to include that, too. Be sure to add any email marketing-related cost in your computation.
Compute your ROI using the formula
Once you have all the numbers, you can calculate your ROI using the basic formula I shared previously.
(Amount Gained - Amount Spent) / Amount Spent = ROI
If you gained $12,000 after spending $200 on your email marketing campaign, then here's how the computation should look.
($12,000 - $200) / $200 = $59
In the calculation above, you get $59 for every dollar you spent on your campaign. That's 59 times ROI. By calculating your email marketing ROI, you can tell with absolute certainty that you're benefiting from your campaigns.
---
Start computing your email marketing ROI
Stop relying on gut feeling when deciding whether or not your email marketing campaigns are successful. Base your decisions on hard, cold numbers to increase the accuracy and reliability of your decisions.
By putting together the statistics you need to calculate your marketing ROI, you obtain the information to make sound business decisions.
While there is no one-size-fits-all solution to achieving email marketing success, follow the email marketing tips in this guide, and you'll see improvements and eventually achieve your goals.