Your best friend uses Mailchimp, your mom uses SendPulse, your mentor uses Zoho Campaigns, and your Facebook friends recommend Mailerlite.
With all this conflicting information swirling around in your head, it can be difficult to know which is the best email marketing software for you to choose.
And, let's be honest, it is a difficult decision that you need to spend time thinking about. You'll want to do plenty of research to find out which email marketing service best suits the unique needs of your business.
We've put together a guide of what we consider to be the best email marketing services out there at the moment to help you make an informed choice that will prove beneficial for your business.
At a glance: The best email marketing services
---
What to look for in an email marketing service
While only you can make the ultimate decision regarding which email marketing software is the best fit for your business, there are some key features that you should look for in any solution.
Segmentation
Being able to personalize content so you only send the most relevant emails to your customers is the key to success, as personalized emails provide generally lead to more transactions than non-personalized messages.
That's why it's so important to be able to choose email software that allows you to create segments, so you don't send every single message to every single customer. And the more specific the segment the better.
Email marketing software should ideally allow you to create segments according to:
Demographic data such as age and location
Past purchases (or if a customer hasn't made any purchases at all)
Website browsing history
Membership of email lists
Autoresponders
Sending the right content to the right customers at the right time will help increase revenue and drive loyalty. However, doing this manually is time-consuming and complicated. That's why autoresponders form an important part of email marketing software.
With autoresponders, you can create a series of automated emails that are triggered by certain behavior and are sent at predefined intervals. An example of this is when a customer first signs up to your email list.
Instead of having to manually send out all of these emails, you can drip feed them emails by first welcoming them to your list, then sending them emails highlighting popular products a few days later. A few days after that, you can follow up again by sending them a discount code with money off their first purchase.
Analytics
It's important to do more of what works with your customers and stop doing what isn't working.
But if you aren't tracking the performance of your email campaigns, how will you know what is working? That's why it's important to choose an email marketing software that can track the metrics that matter for your business. This could be open and clicks — or opens and clicks by location and device — or it could be unsubscribes, email forwards, and new social media subscribers.
Once you have this data, you can then start to optimize your emails to improve performance.
Support
Being able to get speedy support when you have a problem or need some advice plays an important role in being able to get the most out of your email marketing software. When choosing an email marketing tool, you should find out what level of support you will get. Here are some options to look for:
Live chat
Phone support
Email support
Knowledgebase
User forums
You should also find out in advance whether this support is available 24/7 or if it is limited to traditional business hours.
---
The 8 best email marketing services for your small business
We've reviewed industry-leading email marketing services in order to put together a list of recommendations for your business. We've highlighted unique features while also pointing out any weaknesses or points of interest.
Check out our list — which we update regularly — below.
---
1. Zoho Campaigns
Zoho Campaigns — part of the Zoho product suite — is an email marketing tool aimed at small businesses, although due to its strong set of features, it's also suitable for larger enterprises.
This email marketing software had a major redesign in 2018, which transformed its outdated user interfaces into intuitive workflows. In fact, Zoho Campaigns' ease of use is what makes it stand out, with a simple set of menus and submenus.
Other areas in which Zoho Campaigns excels include its in-built autoresponder templates that allow you to create automated sequences of emails in a few clicks.
Its contact management functionality lets you get deeper insight into customers' interactions with your business, including lists they are included on, campaigns you've sent them, and social media activity.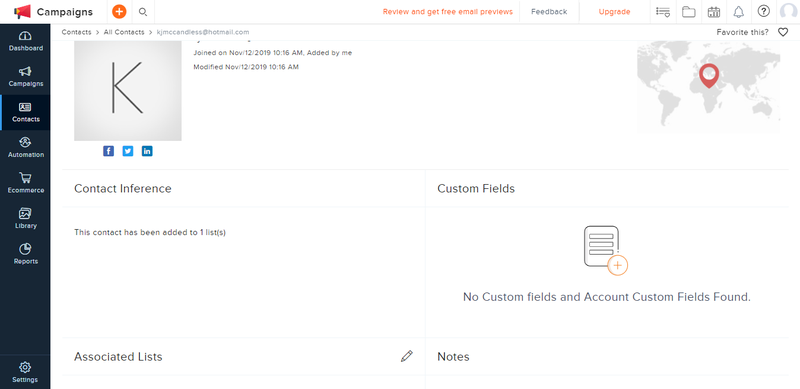 Pro tip: Zoho Campaigns is an excellent option if you're already using a Zoho product such as Zoho CRM, its customer relationship manager (CRM) software, as you can easily sync the data to flow seamlessly between both apps. For example, if you want to use customer data from your CRM in your email marketing campaigns, all you have to do is go into the Contacts menu and then select Sync Services.
---
2. Mailchimp
This list of best email services wouldn't be complete without the chimp, which has such a strong market presence that it can be difficult to imagine any Mailchimp alternatives. Mailchimp is probably the most well-known email marketing software partly due to clever marketing, but also because it's a great solution.
Mailchimp makes it easy to create complex direct marketing campaigns through its intuitive email editor, ability to build segments automatically based on a machine learning algorithm, and templated autoresponders.
Mailchimp is also a data-driven solution with excellent analytics that allow you to track the return on investment (ROI) of each marketing campaign instead of just vanity metrics such as email opens.
These revenue-driven analytics include:
Number of orders
Average order revenue
Total revenue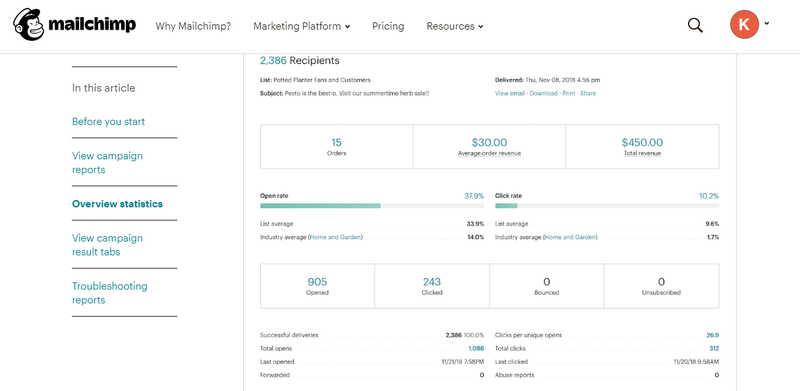 Pro tip: If you opt for the free plan, it's important to note that you only get access to a self-service knowledge base and email support to submit a help ticket. This may not be suitable for you if either you need a lot of help getting up and running or you have more complicated customization needs.
---
3. SendPulse
SendPulse is one of the best email platforms when it comes to personalization. You can create different versions of emails for different segments, and even create segments from within the email editor.
SendPulse also allows you to create templates for content blocks, as well as whole emails, so you can quickly personalize campaigns.
It also has robust A/B testing functionality, which lets you specify:
Whether to measure opens or clicks (or both)
How long to run the test before choosing the winning email
Which list to send the tests to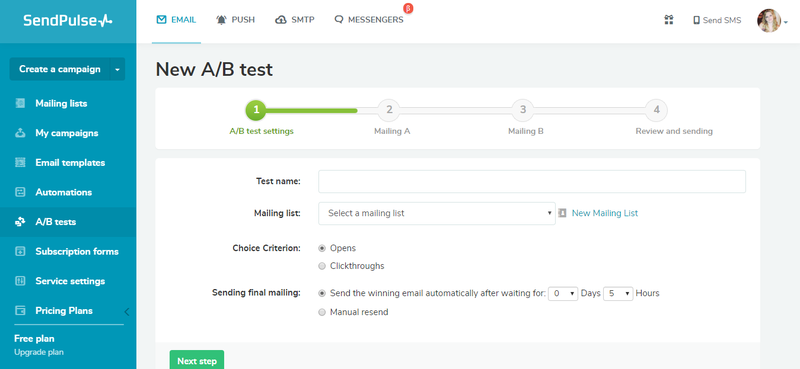 To further help you tailor your campaigns and only send relevant content, SendPulse automatically adds and removes contacts from your segments when they meet or stop meeting your conditions.
Pro tip: SendPulse is not just an email marketing solution; it also provides other marketing automation features, such as SMS marketing. This means that the user interface and navigation can feel overwhelming, as so many features are packed into one piece of software.
---
4. Benchmark Email
Benchmark Email is designed to make creating email campaigns as easy as possible.
Its focus on user experience and breaking down each action into manageable steps make it quick to set up and easy to get the most out of each feature. Benchmark provides a checklist for creating emails that encompasses optimizing your subject line, specifying to and from addresses, designing the email, checking links and spelling, and scheduling.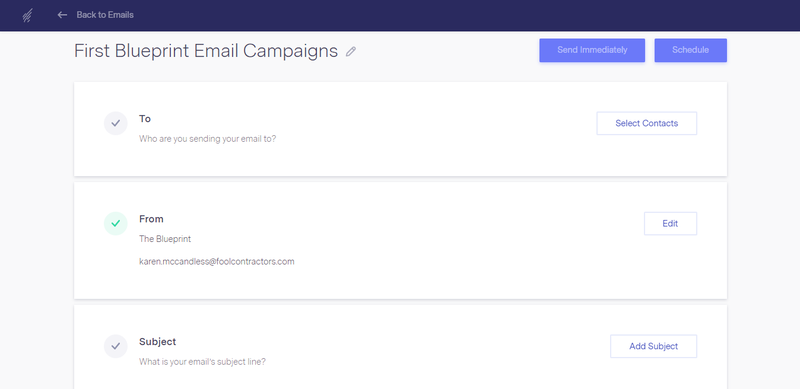 Creating a segment with Benchmark Email is super easy, and it lets you apply as many conditions as you like, but it also lacks the ability to create advanced segments based on data such as buying history and website visits.
Pro tip: Benchmark Email's free plan lacks some important features such as autoresponders and A/B testing. It also only allows you to send 14,000 emails per month to up to 2,000 subscribers. If you need these features, then you should consider a paid pricing plan. The least expensive option costs $18.69 per month for 600–1,000 contacts.
---
5. Mailerlite
Like Benchmark Email, Mailerlite is an excellent option for novice email marketers who need more help to create campaigns.
It provides a guided approach that breaks down each task into different steps. It also includes explanations of all the features as you use them, and in-app tips and messages that act as a kind of marketing 101, helping you improve your email marketing skills at the same time as you learn to use the software.
Mailerlite has a great range of features. Its segmentation functionality is particularly strong, as you can filter your recipients by many different factors. These include:
Sign-up date
Sign-up source
Campaign
Time inactive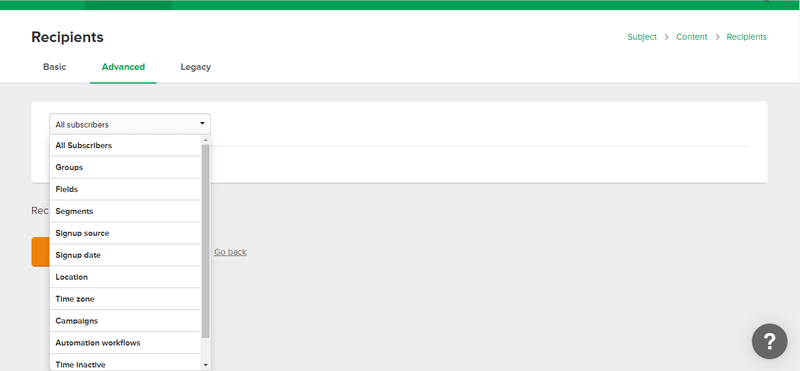 Other highlights include its auto resend email campaign option, which lets you resend messages to people who didn't open them the first time with a changed subject line, new content, or an additional personal message.
It also lets you optimize your sign-up forms to help you grow and manage your email list. These options include choosing when the popup appears, how long to show it for, and whether you just want to show it on certain webpages or devices.
Pro tip: Both Mailerlite and Mailchimp have free plans. However, Mailerlite's doesn't include templates, which means you need to spend more time designing your emails. This could lead to errors in, for example, how you start an email, and how you end it. The free plan also limits sending options to that moment or at a specific time in the future. If you choose a paid plan, you can schedule emails as per a recipient's time zone.
---
6. GetResponse
GetResponse looks and works differently than most other email marketing companies — such as Mailchimp. The software is organized into different funnels according to your goal, whether that be building a list, selling a product, or promoting a webinar.
Each funnel includes a specific set of actions that you should complete in a certain order to achieve your goal. For example, if you want to build a list, it suggests that you should create a sign-up form to generate leads and send an autoresponder to connect with these leads.
Each funnel automatically displays the metrics that are relevant to your goal. In this case, it's list growth and the number of unique visitors to your website.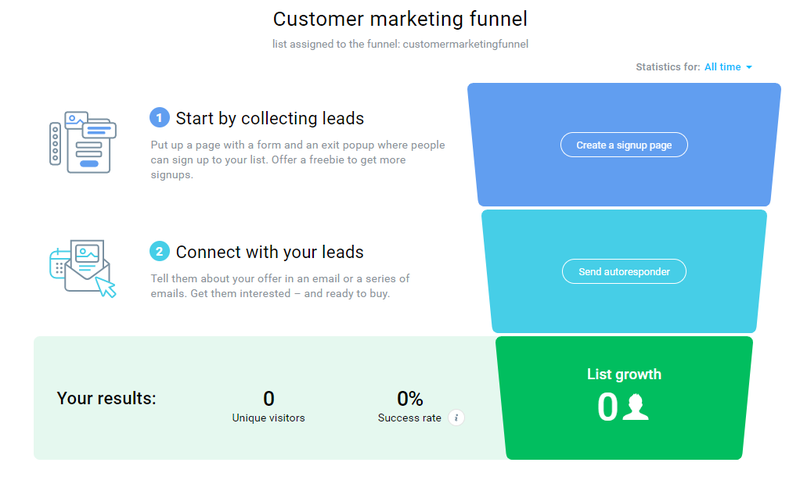 GetResponse also includes super-specific segmentation options and a feature that delivers emails according to when they are most likely to be read and acted upon, based on customers' past behavior.
Pro tip: As GetResponse takes a different approach to email marketing — and includes CRM social media and e-commerce functionality — it's not the easiest solution to use and it can take a while to get up to speed. This makes it more suitable for experienced email marketers who are prepared to spend more time creating campaigns.
---
7. Sendinblue
While most email marketers have the same goal, they won't necessarily use the same features or take the same approach to creating a campaign.
Sendinblue recognizes this and allows you to tailor the user interface by turning features on and off. Only the features you have turned on will display on the dashboard.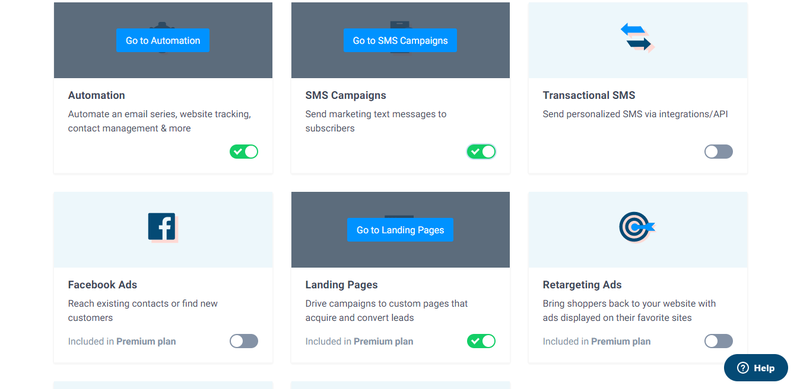 Sendinblue also provides impressive personalization features driven by its powerful contact search. This lets you find contacts by criteria such as:
Email engagement history
Demographic data
Inclusion in specific lists
You can use the results of these searches to quickly create segments and tailor content within emails to only show to specific segments. You can also A/B test your autoresponders to see which performs best.
Pro tip: The one area where Sendinblue performs poorly in comparison to other email marketing solutions is with its analytics. You can only track sends, bounces, opens, and clicks according to location. When comparing Sendinblue to software such as Mailchimp, other platforms let you track a wider range of metrics, including revenue generated per email, unsubscribes, and forwards.
---
8. Campaign Monitor
Campaign Monitor doesn't look the part of a great email software, with its dated user interface, but that doesn't affect its wide range of features.
One of Campaign Monitor's standout features is its autoresponders. You can choose to go it alone and create your own autoresponder or you can answer a set of questions and Campaign Monitor will create a series of emails triggered by specific behavior for you.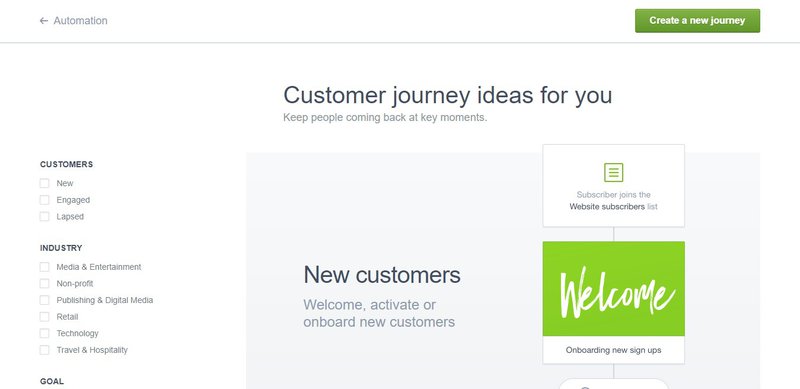 Campaign Monitor is also one of the only leading email marketing solutions to focus on optimizing transactional emails, including purchase confirmation, setting up payment methods, and shipping updates. This platform lets you design, test, and monitor performance so you can get the most out of these emails.
When you are setting up the solution, it asks you a series of questions regarding your goals and your experience with email marketing software. It then tailors your dashboard accordingly.
Pro tip: Campaign Monitor has limited support options. There is no live chat option, and it tries to direct you to the Help Center to read its digital marketing tips as much as possible. Even when you click on "Contact Support," you still need to search the Help Center before you can submit a ticket.
---
Subtle differences count
Most of the leading email marketing solutions provide the same kind of feature sets, which means your decision can often come down to the finer points. And this all relies on you having a fail-safe selection process with a list of "must-have" features, a list of "nice-to-have" features, and any other considerations, such as industry-specific capabilities.
Once you've put together this list, you can start narrowing down your options if a platform doesn't, for example, provide live chat support or if it doesn't let you create super-specific customer segments. The more specific the criteria, the easier it'll make it to narrow down your options and, ultimately, land on the right solution that provides tangible business benefits.