Email popups can turn your websites into lean, mean, lead-generation machines. Don't believe me?
Omnisend and Organic Aromas conducted an experiment on email popups which led to an increase in sign-ups by 150%. Marketing 112, a Hungarian marketing company, increased its conversion rate by 62% after using email popups.
These success stories aren't rare occurrences.
A lot of businesses are generating mounds of leads by using email popups, contributing significantly to their ever-growing online sales. If you're eager to ramp up your lead-capturing efforts and boost your conversion rates, then continue reading this guide.
---
Overview: What is an email popup?
Email popups are opt-in forms designed to capture your website visitors' email addresses so you can build your email list.
By using eye-catching designs and compelling offers in your email popups, you can generate high-quality leads and increase your conversions.
---
Why do email popups work?
Instead of skimming through your website, email popups direct your web visitors' attention to your content and offers. With email popups, you can stop your web visitors in their tracks and get their full attention on a single point — your popup.
When used properly, popups can increase your subscriptions, fuel your lead-generation efforts, and grow your email list. Your email list is the key to unlocking the advantages email marketing has over social media marketing.
---
How to create your own email popup strategy
Follow these tips to build an email popup strategy, based on email marketing best practices.
1. Personalize your opt-in forms
Personalized email popups are friendlier and less intrusive, giving your site visitors a better browsing experience. Creating a popup tailored to your visitors' interests is an approach that makes them feel special, increasing the odds that they'll take action on your offer.
Use email marketing software with referrer-detection technology for your popup banners. This technology detects which sites your visitors were on before they visited your website. This will allow you to customize your popups, increasing their relevance and efficacy.
Let's say you published an article in LinkedIn that contains a link back to your website. When users click on that link, an email popup exclusively made for LinkedIn users welcomes them with business or career advancement offers, making their experience more personalized.
Consider these other tips for personalizing your email popups:
Recognize your returning visitors: Add a "Welcome back" message to your email popups. This makes your prospects feel special, which helps entice them into signing up.
Align your popup message with your page's content: If your webpage is about career growth, showing a popup on how to win investors for your business will make very little sense. Tailor your popup to your visitors' interests.
2. Offer irresistible incentives
Give your website visitors a reason to subscribe to your list by offering irresistible incentives on your popup ads.
Consider using these lead magnets in your email popup strategy:
Loyalty membership benefits
Free shipping for minimum purchase
New product early bird access
Free e-books and product samples
Discounts on the first order
Content upgrades
Highlight the value of your offers in your opt-in copy. Talk about the convenience your web visitors will experience, the problems and frustrations they can avoid, or how much their lives will improve with your offer. When you emphasize the benefits of your offer, your web visitors are more likely to subscribe.
Quick tips to help ensure your email popup incentives attract leads:
Make your offer instantly accessible: Deliver instant gratification by allowing your subscribers immediate access to your offer. Do this by sending coupon codes directly to their email accounts upon sign-up.
Demonstrate your expertise: Increase your credibility by showcasing your expertise in your popup copy. The more authoritative you seem, the more believable your offers become. This helps move your prospects along your email marketing funnel, turning your leads into customers.
3. Use a compelling call to action (CTA)
Convince your web visitors that signing up to your email list is in their best interests. Communicate your offer's value in your CTA so your prospects know what to expect when they sign up, which is crucial for permission-based email marketing.
The newsletter popup below is a classic example of this.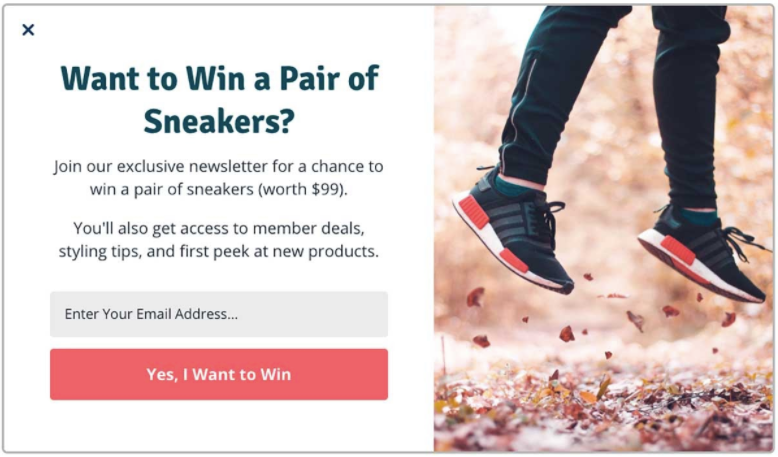 The incentive is offered to people who sign up for the exclusive newsletter. They get the chance to win a pair of sneakers, and the CTA summarizes the offer well with the opt-in button text "Yes, I Want to Win."

Phrasing your CTA this way packs more punch than a simple "Sign Up" text on the button, making your offer more attractive to your prospects.
4. Target the right audience
Avoid showing the same email popups to all your site visitors. Asking people to sign up for an offer they already signed up for will ruin their experience. Even if they've gone through a double opt-in process, they could still unsubscribe to your list if you annoy them by showing them irrelevant popups.
Reinforce your lead capture page by making your email popups relevant and specific to your visitors.
For instance, use geotargeting so popups with the right currencies are shown to visitors from corresponding regions. If your web visitors come from Japan, the currency on your popups should be the Japanese yen.
Can you imagine the disconnect if your popups had Indian rupees when your visitors are from Japan? Not only would that be a terrible experience for your site users, but your conversions are bound to suffer as well.
Check out these tips to help you deliver relevant email popups to the right audience:
Identify your target audience segments: Use analytics tools to learn your visitors' locations, demographics, interests, behavior, and more. This helps you segment your audience and tailor your popup strategies to ensure you deliver relevant opt-in forms.
Segment your website visitors: Segment your audience based on their interactions with your website. Categorize them as first-time visitors, returning audiences, visitors browsing on mobile, etc. This allows you to set trigger-based popups, which are far more effective than popups with generic offers.
5. Test your email popup campaigns
Small business email marketing can use some of the same strategies as the bigger players, including A/B testing. Change one section of your popups at a time while monitoring the number of sign-ups.
This strategy helps you come up with the highest-converting angles, designs, or copy for your popups, making your campaign more profitable.
Consider running tests on these elements:
Headlines: Make your headlines catchy. Figure out the best headlines by varying your word choice, length, and language. Also, switch up your design — type size, color, font, length, angle, etc. As you publish these popups, monitor their results, so you will know which elements help your popups convert best.
Images: Use different images or image types to see which ones improve your popups' performance. For instance, conduct a split test between photos of people and product images. By comparing the number of sign-ups each image generates, you will know which image type is better for your campaign.
---
3 amazing email popup examples to inspire you
Get inspiration from these well-designed and high-converting email popup examples from established brands.
1. GuiltySoles
This popup design is very customer-centric. It's simple, clean, professional-looking, and highlights the one thing GuiltySoles customers are clamoring for: shoes.
Giving site visitors the opportunity to win free shoes makes the popup irresistible for this business's target customer.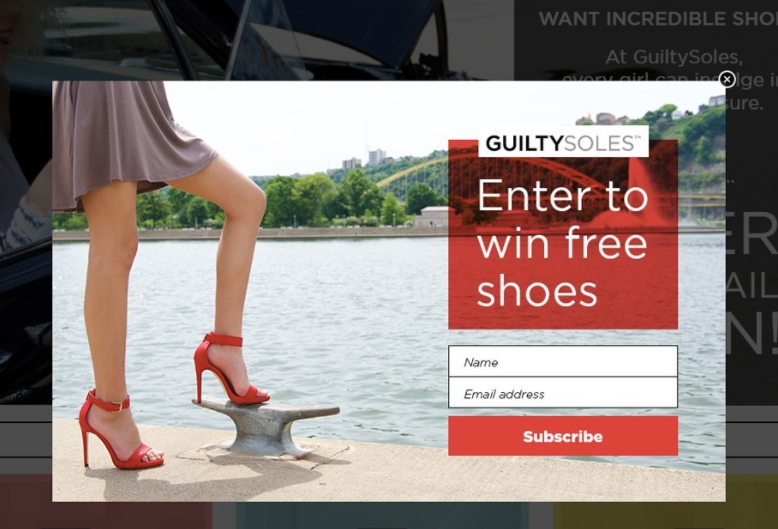 2. Tommy Hilfiger
Tommy Hilfiger incorporates its brand colors into this opt-in form, reinforcing brand recognition.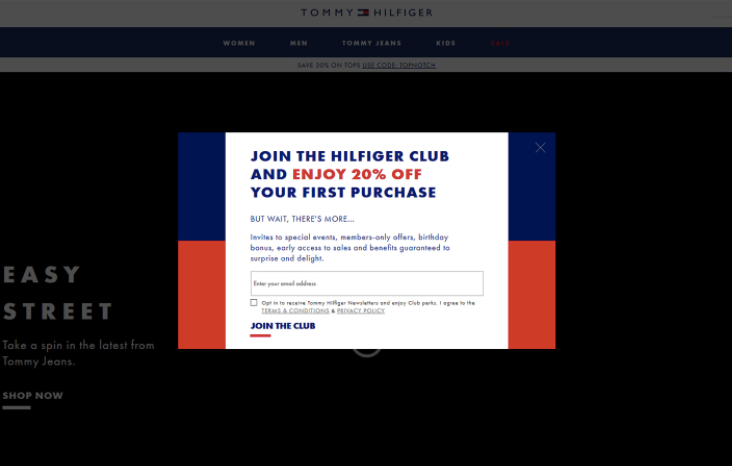 Using the text "Join the Hilfiger Club" in the headline makes the popup more personal and community-focused. It also makes users feel they're being invited to join an exclusive group that has access to special offers.
This popup offers an immediate benefit to the customer (20% off a first purchase) and promises to hold continued value with birthday bonuses, early access to sales, and members-only offers.
3. Wallstickerland
If your customers don't find what they're looking for after perusing your site, they might leave — for good. A popup triggered when your visitors move their mouse to the top of the page can provide one more chance to earn their business.
Wallstickerland used an exit-intent popup to capture its visitors' emails before leaving by offering a custom solution.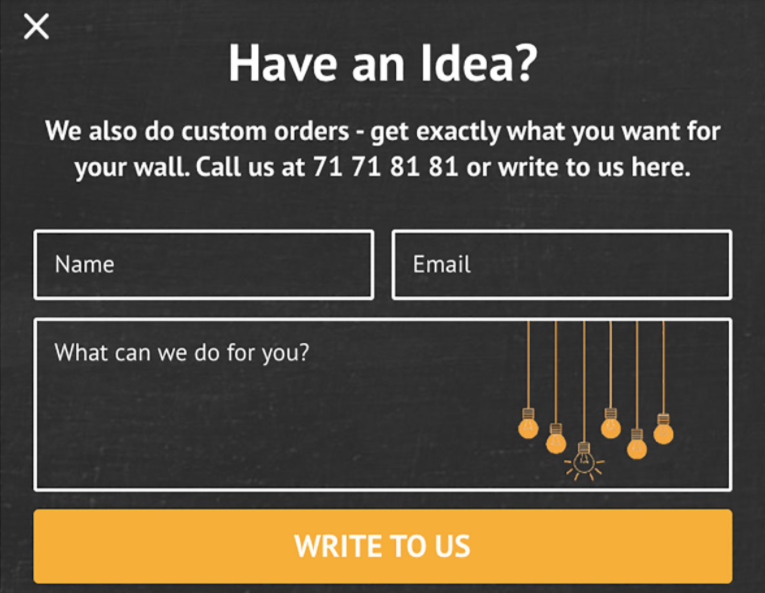 It's an excellent last-ditch attempt to provide value for your visitors while obtaining their emails in the process.
---
Start boosting your conversions with a robust email popup strategy
Reap the benefits of email marketing by setting up high-converting email popups.
While there is no one-size-fits-all formula for creating successful email marketing campaigns, the tips shared in this guide are "deadly" enough to grow your email list. Once your web visitors are on your list, the next step is to send them engaging email newsletters that will help you convert visitors to customers.