As soon as you hire your first worker, you should create an employee handbook. Creating an employee manual helps you build a solid HR and legal foundation which you can rely on as your business grows.
If you're a small business, you might not think you need an employee handbook, but as soon as you hire a member of staff, you need policies in place to properly manage your workforce.
The importance of a handbook only increases as your business grows and you have to put more policies into place and communicate these policies to your employees. That's why you should get started on your employee handbook today. If you need inspiration, you can check out our pick of the best employee handbooks below.
---
Overview: What is an employee handbook?
Employee handbooks differ from company to company, but they normally contain information about the business and details relating to company policies, such as values, operating procedures, and company culture. They set out standards for how employees should behave and what is expected of them in terms of performance, as well as how the business operates.
If you have an employee handbook, you need to make sure everyone knows about it, and clearly communicate any changes. Workers normally receive these handbooks when they first start at a company, so they can familiarize themselves with how a company is run and what they can expect from the business.
Sometimes companies only publish handbooks when they reach a certain size or have enough HR and legal resources to write policies. Sometimes it's a way for companies to create formal processes and policies that they may not have had in place before.
For example, a company of five people might have informal policies, such as you can work from home three days a week. But then a new manager starts who doesn't like their team working from home. If there is no formal, written policy, but it has been a common procedure before then, it can be difficult to find a way forward. However, if the company has an employee handbook that includes a work-from-home policy, then everyone is on the same page.
Companies update and add to these handbooks as they grow. This is why it's important to store this handbook within your HR software, as all employees can access an up-to-date version at all times. Zenefits lets you store your employee manual within your document repository, and gives you access to sample employee handbooks.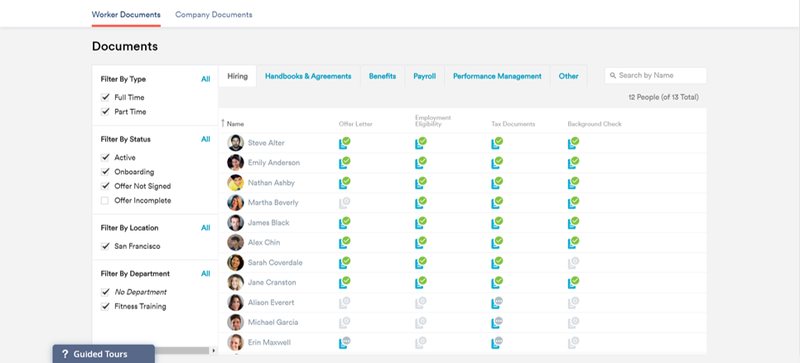 ---
Why do you need an employee handbook?
If you want your workplace to run smoothly, you need a written version of your policies and procedures to avoid awkward discussions and arguments between employees, HR, and management.
If people are used to working in a certain way — for example, they can start between 7a.m. and 10a.m. — but you haven't formalized this policy, then you'll face problems if one manager decides to change this and ask all employees to start at 9a.m., with no flexibility.
If you have a company employee handbook, workers can check policies themselves without having to ask their managers or HR any time they have a question or are unsure about what the procedure is.
You can also make portions of this handbook available during the recruitment process, as this can make your company more attractive to candidates. For example, if one of your candidates has children, they'll be reassured to know that you have a flexible working schedule.
If you're not sure how to create such a document, you can check with your HR software provider to see if they have any employee handbook templates or can recommend any employee manual examples.
---
What policies to include in an employee handbook
As an employee handbook is entirely optional, there are no specific requirements. However, it's important to highlight certain legal and compliance policies, such as diversity, to make sure your employees are fully informed of their rights and have access to all necessary information. It can also protect you against lawsuits if you have your policies in writing.
1. Onboarding information
There are various policies employees need to know about, procedures they need to go through, and documents they need to sign when they first start working with your company.
This includes a non-disclosure agreement (NDA) and confidentiality agreement to ensure workers don't disclose sensitive information, a conflict of interest agreement, a non-compete agreement, and job-specific contracts. For example, if you hire a content writer then you should include information on who owns the copyright for their work.
Other general information you should add to the handbook includes:
Notice period
Vacation days
Work from home policy
Work schedule, including any flexible working arrangements
Sick pay policy and how to request a sick day
2. Health and safety details
If you have more than five employees, then you are required by law to create a written statement of your company's health and safety policies. You also must bring this to the attention of your workers. A company handbook is a good place to include these policies, which should include:
A health and safety policy statement of intent detailing aims and objectives
Who has responsibility for the different procedures
How you manage risks and hazards, such as fire
3. Diversity and equal opportunities
You need to show that you have a firm commitment to creating a diverse workplace if you want your business to prosper and to attract talent. This means including information on your equal opportunities and inclusivity policies in your employee handbook.
If you use an HR solution like Workday then you can draw in specific figures to show that you are doing your bit, and to try to protect your business from any discrimination claims.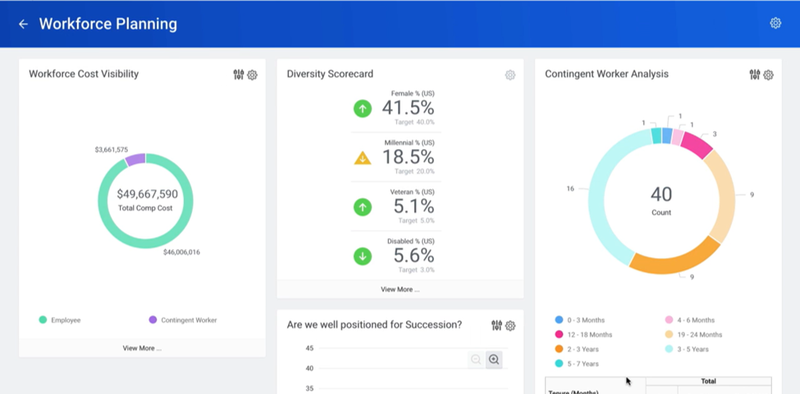 4. Legal and compliance policies
HR professionals have a ton of regulations they have to be mindful of, and it's important not to keep these policies a secret from your employees. Ethics is one particularly important aspect for certain industries, especially if your employees have to regularly interact with clients.
Other policies you should include relate to areas such as anti-corruption, bribery, tax evasion, overtime pay, and maternity and paternity leave.
5. Mission and values
What does your company stand for and what are its goals? How do you hope to achieve these goals? What are your company's priorities? This is the kind of information you need to include in an employee handbook, along with details on company culture.
Some companies provide free coffee, tea, fruit, and lunch as they want to make sure their employees are well-nourished. Others are fun- and team-oriented and organize loads of social activities, and others prioritize flexible working schedules and working from home.
6. Benefits
As the benefits package is often one of the main reasons that people choose to work for a company, it's important to include this information in your employee handbook. This section should detail the kinds of benefits you offer, plus your overall benefits strategy and why you have chosen to offer these benefits. Then get into the nitty-gritty of who is eligible for which benefits, how they can subscribe and access details (often in your HR software), and your plan's policy number.
7. Communication policy
Social media use is rife at work, and it's hard to stop, but is it condoned or frowned upon? How do you want your workers to communicate with each other? Should they use email or Slack or another internal tool? And how should they communicate with clients?
This is important information to include in your employee handbook, along with details of any software or tools they are expected to use, or websites they are expected to check, as part of their employment.
---
Employee handbook examples
We've talked about what you should include, but now it's time to look at what this means in practice. Below we've provided our pick of the best employee handbook examples, so you can create a manual that your workers will read and take notice of.
Tesla
Tesla has never been a conventional company, which is what you'd expect given that its founder Elon Musk is something of a character. When it comes to employee handbook examples, Tesla's approach won't work for everyone, but it clearly sets out its brand and ethos, leaving its staff in no doubt about what kind of company it is. It even calls its handbook "The Anti-Handbook Handbook".
The handbook includes important policy information, such as health and safety, vacation, sick days, and outside employment, and outlines its communication policy (you can talk to anyone, even Musk). Its tone of voice, while sometimes combative, makes it a much more interesting read than your average employee handbook.
It's also an interesting document as it includes stuff you won't see in any employee manual template, such as the importance of having fun. It's a reminder that there is no one-size-fits-all approach when it comes to creating an employee handbook.
Valve
Video game company Valve has produced the type of employee handbook that workers might actually enjoy reading, and, if not, they can just chuckle at the pictures. Written in the form of a book, it's incredibly comprehensive, detailing every policy you could ever think of, including company structure, working hours, hiring practices, and performance reviews.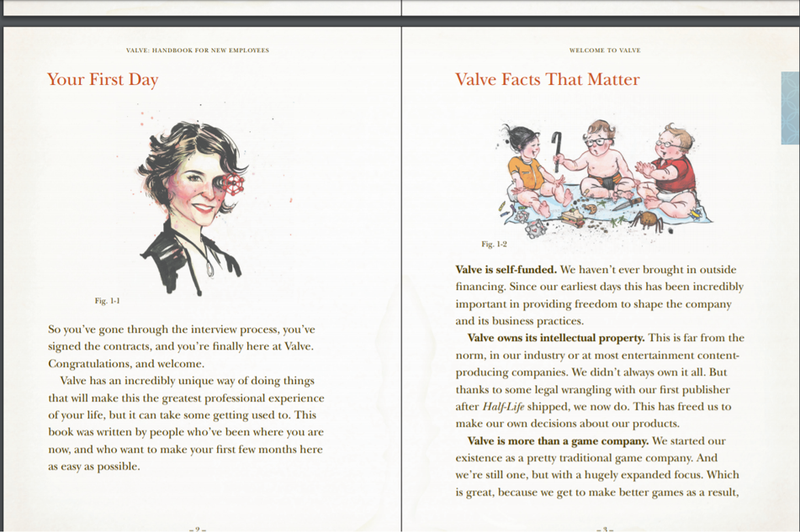 It also takes a unique approach in that it is completely honest about its shortcomings and what it needs to improve on as a company: mentoring and sharing information internally.
People HR
People HR has worked hard on the design of its employee handbook, making it not only look attractive, but also making it more likely that staff will read the contents. It's also broken up into digestible sections, which means it's easy to quickly check the section that is most relevant to your question.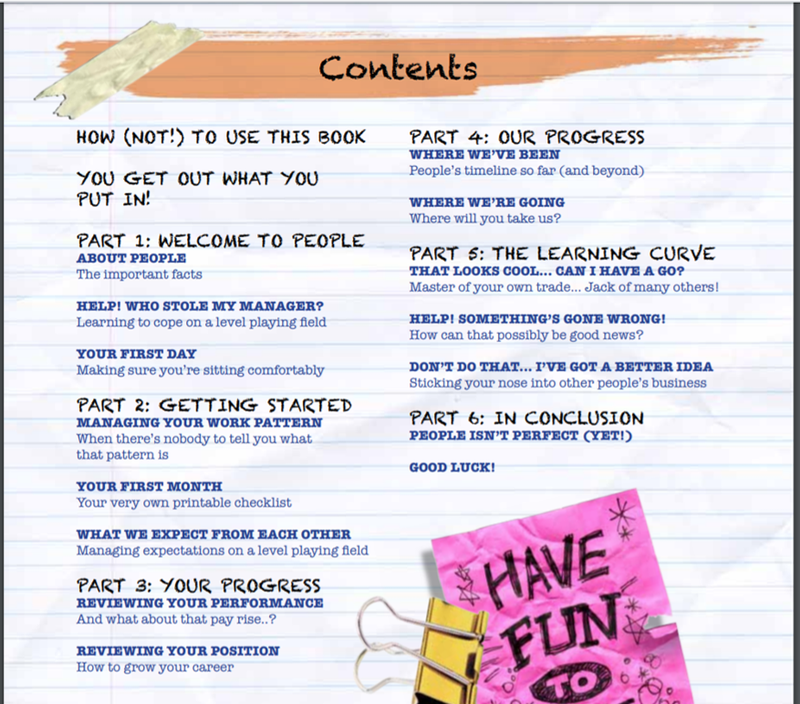 This document includes the most interesting and inventive copy we've seen in an employee handbook, while also managing to convey important information at the same time, such as values and performance management. People HR also includes a checklist of items to complete in your first month, serving as an onboarding document as well as an employee handbook.
---
Remember to apply your rules
Creating an employee handbook is a great way to make sure that your staff are aware and up to date with your company policies.
If you make this handbook available within your HR software, they can always access the latest version, and they don't have to take up their manager's time each time they have a question. It's also a useful tool for managers when they want to explain why they are making certain decisions. If you're not sure what to include in a handbook, take the time to read through the employee handbook samples above.
But creating an employee handbook is just the first step; you also need to apply the policies within the handbook consistently across all teams.
While there can, and probably will be, exceptions to your policies, if you don't apply your own rules then you risk losing the respect of your employees and leave yourself open to legal action.