ExpensePoint is an online expense management and reporting application suitable for small businesses that need to manage business expenses and prepare expense reports. Affordably priced and easy to use, ExpensePoint offers a ton of features designed to automate the entire expense management process.
---
Who is ExpensePoint for?
ExpensePoint is for businesses of any size looking for a way to automate the expense management and expense reporting process. Because of its affordability, ExpensePoint is particularly well suited for smaller businesses with a limited budget.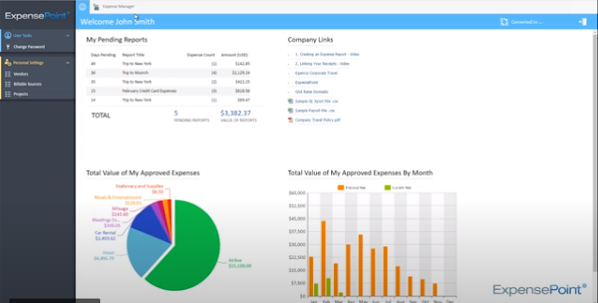 Another feature that can be helpful for small businesses is the free product setup ExpensePoint offers. The company also offers free telephone support and free training, which are beneficial to businesses of any size but are particularly useful for smaller businesses that often lack the resources needed to set up a new application or pay for employee training.
---
ExpensePoint's features
ExpensePoint's main focus is on expense report creation, although it easily manages all related business expenses. Some of the features include the ability to create multiple expense reports, add additional line items to an existing report, decline an expense report that has been submitted for approval, and the option to enter a comment on any line item.
The latter is a convenient feature that both submitters and approvers can use to add a comment to a line-item expense for clarification purposes.
ExpensePoint offers multiple options for submitting expense reports, with the most convenient being the mobile expense app. You can upload receipts to the application or have them sent via email directly to the application. If those options aren't enough, you can also submit a receipt via fax.
ExpensePoint includes a credit card integration option so your credit card transactions can be automatically uploaded regularly. It also supports multiple currencies, with a live currency exchange rate available in the application as well.
ExpensePoint includes workflow capability, allowing employees to automatically route their completed report to an approver — with multiple approvers supported — while the included policy management feature allows you to create and manage company expense policies, with all policy infractions flagged.
ExpensePoint offers integration with popular accounting software applications, including QuickBooks, Sage, and Great Plains, making it easy to track expenses in their proper category. It also includes excellent reporting options with more than 35 reports available that can be customized as needed — and easy exporting to Microsoft Excel for further customization.
Finally, the auto-sync feature allows you to use the application offline on your desktop, with all data entered later synching with the online application.
Automatic expense reports
One of ExpensePoint's best features is its ability to automatically create an expense report. All of your expense report receipts, whether emailed or uploaded from your phone, are stored in the Receipt Wallet feature. Authorized users can create an unlimited number of expense reports, and managers have the option to create an expense report for a staff member if necessary.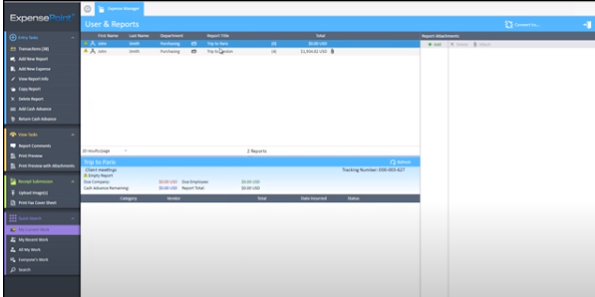 ExpensePoint offers an expense history and allows you to split expenses between departments, locations, or clients. Cash advances can be managed in ExpensePoint, and you can approve an expense report by line item or approve the entire report.
Receipt Wallet
Receipt Wallet works as a depository for all receipt images submitted to ExpensePoint, storing the images in a display where you can just click on the image to add that expense to your report. After snapping the photo, you can easily add a quick description of the image that will later help you identify it when you're creating your expense report.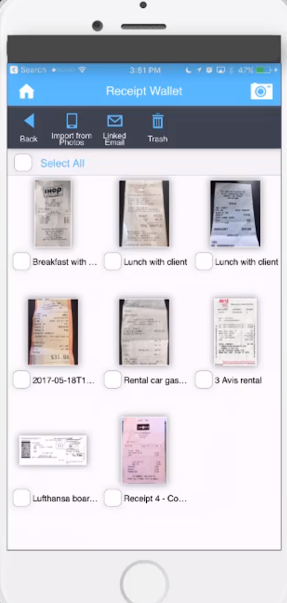 You can email a receipt directly to the Receipt Wallet feature where it will be stored until being attached to an expense report. There is also an option to have a receipt emailed directly to the application from any retailer that emails receipts.
Receipt Reader
One of ExpensePoint's newer features, the Receipt Reader app, like the Receipt Wallet, offers an automated approach to managing expenses.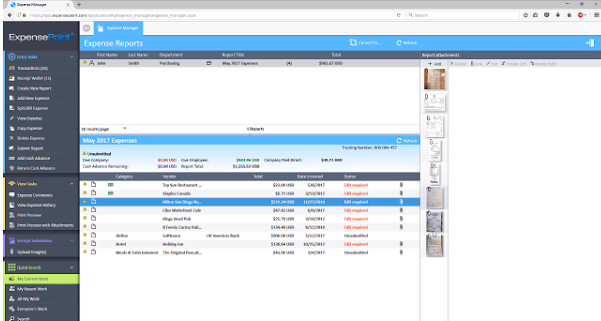 Just enable the Receipt Reader option during the product setup process, and it will read the information on your uploaded receipts, including receipt date, vendor, taxes, and amount, and populate your expense report with the totals. You'll have the option to review any additions Receipt Reader makes before submitting an expense report for approval.
Review and approve
You'll receive an email notifying you every time an expense report is submitted for approval. Once logged in, you can view the newly submitted report on screen or click on the print preview option to view a summary of the report. You can also see a detailed view, which lets you scroll down to view all report sections, including attachments such as receipts and invoices.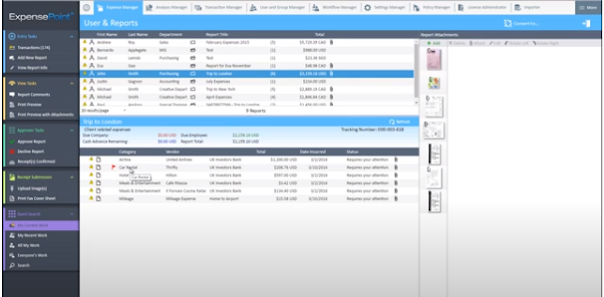 All out-of-policy expenses will be red-flagged, bringing them to your immediate attention. Just double-click on the line item that has been red-flagged to see what the violation was. You can decline to pay a specific line item while approving the rest of the report, but the entire report will need to be returned to the submitter to correct any disapproved items before it can be processed.
ACH reimbursement
With all of these automated features, it's not surprising that ExpensePoint would make it easy to reimburse employees. The built-in ACH reimbursement feature does just that so you can quickly approve employee expense reports and directly reimburse employees via an ACH payment to their bank account.
---
ExpensePoint's ease of use
Starting with the setup process, which is completed for you, ExpensePoint offers an easily navigated application designed with the end user in mind. With all system features available from a single screen, you can easily go from the expense management screen to the expense report approval screen with the click of a button, while the vertical menu bar to the left of the screen offers easy access to other system features.
You can enter data at any time on your desktop system, even without Internet access, with all entered data later synching with the application once a connection has been restored. With automated systems available to store receipts, read receipts, and automatically populate expense reports, the need for data entry is drastically reduced.
You can create and enter your company's expense policy during the setup process, which will automatically red-flag any policy violations.
ExpensePoint analyzes company spending, with more than 30 reports available, and you can enter data using the mobile app, which supports iOS, Android, Blackberry, and Windows operating systems.
---
ExpensePoint's pricing
It costs $7.50 user/month to subscribe to ExpensePoint. No multiple plans to research, no add-on modules, just a single plan with straightforward pricing, which includes all of the features found in ExpensePoint.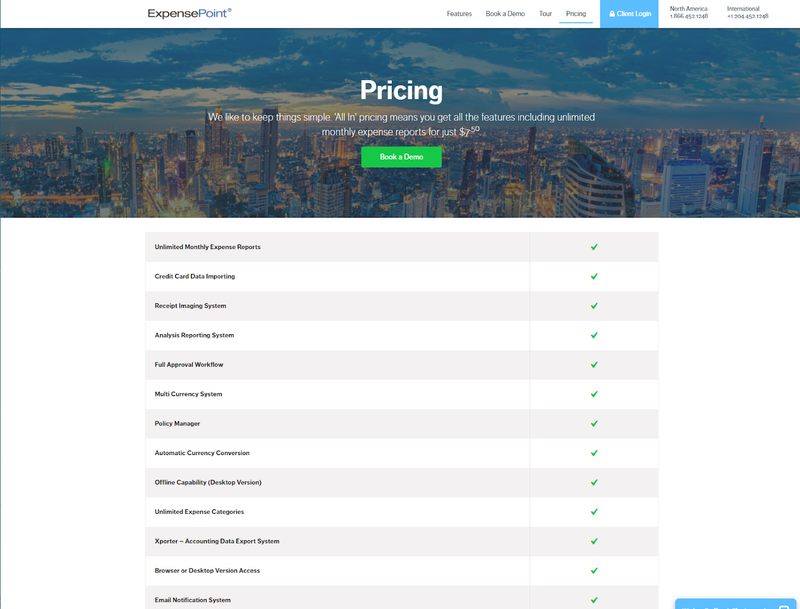 Although some business owners may prefer to pick and choose the features they need, ExpensePoint offers a good selection of features at one low cost.
---
ExpensePoint's support
For an inexpensive application, ExpensePoint offers excellent support options. The following are included in the cost of the application.
Toll-free telephone support during regular business hours
Online support during regular business hours
Email support 24/7, with a response in one day
A support agent is assigned to each new account so you'll always have a direct contact in case issues arise. ExpensePoint also offers free system setup and free web-based training.
---
Benefits of ExpensePoint
One of the biggest benefits of ExpensePoint, particularly for small businesses, is its pricing. Another benefit is how quickly you can be up and running, with all setup handled completely by ExpensePoint personnel. Other benefits include the ability to directly import credit card transactions and manually enter travel expenses and other expenses.
---
Is ExpensePoint right for your business?
Depending on your needs and what information you need to track, ExpensePoint may be a good solution for your small business. While it may not be suitable for businesses that are looking for travel management solutions such as hotel and airfare booking, if you're managing standard business and operating expenses, ExpensePoint is an affordably priced option.
---
Frequently Asked Questions about ExpensePoint
Is ExpensePoint easy to use?
Since ExpensePoint offers complete setup services for all new subscribers, you and your bookkeeper can be managing expenses in no time. ExpensePoint also includes an intuitive user interface that provides quick access to all system functions, with numerous videos available on the ExpensePoint website that provide a good overview of important system features.
Can I use ExpensePoint on my desktop?
ExpensePoint can be used on a variety of devices, including desktop computers, laptops, smartphones, and tablets. You can even use ExpensePoint if you're temporarily disconnected from the Internet since all data syncs with the application once connectivity has been restored.
Do I have to enter expenses manually?
Although there is an option to enter expenses manually, the majority of information necessary to track expenses and create an expense report is automatically entered using the Receipt Reader feature available in ExpensePoint.

For small businesses with a limited budget, ExpensePoint offers a low-cost way to manage your business expenses. Check it out to see if it's right for your business.
For small businesses with a limited budget, ExpensePoint offers a low-cost way to manage your business expenses. Check it out to see if it's right for your business.
---
How ExpensePoint Compares
The Motley Fool has a Disclosure Policy. The Author and/or The Motley Fool may have an interest in companies mentioned.