I admit it: I have an overdeveloped sense of my own personal space. When I'm checking out at the grocery store, for example, and someone in line starts crowding me, I have to bite my tongue to keep from saying, "Hey! Are we going steady or what?"
The situation is the same every time you're on a public Wi-Fi network. Hackers, government agencies, your internet service provider (ISP), and companies that own the websites you visit are trying to look over your shoulder to see who you are and what you're doing. The only difference between that and my grocery store experience is 99 times out of 100 you don't realize it's happening.
The solution is a virtual private network (VPN), which keeps prying eyes off your online activities even when you're on a public network.
ExpressVPN is one of the original players in the VPN arena, but does it offer the features and reliability your business requires? We'll take a close look at its strengths and weaknesses, pricing, and support, so you can decide if it's the best fit for your needs.
---
Who is ExpressVPN for?
Founded in 2009, ExpressVPN offers a full suite of VPN services via desktop downloads and mobile apps for multiple operating systems, personal digital devices, routers, gaming consoles, smart televisions, and extensions for popular browsers. It currently has more than 3,000 servers in 94 countries.
ExpressVPN is registered in the British Virgin Islands, which has robust privacy protections and no data retention requirements, so it keeps no user activity or connection logs.
ExpressVPN doesn't have any business-specific plans, so it's best suited for freelancers, solopreneurs, and sole proprietors willing to share login credentials with a few employees.
---
ExpressVPN's features
All data sent over the internet, especially via public networks, is susceptible to monitoring and interception by third parties. ExpressVPN creates an encrypted "tunnel" for your digital devices that simulates a private network even while on the internet.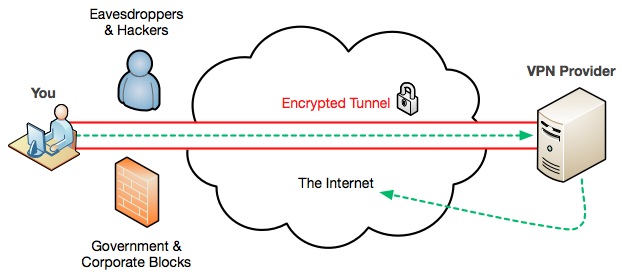 ExpressVPN also masks a device's IP address. For the average consumer, the biggest benefit is accessing geo-blocked content. This is a key feature for journalists and other social change agents operating in countries with varying degrees of personal freedom because it hides a user's physical location that's tied to an IP address.
ExpressVPN features include:
Advanced Encryption Standard (AES) 256-bit encryption
Unlimited data bandwidth
24/7 live chat support
Let's look at its core functionality: VPN protocols, downloads and apps, kill switch, Domain Name System (DNS) protection, and split tunneling.
VPN protocols
"Data encryption" is a catch-all term for multiple protocols with their own strengths and weaknesses. Strong encryption is the backbone of every VPN, and ExpressVPN security includes multiple protocols:
OpenVPN
Internet Key Exchange Version 2 (IKEv2)
Layer 2 Tunneling Protocol (L2TP)
The ExpressVPN protocol settings screen gives you a thumbnail take of each one's pros and cons.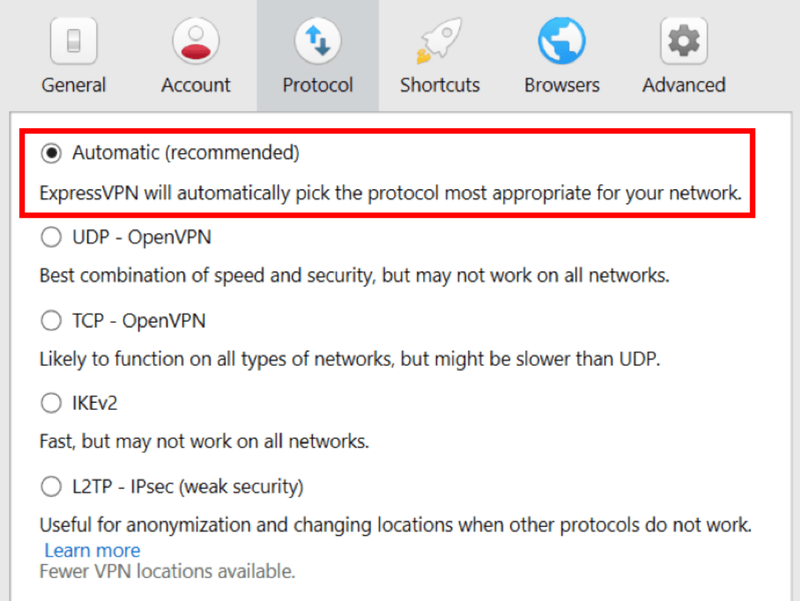 ExpressVPN doesn't support WireGuard, a new open-source protocol increasingly used by VPN providers. In October 2020, ExpressVPN released the public beta of Lightway, its proprietary protocol designed for increased speed and security.
Downloads, mobile apps, and browser extensions
ExpressVPN offers a wide range of downloads that support multiple operational environments:
Platforms: Windows, Mac, iOS, Android, and Linux
Devices: Smartphones, routers, smart televisions, and game consoles
Browsers: Chrome, Firefox, Edge, Brave, and Vivaldi
After downloading your ExpressVPN app of choice, identify and save the servers you want to use. Selecting the closest one increases data speed, while choosing a server in another country lets you access geo-blocked content and websites while masking your location.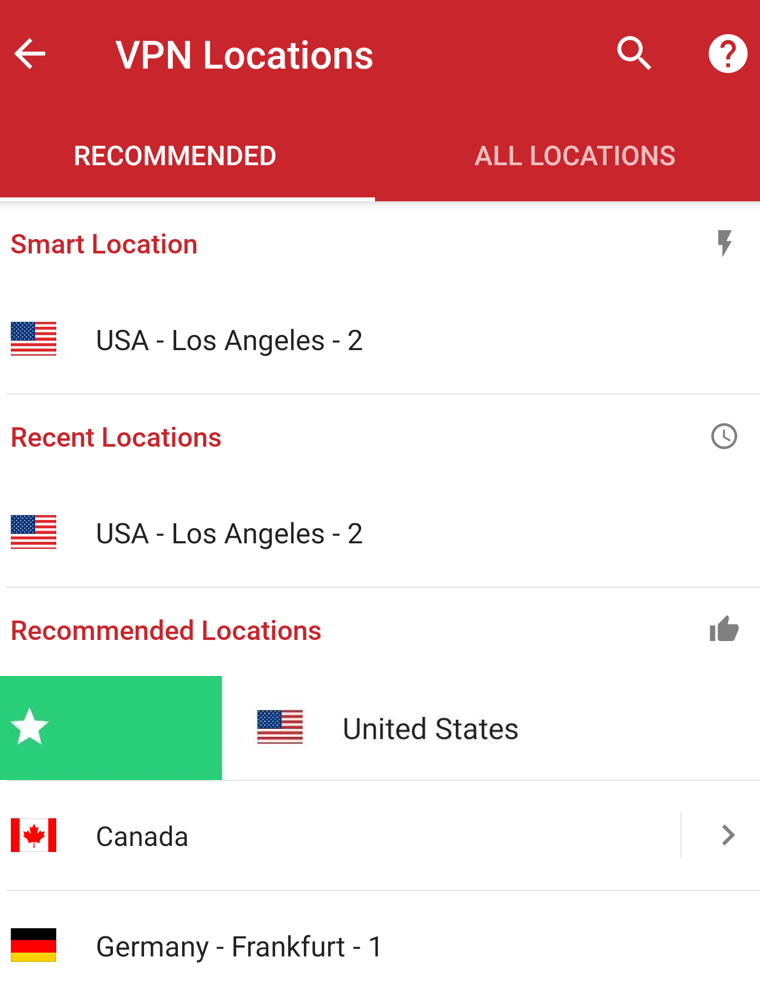 ExpressVPN limits you to five devices simultaneously running its software. One way around this limit, however, is to install it on your network router, which gives all devices on your network VPN protection while counting as one connection. You can download ExpressVPN router firmware for major brands, such as Netgear and Linksys, or manually install it on others.
Network Lock
VPNs work in the background, so a potential problem is if your VPN connection drops without warning, which can leave you unprotected on the internet. ExpressVPN's Network Lock kill switch automatically blocks web access when this happens until your VPN connection is reestablished.
Other situations where Network Lock automatically engages include switching between Wi-Fi networks, closing your laptop or putting your computer to sleep, and during an ISP outage. But you can set it to let you retain access to other devices on your local network even if your VPN connection drops.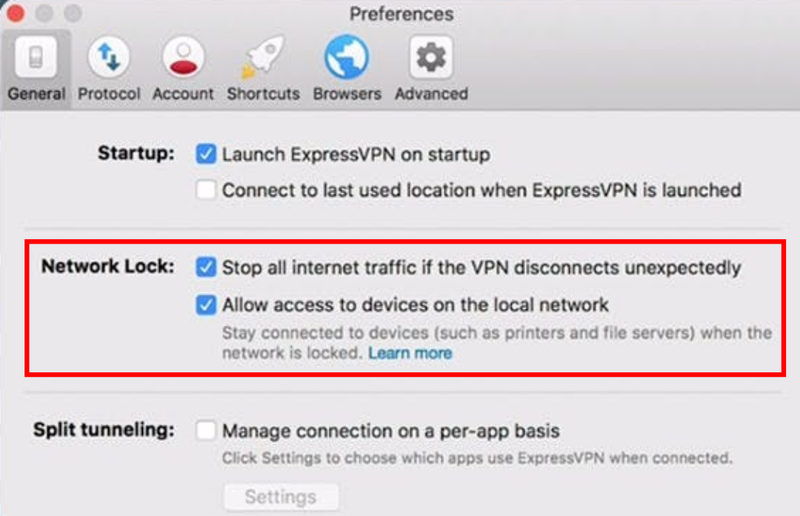 While you can turn off Network Lock — even though it's not recommended! — on most ExpressVPN downloads and apps, it's impossible on router installs.
Domain Name System (DNS) protection
Another point of vulnerability when you're online is DNS requests. While a URL in your web browser is displayed as an alphanumeric string — www.fool.com, for example — its actual location on the web is found via a numeric string. A DNS request converts the URL to its numeric address.
Many ISPs use third-party DNS services that may make money by selling user information to companies for advertising purposes. DNS requests are also susceptible to man-in-the-middle (MITM) attacks: A third party intercepts your DNS request and either blocks access or reroutes you to a fake website.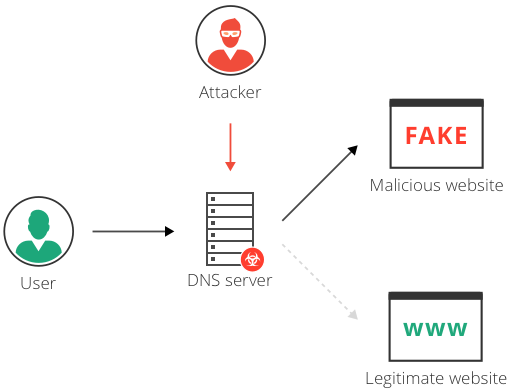 ExpressVPN automatically resolves your DNS requests using its VPN encryption protocols, so no third parties have access to this information.
Split tunneling
While a VPN provides extra security, you may not need it for every application. For example, sometimes you may encounter problems when connecting to LAN devices, simultaneously accessing foreign and local internet services, or have bandwidth issues with your ISP.
ExpressVPN's split tunneling allows you to choose when you use your VPN. Have all apps use it or pick ones to include or exclude.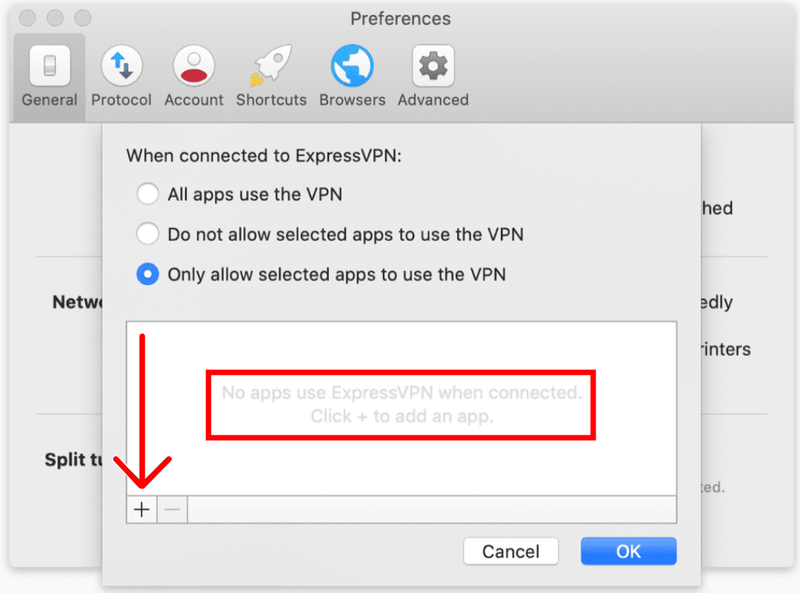 Security risks increase any time you route traffic outside your VPN, so carefully consider which apps to exclude.
---
ExpressVPN's ease of use
VPNs work best when you don't notice them, and ExpressVPN has the functionality to achieve this. Even VPN tech novices will find getting started easy, and more experienced users will appreciate the wide range of platform and device applications. The ExpressVPN extension for major browsers further streamlines the user experience.
Some of its most powerful features, such as Network Lock and DNS protection, are automatically enabled, so no setup is required. If you do need help, ExpressVPN offers 24/7 live chat. This is a departure from many VPN services, which often stick to email help requests.
A superior technical infrastructure also elevates its performance. With more than 3,000 servers around the world, ExpressVPN speed tests show it's among the fastest VPN providers for online browsing, video streaming, and downloads.
It lacks some features offered by comparably priced competitors: an ad blocker, static IP addresses, and unlimited device connections. Still, ExpressVPN is a good option if you want a reliable VPN that doesn't require much ongoing maintenance after initial setup.
---
ExpressVPN's pricing
Unlike some VPN providers with tiered plans that add progressively more features or separate business and consumer plans, ExpressVPN has one plan, which includes:
Five simultaneous device connections
Unlimited data bandwidth
Apps for desktops, mobile devices, browsers, and routers
Network Lock kill switch
Split tunneling
No log policy
Live chat support 24/7
A subscription is $12.95/month, $59.95/six months, or $99.95/year. No ExpressVPN free plan is offered, but it does have a 30-day money-back guarantee. When I downloaded the ExpressVPN Chrome app for my laptop, I was surprised to see it had a seven-day free trial not mentioned on its website.
If you need more than five simultaneous connections, you must buy one or more extra subscriptions. One workaround is to install ExpressVPN on your network router, which counts as one connection, so every networked device has VPN protection.
The lack of standalone business plans means ExpressVPN doesn't have the multi-user management functionality larger companies require. Instead, it's best suited for freelancers, solopreneurs, or smaller businesses where a shared login among employees is manageable.
---
ExpressVPN's support
ExpressVPN offers live chat support 24/7 and via email but no help by telephone. Self-service resources include:
Knowledge base
Troubleshooting and setup guides
Video tutorials
ExpressVPN's blog is frequently updated with product news, technical tips, and more general information, such as "Tech Resources for Leaving a Cult."
---
Benefits of ExpressVPN
ExpressVPN provides standard VPN benefits:
No activity or DNS request logs
Access to blocked websites and content
IP masking
Other benefits include unlimited bandwidth — something not all its competitors offer — and free security tools, such as an IP address checker, DNS leak test, WebRTC leak test, and password generator.
For increased security, ExpressVPN introduced its TrustedServer system in 2019. These servers use only RAM, and each reboot wipes all data because nothing is written to a hard drive. Cure53 and PricewaterhouseCoopers also compiled independent third-party audit reports of ExpressVPN's security and infrastructure available at its website.
Install it outside of China and use it in-country to access Facebook, Netflix, Google, and other blocked sites. (This isn't true for all VPN providers due to the Great Firewall of China.) ExpressVPN has servers in Hong Kong, which gives users outside the country access to Chinese websites.
---
Robust security for individual users
ExpressVPN isn't for everyone because it lacks enterprise-level functionality and multi-user management. If you're a freelancer or run a small business, however, its wide range of supported platforms, apps, and powerful security features make it one of your best VPN software options.
---
Frequently Asked Questions for ExpressVPN
Who should use ExpressVPN?
ExpressVPN has one subscription plan but no multi-user business plan, so it's best for freelancers, solopreneurs, and smaller businesses where employees can use a shared login. Its plan includes five simultaneous device connections, and, if you need more, you must buy one or more extra subscriptions.
How much does ExpressVPN cost?
It costs $12.95/month, $59.95/six months, or $99.95/year. It doesn't have a free plan but offers a 30-day money-back guarantee. A seven-day ExpressVPN free trial is available via the Chromebook app.
What kind of support can I expect?
ExpressVPN offers 24/7 live chat support and help via email but no telephone support. Self-service resources include a knowledge base, troubleshooting and setup guides, and video tutorials.

ExpressVPN's target market is individual users, not businesses, so it lacks multi-user management functionality. If you're working on your own or with a small team, however, its features — multiple VPN apps and browser extensions, a kill switch, split tunneling, and DNS protection — give you enterprise-grade security and reliability.
ExpressVPN's target market is individual users, not businesses, so it lacks multi-user management functionality. If you're working on your own or with a small team, however, its features — multiple VPN apps and browser extensions, a kill switch, split tunneling, and DNS protection — give you enterprise-grade security and reliability.
The Motley Fool has a Disclosure Policy. The Author and/or The Motley Fool may have an interest in companies mentioned.