We've long known emotions affect sales. People don't want a list of features. They want the feeling your product or service provides, whether that's relaxation or joy. While marketers leverage emotion in marketing campaigns, measuring your audience's mood isn't always as simple.
However, with Facebook reactions, your audience can go beyond "liking" your advertisement or post by expressing shock, anger, or even support. Discover ways to use Facebook buttons to learn about your audience and optimize digital campaigns while improving engagement.
---
Overview: What are Facebook reactions?
Facebook reactions are emojis available by hovering over the "like" icon on posts, advertisements, and individual comments. People can choose different emojis such as like, love, care, haha, wow, sad, or angry icons to express how the content makes them feel.
The way it's set up is that each time a Facebook user adds a reaction, they're now following the post unless they manually unfollow it. This means fans get alerted to new reactions and comments, giving users more chances to interact.
Furthermore, the algorithm reportedly gives more weight to reactions other than the Facebook like icon. So, people who click on the reaction buttons may get more relevant content in their feeds.
---
How to analyze Facebook reactions as engagement metrics
Understanding how your content makes people feel helps you improve your posts and ads, resulting in better-performing digital campaigns. Social media management tools and Facebook Insights provide data about your audience's use of Facebook reaction buttons.
However, you won't learn enough about your audience by merely judging Facebook reactions. Instead, use this engagement metric and other key performance indicators (KPIs) along with social media monitoring tools to get a clear picture of audience sentiment.
Follow these steps to find out how many people loved or hated your social media advertisement or post.
1. Review Facebook Insights
Once you make a Facebook Business page, you have access to Facebook analytics, called Page Insights. Dig into data about reactions by clicking on Insights, then the Reach tab. There are two ways to view reaction metrics:
Reactions, Comments, and Shares: Each of these engagement metrics get lumped together to form a graph showing your overall engagement.
Reactions: This is where you can see a breakdown of emojis used during your selected timeframe.
Although this information gives you a good general view of your performance and customer sentiment, consider using social media software for more in-depth insights.
2. Run a report in your social media management software
In programs like Sprout Social, you can view sentiment for individual messages. The Sent Messages Report segments each reaction per post for concise measurement. You can examine the data in your software program or export it for further analysis.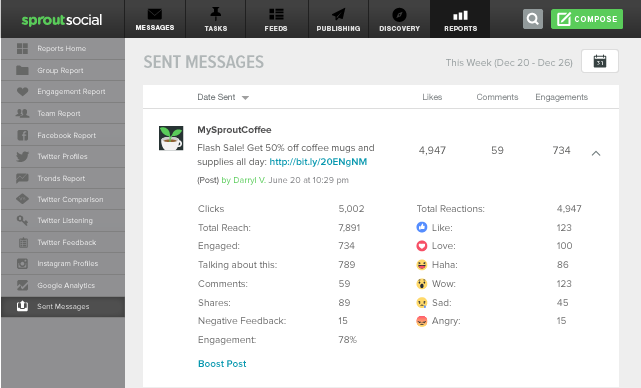 3. Check Facebook ad sentiment
View campaign-specific reactions using the Facebook Ads Manager. Select the campaign, click View, then tap on Customize Columns. Add the column Post Reactions by checking the box next to it and hitting apply. You can then customize your view by clicking on the breakdown, by action and reaction type. This will show you reactions to individual ads.
4. Develop insights
Having all this data is great, but what does it mean? Let's look at key ways people may engage with your brand and what Facebook reactions can tell you about your audience.
Use your social media metrics to learn about:
Conversions: Identify posts leading to conversion activities, whether that's a click-through to your website, an email sign-up, or a purchase. Is there a correlation between emotions expressed on these posts versus lower-converting posts?
Negative sentiment: Do posts with "anger" emojis have anything in common? It may be a topic, headline, or content-related. Double-check the conversion rates of these posts, as for some industries, anger increases sales. But if that's not your industry, you may be able to create a list of terms, phrases, or subject matter to avoid.
Brand ambassadors: Do certain people click "care" or "love" on your posts? If so, this person may be a brand advocate and open to further engagement opportunities.
---
5 best practices when using Facebook reactions in your social media marketing campaign
Whether you're using emojis in your posts, or want more people to react to your posts, incorporate these best practices into your social media strategy to keep your posts and ads relevant and actionable.
1. Test and optimize posts
Should you use emojis in your Facebook posts or ads? First off, the only way to know for sure is by performing A/B testing. In many cases, emojis, when used in moderation and appropriately, won't hurt your brand or decrease views.
You can use emojis to break up text lines, express your feelings about the topic, or simply draw a person's eyes to your call to action. Some brands specify which icons best represent their company or create a list of emojis to avoid using.
Perform a split test to see if your use of emojis increases or decreases Facebook reactions by:
Creating two identical posts, except add an emoji to one of them
Sharing the posts on similar days and times
Reviewing responses to see if engagement differed between the posts
Remember, there are multiple spots to use emojis, including headlines, body copy, and link descriptions. So, test them all out and see which ones give you better results.
2. Don't tell your audience what emoji to use
A Facebook reaction is supposed to be an emotion your audience feels. You can't presume to know their feelings. Nor should you. Instead of telling them to like or love this post, simply model what you want them to feel.
If you want "love" and "care" reactions to your message, use emotionally friendly words and images. Plus, share the same emoji you want them to emulate. If you don't get the desired response, head back to the drawing board to analyze your Facebook marketing tactics, target market data, and analytics.
3. Generate overall insights
Reactions aren't the end-all to social media marketing. You'll always have a handful of bad actors who laugh at serious subjects or get angry over a topic. The idea is to pair this metric with others to get a clear understanding of your audience.
Use reaction metrics alongside other analytic tools to determine post or ad relevance, customer sentiment, and conversion rates. Combine this with social listening tools to see if your posts are hitting the mark or failing to resonate with fans.
4. Engage with fans using Facebook buttons
Are you making the extra effort to show you care about your fan's posts and comments? Sometimes your followers need a little extra encouragement to start using Facebook reaction buttons.
Head over to your Facebook page and when a fan offers support, tap that "care" button. Laugh at a funny comment or shed a tear when they tell you their dog died. When users see a range of emotions in your posts and comments, they may add their own.
5. Don't haphazardly pick new emojis
Just like words or facial expressions, not all icons are created equal. In fact, some have interesting backgrounds that may not be suited for your brand.
Perhaps not many people know what every emoji means in the first place, but do you really want to go viral for accidentally using the middle finger emoji instead of the backhand index pointing up icon?

---
Facebook reactions: Emotions matter
Leverage insights from Facebook reactions to improve and grow your business. By understanding how your audience feels about your posts and advertisements, you can create more high-converting posts and drop those that underperform.