Whether you're in HVAC repair, plumbing, or industrial equipment maintenance, managing a field service company is a challenge unlike any other. You constantly have balls in the air, and any management mistake could cause a technician to go to the wrong location or have the wrong work order in hand.
Organization is not the only thing that's key in this business — you also need mobility features in your management system. Your technicians can't access the home office computers when they're on the job, so they must be able to access necessary data and information remotely.
That's where field mobility comes in. Get this area right, and you'll be able to empower your technicians to do the job right the first time. And you'll better track where everyone is in the field, giving you more power to increase your team's efficiency.
---
Overview: What is field mobility?
The term "field mobility" relates to jobs such as plumbing, HVAC, maintenance, inspections, and anything else that would require a worker to go out into the field to interact with customers while maintaining access to company and client data and information. The underlying characteristic of field mobility is the ability to access data independent of the location of the job.
It's necessary for real-time interactions with customers. For example, a maintenance technician would need to access information on previous repairs made to understand what work needs to be done this time around. Typically, companies will use cloud-based field service software to ensure their field technicians have access to this information.
---
Types of field mobility systems
Whether you want to produce an electronic citation, a work order, or just pull up customer history, field mobility systems such as dispatch software, proof of delivery software, or other types of field mobility systems are necessary to manage all of that information. Here are three key types of systems in this industry.
1. Route tracking and optimization
With workforce mobility, route traveling and optimization applications are the best for managing technicians on the go. These mobility systems and solutions help you plan routes to avoid delays in travel and cut down costs. They're ideal for technicians who have to go to multiple locations, as it cuts time and increases the amount of jobs technicians get done in a day.
You can use these apps to maintain constant contact between the technician and home office — and the client if need be — if there are delays.
Example: AceRoute lets you automatically optimize your daily or weekly plan to accomplish tasks with maximum efficiency.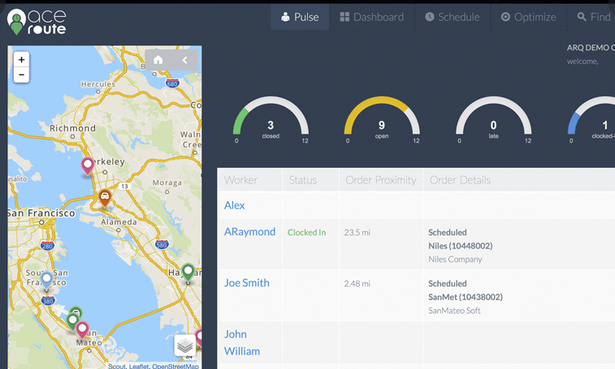 2. Work order management
Some field mobility systems manage your work orders. These work orders provide all the details about the job, including customer information and the work to be completed. By keeping your work orders organized, you're more likely to finish the job on time and to the customer's specifications.
Example: mHelpDesk keeps the jobs organized in both the home screen and in the scheduling tab so they're easy to dial up.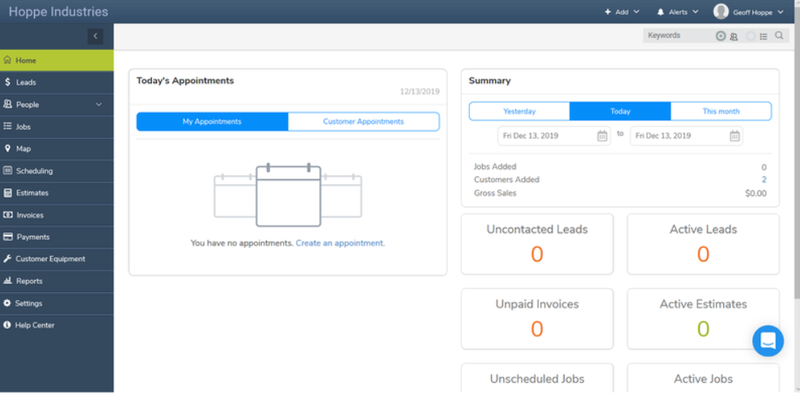 3. Customer database
Other solutions are centered on the customer database, which keeps an extensively detailed list of all of your clients and all the information you need about them, such as previous and current work orders, quotes, invoices, and more. By keeping customers organized, field technicians can ensure they have the latest information on a client and will always know the relevant background information.
Example: FieldEdge's customer database is straightforward, with all clients in alphabetical order. By clicking on a client, you can dial up a full profile with the basic information.
---
3 popular field mobility features
Field mobility solutions offer many features, but these three are the most critical to a good solution.
1. Cloud computing
You simply can't have a field mobility system without cloud computing. This capability puts all necessary data in the cloud, so it can be accessed by individuals in the field — otherwise, they'd have to return to the home office to collect the data. You should be able to upload and retrieve documents in real time, which is critical when a technician needs to pull up a work order. It should be scalable to a range of mobile devices.
2. GPS
You must know where technicians are in the field, and that's where GPS comes in. The software should enable you to track the location of multiple team members instantly so you can determine who is closest to a job and the optimal route. For managers deploying multiple technicians at once, this is a must.
3. Invoicing
The ability to invoice customers on the spot is a must for a field mobility solution. By doing it through an app, you can invoice instantly upon completion of a project and receive payment more quickly. This is much more efficient and timely than a paper-based or even email-based approach, and it improves your profitability overall, as hounding clients for payment cuts into your time to do other things.
---
3 benefits of field mobility
An efficient field mobility system is vital to the success of your business for three main reasons.
1. Superior customer service
With access to all the data and information they need in real time, your technicians can offer superior customer service. The task is more likely to get done quickly, it's more likely to be done to the customer's specifications, and it reduces mistakes. You can make adjustments on the fly, and better communication makes customers feel they are heard and understood.
2. Better tracking
Knowing where your technicians are lets you run a more efficient business. You can get technicians to the location more quickly, set an optimal route to get more jobs done, and ensure you aren't overloading some of your workers while not giving others enough to do. You'll get updates on projects more quickly and be able to better communicate with all key stakeholders.
3. Higher efficiency
This results in a business operating at peak efficiency. You'll be able to handle more work orders and allocate resources better. Costs will come down, revenues will increase, and you'll end up with a more profitable business.
---
Ask your team how you can improve in terms of field mobility
Nobody has a better idea of how your company is doing with field mobility than your team. While you may think things are mostly fine, they may be frustrated by slow work order downloads, difficult communication, or other problems they encounter while working a job.
Talk with your team to find out what they struggle with and how you can make their lives easier in the field. They may tell you things that are easily fixable, which will instantly result in massive efficiency increases, resulting in more jobs completed and more revenue for your company.
Using their feedback, create a plan to improve your operation, and explore software options that can help you put that plan into place.