Though the field service industry is all about hands-on work at customer sites, multiple administrative tasks also need to be completed alongside each work order. These tasks are often repetitive and time-consuming, and if they're not completed accurately, they can ruin a technician's day and damage your customer experience.
That's where field service automation comes into play. It frees up time spent on recurring yet crucial tasks, giving you more time to optimize business operations and maximize both revenue and efficiency.
Here, we go through the many benefits of field service automation and the seven ways you can implement it to help boost productivity.
---
Overview: What is field service automation?
Field service automation involves using field service management tools and other types of software to streamline processes and procedures with the goal of maximizing efficiency.
Many field service processes involve complex yet repetitive workflows which, without a field automation platform, slow down the services companies provide to customers
From preparing quotations to creating tickets, scheduling, and route planning, field service automation uses software to process tasks in a faster and more efficient way.
---
3 benefits of using automation within the field service industry
Field service automation relieves dispatchers and technicians from completing many manual tasks daily. Below, we discuss just some of the benefits your company can enjoy by implementing field service automation.
1. Better coordination
Coordination between the back office and technicians is key to maintaining a successful field service business that keeps customers happy. Field service automation facilitates better coordination by bringing all communication together into a central hub, where all relevant people can access it conveniently.
2. Improved accuracy
Manually keeping tabs on tickets, the progress of each job, and each technician's availability is an unenviable task. Since conditions are so prone and quick to change in the field service industry, managing these tasks manually can often end in chaos, missed appointments, and wasted time. Field service software helps reduce the incidence of human error by automating these tasks in a few clicks.
3. Faster service
With field service automation, tasks that once took an age to complete can be carried out much faster, meaning the transition from one job to the next is much more streamlined.
For example, technicians don't have to wait for you to complete a work order and plan a route but can access work orders and optimize their own routes within a mobile application, meaning quicker service for customers and more jobs ticked off the list.
---
7 ways field service automation can help your small business
So, what does field service automation look like in practice? Here, we go through just a few of the ways that field service automation can tighten up business processes.
1. Technician scheduling
Technician scheduling can be an arduous task when jobs can get canceled or rearranged at the last minute, and new and emergency jobs can enter the system at any time.
With field service management software automation features, you can easily view work orders and the availability and location of each of your technicians. Most of these features come with simple drag-and-drop functionality to help assign technicians new jobs in one click.
You can also identify "productivity gaps" in technicians' schedules, where you can schedule smaller jobs such as routine maintenance or follow-up calls. Plus, when technicians have completed a job, you can automatically schedule recurring work orders or annual inspections and maintenance for future dates, streamlining the workflow entirely.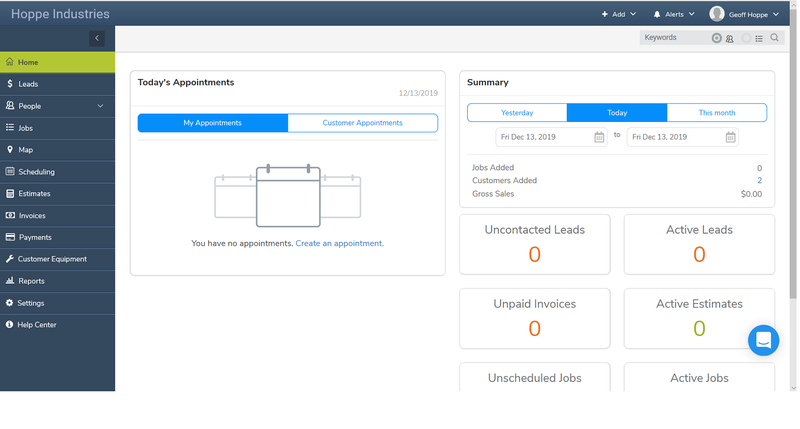 2. Route optimization
Route optimization benefits field service organizations by reducing the time spent creating route plans and recreating them when schedules change.
Using complex algorithms that take into account factors such as time of appointment, length of work orders, real-time and historical traffic data, and technician proximity, route optimization features create the most efficient routes for technicians to take.
Automated route optimization has a number of benefits, including:
Minimization of manual route planning, meaning customers are served quicker
Reduction of fuel consumption and spend by providing the most efficient driving routes
Decrease in the amount of idling and non-productive time spent in the vehicle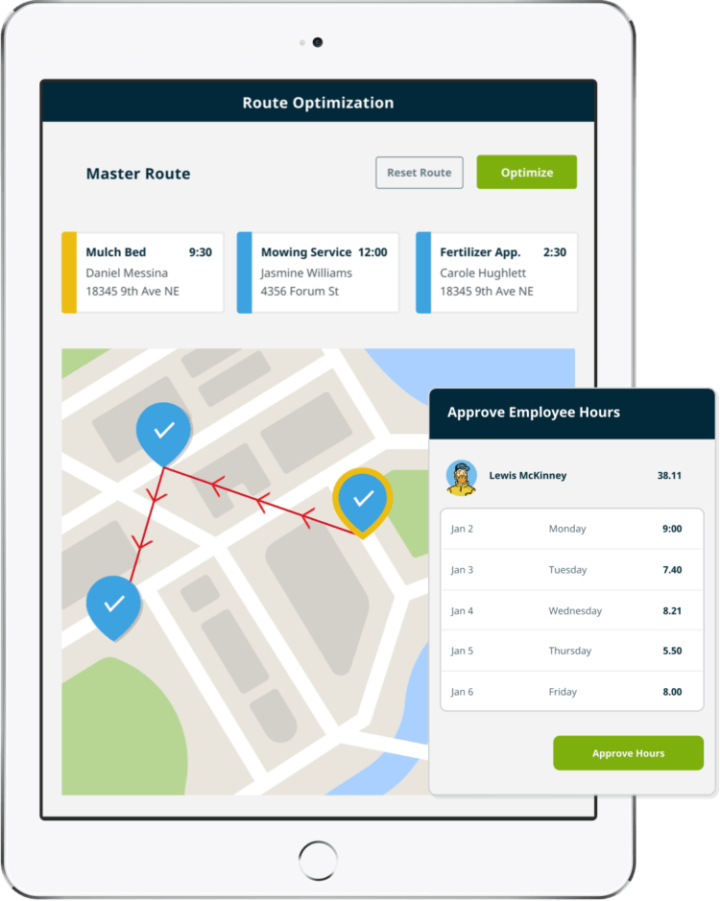 3. Omnichannel ticket creation
When you receive multiple customer requests from multiple communication channels, it's almost impossible to create a coherent system without field service automation tools.
Centralizing customer requests pulls all communication into one place, making it easy for you to schedule and prioritize tickets. Freshdesk, for example, offers an omnichannel feature that automatically converts customer requests from email, phone, social media, and live chat channels into tickets.
This helps you not only respond to customers faster and streamline the creation of tickets but also create automated workflows, easily assign technicians, and change the status of work orders.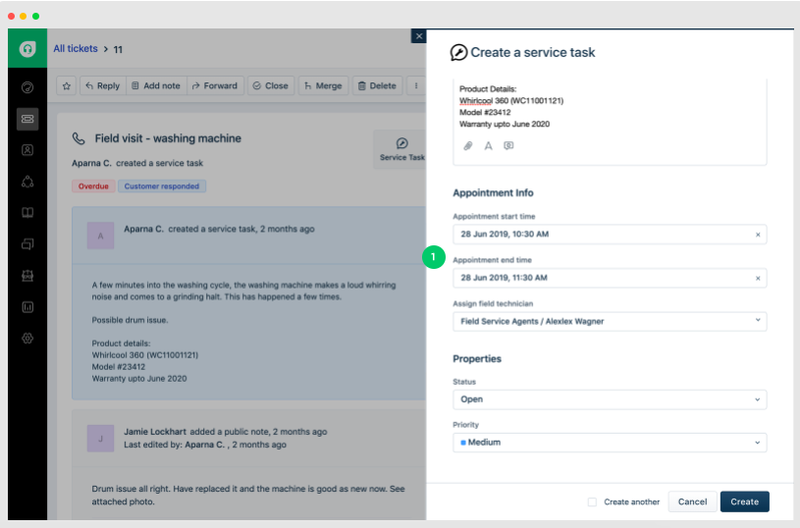 4. Capture accurate customer and job data
When your technicians are in the field, they need to collect data such as photographs, customer signatures, and other job-related information. With field service automation, this data can be collected and sent to the back office in real time via mobile applications, meaning you don't need to wait to collect mountains of paperwork at the end of each day.
5. Automated billing
Instead of waiting to return to the office to hand in invoices, your technicians can use mobile applications to help automate the billing process.
Invoices can be generated quickly, as technicians can easily populate form fields during the visit.
6. Job data uploaded to the cloud
Another benefit of field service automation is that all necessary information about each job can be collected and then automatically stored in the cloud. This means that information is on hand for different technicians who attend any follow-up appointments or maintenance calls.
This results in the end of folders stuffed with job notes and invoices and calls to the office to confirm what tasks have been completed beforehand and the beginning of a start-to-finish streamlined workflow.
7. Real-time reporting and analytics
Automated reporting on your team's efficiency and productivity helps you identify areas of improvement and areas where things are going well.
Dashboards that collect information such as the number of jobs completed on time and the number of service tasks completed can help you gain insight into where operations can be adjusted to make improvements, such as building a bigger team or investing in training and development.
---
Get started with field service automation today
An investment in field service automation is an investment in field mobility — the ability to be more responsive to your customers' needs.
Automation frees up time for your team to complete more jobs more efficiently and enables you to implement smoother, more informed, and more insightful workflows.