If you want to understand what's potentially at stake when it comes to field service, you need to look no further than the case of Nicholas White.
On April 21, 2008, White was headed back to his office on the 39th floor of a New York building following a smoke break when the elevator suddenly ground to a halt. He pressed the alarm, but no one responded — and because it was late on a Friday and most people had gone home, he was in for the longest wait of his life.
Amazingly, surveillance video in the building reportedly showed maintenance workers fixing various things throughout the building, never once questioning what was going on with car No. 30. White's cries for help went unanswered, and it would be a staggering 41 hours before he was finally rescued, dehydrated and shaken. He ultimately received a settlement from the building.
White's case is an extreme example, but it shows what's at stake when it comes to field service management.
It's not just about helping technicians to operate efficiently; it's about making sure your customers get the service they need and when they need it, as well as keeping your business free from liability risks.
---
What is field service?
Field service refers to any type of work in which a company must send a trained worker to a location in order to complete a task on behalf of a customer. Common examples of field service include plumbing, HVAC services, telecom infrastructure management, and even food delivery.
It is challenging to manage a company in the field service industry because you must coordinate a team of service technicians who are out in the field from a central location, logging and monitoring their labor while filling customer requests. It is easy for miscommunications, incorrect information, or unforeseen obstacles to cause major delays for field service companies, which is what makes good software to manage teams so important.
Here are four common field service industries:
Telecom and utilities: The company must manage infrastructure, repair damaged equipment, and conduct routine maintenance work, often in remote locations.
Plumbing, HVAC, and other building maintenance services: The company must respond to customer requests for work on buildings in many locations.
Health care: The company must arrange for home visits by nurses or support medical equipment in homes.
Food delivery: The company must manage a fleet of drivers picking up food and delivering it to customers.
---
What is field service management?
Field service management refers to a company's efforts to manage all of these moving parts, from the field service technician who is out in the field to all the customer orders that pile up.
Field service management focuses on things like tracking vehicles, monitoring worker activity, managing billing, tracking customer orders, creating invoices, scheduling work, and conducting other administrative tasks. The goal is to provide customers with prompt, satisfactory service while managing costs on the company's end.
---
Common challenges in the field service industry
The field service industry is a challenging world, because there are so many critical components and so many things that can go wrong. Here are four of the top challenges that field service managers face.
Scheduling and tracking
Adhering to a set schedule is vitally important to a field service company, both because customers expect it and because failing to do so can cause problems for the home office that is trying to manage this team and get as many jobs done as possible.
A lot of companies rely on good tracking tools to identify where workers are and what they're doing in order to ensure that everything is running on schedule. Combined with good customer service skills, it ensures companies will have happy clients.
Safety
With a thousand other things to focus on, many field service managers aren't thinking a lot about safety, but one incident can have huge ramifications. Beyond the major ramifications for your company's bottom line and schedule, you have an ethical responsibility to put your employees' well-being first.
A field service manager must be in compliance with all regulations, and needs a management system to ensure all necessary equipment is available and being checked in and out by the field service engineer.
Communication
Communication is a lot easier nowadays thanks to smartphones and the like compared to a few decades ago, but it's still a challenging prospect for field service companies. It may still be difficult to get in touch with a technician because of poor service, or because the worker is in the middle of the job, or you just have an unwieldy or inefficient communication system in place.
A good field management system should include an app that can alert your workers and provide an easy way to communicate with headquarters.
Cost
Operational costs can quickly eat into a company's bottom line. If you're not managing your team effectively, you could be wasting lots of money on technicians who are completing fewer jobs or driving more miles than they need to, for example.
One thing companies need to track that can be a big driver of costs is something known as first-time fix rate. This refers to how often your technicians solve the customer's problems the first time, which eliminates the need for follow-up visits and allows you to move on to other customers, which, of course, saves money and increases revenues. Many companies get bogged down with technicians who are having to make second and third visits, and they struggle to break even as a result.
---
Using field service management software to streamline work
Thanks to a plethora of field service technology, it's easier than ever to manage a complex team of technicians.
However, it's not always easy for a company to choose a tool that fits their field service operations model. Here are our top three reviewed work order software options and what they bring to the table.
1. mHelpDesk
mHelpDesk is our top-rated software option for managing field services, mostly because of its stellar score in ease of use and features.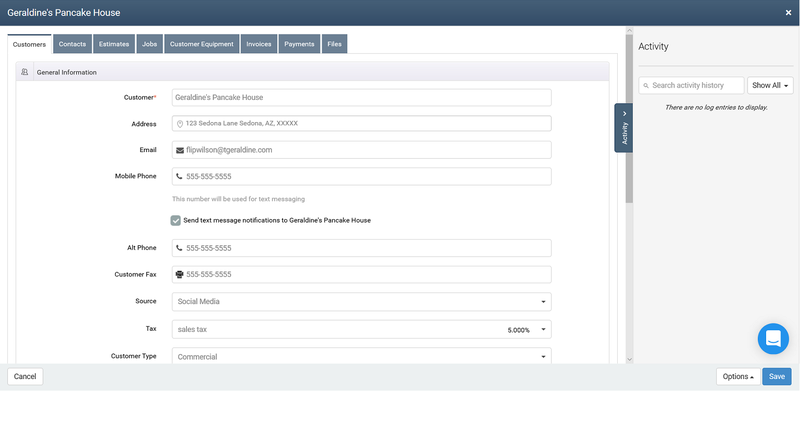 The software does an excellent job organizing, scheduling, and streamlining tasks like billing clients and identifying best routes for your technicians. It has automation features that can further save time, and a very easy user interface so you can pick it up in no time.
2. Jobber
Jobber is tied with mHelpDesk for the highest score, thanks to its outstanding support and affordable price, although it also scored very well in ease of use and features.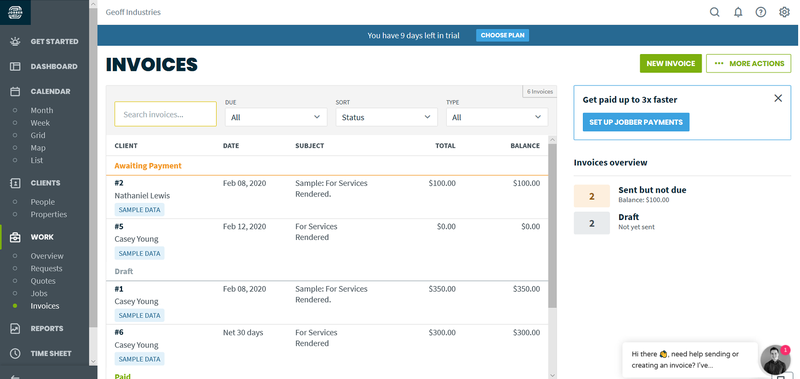 It has GPS routing, work order management, payment tracking, and a lot of automation options to save time. The user interface is relatively simple, and it has a good app version, which is important for a company with workers on the go.
3. FieldEdge
FieldEdge aims to coordinate all of your tasks, whether that be billing, routing, dispatch, or any of the other activities in your business.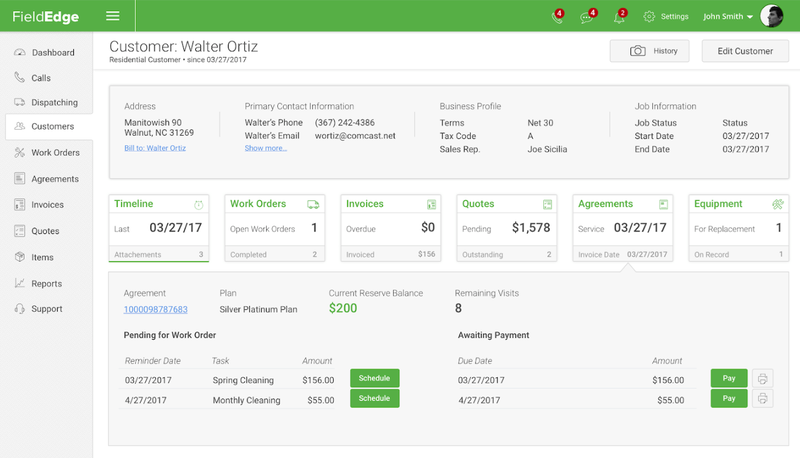 It offers nice bonuses like customizable forms and an app that can keep your technicians on the task at hand. Its high price point makes it better for larger enterprises, but it offers some powerful features for field service companies that want to get to the next level.
---
Good field service requires good management
As you can see, it's not easy to run a field service company. There are a tremendous number of moving parts, not to mention all of the administrative tasks that any business must handle. You have to know where your technicians are at all times while simultaneously handling the demands of many different customers at once, all in different locations.
It takes good field service software and an effective manager to run a field service business, but when it's done right, it can be one of the most rewarding professions out there. Also, doing efficient and effective work for your clients certainly raises your reputation and therefore your bottom line, and there's nothing wrong with that.