FieldEdge (formerly known as dEsco) can be used by any service business: plumbers, electricians, HVAC installation and repair, landscaping, etc., who want to better coordinate their activities and team members.
If your employees do their work in the field and need an efficient way to keep contact with the main office, they can benefit from FieldEdge.
However, FieldEdge is best suited for large businesses. They offer support and customization that's great for companies with a lot of employees who don't want to have to adapt their way of working to a software program.
To a smaller and more agile business who doesn't want that many extras, however, FieldEdge might be a bit much.
---
FieldEdge's features
FieldEdge offers the standard suite of field service management software features like billing, invoicing, work order management, dispatching, and routing. The features are designed to root out busy work and cut down on the intermediary steps.
If you've ever tried to keep up with numerous paper invoices as a technician — or tried to keep up with hordes of paper invoices as an office manager — you understand how such tasks can take up more time than they're worth. Field service management software is designed to remove those headaches.
FieldEdge offers versions of the program for managers and field technicians. The versions are priced differently, see below, and the technician version is designed to be used on a smartphone or tablet.
Billing and Invoicing
FieldEdge integrates with QuickBooks, so if you use QuickBooks, billing will be easy. FieldEdge also offers live integration with QuickBooks, which is different from the batch-and-sync processing offered by many field service programs that integrate with QuickBooks. Live integration means that data from QuickBooks updates as soon as it is entered. In other programs, data is saved into batches, then processed in those groups.
Another helpful feature of FieldEdge's billing and invoicing is their built-in price book of parts and inventory. FieldEdge purchased a company that kept up a price book of field service and maintenance industry items, so they now have access to thousands of up-to-date prices for inventory a field service business might use.
For an extra charge, you can purchase access to this database when you buy FieldEdge. If your company already has their own price book, FieldEdge can help you upload that, too.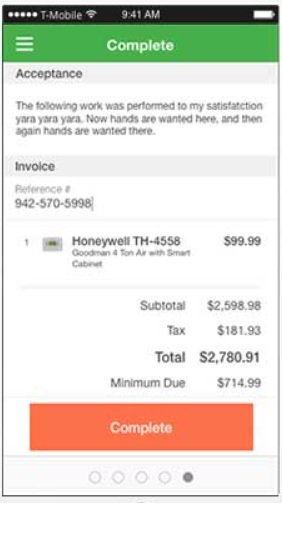 FieldEdge's app lets technicians invoice customers in the field. The functionality for this aspect of the app is pretty basic, but FieldEdge does offer custom forms.
Customer Database
FieldEdge's customer database is laid out in a simple, alphabetical format. A bar at the top lists basic facts like total number of customers, recently visited customers, and those with no contract.
One of the nice features FieldEdge offers is the ability to list all of a customer's different job sites. That way, you've got an at-a-glance view of how many locations a customer has.
FIeldEdge desktop's single customer view gives more in-depth information.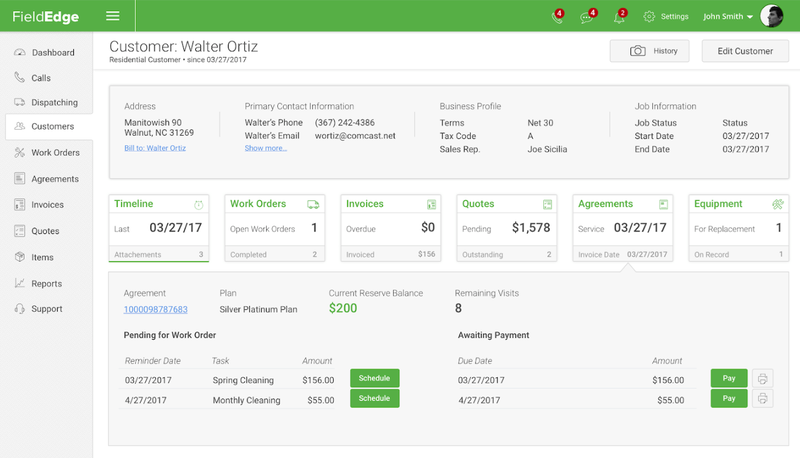 Like the overall customer database, the single customer view gives you an at-a-glimpse view of work orders, invoices, and even long-term agreements you have with the customer.
Mobile App
The FieldEdge app works for both Android and iOS devices. The app's home screen gives technicians a basic heads-up of the day's work, listing the next job in line, how many jobs they have overall, and a list of how many hours they've already worked that day.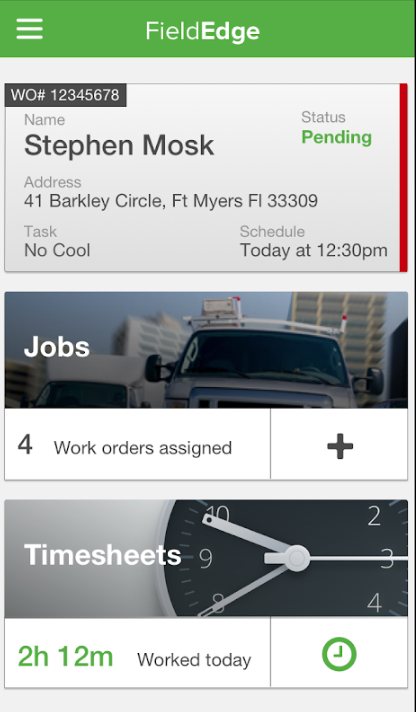 Including the timesheet feature at the bottom of the home screen is a nice way to remind employees to clock in and out on time, which can be a problem for forgetful technicians.
Another such reminder occurs when technicians click on a work order. When they do, the app prompts them to change the order from "pending" to "traveling," so a tech won't forget.
Work Order Management
One interesting aspect of FieldEdge's work order software feature is the fact that a new work order is created when a customer calls. However, I could also see this being kind of annoying if a customer calls just to check up on something.
Still, if you've got a large company and a high customer volume, this feature might be a useful way to make sure front-line employees keep up with scheduling all the calls that come in.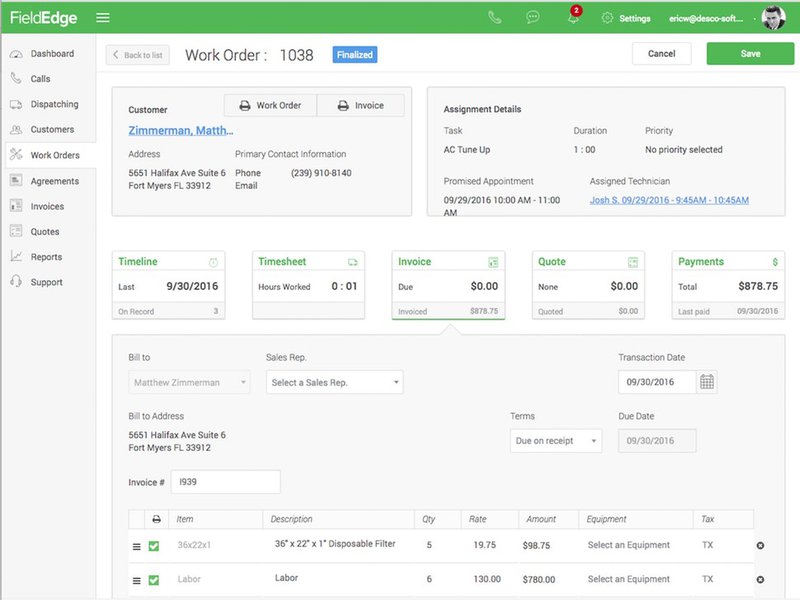 The individual work order screen displays a lot of information, but the layout is hard on the eyes. For one, the uniform color of the page makes the user's eyes glaze over.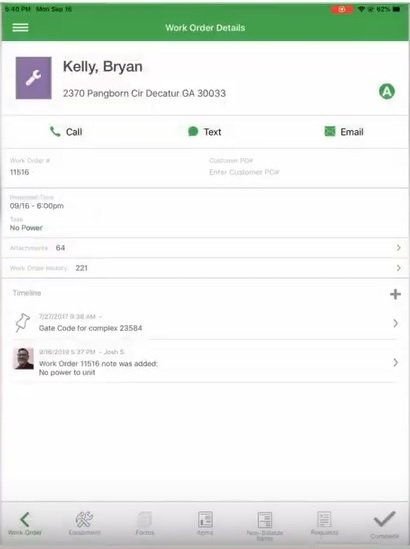 The app's visual interface is very helpful. Tapping the highly visible icon in the upper left-hand corner will prompt you with a menu of options like traveling, working, and complete.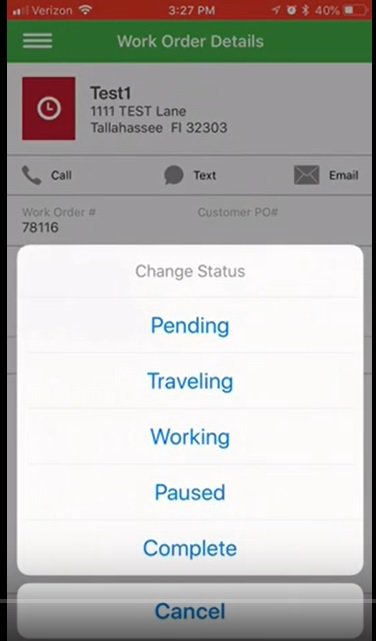 Routing
Currently, FieldEdge doesn't have routing capabilities for technicians. If you want your field techs to be able to find the best route to the job site, they won't be able to do it with FieldEdge. I was informed that FieldEdge has bought a company that offers routing capabilities, and plans to integrate their product with FieldEdge.
However, the current closest thing FieldEdge has to routing is a feature in the desktop edition that shows you which technician is closest to the current job.
Scheduling and Dispatching
FieldEdge's desktop version has a dispatching board that's similar in design to many other field service management programs. This isn't a bad thing; the calendar layout often used in field service management software is ubiquitous for a reason.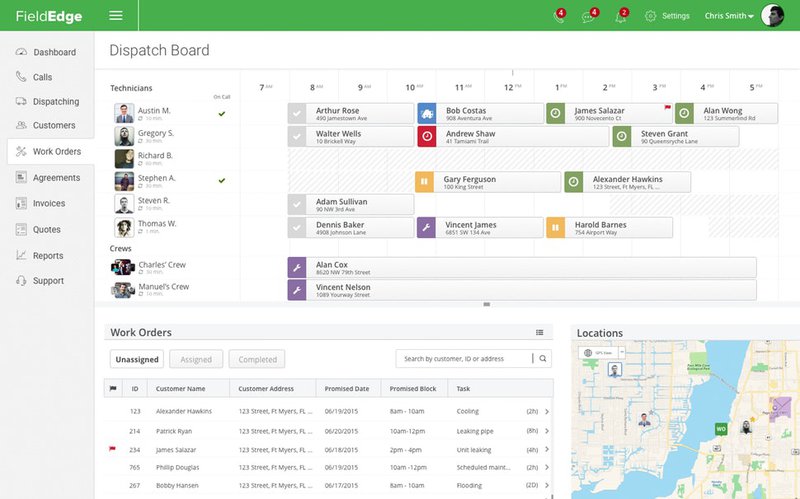 Once you click on a work order, FieldEdge is designed to show you which technician is closest to that job.
FieldEdge's dispatching is also designed to make it easy to see where things stand at a glance: the blue, red, yellow and purple boxes you see above denote things like who's en route, who's at the job site, and other statuses.
---
FieldEdge's ease of use
FieldEdge is relatively easy to use, but I wouldn't grade the overall user experience (UX) much higher than a B. While there are helpful features like technician reminders, FieldEdge's user interface (UI) isn't as sophisticated as its competitors who have designed products with slicker visuals.
This isn't to say that FieldEdge is tough to navigate. The product is as intuitive as any app you'll encounter, and there are a few unique, interesting ideas.
For instance, the dispatch board icons next to each technician change based on a technician's status. If a technician is en route, a blue truck icon appears beside their name.
That said, FieldEdge's overall look is so simple, it's easy for the eye to glaze over. While the information on each screen is useful, the fact that it's all in the same font, and the same size, means it all blends together.
---
FieldEdge's pricing
Since FieldEdge doesn't list pricing on their website, I called up and asked what pricing would be for a twenty-person HVAC repair and installation company. I said I wanted to buy application licenses only for three desktop users and 17 field technicians.
Licenses were $100/month per user for the desktop users and $125/month per user for the field technicians. The sales representative I talked to offered to cap the desktop cost at $300/month, but allow unlimited users.
On top of the monthly cost, FieldEdge also charges a one-time $4,000 fee for remote training and setup of the software. The $4,000 charge includes a designated rep from the company who helps integrate your data into FieldEdge.
---
FieldEdge's support
As a test of FieldEdge's customer support, I called and asked them if they would be able to change display contents on the home screen of the FieldEdge app.
There was no wait on the phone, a definite plus, and the service rep was helpful. He explained that they weren't able to change the app's home screen, and also explained why. The thoroughness is a good sign.
Another element of FieldEdge's support is the dedicated person they assign to help train you and integrate your data, should you sign up for the $4,000 charge mentioned in the above pricing section.
---
Benefits of FieldEdge
While FieldEdge is comparatively more expensive than many field service management software programs, it could be a good choice for an enterprise-sized service business. That's because FieldEdge offers up-front help to train your front office administrators on how to use the software.
Also, and maybe better, they offer to integrate your data when they set up the program for you. It's kind of like Geek Squad, but for field service software. If you're a large, longstanding field service operation, these elements can be invaluable.
The price book option would be similarly useful for a large company that does a wide variety of service tasks, if they carry a broad inventory. On the other hand, these benefits won't be as appealing to smaller companies.
Also, I suspect service companies that have more agile ways of doing things may find cheaper, more stripped-down options better for their purposes.
---
Keep control of the situation with FieldEdge
If you're managing numerous field technicians, FieldEdge can be a great solution for making sure everything gets done.
Their live integration with QuickBooks and features like the built-in price guide for inventory could be incredibly useful for an enterprise-sized maintenance team spread across multiple regions.
Mom and pop service businesses, however, may not benefit as much from the extras that differentiate FieldEdge. If you don't have much inventory, and your team's no bigger than 15-20 people, FieldEdge isn't as good an option as software programs designed for smaller players.
---
Frequently Asked Questions
Does FieldEdge offer a free version?
No, FieldEdge does not offer a free version. They don't offer a free downloadable demo, either, but a sales rep will do a walkthrough of the product with you.
Does FieldEdge offer GPS tracking?
FieldEdge doesn't currently offer GPS tracking, but plans to in the future.
What kind of companies is FieldEdge good for?
FieldEdge's features can help service businesses of any size, but the price point, and some of the special features, are best for enterprise-sized businesses.

Designed for enterprise field service companies, FieldEdge is a great solution to manage all the moving parts in this industry. Visit FieldEdge's website and see if it's right for you.
Designed for enterprise field service companies, FieldEdge is a great solution to manage all the moving parts in this industry. Visit FieldEdge's website and see if it's right for you.