The year 2019 saw almost $3.5 trillion in global e-commerce sales, a sector that totaled $2.93 trillion just 12 months before.
Experts predict even more growth in the coming years, so it's crucial for small e-commerce businesses to establish themselves in this ever-expanding global marketplace by using top-notch e-commerce content systems.
Which software is best? Are there any that provide industry-standard templates? Unfortunately, a quick search will uncover far too many options and threaten to leave an otherwise enthusiastic business struggling to remain competitive.
Quality and transparency are expected of companies operating online stores, so poorly designed or executed websites often stand out like sore thumbs among properly prepared pages.
Confusing payment processes, missing SSL certificates, slow-loading content, and disorganized storefronts can turn customers away and significantly reduce your profits.
Therefore, the importance of picking out a good CMS cannot be overstated, especially if you're a startup, nonprofit, or small business.
Here are our top picks for the best e-commerce software for small businesses:
---
What to consider when choosing an e-commerce software
Practicing due diligence while sifting through e-commerce tools is essential because it is the only way to guarantee that the software's features align with your unique business model.
Your website needs to function flawlessly, remain reliable, and present professionally to potential customers. Explore the following characteristics of each option to determine what's best for your bottom line:
1. User-friendliness
Your customers' online shopping experience weighs heavily on their loyalty to your brand, or lack thereof. However, being able to troubleshoot issues and make changes quickly is equally essential to the entrepreneur behind the curtain.
Therefore, the best way to sell items online is to list them on a user-friendly e-commerce website that's easy to operate.
2. Effective SEO
The total addressable market of global online retailers is staggering — about $7.1 million. So, your online store needs to set itself apart or fall victim to the competition.
The market's most influential selling platforms offer effective and proven SEO (search engine optimization), with relevant, timely leads and industry affiliations that enhance both the merchant's and the buyer's virtual experiences.
3. Tailored features
Online selling means creating a voice in a vacuum, so your website's content needs to stay true to your business model and goals. As your company scales and transforms, you need to maintain upward mobility by utilizing an adaptable CMS that helps you remain current in the face of ever-evolving demands.
Knowing how to create and manage an online shop tailored to a specific demographic or concept certainly doesn't hurt.
4. Security and SSL
Your business likely handles mountains of confidential financial information, so offering yourself and your customers optimal security is vital to success. The best CMS software will always leave room for Secure Sockets Layer (SSL) coverage on all your website(s).
Instead of your web address starting with "http," it will read "https," wherein the "s" stands for SSL. This enhanced security measure helps keep data private and impenetrable to phishing or hacking.
5. Inventory management
The contents of your inventory determine how successful and relevant your business can be. Not knowing what's inside your stash is dangerous, but it's not always easy to keep track of a fast-paced company. Efficient inventory management is, therefore, a pivotal component of any e-commerce platform.
By applying the software's algorithms and accompanying analytics, you can get a good look at what's currently in store, what needs to be purchased next, and where all your shipments are in the meantime.
Overall, small businesses that use legitimate e-commerce platforms enjoy better retail and marketing successes than those that don't. For example, CMS integration can significantly decrease external costs by providing increased control over sales and incentives.
Profit margins rise as your stress lowers, radically. Meanwhile, you get useful consumer insights and immediate access to 24/7 sales without operating an expensive brick-and-mortar store.
A good CMS platform should also help you target specific demographics and schedule marketing campaigns more effectively.
---
5 best free e-commerce software solutions for small businesses
Small businesses often require big help, and that help usually comes in the form of clever e-commerce marketing or using the best online shop builder money can buy.
With so many options, it can be challenging to choose the right software solution for budding small businesses. Fortunately, in many cases, a free online store is just a click away.
---
1. Shopify
Fully hosted, Shopify is one of the most popular and easily recognizable online retail platforms. The drag-and-drop interface is ideal for beginners, and the final product is attractive, organized, and streamlined without much effort.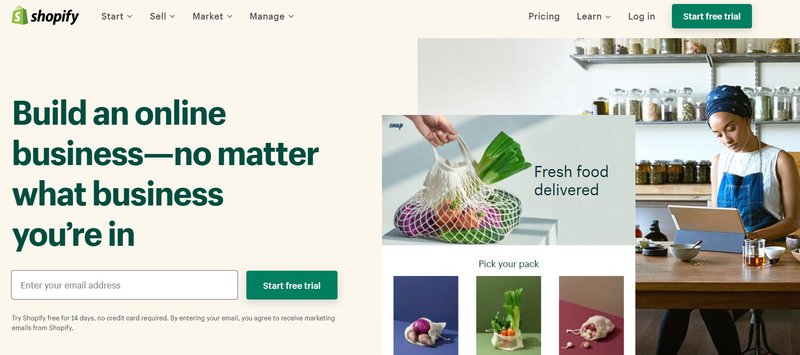 Extra features can be obtained through an app marketplace (for an additional fee). Still, there's 24/7 support through phone, email, LiveChat, and even social media.
You'll be charged 2.9% on all transactions plus an extra $0.30 per transaction through the platform's built-in gateway. If you use another payment gateway (PayPal, Stripe, etc.), Shopify adds on another 2% for convenience.
Read The Blueprint's full Shopify review
---
2. Magento
From the trusted Adobe brand comes Magento, a solution for large-scale projects and organizations with enough customizable features to help any small businesses grow exponentially once mastered.
Not precisely user-friendly to the average entrepreneur, this platform is still incredibly sleek and personalized for introducing new collections and editing website pages through an agile drag-and-drop interface.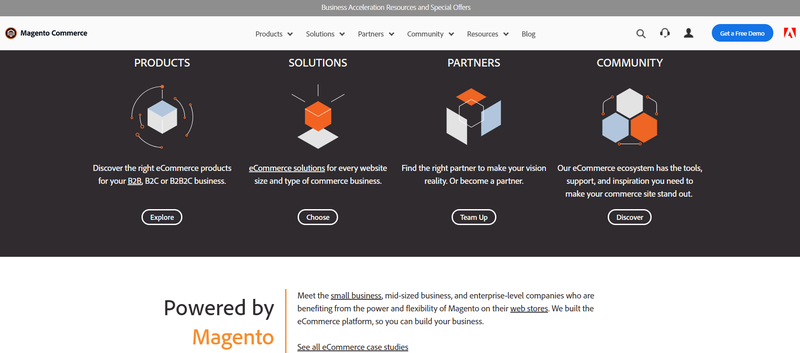 Ideal for B2B and B2C sales, you can easily set up different payment gateways, submit bids, and manage multi-user permissions down to the tiniest detail. As for the fees and contracts, Magento requires you to speak with a representative for a quote: Their prices are a bit steep.
Read The Blueprint's full Magento review
---
3. WooCommerce
WooCommerce has massive appeal, and it's among the most popular e-commerce platforms on the planet. The software lets you build an impressive website for your business that can be downloaded and run on any hosting provider (for an additional fee, of course).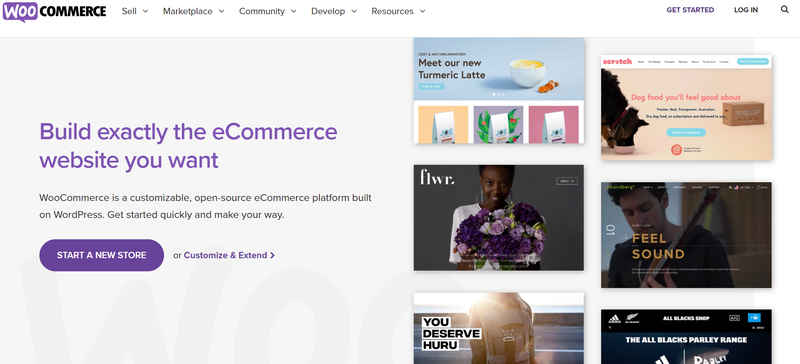 With WooCommerce, you can design your virtual shop with customizable themes and pay less than $3 to launch. Best of all, there are no transaction fees besides those charged by your chosen payment gateway.
Read The Blueprint's full WooCommerce review
---
4. Squarespace Commerce
Squarespace Commerce is a fundamental website builder for e-commerce shops designed for simplicity regardless of the business type. You get professional templates, unmatched customer service, and a large community with which to share ideas and expand industry knowledge.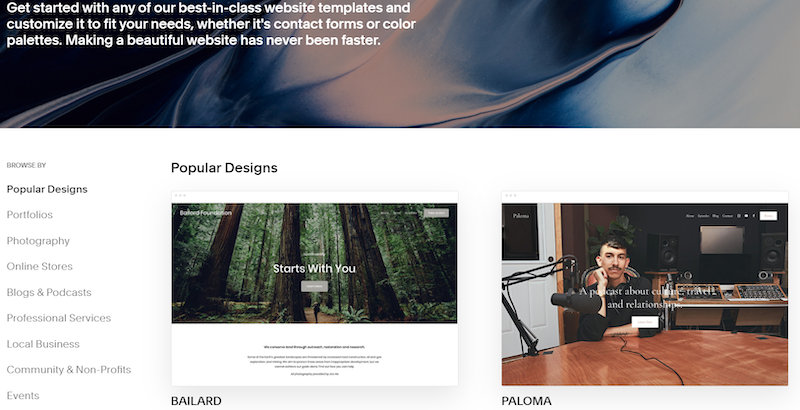 Access to countless themes is automatically granted, and, through a highly intuitive process, the finished product adheres to your company's style and objectives.
With Squarespace Commerce, you can integrate colors and branding options, sell physical or digital goods and services, set up automatic email campaigns, and then market and showcase your stuff to the world.
Pricing is based on website type and subscription length, ranging from $16/month to $26/month in general.
Read The Blueprint's full SquareSpace Commerce review
---
5. Volusion
As a long-standing software solution for small e-commerce businesses, Volusion offers a streamlined user dashboard that works in tandem with its intuitive retail interface. Free and paid themes can be accessed quickly while SEO options are built right in for easier website management.

You get 24/7 support, effortless editing capabilities, and a dedicated account manager to handle all the details (if you're willing to pay extra for it, that is).
The basic level provides everything required to launch an online store. Still, much like the competition, Volusion adds on fees as your site becomes more customized.
Read The Blueprint's full Volusion review
---
The final verdict
The prevalence of capable e-commerce software makes it difficult to choose the best option. Still, many merchants are now refusing to use anything that's not equipped with certain characteristics.
As the structure of the market rapidly changes, so, too, do the demands of consumers. As a result, online retail platforms need to be organized, easy to use, secure, and attractive, if not also helpful, inexpensive, and all-inclusive.
So, while most of the e-commerce solutions mentioned here require an additional purchase for bonus features, the benefits vastly outweigh the drawbacks. The extra investment is usually worth every penny.