Launching a freelance career can be both exciting and overwhelming. First, you need to create an artist website or a compelling online portfolio; then, you need to find your first freelancing gig.
When it comes time to do the actual work, how do you make sure you and the client are on the same page? The answer: Write up a solid contract.
If you're working through a popular freelancing platform, such as Upwork, they'll take care of the contract details for you. But if you're completely on your own, don't worry. We'll take you through the basics of what needs to go into your contract.
---
Reasons to create a freelance contract
Even if your new client is your best bud, it's important to spell out every detail in advance. Not only does the contract help clarify the specifics for both parties, it ultimately protects you against scams, unexpectedly lengthy jobs, or payment problems.
Defines the project timeline
If you're juggling multiple freelance gigs, it's important to write out each project's timeline. If a particular job isn't due for several months, you can potentially put it on the back burner.
In essence, the contract helps you plan and define your schedule and potentially avoid burnout from too many complicated jobs.
Establishes the scope of work
If the client is super vague about what's involved, take this as a warning! You want to be an obliging and dedicated freelancer, but you don't want to get stuck in a convoluted job with no clear objective in place.
Having a concrete outline helps clarify the workload. Many clients can easily overstep boundaries, shooting emails at you with "fast and easy" requests. But these extra tasks can really add up over time and cut into your paid work.
Therefore, defining every aspect of the job in advance helps to avoid what's referred to as "scope creep" — where the job keeps expanding to unreasonable levels.
Clarifies the revision process
A revision stage is common with freelance work, especially if it's your first time working with a new client. However, you don't want to get mired in doing endless revisions without extra pay. The contract helps to clearly define your expectations upfront. Some freelancers include one to two revisions in the overall estimate, with an additional hourly rate for further ones.
Prepares for possible termination
Nothing's worse than diving headfirst into a big project only to have it canceled or handed off to someone else.
You can prepare for such unexpected scenarios by including a clause for early termination. For example, state how much notice you'll need before you're let go or that there will be a payment required for the time already invested (also referred to as a "kill fee").
(Even though the pandemic has resulted in more available remote work, there are still plenty of businesses going under or cutting resources. If your business has been negatively impacted, here are our tips to help freelancers during COVID-19.)
Offers legal protection
Most freelance gigs are completed without any hiccups. However, every once in a while it's possible to run into trouble, such as not getting paid or someone violating copyright laws.
Creating this part of the contract can be challenging, but don't stress — there are plenty of templates and resources out there to assist you. If in doubt, reach out to a lawyer for a quick scan of your document.
Gives payment details
One of the main struggles freelancers deal with is payment issues. Therefore, the contract is crucial for ensuring timely compensation. Spell out everything in great detail, including whether you require money upfront or at various stages of the project, along with the payment method you prefer.
---
5 steps to create a freelancer contract
Here are five steps to creating a contract for your freelance work with clients.
1. The who
Make sure to include everyone who will be involved in the overall project, including editors, executives, or other freelancers. List names, addresses, emails, phone numbers, and each person's role in the project at the top of the contract.
Then include a quick summary of what the project entails. Here's an example:
Joe Smith ("Contractor") will provide XYZ, Inc. ("Client") with 15 Full-Color Illustrations and additional revisions as outlined in the Terms and Conditions below. The project will begin on Feb. 20, 2021, and is due for completion on April 20, 2021.
If you're conducting your work on a freelancer platform, such as Upwork, the contracts are already in place. Upwork even has a system for freelancers to propose new contracts with existing clients. This is an excellent way to keep the work flowing in.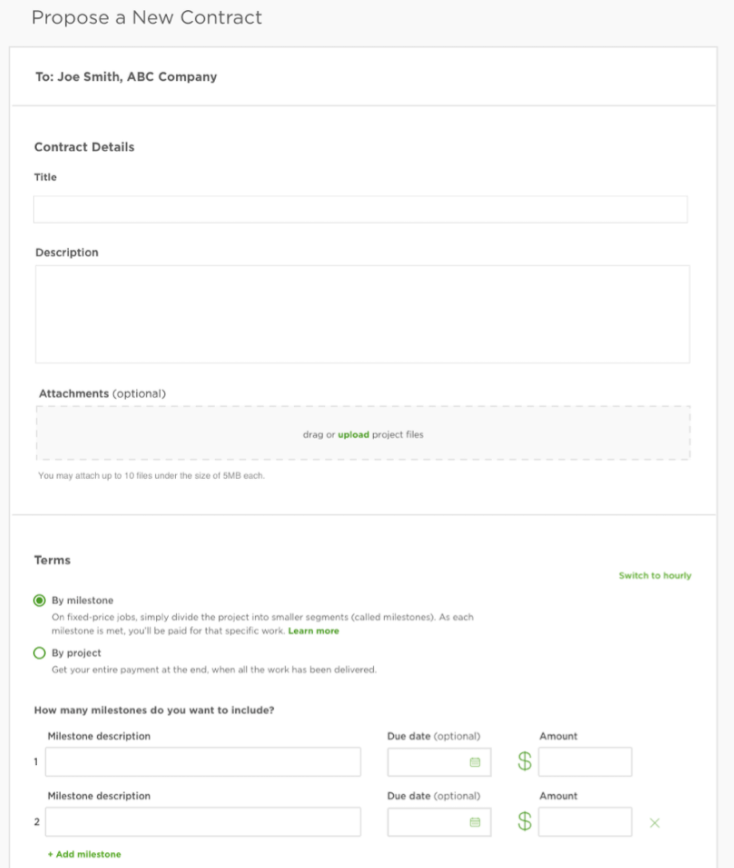 2. The what
Here's where you need to spell out the exact specifics of the project, otherwise known as the "Terms and Conditions." For example, if you're illustrating a children's book, you'll need to include a list of the number of illustrations, size, color, formatting, and so on. Try to be as specific as possible.
Terms and Conditions: Contractor will provide the following:
15 full-color illustrations in high-quality resolution
Each illustration will measure 5 inches by 5 inches
Three revisions included in the quoted rate
Further revisions at $50/hour
Make sure to include revision details here. Remember, the whole point of the contract is to minimize surprises on both ends.
3. The when
The project timeline can have a singular deadline, or it can be broken down into milestones. We suggest breaking it into manageable assignments. That way, you get feedback along the way. Don't wait until the end to discover your client doesn't like your work or the direction you took with the project.
The timeline: Contractor will deliver the product in the following stages:
First five sketches by (date)
Next five sketches by (date)
Final five sketches by (date)
Revisions by (date)
Final files delivered by (date)
You can also include deadlines for the client, such as a date to return feedback or revision requests. This will make sure the project is completed in a timely manner.
4. The how
Now we come to payment, which is the most important part of freelancing! Our recommendation is to send the client invoice(s) with all rates and times calculated upon completion of the work or after each milestone. Also, don't forget to include payment details, such as PayPal, check, or direct deposit.
Payment: Contractor will submit an invoice to the client on (date) for (project). Payment will be (dollar amount) and will be submitted by PayPal or check (include details).
If you're agreeing to take on a fairly large project, consider breaking the payment into installments. This makes sure you'll get paid for the work along the way and ultimately protects you against any sudden changes or cancellations.
Installment payments:
20% upfront
20% after first five illustrations have been submitted
20% after next five illustrations have been submitted
20% after last five illustrations have been submitted
20% after final revisions have been made
If you're conducting business with an international client, be sure to specify the currency with which you'll be paid, whether it's U.S. dollars or something else.
5. The what if
It's time for all the complicated legalese. There's a lot to think about here, so let's just take it one step at a time.
Start by addressing the following issues:
Copyright: Usually the copyright goes to the client after you've been paid for the completed work. Your wording can include, "After the completion of this project, the client will own all rights to the material created." Technically, you have to request permission to include the final product in your portfolio.
Lack of payment: Include a late fee for payments that are more than two weeks overdue. Then include a clause that the authorities will be involved if payment is more than 30 days late.
Project taking longer than expected: This happens to us all. Sometimes a project seems really easy in the brainstorming phase, but it turns out to be a complicated beast. Make sure to include specific details about charging extra for extra work, or that you'll need to draw up a new contract if the nature of the project changes completely.
Liability: It's very rare for a freelance gig to generate legal issues. But, just in case, it's best to include an indemnity clause, which basically releases your involvement in the matter of a lawsuit. Consult a lawyer if you need help crafting the appropriate language, or consider reaching out to freelance platforms such as

Fiverr

for legal assistance in drafting an official contract.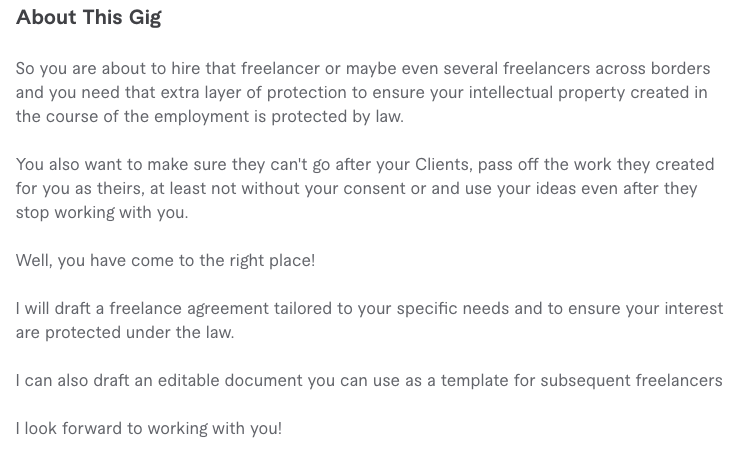 ---
3 tips for negotiating your contract
Here are three tips to help you negotiate a better contract.
1. Project scope
Perhaps the full workload of the project is too much for your schedule or abilities. If you have a colleague capable of taking on some of the tasks, go ahead and discuss this with your client. As long as you have the final say on the quality, they may be OK with subcontracting out some of the work.
2. Timeline
Often clients underestimate the time it takes to create solid, high-quality work. Perhaps they're pushing to have a book done in a few weeks, but you know that it's practically impossible to generate something substantial in that timeframe.
Use your expertise and past experiences to drive home your point. In the end, keep reiterating that you want the end result to be top-notch. Quality matters, and that takes time.
3. Payment
This can be tricky territory for freelancers, especially if you're just starting out. However, it's helpful to connect with other freelancers in your field. That way you can ask them, "Does this sound reasonable for this type of work?" Once you've got a solid understanding of the going rate, it's easier to demand it.
If potential clients balk at your price, that's OK. Trust that there are more opportunities out there. If this specific job is totally up your alley and you'll enjoy doing it, then go ahead and lower your price. But if it seems like a total headache, stand firm. You don't want to end up despising your client or hating your freelance work.
---
A freelance contract helps avoid confusion and tears
The last thing you want is ambiguity about what you're doing or what the client expects in the end. And, of course, you don't want to get stiffed on a hefty payment or find yourself in turmoil over a job that suddenly takes three times longer than expected.
Use the freelance contract as a map to guide both parties along a smooth and turbulent-free journey. The more milestones, details, and specifics you can include, the better! Even if it seems too small to write up, do it anyway.
In the end, the contract will help resolve many issues and keep communication flowing. So put in the effort and time. You'll be glad you did.