If you want to make money writing, having the ability to write is just the beginning. The content landscape is ever-changing, and so are the tools and skills necessary to stay in the game.
But maybe you're asking, is there a place for another newbie freelance writer in a market that's already saturated?
The thing is there are tons of available jobs for freelance writers. Just Google "freelance writing sites to find paid work," or, "best places to find paid writing gigs," and you'll come up with millions of results.
Although untold numbers of people self-identify as freelance writers, the truth of the matter is not all of them are good at freelancing.
I'm not saying their writing is crappy. What I'm saying is that not a lot of them know how to find jobs, market themselves, or are willing to learn or keep up with the changing nature of the content landscape.
But if you're someone who's willing to do the legwork — and there's much to do, just to set your expectations — the answer is yes, there's always room for good freelance writers.
I've been freelance writing since 2012, and, since that time, I've picked up quite a handful of tips, both from successful freelance writers and from my own freelancing experience in general.
In this guide, I'm sharing some advice that can help you get started as a freelance writer.
---
1. Don't just like writing — love it!
Much of what you'll be doing will involve writing, lots and lots of it. So if you don't particularly like writing and have only chosen it from a list of freelance options to try to survive COVID-19, take a step back and do a gut check. Writing as a career can easily become a chore — make that an agonizing experience — if it's not something you're passionate about.
And, of course, there's the issue of writing about topics that can bore you to tears — specifically technical topics you don't know much about. The goal is to eventually work into a niche, but if you're still starting out, chances are you may have to write about topics that don't interest or inspire you as you create your portfolio.
---
2. Learn how to market yourself
To stay in the freelance writing business for the long haul, you need a marketing plan. A freelancer is technically an independent contractor, not an employee, which means that, in order to make freelance writing sustainable, your ideal clients should be able to find you.
Most people find self-promotion embarrassing, but learning how to market your services as a freelancer is necessary to develop a strong personal brand and consequently sell your services to the right people.
Here are a few tips to get you started marketing your freelance writing services:
Launch a writing website (more on this below).
Start guest posting, which is writing for websites other than yours to get you noticed and boost the value of your brand. Ideally, you want your guest posts on high-quality sites in the same niche or industry you write about. So, if you're writing about IT and technology, for example, you can search Google for sites that accept submissions from guest authors by entering "IT and technology," plus the following additional phrases: "submit a guest post," "contribute," "write for us," or "guest post guidelines."
Be active on social media. A former colleague is garnering attention on LinkedIn by regularly posting updates such as these: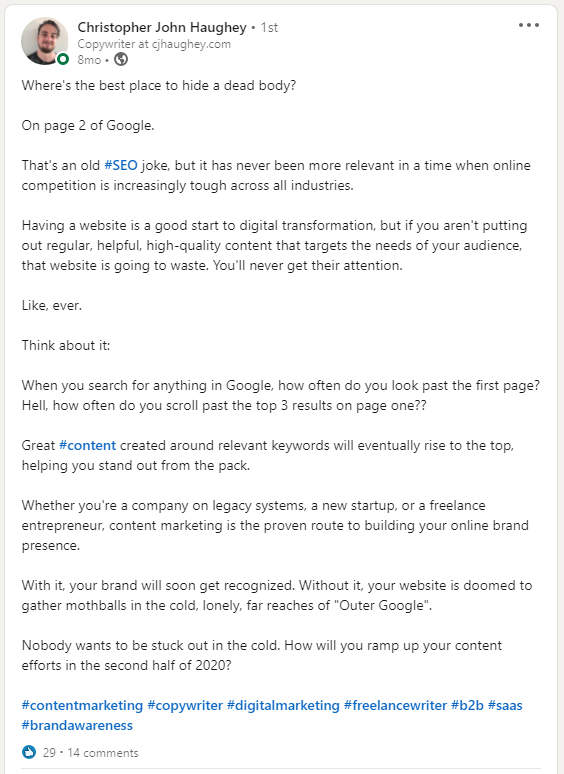 ---
3. Launch a writing website
As briefly mentioned above, a freelance writer is an independent contractor who usually works for multiple clients simultaneously. To land freelance gigs that pay decently, set up a freelance writing website — particularly if you want to build a business out of freelance writing instead of just having a side gig.
Establishing a freelance writing website accomplishes several things:
Gets your name out there: A client can't hire you if they don't know you exist. A website that's regularly updated signals that you're open for business.
Captures the attention of your ideal audience: One common freelance marketing term you'll hear is audience targeting. Not everyone looking for a freelance writer is a good fit for you, which makes identifying your target audience fundamental to your website's success. Ideally, you want clients in an industry you enjoy writing about. If you want to write for the fitness industry, for example, your website should reflect that.
Builds authority: Writer websites usually come with blog sections you can use to publish articles or opinion pieces that aim to address client pain points or questions. This way, you can showcase your knowledge of specific topics and solidify your reputation.
Showcases your portfolio: Potential clients will want to know what you've already written to see if you're the writer they're looking for. Select the writing clips you're most proud of and upload them as a portfolio on your website.
Features client testimonials: Leveraging social proof is a powerful marketing strategy. Ask clients for testimonials that you can publish on your website.
---
4. Learn SEO and other essential skills
Clients need content for a host of reasons, and generating more sales or customers is just one of them. When done right, content marketing — creating and distributing non-promotional content (blogs, articles, social media posts, white papers, videos, etc.) to stimulate interest in a company's products or services — can result in higher search rankings for your client's website.
Search engine optimization (SEO), another vital online marketing strategy, complements content marketing and several other digital marketing tactics, so it's essential that you have at least a rudimentary grasp of the role keywords play in SEO and how to strategically weave them into the copy you write.
Other essential freelance writing skills you may want to brush up on include:
Keyword research
Writing ad copy
Social media marketing
Content strategy
---
5. Find your niche
To become a sought-after freelance writer, you'll have to niche down after a while. Many freelance writers start out writing about all sorts of topics until they figure out the specific niche or genre they're good at, such as medical or finance writing.
Others focus on certain types of writing, such as Google and Facebook ads copywriting, white paper writing, article writing, email writing, and so on.
---
6. Invest in yourself
There's absolutely nothing wrong with making mistakes and learning as you go to establish yourself as a freelance writer, as long as they make you better and stronger. But if you want to build a freelance business and be successful with it faster, you need a proven blueprint to follow. This means investing in a freelance writing course or a freelance marketing master class.
Doing so allows you to save time. You learn from those who've already made it how to properly pitch, where to find jobs, and the right way to establish your brand and reputation as a freelancer.
If you're considering taking a freelance writing course, some places to look at include:
Or, you can just Google "best freelance writing course," and you'll come up with tons of results. Remember to always check for reviews so you don't spend time and hard-earned money on courses that may not be worth your while.
For freelance marketing courses, check and see if these can help you achieve your goals:
You may also search popular e-learning sites, such as Coursera, edX, and LinkedIn Learning (formerly Lynda.com).
---
Jumpstart your freelance writing career today
Just like any business, succeeding as a freelance writer takes some serious work. If you do things right, freelance writing can be profitable. Remember to implement the above tips as you build your freelance writing career.