---
Who is FreshBooks for?
If you're self-employed, FreshBooks was created to give you an easy way to track income and expenses. But today, FreshBooks isn't just for freelancers. It has four plans available, ranging from the Lite plan, which is perfect for sole proprietors and startups, to the Select plan, which is better suited for larger businesses with more clients.
If you're just starting out or have no plans to hire an employee, then FreshBooks is for you. However, if you find your business growing, there are more suitable products available.
---
FreshBooks' features
FreshBooks has added a ton of features recently, all designed to make your life easier. These include the Quick Expense Creation feature, which allows you to create an expense directly from the Expenses tab instead of having to click over to another screen.
The Retainers option is particularly useful if you're an attorney, accountant, or provide some kind of service, allowing you to budget and reserve blocks of time while billing your clients a retainer fee.
My other favorite new feature is the addition of ACH payments to FreshBooks Payments, which means you'll likely get paid even faster. But perhaps the most important addition to FreshBooks is double-entry accounting, which is no big deal if you work solo, but it's a major deal if you have even one employee working for you.
This addition allows FreshBooks to compete with products such as QuickBooks Online and Xero. FreshBooks does not currently offer budgeting capability, but it does offer integration with nearly 100 apps in categories such as CRM, e-commerce, inventory management, marketing, project management, and tax preparation.
Everything in FreshBooks is designed to help you do things faster, whether that's invoicing a client, recording a payment, tracking your time spent on a project, or snapping a photo of your lunch receipt and uploading it to FreshBooks. In fact, FreshBooks offers much more than standard invoicing and expense tracking. You can also:
Invoice clients
Record and track expenses
Track time
Manage a project
Make client estimates
Record payments
Utilize double-entry accounting
Invite team members with My Team
Invoicing
Invoicing in FreshBooks takes less than a minute, depending on how fast you type. You can enter a new client while you're entering the invoice; you don't have to stop and add the client first.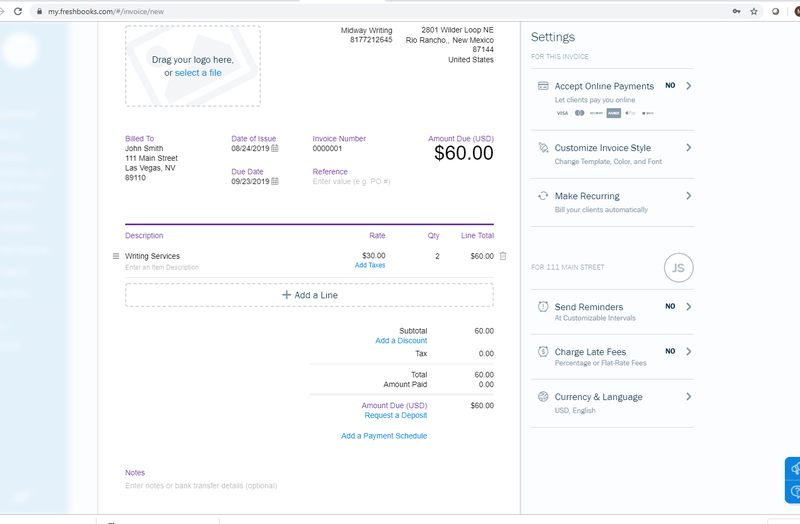 It took me about 45 seconds to create the invoice above, including adding the new client to FreshBooks, and the application gives you additional options like customizing the style of the invoice, adding your logo, and even making the invoice recurring if you perform the same work every month for that client.
You can set reminders, with FreshBooks notifying you if the payment is late, and can add a late fee if a client's payment is really late.
You can also choose the currency for the invoice, making it easy to do business globally. Invoices can be saved as drafts, or you can email them immediately to your clients. The invoice includes a link to FreshBooks Payments, where they can pay by credit card or by ACH transfer, which means a quicker turnaround time and less time spent hounding clients for payment.
Expenses
It's easy to manage your expenses in FreshBooks. Use the FreshBooks mobile app to snap a photo of your receipt from lunch and upload it into FreshBooks, where you can then drag the uploaded receipt image into the expense screen.
You can also mark it as billable if you want to add it to a client bill later, or you can add it to Cost of Goods Sold (although it's unlikely you need lunch in order to provide services to your client). If you're creating custom invitations, though, you can add the expense of the paper purchased to Cost of Goods Sold.
Time tracking
We all want to be paid for our time, but how often do you forget to write down how much time you've spent on a job? Using the time-tracking option, you can easily log your time for any job, or start a timer to record the time automatically.
The mobile app lets you record your time when you're working at another location, and you can even add a note to remind yourself of what you were working on, which can be helpful if you have multiple clients.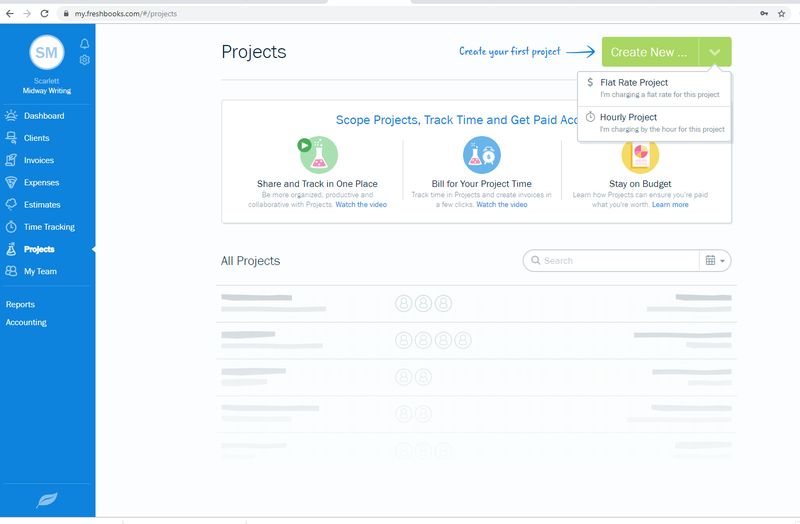 You can create a new project (above) in minutes, with the option to choose a flat-rate project or an hourly project. All you need to do is assign the project to a client, enter the project services you'll provide, and enter either the flat-rate amount or the hourly rate for the project, and you're good to go. Creating a project can be particularly helpful if you tend to forget to track your time properly since potentially every service you sell can be a project.
Client estimates and proposals
For bigger jobs, you may want to create a formal project proposal or job estimate. While an estimate is simply a breakdown of the services you will provide along with an estimate of their cost, a proposal is a more formal document that displays the value of the services you provide. If an estimate is approved by your client, you can easily convert it into an invoice with a few clicks.
Reports
Reporting options are fairly basic in FreshBooks, though the addition of double-entry accounting has created additional reporting options such as a General Ledger report and a Profit & Loss report.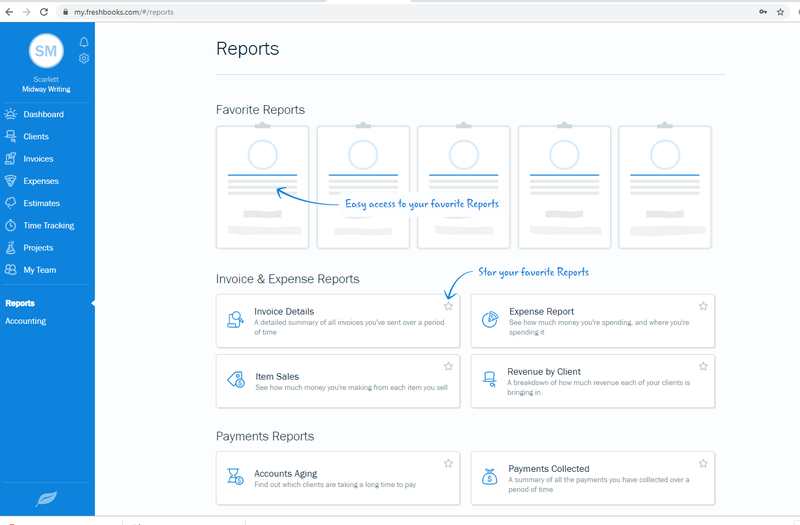 The Reports screen, shown above, lets you display your top five reports at the top of the page for quicker access. Reports in FreshBooks have limited customization options available, but they can be exported to Microsoft Excel for customizing. You can also email a report or save it as a PDF.
My Team
The My Team feature is useful if you have employees, but you can also use it for contractors and accountants. All you need to do is invite them to use FreshBooks.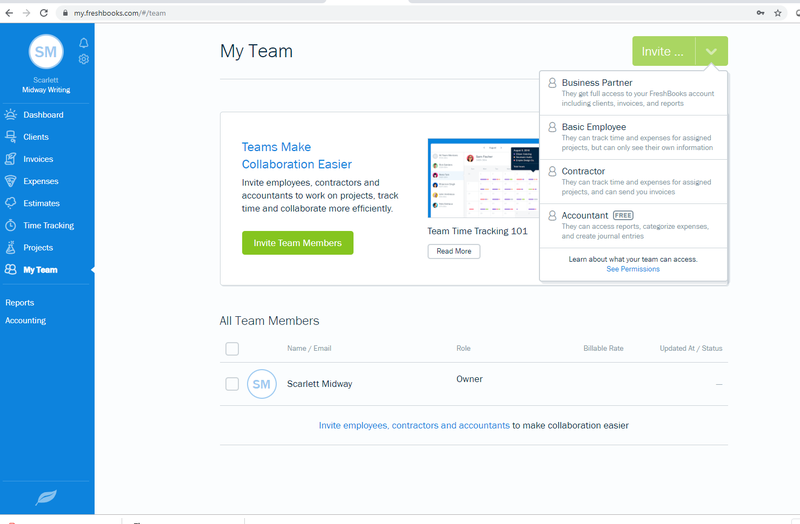 There are four types of team members (see above) you can invite:
Business partners, who will receive complete access to your FreshBooks account.
Basic employees, who can track time and expenses but can only view their own information.
Contractors, who can track their time and expenses and can also send you an invoice.
Accountants, who can access FreshBooks reports, categorize expenses, and create journal entries.
Just add the person's name and email, and he or she will receive a message and a link to connect to FreshBooks. Automatic permissions are set in FreshBooks, so you don't have to worry about setting up permission levels when inviting team members.
---
Working with FreshBooks support
One of the biggest complaints I have with comparable online accounting applications such as Xero and QuickBooks Online is their lack of telephone support.
In this QuickBooks alternative, support is included in the cost of the subscription, and you can call the toll-free number and talk to a live person during extended business hours. While many support questions can be easily answered by using the other resources available in FreshBooks, it's incredibly refreshing to have the option to call support when it's needed.
You can also contact FreshBooks via email, use the contact form on the website, or access support from within the application. The website also offers a FreshBooks tour and a searchable FAQ page.
---
Benefits of using FreshBooks
The biggest benefit of FreshBooks is that it's easy enough that you'll actually use it. The product is designed with the user in mind, and that's evident as you make your way through the various features and functions. FreshBooks has also been incredibly responsive to complaints about the lack of true accounting features by adding double-entry accounting and beefing up the reporting options.
Particularly beneficial to the self-employed who have likely been saddled with a bunch of features they really didn't need, FreshBooks is a breath of fresh air. If you're looking for easy invoice creation, good expense management, and time-tracking capability, look no further than FreshBooks. Remember, the faster you invoice, the faster you get paid.
---
FreshBooks pricing structure
FreshBooks offers four plan options, each with increasing functionality.
Lite plan - $13.50/month
Plus plan - $22.50/month
Premium plan - $45/month
Select plan - Customizable based on need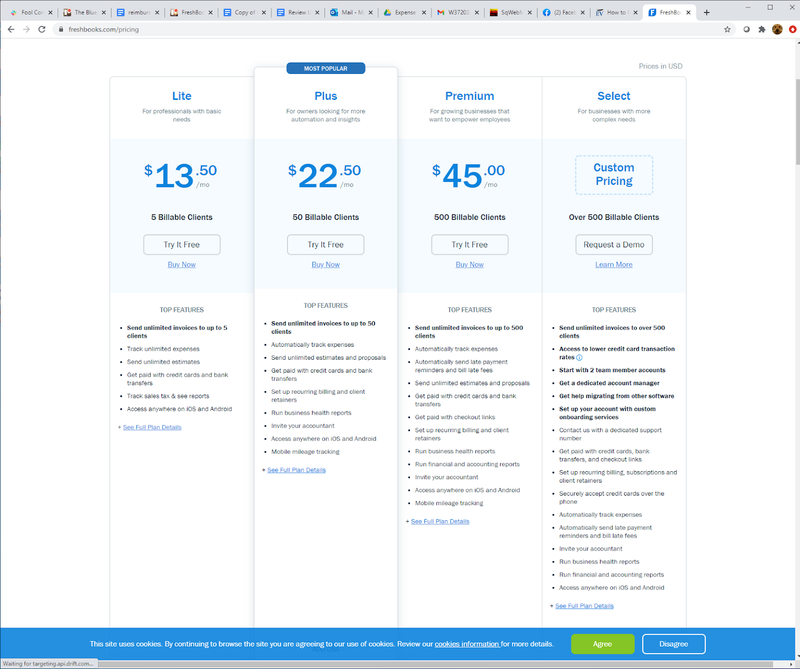 The FreshBooks Lite plan, at $13.50/month, offers plenty of features for the sole proprietor or freelancer, while the Plus plan, which runs $22.50/month, includes features such as unlimited proposals, recurring invoices, late payment reminders, and scheduled late fees. The Premium plan, at $45/month, includes up to 500 clients, while the Select plan is available for those with more than 500 clients.
FreshBooks does not include a payroll option in any of its plans, but it does offer integration with Gusto if you need to pay employees.
---
FreshBooks' ease of use
FreshBooks can run on just about any web browser, including Google Chrome, Firefox, Internet Explorer, Microsoft Edge, Opera, Safari, Mobile Safari, and Mobile Chrome. Mobile apps are available for both iOS and Android devices, and the product remains in sync, so you can use your desktop system in the morning and your iPhone while you're out in the afternoon, and the information will remain consistent in both.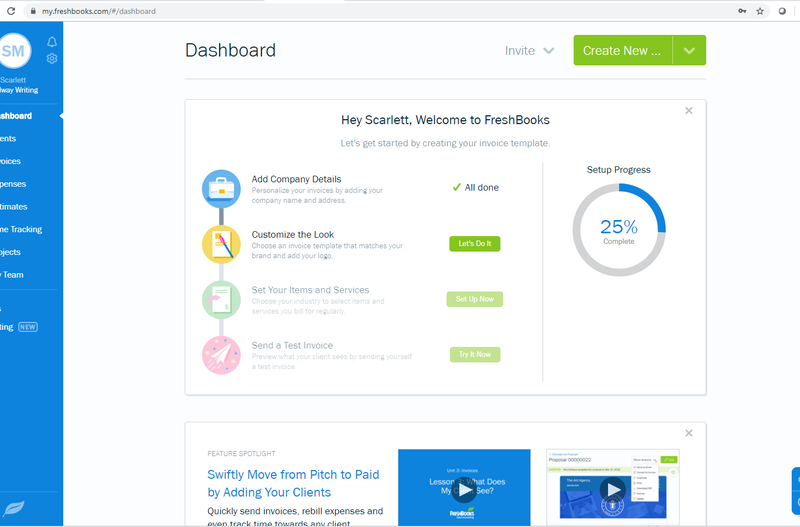 The FreshBooks Dashboard includes a welcome screen (above) that displays your setup progress. Once setup is complete, you'll see charts displaying your outstanding revenue, total profit, revenue streams, spending, and unbilled time. The spending chart can be an eye-opener when you see exactly where all of your money is going, and the unbilled time can serve as a reminder to create those invoices you've been procrastinating on.
The interface is consistent throughout, and all of the features in FreshBooks are easily accessed from the vertical menu bar, including the settings icon, where you can add another company, enter any of the products or services you sell, and set up online payments. The help icon (a question mark) is not immediately visible but resides in the lower right corner of your dashboard.
---
Frequently Asked Questions
Who is FreshBooks ultimately designed for?
FreshBooks works best for sole proprietors and freelancers who want to be paid quickly.
Is FreshBooks really an accounting program?
Yes. FreshBooks added double-entry accounting in 2018, making it a true accounting program.
Can I create a budget in FreshBooks?
While you can create an hourly budget for a project, FreshBooks does not offer a company-wide budget feature at this time.
---
Which one is right for you?

For sole proprietors and freelancers, there is no better online software application than FreshBooks, which combines usability with a selection of features that let you manage your clients and expenses and, most importantly, get paid on time. Get 60% off most FreshBooks plans for the first 6 months for a limited time. Try FreshBooks for free today and see for yourself why we named it the Easiest to Use accounting software!
For sole proprietors and freelancers, there is no better online software application than FreshBooks, which combines usability with a selection of features that let you manage your clients and expenses and, most importantly, get paid on time.
The Motley Fool has a Disclosure Policy. The Author and/or The Motley Fool may have an interest in companies mentioned.