Okay, you've read our accounting software reviews, and have narrowed it down to two applications; FreshBooks and QuickBooks Online. Both are great choices, but which one would be best for your business? To make your decision a little easier, we're taking a look at both FreshBooks and QuickBooks Online.
---
An overview: FreshBooks vs. QuickBooks Online
Who is FreshBooks for?
FreshBooks was originally designed with the sole proprietor in mind, making it a good fit for service professionals, such as attorneys, architects, plumbers, designers, and anyone who works solo. But with four plans available, FreshBooks can also be used by growing businesses.
A great choice for those entering the business world for the first time, FreshBooks makes managing your business a breeze.
Who is QuickBooks Online for?
The QuickBooks name has been associated with small businesses for decades. QuickBooks applications have all been designed with small business in mind, and QuickBooks Online is no exception. With the introduction of QuickBooks Online, a flexible, accessible-from-anywhere application was born and has continued to evolve nicely.
While small businesses can outgrow QuickBooks Online at a certain point, the application can support up to 25 users, so it may take a while.
---
FreshBooks vs. QuickBooks Online: Features
Both FreshBooks and QuickBooks Online are designed for small businesses, although FreshBooks' features fit much better for sole proprietors and consultants, while Quickbooks Online is a better solution for a growing business. One nice thing about both applications is that new features and enhancements are added on a regular basis.
What FreshBooks offers
FreshBooks has added a lot of new features in the last few years, so if you've looked at it before and passed, you may want to look again. Some of the new features include the addition of ACH payment acceptance, and a Retainers option, ideal for self-employed professionals such as attorneys or accountants.
Most importantly, FreshBooks has moved to double-entry accounting, so every financial transaction entered will have a corresponding transaction made. This addition alone makes FreshBooks a much stronger competitor with other online accounting applications.
The dashboard in FreshBooks offers a nice summary view of your business, including outstanding revenue, total profit, spending, and a chart that displays exactly where your money is going. FreshBooks invoicing is a simple process, and you can add a new client at the same time that you create their invoice.
Options to the right of the screen allow you to change the settings from invoice to invoice, including payment options.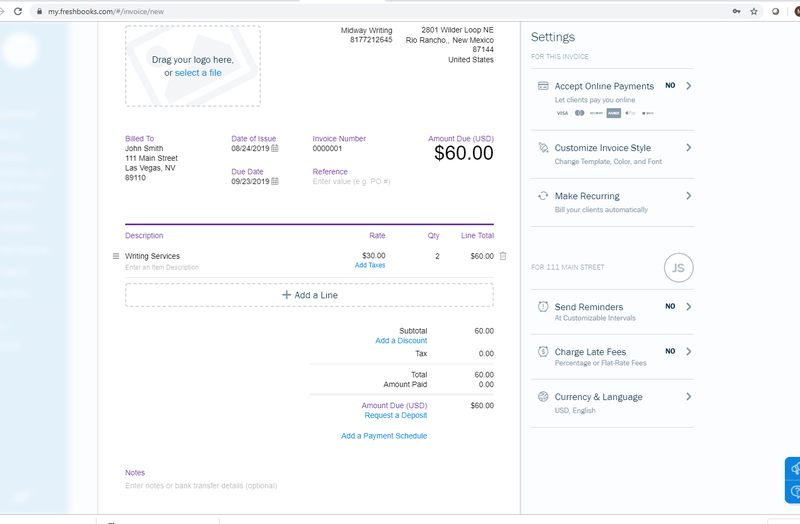 You can also customize your invoice directly from the invoice entry screen or make any invoice recurring, if you wish. FreshBooks expense management is equally solid, allowing you to add a vendor and create an expense, make the expense recurring, and even mark the invoice as billable if it can be charged back to a client.
FreshBooks is designed to automatically import banking transactions, including expenses, so unfortunately there's no way to pay invoices with a check. Another nice feature that makes FreshBooks stand out is its time-tracking capability, which can be used when creating estimates, proposals, or invoices. Client and vendor management capability is limited, though you can add a reminders prompt that will go out when an invoice is past due.
You can also add late fees and choose your preferred currency and language for any client. FreshBooks will also allow you to invite your CPA or accountant to access your data at no extra charge.
What QuickBooks Online offers
QuickBooks Online offers many of the same features that you'll find in FreshBooks, such as quick invoice creation, the ability to make an invoice recurring, and the ability to customize an invoice directly within the software on the invoice entry screen. QuickBooks Online also offers retainer management, though it requires more data entry than its FreshBooks counterpart.
The features available in QuickBooks Online vary from plan to plan, with Simple Start offering basic features, while other plans offer time tracking, inventory, and bill payment capability. You can connect your banking institutions in QuickBooks Online for automatic reconciliation, assigning rules to particular accounts for automatic classification, which will eliminate the need to manually enter the expense.
QuickBooks Online also offers an Accountant option, so you can share your account with your CPA or accountant.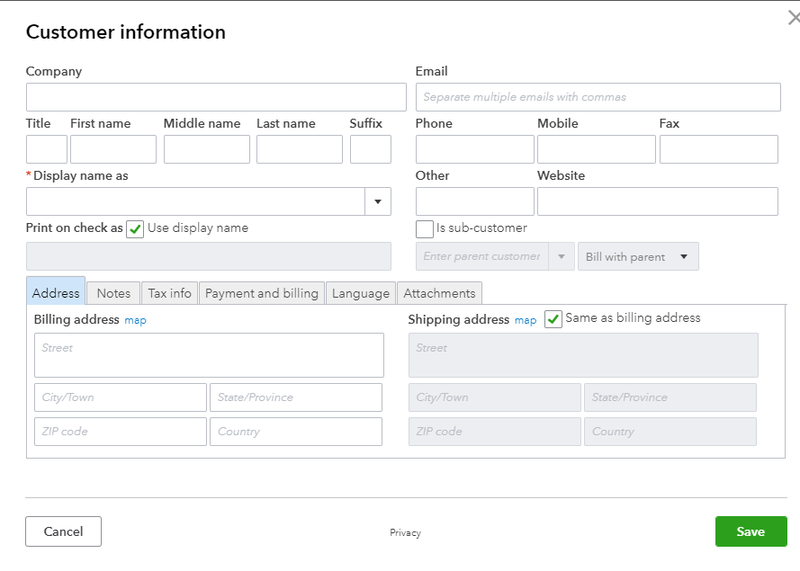 QuickBooks Online offers excellent customer and vendor management capability, something that is lacking in FreshBooks, with customer data such as billing and shipping addresses, notes, tax information, payment and billing details, and language preferences that can be adjusted in each customer account. You can also attach documents to any customer account, such as an invoice, statement, or other correspondence.
The same level of detail can be tracked for vendors for things like billing rates, terms, account number, and Tax I.D. number, along with the ability to track any vendor and contractor payments for year-end 1099 processing. Attachments can be managed in the vendor file as well.
Results
QuickBooks Online is the winner. While FreshBooks offers many of the same features found in QuickBooks Online, the application offers better customer, contractor, and vendor management, and easier app connection.
---
FreshBooks vs. QuickBooks Online: Support
The product model for software is much different than it was 20 years ago, with many of today's applications requiring little in the way of training or support. Software companies today provide their customers with numerous help resources like knowledge bases and in-product help options, but sometimes you just need to pick up the phone and talk to somebody. Both FreshBooks and QuickBooks Online offer live support options to their customers.
What FreshBooks offers
FreshBooks users have access to both telephone and email support during extended business hours, with a toll-free number available to subscribers. In addition, FreshBooks offers the following support resources:
In-product help
In-product messaging
FAQs
Searchable knowledge base
What QuickBooks Online offers
QuickBooks Online offers numerous support options for its users, including the following:
Connect with a support agent by telephone
Connect with a support agent through email
Connect with a support agent through messaging
Featured articles
In-product help
Product training options
Searchable knowledge base
User community
Results
The winner is FreshBooks, which encourages telephone support as the first line of customer support. Yes, QuickBooks Online offers live support options as well, but QuickBooks Online strongly suggests other resources be accessed first.
---
FreshBooks vs. QuickBooks Online: Ease of use
Ease of use can play an important role when deciding which software application to purchase. As a business owner juggling multiple roles, the last thing you want is an accounting software application that requires extensive training.
Ideally, you should be able to look at the user interface and be able to figure out how to get to the features and functions you need, without referring to an instruction manual.
Both FreshBooks and QuickBooks Online are easy to use; both offer intuitive user interface screens as well as help options throughout each application.
What FreshBooks offers
The FreshBooks dashboard offers a nice welcome screen, which conveniently displays your setup progress. FreshBooks does prefer that the system be set up prior to using, but there are plenty of work-arounds for those that prefer to add as they go.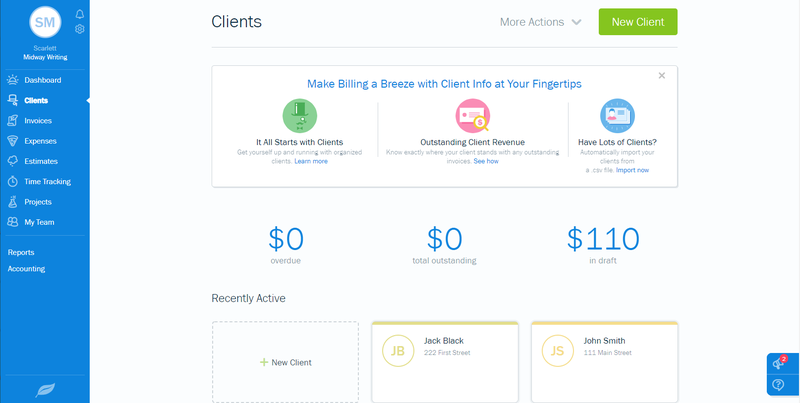 FreshBooks uses a vertical menu bar to the left of the screen, but once a category is chosen, a series of options and information is displayed on screen, including recent activity, a summary of all activity, and various actions that can be taken. Help is available from any screen in FreshBooks, and all data entry screens offer easy look-up options to help expedite the data entry process.
What QuickBooks Online offers
QuickBooks Online offers an easy setup process, so if you want to jump in and get started, you can just tend to the basics and add other details as you go along. QuickBooks Online includes an intuitive user interface, with a vertical menu bar to the left of the screen offering easy access to all system functions. Data entry screens contain solid look-up options in all fields, and you can access the help option from any screen in the application.
Results
This one is a dead heat, with perhaps a slight edge given to FreshBooks for offering activity summaries and various task options in each category.
---
FreshBooks vs. QuickBooks Online: Pricing
Pricing levels are similar in both FreshBooks and QuickBooks Online, though the main driving force behind FreshBooks' pricing levels is number of billable clients, versus number of system users for QuickBooks Online. Both offer similar features in each of their respective applications, with additional features in the more expensive plans.
What FreshBooks offers
FreshBooks offers several plan options based on the number of clients billed per month. Costs are as follows:
Lite: $13.50/month for up to five billable clients.
Plus: $22.50/month for up to 50 billable clients.
Premium: $45/month for up to 500 billable clients.
Select: Custom pricing for more than 500 billable clients.
What QuickBooks Online offers
QuickBooks Online has four plan options, starting with its single-user Simple Start plan, which costs $12.50/month for the first three months, to its Advanced plan, which supports up to 25 users.
Simple Start: $12.50/month for the first three months, then $25 per month. The Simple Start plan supports a single user.
Essentials: $20/month for the first three months, then $40 per month. The Essentials plan supports up to three users.
Plus: $35/month for the first three months, then $70 per month. The Plus plan supports up to five users.
Advanced: $75 per month for the first three months, then $150 per month. The Advanced plan supports up to 25 users.
Results
FreshBooks, though it's close. Remember, while QuickBooks Online comes in slightly lower than FreshBooks, initial pricing for QuickBooks Online typically increases after the first three months, whereas FreshBooks pricing remains the same from month to month.
---
FreshBooks vs. QuickBooks Online: Integration with other software
Older accounting software applications were frequently loaded with every feature and function you could think of, resulting in a bloated, overpriced application.
Today's online applications are streamlined, offering solid accounting functionality, while integrating with numerous apps designed to provide you with the tools you need.
For instance, instead of including a CRM feature, the product offers integration with CRM apps, eliminating bloating and keeping the prices within reach of small business owners.
FreshBooks and QuickBooks Online both offer good integration options, which can extend product functionality tremendously.
What FreshBooks offers
FreshBooks offers integration with more than 200 apps, including Gusto Payroll, Stripe for online payment acceptance, and Avalara Tax for easy tax management. Integrations with e-commerce, inventory, CRM, and time-tracking apps are also available. In addition, you can connect to more than 1,500 apps using Zapier.
What QuickBooks Online offers
QuickBooks Online lets you connect with apps from within the application. By clicking on the Apps feature, you can search for an app, browse popular apps, and view any recommended apps.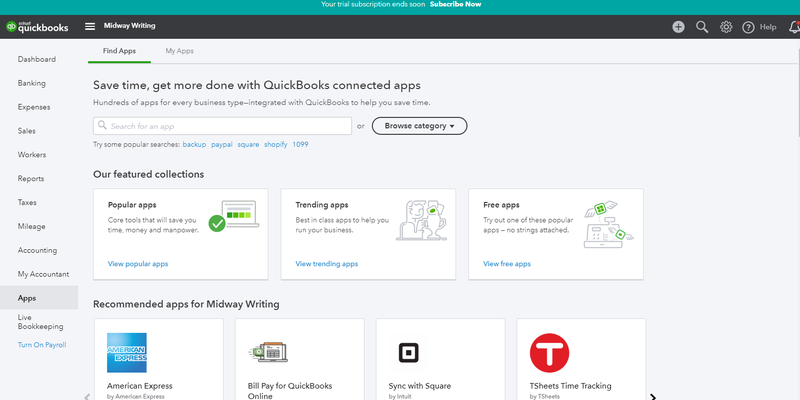 There are apps in a variety of categories, including online payment apps such as Stripe and PayPal, as well as Bill Pay for QuickBooks, which allows you to pay bills from within QuickBooks Online. There are also numerous CRM and time-tracking apps you can easily connect to.
Results
No clear winner in this one, since both FreshBooks and QuickBooks Online offer easy connection from within their respective application to connect with numerous apps in a variety of categories.
---
FreshBooks vs. QuickBooks Online: Reporting
Only you know how important reporting is to your business. If you have the financial statements you need, do you still care how many other reports are available, or do you want as many reporting options as possible?
What FreshBooks offers
FreshBooks offers a total of 14 reports, with limited customization capability, though you can export those reports to Microsoft Excel for customization if desired. FreshBooks does offer a nice report management screen, where you can save your favorites for easy future access, but reports are limited to financial statements and basic management reports. Reports can also be saved as a PDF.
What QuickBooks Online offers
QuickBooks Online includes more than 50 standard reports in a variety of categories. You can also create and save custom reports in this FreshBooks alternative, export reports to Excel for further customization, or save any report as a PDF.
---
How They Compare: FreshBooks vs. QuickBooks
| | FreshBooks | QuickBooks Online |
| --- | --- | --- |
| Bill payment | | |
| Free version available | | |
| Invoice customization | | |
| Live support | | |
| Mobile apps | | |
| Multiple plans available | | |
| Reporting | | |
---
Results
With their 50-plus reports available, QuickBooks Online wins the reporting contest hands-down. While FreshBooks reports are useful and provide the information you need, QuickBooks Online offers a much better variety of reports with much better customization options available.