When you first started your business, information technology (IT) support may have consisted of you figuring out solutions to problems on your own. Or perhaps you were able to yell out a question across the office to that one tech-savvy person.
Then, one day you looked around to see that you had a lot more employees, and they were using multiple devices and various licensed software solutions — ad hoc support was not going to cut it anymore.
That's when you know you need system as a service (SaaS) help desk software to manage IT activities across your company.
While there are many vendors offering help desk software solutions, Freshservice is one of the most popular. We'll go over its features and pricing below so you can determine if it's a good option for your business.
---
Who is Freshservice for?
Freshservice is a robust IT service management (ITSM) solution that provides a wide range of features and options within four basic categories:
IT service desk
IT asset management
IT project management
Analytics and reporting
Freshservice is used to manage internal IT service and support for companies that typically have 50-500 employees and annual revenue ranging from $10 million to $200 million. It is most commonly used in the computer software, IT services, and construction industries.
Freshworks, which produces Freshservice, also offers a wide range of additional software products for customer service, project management, sales, marketing, and customer relationship management (CRM).
---
Freshservice's features
The backbone of Freshservice is its agent service desk dashboard. It provides a clear and concise overview of each agent's existing workload: open help tickets, overdue tickets, VIP tickets, customer responses, and upcoming service changes.
Beyond that, agents will see their current levels of customer satisfaction (positive, neutral, and negative). They will also be prompted to earn customer support achievement badges through a gamification module.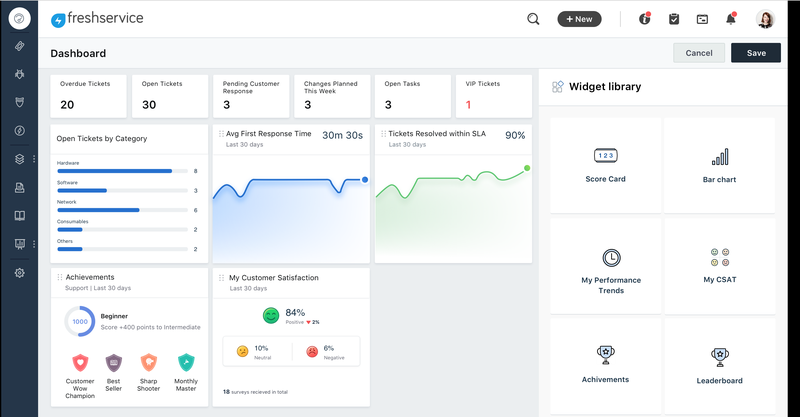 You'll also use the service desk to plan all of your IT projects: organize workflow, assign tasks, check progress, add comments, have conversations, and set related service level agreements (SLAs).
Asset management
In addition to its help desk capabilities, Freshservice provides a wide array of IT asset management (ITAM) features that include auto discovery of connected devices, configuration management, and asset lifecycle management.
You can also manage IT-related contracts so all of your software licenses and website security certificates will remain up to date.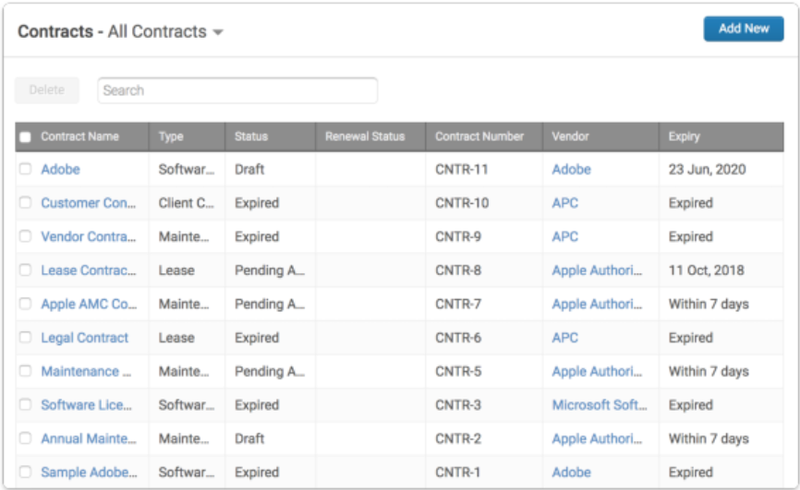 In addition, many of these ITAM processes can be automated, so you won't be unduly burdened with manually tracking or updating information about your hardware, software, and related assets.
Analytics and reporting
A cornerstone of effective ITSM is performance analytics and reporting as measured against SLA requirements.
While agents can see current customer satisfaction and related metrics in their personal dashboards, the help desk analytics dashboard provides overall IT support performance data: tickets by month, tickets by category, agent performance, average first response time, average resolution time, and more.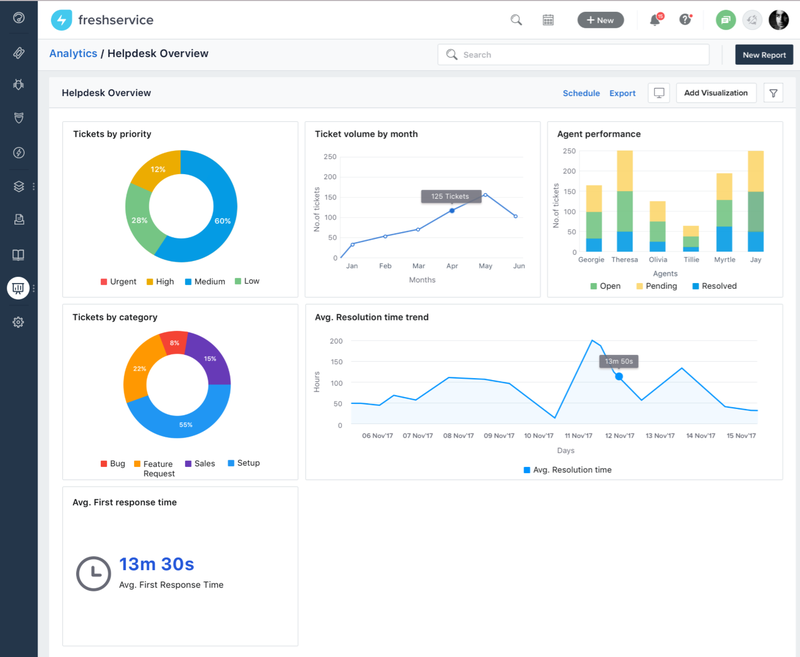 Plus, you can easily build custom reports by utilizing Ask Freddy, Freshwork's built-in artificial intelligence (AI) platform. Using natural language processing (NLP), Ask Freddy responds to your queries by collecting granular level data to include in your reports.
---
Freshservice's ease of use
Your IT techs will appreciate the easy-to-use agent dashboard that clearly shows new and overdue help tickets that need to be resolved. In addition, the inclusion of customer satisfaction metrics and gamification features to improve agent performance will encourage everyone to keep the quality of their work high.
The asset management features, which include automated device discovery, device lifecycle management, and contract management, will give IT managers more time to focus on overarching IT concerns.
In addition, the analytics dashboard provides data showing overall IT department performance and breaks out incidents by type, department, average time to resolve, and more.
Freshservice is designed for use by the rest of your employees, too. Its self-service portal allows users to create help tickets, check the status of older tickets, receive alerts, and read knowledge base articles.
While users are creating tickets, the knowledge base can also suggest articles to read to help them resolve issues on their own.
---
Freshservice's pricing
Freshservice offers a 21-day free trial, and after that, there are four plans to choose from:
Blossom ($29/month per agent) — Comes with incident management, a knowledge base, self-service portal, basic analytics and reporting, and unlimited end users.
Garden ($59/month per agent) — Adds a service catalog, asset management, unlimited mailboxes, multiple SLAs, and domain whitelisting.
Estate ($99/month per agent) — Adds software license management; advanced security; customizable agent roles; and change, problem, and release management.
Forest ($99/month per agent) — Adds a customer success manager, IP whitelisting, audit logs, request for change (RFC), and a one-hour support SLA.
Each managed "asset" — that is, device, not software — in the Blossom tier costs $0.20. The other plans come with 100 assets each, and if you need more than that, you'll pay an extra fee each month ranging from $40 per month for 250 total assets up to $1,500 per month for unlimited assets.
Be aware: Given the likely number of assets in a company with 100 employees or more, your monthly costs could escalate quickly no matter which tier you choose.
---
Freshservice's support
You'll find plenty of readily available help and information, which makes sense as Freshworks specializes in customer support software. All plans come with customer support by email 24/7, but only 24/5 by phone.
Additional Freshservice support includes onboarding and agent guides, community forums, training videos, webinars, and an extensive knowledge base.

Freshworks Academy offers even more Freshservice training as well as certification options. Other courses cover additional Freshworks products as well as more general topics.
The estimated time to complete each training course is clearly stated, which makes it easy to schedule training and professional development.

---
Benefits of Freshservice
In addition to the features discussed above, Freshservice's benefits also include access to its application programming interfaces (APIs), which belong to the REpresentational State Transfer (REST) category.
That means the Freshservice API can be used to create new tickets, read tickets, apply filters, answer questions, assign and escalate tickets, and have conversations about them.
Plus, Freshservice recently released its redesigned mobile help desk app, which is compatible with iOS and Android devices. Agents and managers can address a full range of issues on the go: quickly receive alerts, instantly approve or deny requests, and continually track assets.
On a more conceptual level, another one of Freshservice's strengths as an ITSM is its alignment with Information Technology Infrastructure Library (ITIL) best practices.
ITIL principles are neither business- nor technology-specific. Instead, they set out a series of IT processes to measure competence, demonstrate compliance, and improve performance via five recursive service activities:
Design
Transition
Operation
Continual improvement
Strategy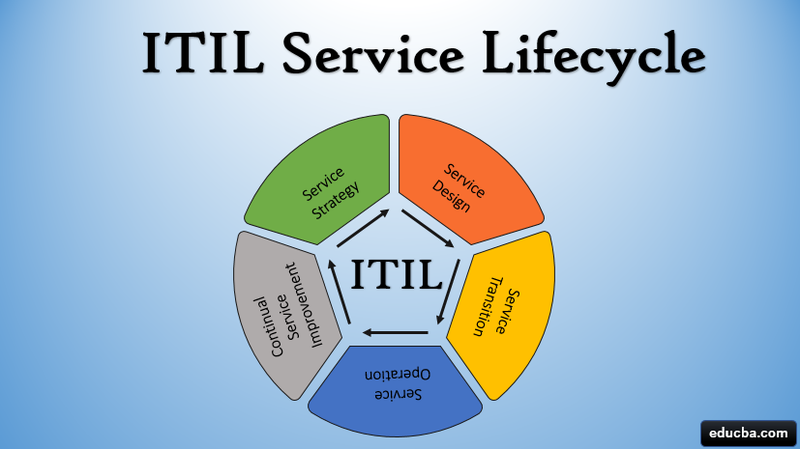 Freshservice's ITIL alignment is evident in its overarching project management and service management capabilities. That is, beyond efficiently resolving submitted help tickets, Freshservice offers the ability to mesh IT activities with business processes and goals.
For example, its problem, change, and release management features allow for proactive incident management, cross-department collaboration, and the coordination of new releases across the entire company.
---
Choosing your help desk software solution
When it comes to selecting an IT help desk software solution, it's easy to be overwhelmed by the number of vendors and myriad options available. Remember: You need to first clearly identify your specific needs and goals at the present time as well as look ahead to the future.
Then, you can determine which available SaaS solution is the best fit for your business.
---
Frequently Asked Questions
Who should use Freshservice?
The majority of businesses that use Freshservice have 50-500 employees and revenue ranging from $10 million to $200 million. The industries that most commonly employ Freshservice are computer software, IT services, and construction.
Freshservice pricing has four plans, which start at $29/month and go up to $99/month per agent. In addition, with the lowest tier, you'll pay $0.20 per managed asset, while the other three tiers support 100 assets. If you need more than that, you'll pay extra each month on a sliding scale, up to a maximum of $1,500.
What kind of support can I expect?
Freshservice comes with 24/7 email support and 24/5 phone support. In addition, there are a wide variety of other options available that include onboarding and agent guides, customer forums, a knowledge base, training videos, and webinars.

Ready to take your IT help desk capabilities to the next level with an improved ticketing workflow, agent analytics, asset management, and ITIL alignment? If so, Freshservice could be just the solution you've been looking for.
Ready to take your IT help desk capabilities to the next level with an improved ticketing workflow, agent analytics, asset management, and ITIL alignment? If so, Freshservice could be just the solution you've been looking for.
---
How Freshservice Compares
The Motley Fool has a Disclosure Policy. The Author and/or The Motley Fool may have an interest in companies mentioned.