Today's business revenue isn't driven by a series of one-and-done transactions. Instead, customer relationship management (CRM) applications let you take the long view by building a loyal customer base that repeatedly buys your products and services.
Two of your best CRM software options are Freshworks CRM and Salesforce. We'll go over their respective features, customer support, usability, pricing, and third-party software integrations to determine which one provides the most relationship management value for your small business.
---
Freshworks CRM vs. Salesforce: An overview
Freshworks CRM is a Freshworks product. Founded in 2010 as Freshdesk, Freshworks provides a suite of CRM-related software as a service (SaaS) applications.
Over 40,000 companies, including Bridgestone, Honda, and Pearson, use its web-based software. Rebranded in 2017, Freshworks generated over $100 million in revenue in 2018 and is currently valued at $3.5 billion.
Salesforce was founded in 1999 and was the first company to provide a SaaS CRM solution. Today, over 150,000 companies, including Amazon, State Farm, and ValPak, use its products. Salesforce had $17.1 billion in revenue for fiscal year 2020 and controlled almost 19% of the worldwide CRM software market in 2019.
Who is Freshworks CRM for?
Freshworks CRM is affordable for small business owners needing basic CRM capabilities, but larger organizations that are willing to pay for its upper-tier plans can add more functionality.
It's designed for sales teams, so businesses with one salesperson may find many features less useful. Freshworks CRM's dashboard is intuitive: Your tasks are front and center, and reports are easy to generate and access.
Who is Salesforce for?
Salesforce CRM allows you to customize its interface to fit your exact business needs in areas including sales, customer service, marketing, productivity, and more.
The advanced features set is a blessing and a curse: It includes everything plus the kitchen sink, but it has a correspondingly steep learning curve. Its pricing is more suited to large organizations than small businesses, and optional features can significantly increase your total cost.
---
Freshworks CRM vs. Salesforce: Features
The CRM features included with each application are where the rubber meets the road, so we'll start with an overview of their customer account interfaces, management tools, and reporting capabilities.
What Freshworks CRM offers
As one of the more popular alternatives to Salesforce, Freshworks CRM includes features to boost sales productivity, customer communications, and sales team collaboration. You'll also be able to track performance metrics across your entire sales operation with in-depth reports.
Customer management
Creating customer accounts is easy, especially if your leads or contacts are in a spreadsheet. Choose the correct file on your computer, match your fields with Freshworks CRM's fields, and it creates a new customer record with your information.
Freshworks CRM also automatically searches the web — with varying levels of accuracy! — for contact information such as a LinkedIn profile and accompanying picture.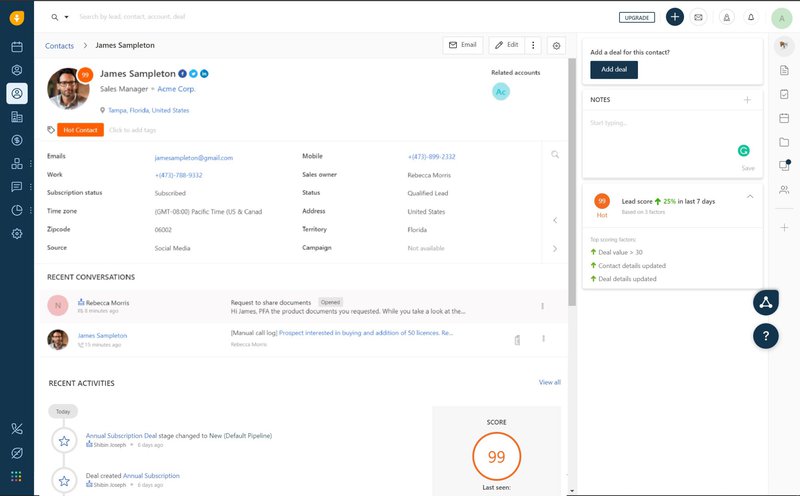 Before CRM software was available, customer information might have been scattered across multiple employee desks, email accounts, and Post-it Notes. Freshworks CRM aggregates this information in a CRM database for easy access and updating.
Lead scoring
Freshworks CRM's lead management features rank leads based on their engagement level. This separates people and companies who are not interested in your products or services from those who only need a few judicious nudges to become customers.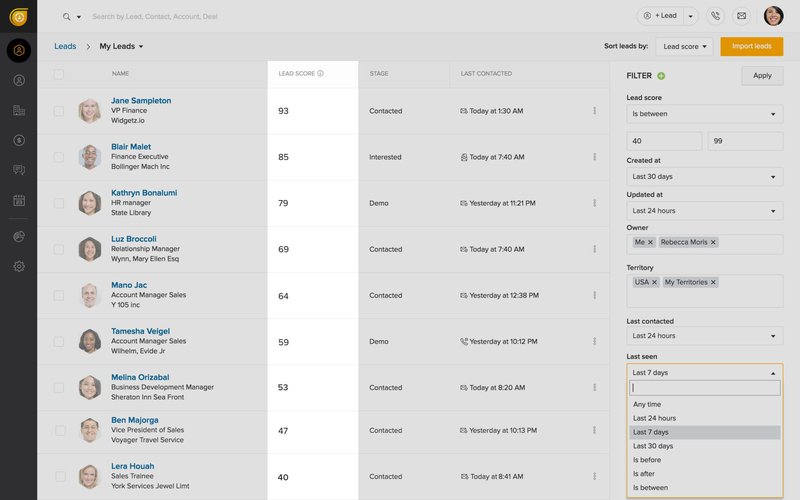 The benefits of Freshworks CRM scoring sales leads multiply in its upper-tier plans, which include lead assignment, sales goals, and event tracking to maximize the results of your sales teams' efforts.
Analytics
CRM best practices include regularly tracking your sales performance metrics. Otherwise, you're operating blind if you don't have easy access to data for open and closed deals, lead generation, conversion rates, and other key performance indicators (KPIs).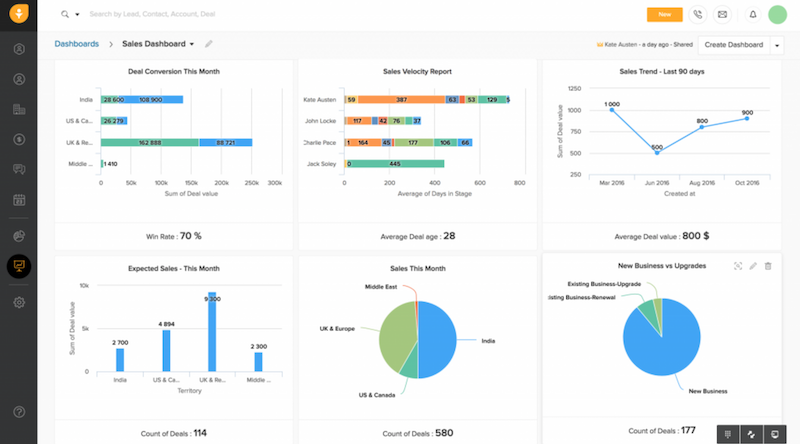 Freshworks CRM automatically produces over 30 reports, including email activity, call logs, and leads generated.
What Salesforce offers
If Salesforce has a problem when it comes to its suite of features, it's because they're an embarrassment of riches. Your sales team will thrive with management tools for:
Quotes
Contracts
Products
Opportunities
Tasks
We'll take a close look at account management, customer support, and sales analytics below.
Account management
Salesforce's account management dashboard creates detailed company and customer accounts that aggregate critical information: account owner, company contact, and other details and news. Keep track of products discussed and potential next steps with notes in the dashboard's right-hand pane.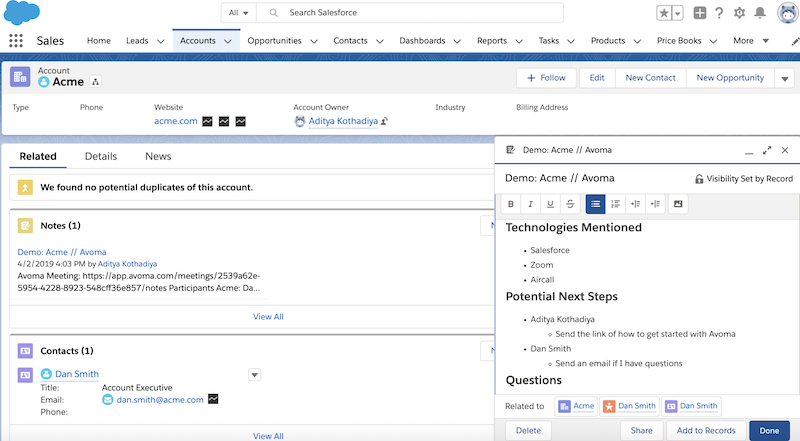 Lead nurturing is the optimum combination of personalized messaging and marketing assets at the right time to steer leads toward a purchase. Salesforce email management and its accounts dashboard provides your sales teams with the tools to close one deal after another.
Customer service
Superior customer service after a deal is closed can turn a single transaction into an ongoing, revenue-generating relationship. Salesforce's CRM customer support features include call management, case/ticket support, and customer portals.
The customer contact center interface contains comprehensive information, but its presentation can be overwhelming.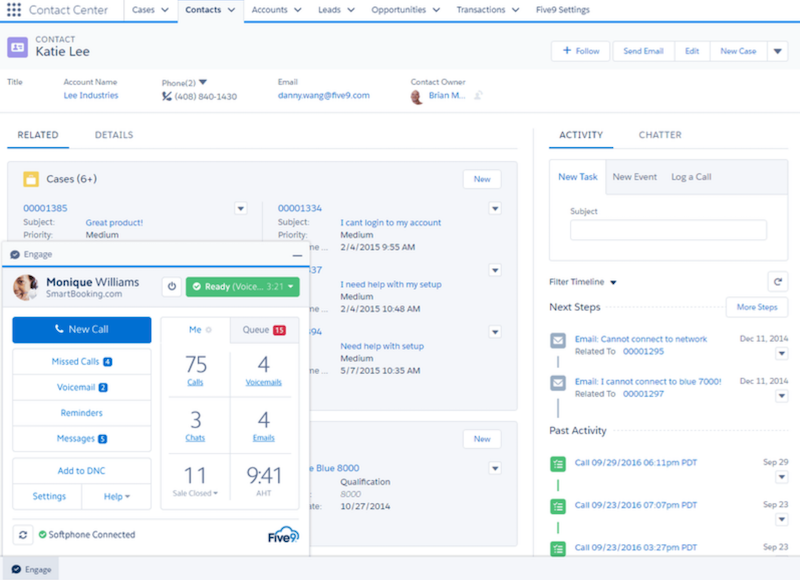 American Express research indicates a third of Americans would consider changing companies following a single instance of poor service. Salesforce provides the tools for your help agents to work in tandem to provide outstanding customer support.
Analytics
Salesforce offers robust sales analytics, so you'll know exactly how effective, for example, your lead qualification methods are in generating revenue further down the sales funnel.
The sales report below presents a 10,000-foot view of quarterly sales — open and closed deals and average deal size — but you can drill down to progressively more granular data in multiple areas.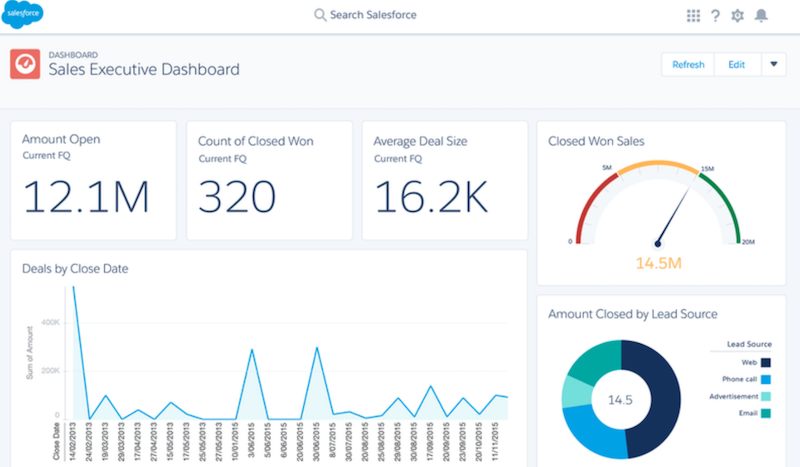 Analytics are not an end unto themselves. Instead, they provide the data — and Salesforce gives you plenty of that! — to formulate actionable insights to adjust your sales strategies for greater success.
Results
Salesforce tops Freshworks CRM here. This is not meant to denigrate Freshworks CRM: It does what it does well, and many of its baseline features mirror what Salesforce offers. Salesforce's overall features set is simply more robust and includes a higher level of functionality, especially as your sales operations expand.
---
Freshworks CRM vs. Salesforce: Support
Even the simplest CRM software can be difficult for novice users to learn due to multiple overlapping features. You and your employees must have quick, easy access to customer support and related resources for answers to inevitable questions.
What Freshworks CRM offers
All Freshworks CRM plans include 24/5 chat, email, and telephone support. Self-service support options include:
Knowledge base: Articles cover tasks and appointments, web forms, reports, and admin and user settings.
Videos: Topics include general settings, layout customization, and sales sequences.
FAQs: Find answers to your questions about leads, contacts, territories, workflows, and more.
Guides: Learn how to set up Freshworks CRM and migrate information from another CRM system.
Freshworks CRM's support options are a clear step up from many other software providers, who frequently cut customer service corners and leave users to fend for themselves.
What Salesforce offers
Salesforce has three customer support plans:
Standard: Provides weekday telephone support during standard business hours, or users can submit online help tickets. Both of which have an estimated two-day response time. Also includes access to the Salesforce knowledge base, community forums, webinars and in-person events, and online training courses.
Premier: Adds 24/7 support with one-hour response times, coaching sessions, and success managers.
Premier Plus: Adds Salesforce admin assistants to set up and customize roles and profiles, build workflows, reports, and dashboards, and import, update, or delete data.
All Salesforce plans include Standard support. Premier costs 20% of your net price, and Premier Plus is 30% of net. "Net" appears to be the total cost of your Salesforce user licenses without any add-on services.
Salesforce also offers adoption and advisory services that include one-on-one coaching sessions and help from Salesforce configuration experts and admin assistants.
Results
The Blueprint rated Salesforce as having the best training, but given the significant extra cost to access timely help, Freshworks CRM is nonetheless the winner here.
---
Freshworks CRM vs. Salesforce: Ease of use
The "greatest" software application in the world isn't that great if it's too complicated to use. Salesforce has a larger features set, but Freshworks CRM has better customer support, so how does that play out in terms of ease of use?
What Freshworks CRM offers
Some CRM applications have dashboards containing too many different content blocks, but Freshworks CRM's intuitive user interface is easy to navigate while also giving you access to multiple features — built-in email and phone, automated lead scoring, and customized reports — without having to switch between multiple applications.
You're limited when customizing dashboard information and must go to other pages to see key marketing KPIs such as your sales quotas. This can become tedious, but it's not a critical issue because the icon-based side menu provides easy access to contacts, deals, email tools, leads, and reports.
Users have commented on Freshworks CRM's superior customer service, easy migration of customer records into its CRM database, and the comprehensive account activity feed. Other users expressed concerns about finer points such as problems finding error logs and issues when converting leads to contacts.
What Salesforce offers
Salesforce is like the game Go: easy to learn but hard to master. You can customize it to reduce repetitive tasks, optimize budgets and schedules, and make informed decisions with real-time information. It includes so many options, though, you must be careful not to overcomplicate it for your sales teams.
Users note that you get out of Salesforce what you put into it. Dilettantes need not apply; daily use over time is required to master its features to full effect. This is more difficult for customers with the Standard support plan because they are essentially left on their own to figure out how everything works.
As we said in our Salesforce CRM review: Learn the basics step by step, then add one customization at a time. Do that, and you'll soon master the most advanced CRM on the market.
Results
Freshworks CRM's victory here says more about Salesforce than Freshworks CRM. Salesforce's steep learning curve isn't made any easier by the fact you'll pay hundreds — or more likely thousands — of dollars more per year to receive the customer support necessary to master its ins and outs.
Freshworks CRM's simpler interface and uniform customer support options will have you up and running more quickly and with less frustration.
---
Freshworks CRM vs. Salesforce: Pricing
Even a cursory glance at pricing schedules gives Freshworks CRM a leg up. Still, pricing is a category where you must research each plan's options to identify exactly what you are and aren't getting versus what you need.
What Freshworks CRM offers
Freshworks CRM pricing has five plans, including one of the free Salesforce alternatives:
Sprout: Free — Includes unlimited users, contacts, and 24/5 email, chat, and phone support.
Blossom: $19/month per user — Adds deal management, lead scoring, Freshworks integrations, apps and integrations, and application programming interface (API) access.
Garden: $35/month per user — Adds 10 teams, 250 bulk emails/day per user, 10 workflow automations, territories and lead assignment, custom roles, and advanced reports.
Estate: $65/month per user — Adds sales goals, advanced CRM customization, auto profile enrichment, reports dashboard, smartforms, event tracking, and multiple currencies.
Forest: $948/year per user — Adds a dedicated account manager, audit logs, and IP whitelisting.
All paid plans include a 21-day free trial with no credit card required. The Blossom, Garden, and Estate plans offer discounts ranging from 24% to 36% if you pay for a year at a time. The Forest plan does not have a monthly option.
What Salesforce offers
Salesforce has four plans:
Essentials: $300/year per user — Includes lead assignment, account, case, contact, lead, and opportunity management, and service console apps.
Professional: $1,200/year per user — Adds service contracts and entitlements, lead registration and rules-based lead scoring, sales orders, products and price books, collaborative forecasting, mass emails, and campaign management.
Enterprise: $2,100/year per user — Adds work order management, a help center, advanced reporting features, and unlimited Lightning Flow automation.
Unlimited: $3,900/year per user-- Adds developer pro sandbox, one full sandbox, live chat, and a read-write knowledge base.
The Essentials plan includes a three-month free trial. The other plans offer a free interactive demo.
Results
Freshworks CRM easily wins here: It offers a "forever free" plan, and even its top-tier Forest plan costs a quarter of Salesforce's Unlimited plan. Salesforce does include more features, but until you're ready to use them, Freshworks CRM is your cost-effective best option.
---
Freshworks CRM vs. Salesforce: Integration with other software
No software does it all, so it's critical your applications share data. This is especially true for CRM solutions because they aggregate information from multiple sources, including email, social media, live chat, phone calls, calendar applications, and inventory management software.
What Freshworks CRM offers
Freshworks CRM has fewer than 20 native integrations with third-party applications, but they include Google Calendar and Contacts, QuickBooks, Mailchimp, and HubSpot Marketing.
Shopify and DocuSign integrations are "upcoming," according to its website. Freshworks CRM also works with its companion help desk, telephone, chat, and marketing software.
For more connections to your existing applications such as Facebook or Trello, Freshworks CRM uses the third-party connector apps Zapier and PieSync. For example, you can set up a connection so each new Freshworks CRM deal creates a corresponding Trello project card.
Zapier is more widely used but only creates one-way communications, while PieSync creates one- and two-way connections. These connector applications have their own monthly subscription costs.
What Salesforce offers
Salesforce has over 3,400 integrations and apps available at its AppExchange. The security of each ready-to-deploy app is rigorously tested using a five-step process before it is added to the AppExchange listings.
App categories include:
Analytics
Customer service
Enterprise resource planning
Finance
Human resources
Integration
IT and admin
Marketing
Sales
Salesforce Labs
Many of AppExchange's on-demand apps are available for free, while others require a subscription. Salesforce also uses Zapier and PieSync to connect to software that doesn't have a corresponding standalone app or integration.
Results
Salesforce comes out on top here. The thousands of apps and integrations available on Salesforce's AppExchange easily outstrips Freshworks CRM's handful of native integrations.
---
How They Compare: Freshworks CRM vs. Salesforce
| | Freshworks CRM | Salesforce |
| --- | --- | --- |
| Features | | |
| Support | | |
| Ease of use | | |
| Pricing | | |
| Integrations | | |
---
Choose the right CRM for your business needs
Salesforce is the worldwide market-share CRM leader, but if you're starting out with your relationship management efforts, Freshworks CRM is the better deal with affordable pricing and uniform customer support options.
Once you have CRM experience and the sales to support Salesforce's pricing, though, you might make a switch to take your CRM strategy to the next level and generate even more revenue.