GetResponse is a powerful e-commerce and email marketing solution with advanced segmentation and personalization options.
Despite its power and raft of features, GetResponse is suitable for businesses of all sizes — and all levels of users. This is down to its completely customizable user interface, which makes it quick and easy to navigate.
But its marketing funnel-based approach might not suit everyone, especially if you're used to working with traditional email marketing software.
---
Who is GetResponse for?
This email marketing solution guides you through each step of creating an email campaign, which makes it suitable for everyone, from novices to power users. As it takes a while to customize and familiarize yourself with all the features, this software is only suitable for people who want to spend a significant amount of time creating email campaigns.
---
GetResponse features
GetResponse is not just an email marketing solution. It also includes webinar marketing, CRM, social media marketing, and lead generation and e-commerce functionality.
For the purpose of this review, we are solely focusing on the main email marketing components.
Email creation
GetResponse walks you through the process of creating an email, including all options in one screen so you can see the tasks you need to complete. This includes adding the:
Subject line
List of recipients
Design and content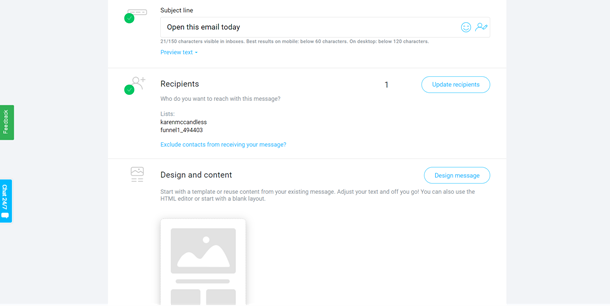 To create an email, you can import your own template, start from scratch, or use one of the built-in templates (below). There are hundreds of templates arranged by industry.
There are a ton of customization options for each template, and the ability to add personalized product recommendations makes GetResponse stand out as a useful tool for e-commerce promotional emails or newsletters.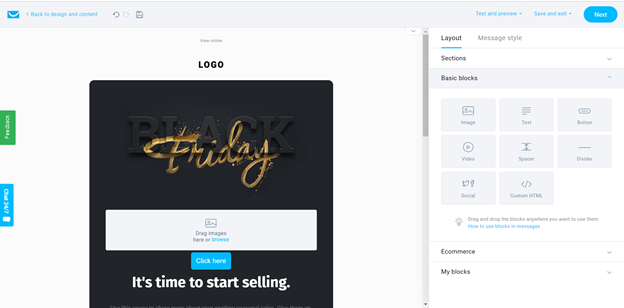 GetResponse also includes templates to help you build your landing pages and forms for your website.
You can test how these emails will appear in different email inboxes and on mobile devices, as well as sending yourself a preview email.
This testing functionality even extends to sending times. GetResponse's Perfect Timing feature delivers emails according to when they are most likely to be read and acted upon based on customers' past behavior. And the creatively named Time Travel option delivers emails in the recipient's time zone, which is key if you have customers from across the globe.
Advanced A/B testing
The more elements of your email campaigns you test, the more data you get, and the more insight you have to help you improve. That's why GetResponse's wide variety of options for A/B testing mean you can keep optimizing your campaigns to help meet your goals.
You can test up to five options for your subject line, plus you can decide which percentage of recipients should receive each option and choose whether the winning email should be based on clicks or opens.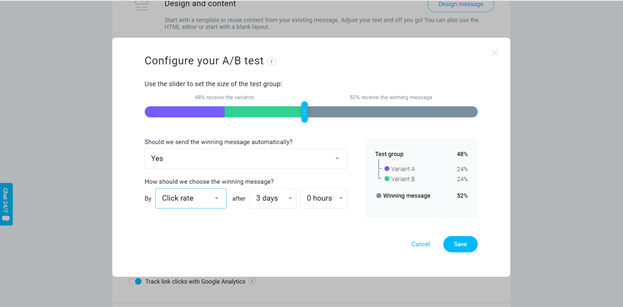 Super specific segmentation options
GetResponse allows you to create granular segments from your customer lists. The attributes you can use to create a segment include:
Contact information
Location
Customer engagement
Date of subscription or last time you sent a message
A customer's last action
Custom information specific to your business
GetResponse's specific segmentation capabilities are complemented by its advanced contact management functionality. This allows you to create segments in one click from search results, according to criteria such as subscription source, contact type, and contact status. You can also move contacts from list to list (or duplicate them into a secondary segment).
You can even choose to exclude certain contacts; for example, if they have an open support ticket, you could choose not to send them any more emails until the issue is resolved.
GetResponse has dynamic segmentation options, meaning it automatically moves contacts in and out of segments based on when your recipients start and stop meeting the criteria.
Automations
Since GetResponse is a full marketing automation and email marketing solution, you can draw in all of this information to build automated workflows.
To get started, you can use one of GetResponse's built-in automation templates to create email sequences for purposes such as winning back customers or cleaning your email list.
The automation editor allows you to customize each template or build your own from scratch by dragging and dropping different conditions into the workflow. This includes:
Clicking links
Signing up to lists
Visiting landing pages
Opening messages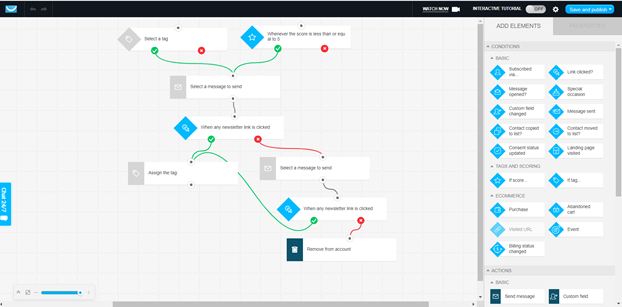 The process can seem complicated and confusing at first, but GetResponse provides instructions to walk you through it.
---
Benefits of GetResponse
GetResponse is a very powerful marketing tool. Using GetResponse, you can create specific customer segments that allow you to send highly targeted emails to the right group of contacts at the right time.
Its autoresponder functionality lets you create relevant content in a way that best engages customers. This is perfectly complemented by its personalization capabilities that make customers feel like they are being treated as individuals, not just a number on a list.
---
Working with GetResponse's support
GetReponse has excellent support options and — importantly — you can get help at any time of the day or night.
Live chat 24/7
If you've only got a quick question, you normally don't want to have to phone someone or fill out a form and wait for an answer. That's why live chat is such a useful tool for software support. GetResponse provides 24/7 live chat support. And it's not just a chatbot, you can talk to a real human who can solve more complicated problems.
Help Center
While live chat is the main support option on offer, a quick click of the question mark button on the homepage takes you to the additional help options. You can choose to:
Fill out a quick form to email GetResponse
Search material in the Help Center
There is no obvious way to phone GetResponse, although you do get a dedicated account manager if you choose the Enterprise plan.
Aside from video tours, the Help Center, and all the customer support options, you can also register for live webinars with members of the GetResponse teams where you can ask all your burning questions.
Then there are the courses. These online training materials don't just help you get the most out of GetResponse, they also help you improve your overall marketing skills. Current course titles include:
Email Marketing 101 for Bloggers
List Building Course
Essential Landing Page Course
---
GetResponse pricing
GetResponse doesn't provide a free plan, but it does offer a 30-day free trial.
GetResponse offers three main plans:
Basic, from $15 per month
Plus, from $49 per month
Professional, from $99 per month
Plan prices vary according to the number of contacts you have, with the cheapest tier capped at 1,000 contacts. You can choose to pay per month, get 18% off a 12-month plan, or 30% off a 24-month plan. Nonprofits can apply for a 50% discount.
There is also what is called a Max plan for enterprises, which comes with customized pricing according to your business needs.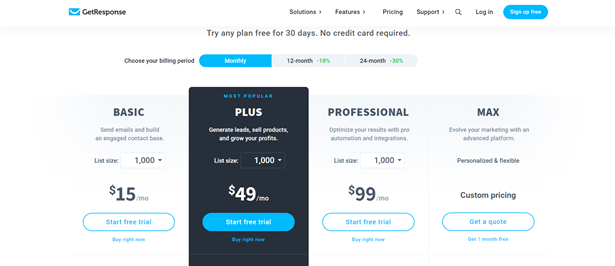 GetReponse's Basic plan is great value for the money and includes a whole host of advanced features such as segmentation, personalization, and Facebook ads. The only major feature that isn't available in the Basic plan is the ability to create automated strings of emails, known as autoresponders.
The Plus and Professional plans also include CRM, webinar, and funnel-building sales management capabilities.
---
GetResponse's ease of use
Normally, the more features a piece of software has, the longer it will take you to get up to speed with how it works. This should be especially true for GetResponse because it is not just an email marketing software, but it also has e-commerce, CRM, and lead generation and management features.
However, GetResponse is the exception. With its modern, sleek user interface, navigating around the solution is easy, and it gives you confidence it can deliver what you need to create compelling campaigns.
The Quick Actions menu helps you jump to commonly used tasks and features, while the ability to customize the user interface means you can design the user experience in a way that best fits how you use the solution.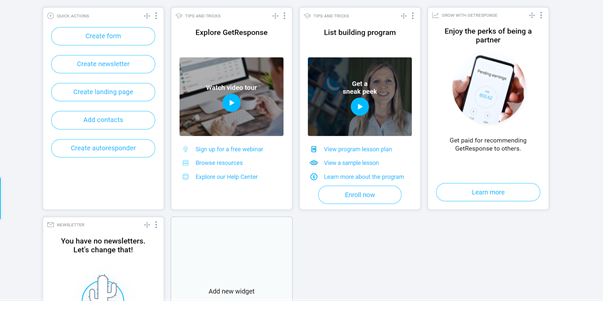 The top right-hand Menu button contains all functionality arranged into sections such as automations and landing pages. This is constantly visible and helps you to navigate around quickly and easily.
---
Frequently Asked Questions for GetResponse
GetResponse is a powerful email marketing and e-commerce solution for businesses of all sizes.
GetResponse offers a 30-day free trial, but no free plan, so after that you must upgrade to a paid plan to continue using the software.
How do I create a landing page in GetResponse?
GetResponse has a drag-and-drop editor that allows you to create your own landing page or customize built-in templates.
Does GetResponse include automation workflows?
Yes, GetResponse has a drag-and-drop workflow builder, which allows you specify a series of actions that the software will automatically take based on customer behavior.
---
Which one is right for you?
The Motley Fool has a Disclosure Policy. The Author and/or The Motley Fool may have an interest in companies mentioned.