GetResponse and Mailchimp are almost the same age (the companies were founded in 1998 and 2001, respectively), and they've gone on pretty similar journeys. You could say they're classmates.
There are a lot of Mailchimp alternatives, but GetResponse stands out as one of its main rivals.
They both started out as fairly similar email marketing software solutions, letting you create campaigns and track success. They've really hit their strides in recent years, expanding their feature sets to add more detailed analytics along with advanced personalization, segmentation, and A/B testing options.
Despite taking such similar paths, GetResponse has a customer base of around 350,000 compared to Mailchimp's 11 million active customers.
Is this because Mailchimp is a whole lot better, or simply because the company nailed its marketing campaigns?
---
GetResponse vs. Mailchimp: An overview
Before you decide which tool is right for your needs, let's take a look at who the initial audience was for these software options.
Who is GetResponse for?
GetResponse is an intuitive email marketing software that provides a top-notch user experience. It's specifically aimed at small businesses that want to be able to create email campaigns, sell products, and host webinars.
While it's an easy-to-use solution when you get up and running, there is a steep learning curve, which means you have to spend time figuring out where everything is and how it works.
Who is Mailchimp for?
Mailchimp is suitable for novice users because it's very easy to pick up without any training. Its easy-to-use analytics make it easy to get actionable insight.
This makes it an ideal solution for anyone who wants to take a data-driven approach to email marketing.
---
GetResponse vs. Mailchimp: Features
GetResponse and Mailchimp work in different ways, but both provide excellent functionality, especially when it comes to personalization and segmentation.
What GetResponse offers
GetResponse is different from a lot of email marketing solutions in that it doesn't just present you with a dashboard and leave you to get started on your own.
Instead, it brings together different tools based on your goal. These goals include:
Build an email list
Sell a product
Promote a webinar
Once you've chosen your goal, you can see the steps you need to take to achieve it in the form of a marketing funnel. For example, if you chose the "build a list" option, GetResponse displays options to create a signup page to collect subscribers.
It then encourages you to either start a single email campaign or a series of autoresponders — emails that are automatically sent based on customer behavior, such as signing up for a list or making a purchase.
GetResponse also displays analytics relevant to your goal within the same dashboard. In this example, it shows how many new subscribers you have.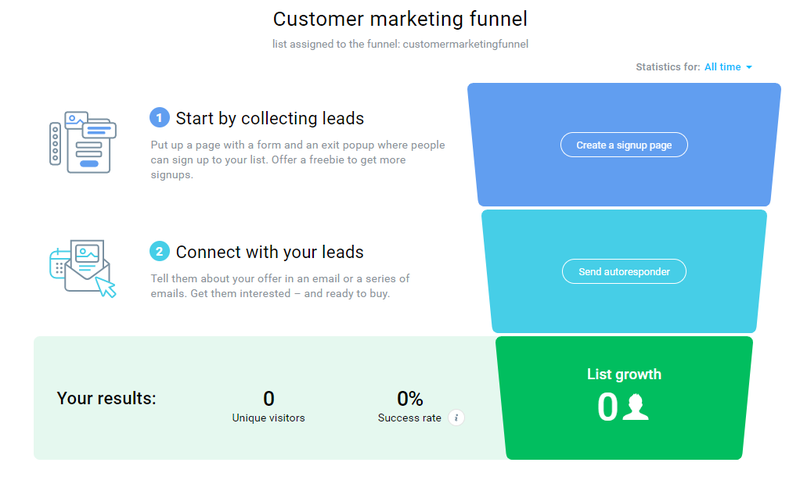 Other useful GetResponse features include the ability to create segments by not only including but also excluding criteria.
For example, you can create a campaign that excludes customers living in Germany or who haven't made a purchase within the month from getting a specific email newsletter.
It also excels in personalization. You can personalize the subject line with options including country, city, gender, birth date, and many more.
What Mailchimp offers
One of the key functions of any email marketing software is to automate manual processes to save you time and effort while keeping customers happy. When it comes to automation, Mailchimp's drip campaigns set the bar high.
Autoresponders — sequences of emails that are triggered automatically based on customer behavior — are a key feature you should look for in any email marketing solution.
Normally, you have to create your own sequences, but Mailchimp includes templates for your autoresponders for situations such as cart abandonment, winback campaigns, and new subscribers.
If you choose one of these templates, Mailchimp will send out relevant emails at set intervals without you having to do anything.
This allows you to have preset ways that you can start your emails, offers to include within the body or ways to end your email in order to capture customers satisfying specific, predefined criteria.
Understanding how well these email sequences are performing is key as you need to constantly optimize your campaigns to improve results.
Mailchimp allows you to compare the success of these autoresponders against other email campaigns to see which ones worked best.
These insights include:
A map of opens according to location
Social media likes and shares of your campaign
Subscribers who open your email the most
The performance of your email in the first 24 hours
Results
Mailchimp's excellent automation capabilities award it the win in this round.
---
GetResponse vs. Mailchimp: Support
The Blueprint has readers from around the world, but do email marketing software providers offer global support options? Find out below.
What GetResponse offers
GetResponse provides live chat support 24/7, with agents located in the U.S., Europe, South America, and Cuba. Instead of using a bot to answer simple questions like many companies do, when you click on GetRespone's live chat button, you get access to a real human. This means more targeted and personalized help.
GetResponse also provides email support in seven languages — it's one of the only email marketing solutions to provide localized help — but only enterprise customers get access to phone support.
GetResponse offers tons of tutorials and guides within its help center, including webinars that can help you improve your email marketing skills.
What Mailchimp offers
If you're not on the list, you're not getting in. And if you haven't paid to use the solution, then you aren't getting support from Mailchimp customer service. If you opt for the free plan, you get 30 days of free email support, and after that, you're on your own.
There are tons of very detailed articles in the knowledge base, but to contact Mailchimp support, you have to dig deep into its support pages.
If you pay to use Mailchimp, you get 24/7 live chat and email support. Phone support is available on the most expensive price plan.
Results
As GetResponse offers global support in different languages with agents on different continents, it wins this round.
---
GetResponse vs. Mailchimp: Ease of use
Not everyone uses email marketing software for the same thing. That's why it's important to be able to customize and personalize the main dashboard, as we'll see below.
What GetResponse offers
GetResponse allows you to customize the main dashboard according to the functions you use most. The "quick actions" menu on the dashboard allows you to can easily find your way back to your most important tasks without having to look through the dropdown menus.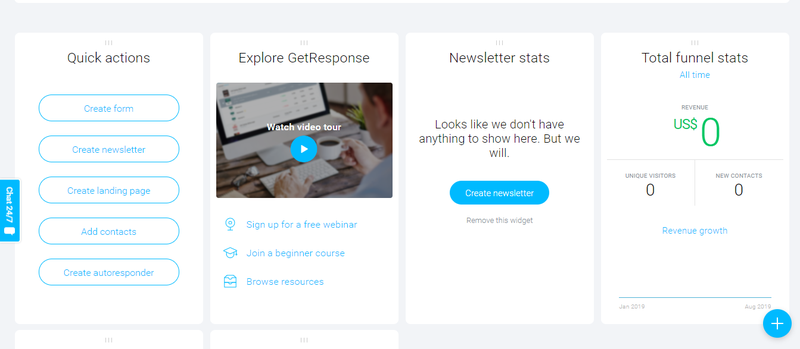 While GetResponse packs a huge amount of marketing automation features — including SMS marketing and surveys — into its software, it never feels overwhelming and is easy to navigate.
When you first start using the solution, it places onboarding materials such as videos and webinars on the dashboard so you can get up and running quickly.
My only criticism is that once you've created a marketing funnel — like the one we mentioned in the features section — and then navigated away from that feature, it can be hard to get back there again.
What Mailchimp offers
Mailchimp offers personalized in-app advice based on your answers to a few questions regarding your email marketing experience and your overall marketing goals.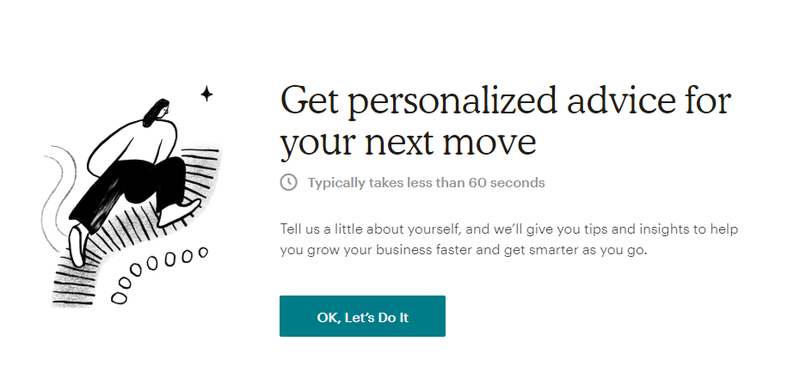 Mailchimp suggests ways you can use the software to improve your email marketing campaigns, such as segmenting your lists and personalizing your subject lines.
It also uses in-app messaging to display a series of messages that show you how to use each feature step by step. Different messages appear as you complete each task.
Its well-designed user interface, along with its well-organized navigation, make it easy — even for novice email marketers — to use Mailchimp to create personalized, segmented campaigns that target the right customers at the right time with the right content.
Mailchimp's automated templates for behaviorally-triggered emails (driven by machine learning) also mean you can create advanced email drip campaigns even if you've never done it before.
Results
Mailchimp's in-app tips and explanations make it easy to get the most out of its features, which leads to its triumph in this section.
---
GetResponse vs. Mailchimp: Pricing
The price of email marketing software often varies according to the size of your email list. That's why it's important to make sure you factor in the increase in price as you grow your list so you don't invest in a software only to find it becomes too expensive as you scale your business.
What GetResponse offers
GetResponse doesn't offer a free plan, but it does provide a 30-day free trial.
GetResponse offers three main paid pricing plans, with the least expensive option starting at $15 per month for 1,000 contacts. You can also contact GetResponse to get a bespoke pricing deal if you have more than 100,000 contacts.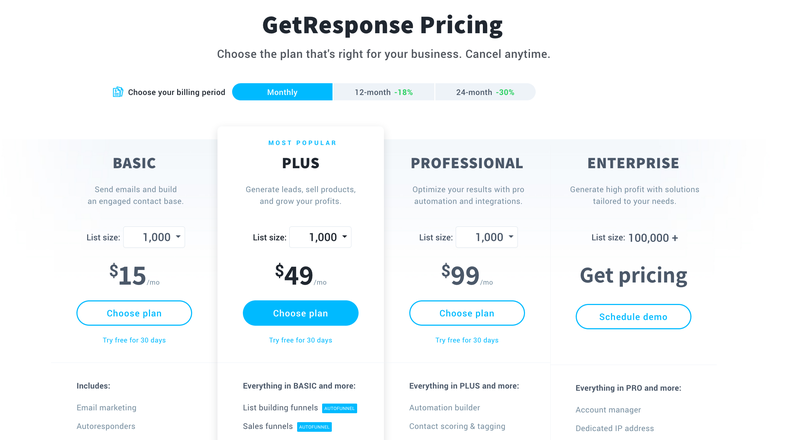 Prices for each plan vary according to the number of contacts you have. For example, the Basic plan (which is the least expensive option) costs:
$15 per month for 1,000 contacts
$25 per month for 2,500 contacts
$45 per month for 5,000 contacts
$65 for 10,000 contacts
This makes GetResponse a slightly better value for the money than Mailchimp, especially when you consider the 18% discount when you pay annually, or the 30% discount when you pay for 24 months at once. Non-profits can also get a discount of 50%.
However, there is a significant jump in price to GetResponse's next pricing plan, which starts at $49 for 1,000 contacts.
What Mailchimp offers
Mailchimp provides a free plan, but with it, you're limited to sending 10,000 emails a month. There are three paid pricing options, with plans starting at $9.99 for 500 contacts. There is also a 15% discount for nonprofits and charities.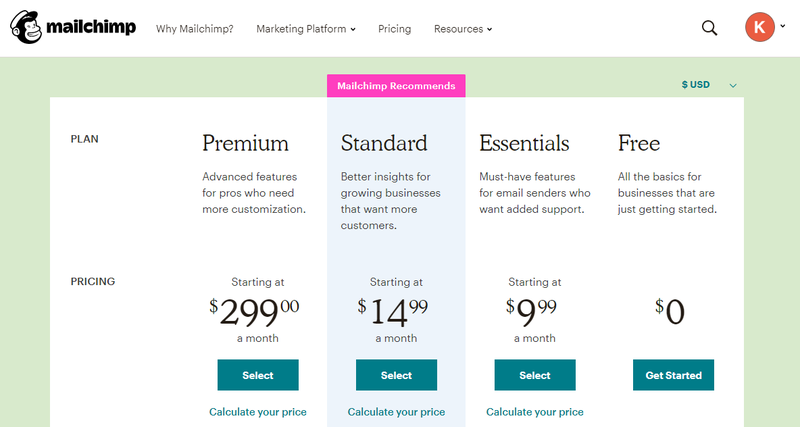 Like GetResponse, pricing for paid plans varies according to the number of contacts you have and starts to go up steeply when you have more than 500 contacts. For example, the Essentials plan (which is the least expensive option) costs:
$9.99 for 500 contacts
$29.99 per month for 2,500 contacts
$49.99 per month for 5,000 contacts
$74.99 for 10,000 contacts
If you're a small business with a big email list, you're going to pay through the nose for Mailchimp.
Results
GetResponse's least-expensive pricing plan is a slightly better value, but Mailchimp offers a free pricing plan with many advanced features, so it takes this round.
---
GetResponse vs. Mailchimp: Integration with other software
It's likely your business is already using a whole host of software. Making sure this software plays nicely with your shiny new email marketing solution is crucial.
What GetResponse offers
GetResponse has a ton of useful integrations across different software verticals, such as e-commerce, CRM, and social media. These include:
Etsy
PayPal
Eventbrite
Zendesk
LiveChat
GetResponse also provides an API if you need to build an integration with software that isn't on its list of native integrations, with a ton of documentation to help you understand how that works.
What Mailchimp offers
Mailchimp offers much the same integrations as GetResponse across similar categories. Mailchimp's integrations include:
Mailchimp provides an API to help you set up integrations with other software, but it clearly states that it cannot help you build these integrations — you must contact a third-party expert if you need assistance.
Results
Both products integrate with a ton of other software solutions. GetResponse sneaks in as the winner by being more helpful with its API.
---
How They Compare: GetResponse vs. Mailchimp
| | GetResponse | Mailchimp |
| --- | --- | --- |
| Free plan | | |
| Customizable dashboard | | |
| In-app support messages | | |
| API | | |
| 24/7 support | | Limited |
| Advanced segmentation | | |
| Autoresponders | | |
| A/B testing | | |
| Customizable dashboard | | |
---
Mailchimp's functionality beats GetResponse's unique approach
GetResponse is a great solution for helping even the most inexperienced of marketers quickly achieve their marketing goals — whether that be building a list or creating autoresponders.
Rather than pointing you toward uploading a list or creating an email campaign — as most email marketing software does — its unique, funnel-driven approach helps you understand the steps you need to take to and the results you've achieved.
It brings something new to the table, which is ideal if you have no idea what you need to do to get up and running with email marketing.
Despite that, Mailchimp still wins overall thanks to its ability to offer so many advanced features in one solution, with many of those available for free. It's also a pleasure to use, with its quirky copywriting, helpful tips, and excellent user experience.