Google Hangouts is an app that's been the subject of some confusion over the last few years.
Google has been reshaping its G Suite offering of communication, collaboration, video conferencing, and organization products for some time, and using a mish-mash of the "Hangouts" branding and moniker to name new products, causing confusion over what Google Hangouts really is and what it really offers.
Google expanded Google Hangouts into two enterprise-grade tools called Google Hangouts Meet and Google Hangouts Chat, offered only to G Suite customers, while consumers could use Google Messages and Google Duo as a chat solution and one-to-one video call solution.
Confused? We understand why. Before we dive into a full review, let's define Google Hangouts and its other product offerings as they currently stand:
Google Hangouts: Google Hangouts is the consumer-grade messaging and video chat service. Starting in June 2020, Google Hangouts will only be offered to consumer accounts — those with an @gmail.com email address.
Google Chat: Known previously as Google Hangouts Chat, this is Google's premium chat and collaboration service, which also comes in the G Suite package.
Google Duo: This is Google's one-on-one video chat solution for consumers.
Google Meet: Known previously as Google Hangouts Meet, this is Google's video conferencing software, which comes as a part of the G Suite offering. Due to the coronavirus pandemic, since April 2020, there is also a limited free version of Google Meet.
Phew. After all that, in this review, we'll be focusing on the Google Meet video conferencing solution, formerly known as Google Hangouts Meet.
---
Who is Google Meet for?
Google Meet is suitable for businesses and individuals in any industry who regularly host video meetings, remotely manage teams, or regularly work from home.
It's a great solution for organizations looking for an inexpensive video conferencing solution, and is a sound option for existing G Suite customers who need a reliable and secure video meeting tool without the frills.
Those looking for a truly enterprise level video conferencing tool will need to look elsewhere, as Google Meet's enterprise tier maxes out at 250 meeting participants.
Google Meet's features are pretty basic, so those looking for a more robust and feature-heavy solution will also need to consider other video conferencing tools.
---
Google Meet's features
Google Meet comes as a standard feature with any tier of G Suite, and the features you can access depend on which plan tier you choose.
However, Google Meet is now available to users with a basic Google account until the end of September 2020. With this free version, users can host meetings with up to 100 participants with no time limit on meeting duration.
Let's take a closer look at Google Meet's main features.
Multiple screen layouts
Google Meet offers a few different video layouts to choose from: sidebar, spotlight, and tiled. In an effort to remain competitive, Google Meet has also recently upped the amount of participants you can see via a tiled layout from four to 16.
Being able to see more people at the same time can help foster participation during remote work and project planning, especially during larger meetings and conference calls. This feature can help you track multiple speakers, and encourage more collaboration between meeting participants.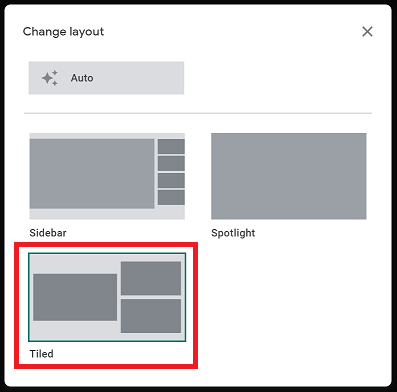 Screen sharing
Users can easily share their screen during a meeting and choose exactly what to share with other participants. If you don't want to share your whole screen, Google Meet gives you the option of sharing a specific browser window, application, or document.
Videos are also easily shareable with other participants using the screen-sharing feature.
Real-time captions
Google being Google, the solution offers real-time captioning during video conferences. With just a click of the "Turn on captions" button, any participant can turn on live captions.
In terms of accessibility, this is a great feature, and it also lends itself to meeting recordings, so that those viewing the video recording later can follow along more easily.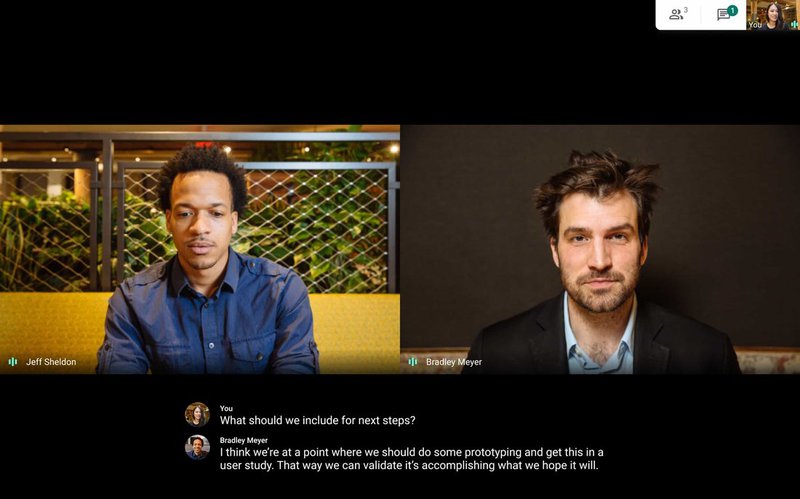 Noise cancelation
Recently, Google announced that Google Meet Enterprise and G Suite for Education customers will have access to a new noise-cancelling feature, which helps filter out background noises in participants' videos.
Initially, the feature will only be available via the web client, but will be rolled out to mobile devices in the future.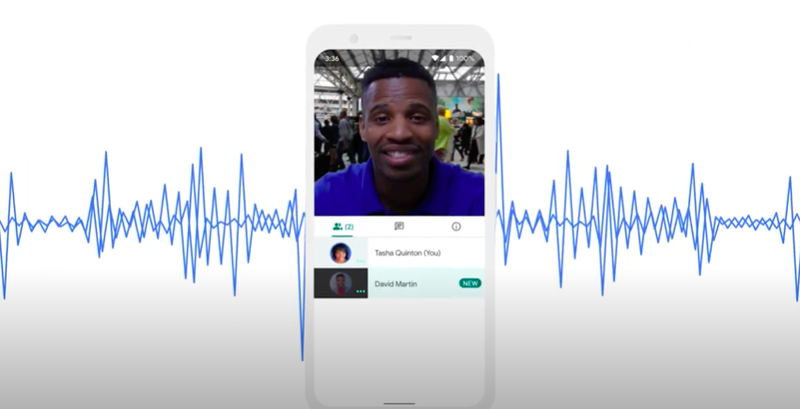 ---
Google Meet's ease of use
Starting and joining a meeting via Google Meet is incredibly easy. Go to meet.google.com on a browser, and then join an existing meeting or start a meeting right from this interface.
When you create a meeting, you'll generate a unique meeting URL, a dial-in phone number, and meeting PIN that can be shared with your desired participants.
G Suite customers will also find that their calendars, meetings, and information from the other apps in the suite are synced with Google Meet, meaning there's no back and forth between apps to make sure you're meeting-ready.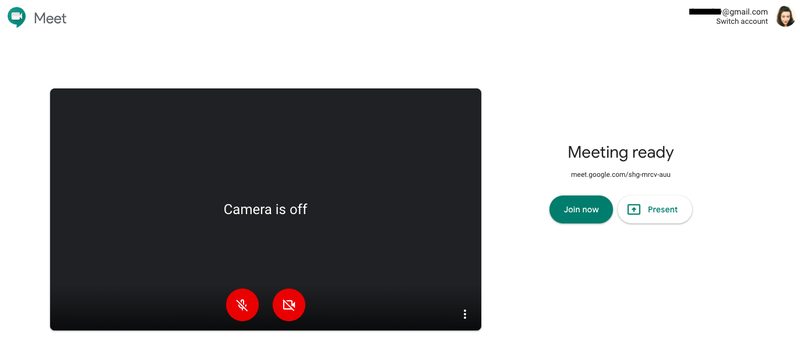 Before you start or join the call, you get to choose how to enter: camera on/off and mute on/off. Google Meet intuitively swaps the main screen to focus on who's talking, which is a good feature if there aren't many people in the video conference, but can become a little chaotic when there are more than 10 participants.
---
Google Meet's pricing
Google Meet is available to all G Suite users. G Suite plans start at $6/month per user for its Business Starter plan, $12/month per user for its Business Standard plan, or $18/month per user for its Business Plus plan. All plans are available for a 14-day free trial.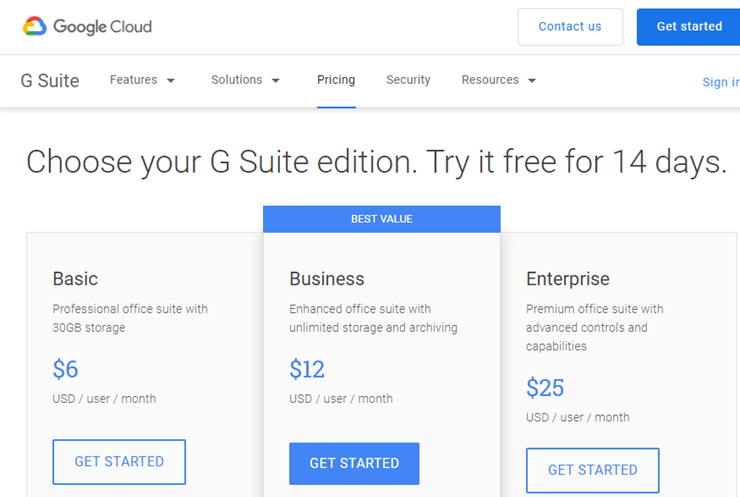 However, a slightly limited version of Google Meet is free to all Google account holders, not just those who are customers of G Suite.
The free version of Google Meet offers:
Up to 100 free meeting participants (participants must be Google users)
Meeting call-in only via the internet (no phone call-ins)
No meeting duration limits (video calls will have a 60-minute limit after September 30 2020)
---
Google Meet's support
G Suite administrators can access several avenues of 24/7 customer support, via phone, email, and chat, and phone and email support is available in 14 languages.
The G Suite help center also has tons of support material, FAQs, and detailed guides on using the suite, arranged in an intuitive fashion.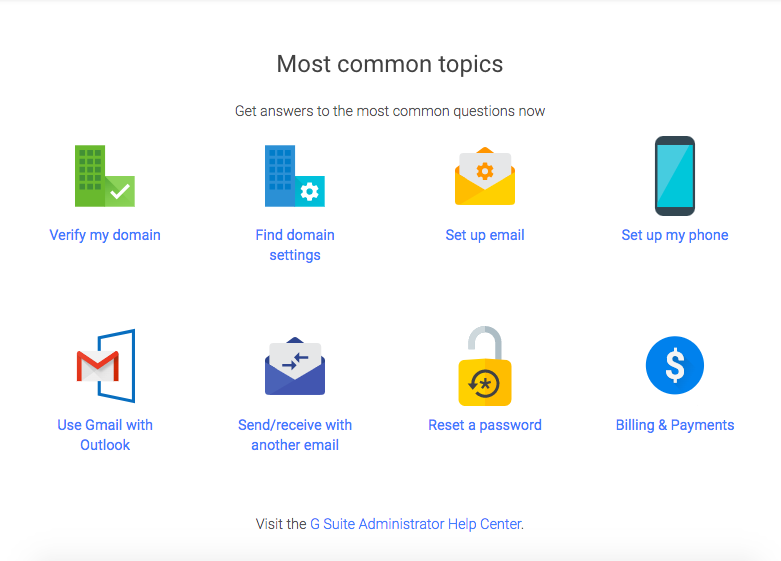 ---
Benefits of Google Meet
The biggest benefit of Google Meet is that users have access to all of the other G Suite products — from project management apps to collaboration — that fully complement each other.
For users who only occasionally hold video calls, or those who don't need an advanced solution, it's great to have a video conferencing tool at their fingertips without spending any extra money.
In terms of pricing, the fact that users get so much more than a video conferencing tool included with G Suite pricing makes the solution a steal. However, we don't recommend purchasing G Suite for Google Meet alone, as there are far more advanced video solutions on the market at similar price points.
As you'd expect, Google Meet also comes with an excellent level of encryption. Meeting IDs are a 25-character string, and the solution prevents external participants from joining a meeting 15 minutes before it starts.
---
A practical yet limited video conferencing solution
Google Meet's features are pretty basic as they stand, but something tells me that Google will try to improve their feature offering over the next few months due to the rise in demand for remote working tools, including video conferencing solutions.
It's a clean, easy-to-use tool with basic video-conferencing features, which is what you could expect from a tool that is part of an integrated suite of apps, rather than a stand-alone dedicated solution. There's nothing overly impressive about the solution, but it does the job.
In the end, it is a good video conference choice for those who are already using G Suite, and its free version is definitely a sound choice for those who need a tool that's lightweight, quick to get on board with, and delightfully easy to use.
---
Frequently Asked Questions for Google Meet
Is there a free version of Google Meet?
Yes. In April 2020, Google made Google Meet available to anyone with a regular Google account, with a 100-participant limit and no time limit. After September 30 2020, there will be a 60-minute limit on meetings using the free version.
Can I purchase the Google Meet app without purchasing a full G Suite plan?
No. G Suite offers a set of fully integrated apps that aren't available for purchase separately.
Do meeting participants need to be Google users to join a meeting?
No. External participants can also join Google Meet calls and meetings. Only the free version requires meeting participants to be Google users to join a call or meeting.
Well known and a handy tool for existing Google users, Google Meet is a reliable and practical video conferencing tool that integrates seamlessly into other G Suite products. Try the free version out for size.
Well known and a handy tool for existing Google users, Google Meet is a reliable and practical video conferencing tool that integrates seamlessly into other G Suite products. Try the free version out for size.