It can start with an innocuous email. Something like this:
"Congratulations, small business owner. Based on your tax information, you qualify for a free federal grant for $10,000. Click here to claim your money."
A few clicks later, after you've provided your business's tax information and bank account, you receive a "confirmation" email. Now it's just a matter of waiting for the funds to get deposited into your bank account.
You probably know what happens next. There's no money. It was a scam.
The results aren't so harmless for you, though. You might have a fraud alert on your bank account or credit card and have to deal with credit bureaus. Or, even worse, you've lost money that you'll likely never get back no matter how many fraud reports you file.
Unfortunately, government grant scams are more common than you may think. The scammers are tech-savvy and smart, making it hard to know you've been duped until it's too late.
However, that doesn't mean you can't protect yourself. There are red flags to watch for that can help you avoid getting taken in by grant scams. Here's what you need to know.
---
Overview: What are grant scams?
Grants offer money to people and small business owners. The best part of a grant is the funds are free; you don't have to pay back the organization or institution that gives you the money.
For many small business owners, grants provide funds that can help sustain and grow their business over the short term. That's why it's not that surprising that landing a grant is coveted, but if you've spent any time researching how to get a grant, you'll know it's not exactly a walk in the park.
Grants, especially at the federal level, require many steps, including official paperwork, financial documentation, and a completed grant proposal. Unless you've found a grant offer, gathered all that information, written a proposal, and sent off an application, you aren't going to get an email simply offering you free money.
And yet, it's not uncommon for a federal grant money scam to defraud hundreds of small business owners each year. These scams try to get your tax information, including your Social Security number or Employer Identification Number (EIN), bank account information, or actual funds. Any personal identification they get from you helps them open credit cards, take out loans, or transfer funds to new bank accounts.
The Better Business Bureau (BBB) estimates that approximately 6% of small business owners fall victim to scams each year — to the tune of $7 billion in total losses. It's important to stay vigilant.
---
5 common grant scams
While there are countless U.S. grant scams out there, these are some of the main offenders. If you keep your eyes peeled and are cautious if any of these lands in your inbox, you have a better chance of not becoming a victim.
1. Fake government agencies
If you get an email from the Federal Grants Commission, it sounds official, doesn't it? Well, that's a big part of the problem. The Federal Grants Commission doesn't exist. It's one of the most popular government grant scams out there simply because people get duped by the name.
2. Social media "you've won a grant" alerts
Another popular way to scam people is through social media, especially Facebook. If you have a Facebook account that's tied to your business and you get a message or a friend request from the National Help Commission — another official-sounding agency — it's a scam.
3. Send money to get your grant funds
Hopefully, your email spam filter catches most of these, but they're common, too. You'll get an email from an official-sounding organization alerting you that you have a large sum of money ready to be transferred to your bank account.
All you need to do to get your grant funds is send a payment, usually a few hundred dollars, to "authorize the release" of the fake money back to you. You end up with nothing, but the scammers end up with some cash and your bank account information.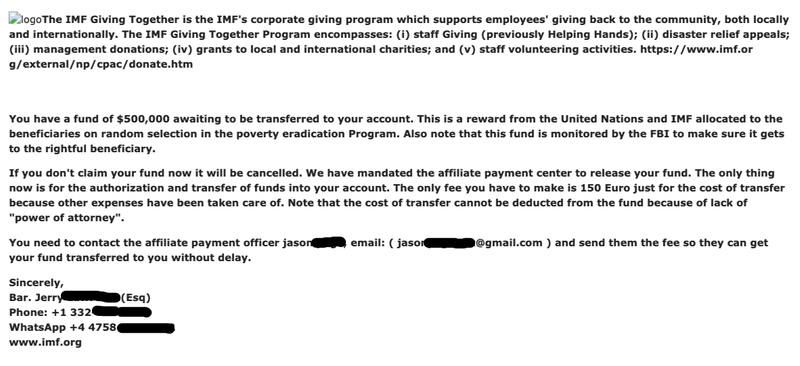 4. Asking for personal identifying information
If you get an email or social media message alerting you that you've won a free grant and they ask you to provide your bank account, Social Security number, or pay a fee, it's a scam. Grant agencies are never going to contact you via social media, and all the information they need to alert you about the grant is on your submitted application.
5. Phone calls from Washington, D.C.
Emails aren't the only place where scammers operate; many do it via phone calls. A common tactic is to set their outgoing call location as Washington, D.C. Then, when they call pretending to be someone from the federal government, it seems to make sense. Remember, never give your personal information over the phone, and, if you have any concerns at all, end the call and look up the agency calling you.
---
How to recognize and avoid grant scams
If you want to protect yourself and reduce the risk of getting scammed, here are some tips to keep in mind.
You must apply for a federal grant
The only way to be awarded a federal grant is to apply for one. The primary application portal is at grants.gov. The same is true for virtually all grants, regardless if they're from the federal government, your local government, or an organization. If you haven't applied for a grant, be wary.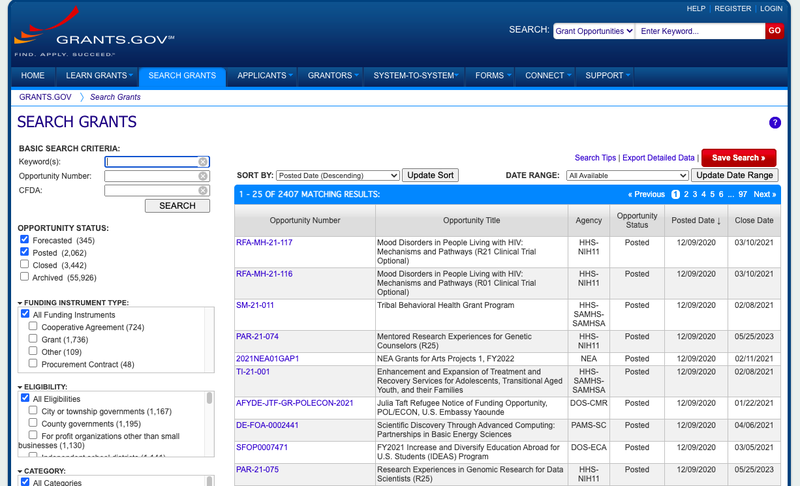 If it's too good to be true, it usually is
One of the easiest ways to combat a grant scam is to do some research. With a quick look at your favorite search engine, you'll determine if the organization is legit. For federal grants, it's easy. There are more than two dozen federal agencies that give out federal grants. If the name of the supposed agency isn't on this list, it's probably a scam.
Keep up to date on scam alerts
Grant scams are so common that a variety of government websites keep track of them. Grants.gov has a list of sites you can access to watch for and report scams. The Better Business Bureau has a scam tracker website that tracks scams in your local area. Chat with other local business owners in your network as well; they might alert you to new scams.
Watch for red-flag words and phrases
Something else to keep in mind is that scammers will often use phrases designed to get your attention. The good news is you can use that knowledge to defend yourself against scams. Here are a few common red-flag phrases you need to watch out for:
"You are eligible to receive a government grant."
"This federal grant does not require an application."
"For a fee, you can obtain a government grant."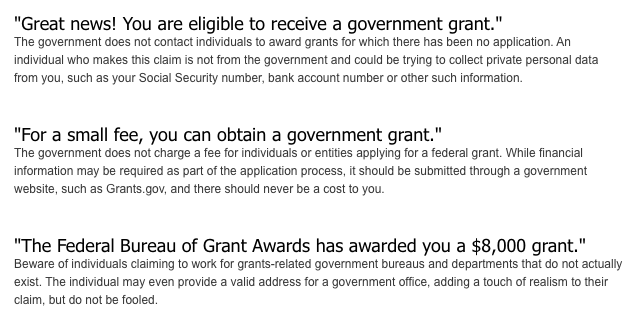 ---
What to do if you or your business has been scammed
If you're the victim of a scam, there are a few steps you'll want to take immediately.
Depending on the information you've provided to the scammer, call your bank and alert the credit report bureaus that you might be the victim of a scam and need a fraud alert on your accounts.
Contact the Federal Trade Commission. This agency has an online portal you can use to

file a complaint

, or you can call 877-382-4357.
If you were scammed online, through social media or email, you could file a complaint with the Federal Bureau of Investigation's

Internet Crime Center

.
Finally, you can report the scam to

your state's attorney general

. They may be able to help or offer other resources, too.
Once you've provided that information, you'll want to wait for further instructions or updates from the places where you've filed complaints. In the meantime, continue tracking your personal information and credit reports so you can catch any irregular activity right away.
---
Stay alert
The best thing you can do to protect your small business from grant scams is to stay alert. Know there are scams out there, and be wary of anything that comes your way that looks suspicious.
It's always better to spend an extra few minutes double-checking rather than hours of headaches trying to deal with the results of getting scammed.