Remember that old tagline, "There's an app for that"? VoIP should be so simple.
That's the idea behind Grasshopper, an easy-to-set-up, easy-to-unbox VoIP system for people with small businesses. It's one of the fastest ways to set up your business phone number and separate your official business from your personal phone without acquiring a dedicated line.
And just as you might take a Zoom call or two wearing sweatpants underneath that crisp shirt, it's so professionally handled that none of your clients will be any the wiser. Here's why we found Grasshopper to be every bit as agile as its namesake — and surprisingly scalable.
---
Who is Grasshopper for?
Grasshopper's tagline is "The Entrepreneur's Phone System." That about sums it up. This is a service for freelancers, solopreneurs, and small businesses without extensive phone needs. Think of it as a quick way to separate your personal phone number from your business number with minimal interference and minimal setup.
In fact, when you onboard, you'll notice that one of the first prompts from Grasshopper includes the option of forwarding all incoming calls directly to your personal number.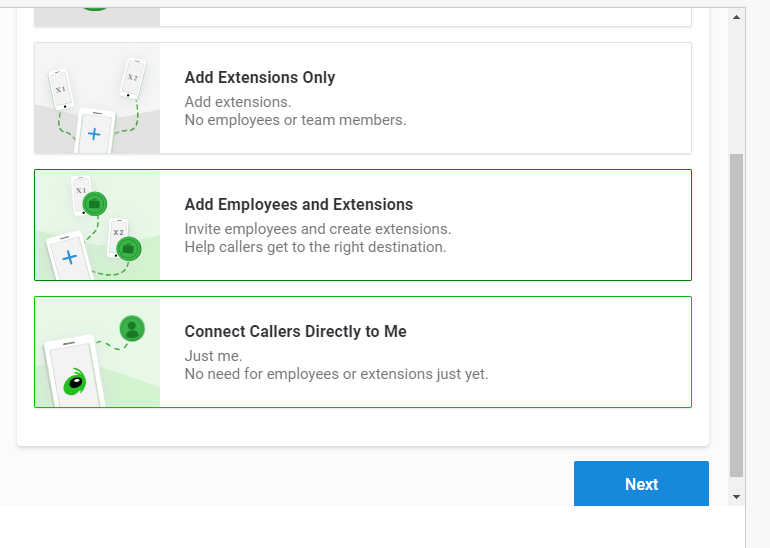 This isn't to say that Grasshopper isn't robust. The goal is to make your business phone number sound as legitimate as the switchboard at Sterling Cooper. You can immediately choose between two options for what happens when someone dials in:
Ringing directly to your phone
An automated voice greeting (if you want to create a sense of a larger business, or simply connect a remote team)
Grasshopper also has an application for on-the-go use, which makes it easy to run your business phone system out of something that feels separate and distinct from your usual phone applications.
---
Grasshopper's features
Grasshopper is bare-bones when it comes to VoIP features. Though there are plenty of add-on features available for a premium, it's not particularly robust at its baseline payment tiers.
And that's good news. If you're Grasshopper's target audience (a small business owner or solopreneur), the features will hit your personal Goldilocks zone: not too much, not too little. Here are some of the most important features to get acquainted with.
Desktop and mobile apps
Grasshopper delivers simplicity and convenience by making all its features just as accessible and simple on desktop and mobile apps.
With the mobile app, you're essentially tapping an icon to open the "business" area of your phone. From here, you can place unique calls and text with your customers and clients. If it were a kitchen, Grasshopper would be a neat way to separate the germs of your raw chicken from the fresh vegetables. Things will be nice, neat, and separated.
On your desktop, you can use VoIP to place phone calls, send text messages, listen to your voicemail recordings, and review your call history to check whether there are any outstanding phone calls you haven't gotten around to yet. Everything is sleek, straightforward, and ready to use from the get-go.
Call forwarding
This isn't unique to the Grasshopper phone service, and it's one of the most essential features in the VoIP world: When a customer places a call to your business number, you can route them however you like.
Do you want to practice good phone etiquette and have a call ring immediately, as if they called your personal number? You can do that. Do you want them to hear an automated response first, or during certain business hours? Easy. You can also arrange a system of extensions if you do have a wider team of remote or office workers to rely on.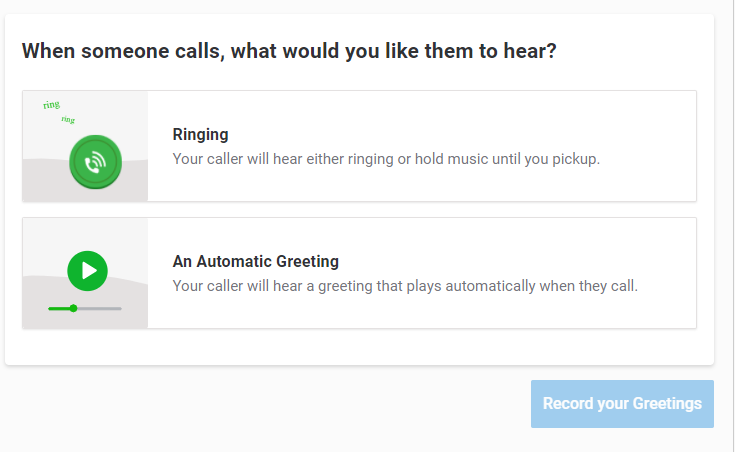 Voicemail transcription
If you need to quickly search your voicemails for the key words you're after, Grasshopper's voicemail transcription service — included with the base features and the free trial — makes them easy to review.
What's particularly nice here is that you can adjust your settings to suit your business style. You can have the voicemail transcriptions sent to your business email, or reroute them to a virtual assistant for screening.

Add-on features
There are premium add-on features here that aren't included with the baseline service. But it's important to mention them because it essentially creates new pricing tiers, and proves that Grasshopper has some flexibility to scale as your business grows. Here are some of the key add-ons:
Ruby® receptionist: Adding the Ruby® service to Grasshopper does mean you'll double-dip with the expenses, but it also provides you with the infrastructure to take live incoming calls from customers without having to lift the phone yourself.
Call blasting: If you need to reduce customer wait times, you can call blast all available lines so the customer speeds to the first person to pick up. This costs an additional $10/month.
Voice Studio: For an additional $75 per order, Grasshopper grants you access to the Voice Studio. It's another way to create the appearance of a large company without the budget: You hire a professional voice actor to handle your call-in greeting.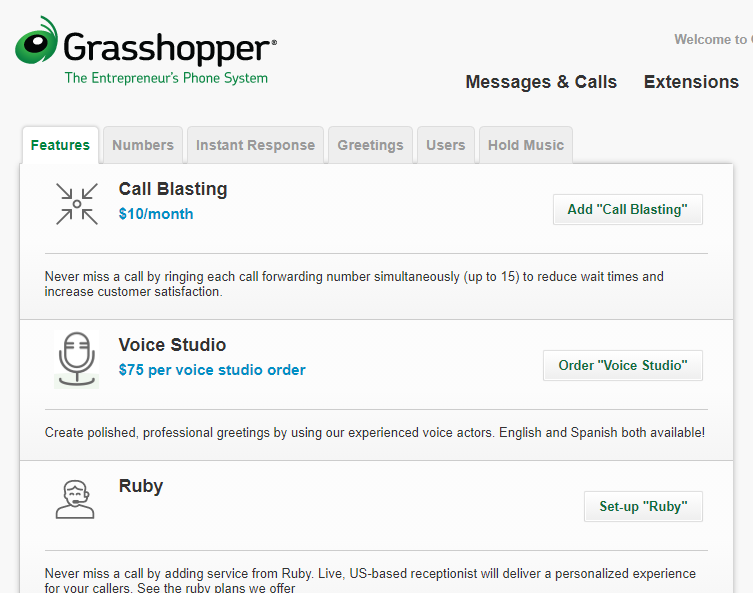 ---
Grasshopper's ease of use
This is where Grasshopper shines. Ever asked something like "How does VoIP work?" then Grasshopper will still make sense to you. If you're a solopreneur or a small business running an entire sales and marketing operation from your smartphone, you don't want to navigate your way through an entire VoIP platform designed for companies with their own dedicated call centers or connecting entire armies of remote workers.
Instead, you'll want your VoIP to be straightforward — as simple as signing up for a new email account. Grasshopper's ease of use may be its best feature, too. From its easy setup questions to its straightforward dashboard, there's going to be minimal legwork as you discover how to work the system.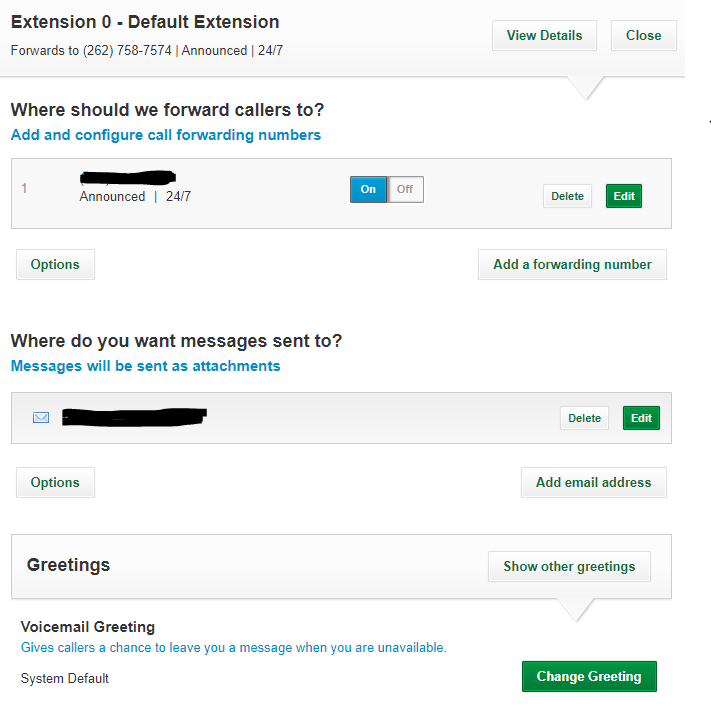 ---
Grasshopper's pricing
Given that Grasshopper targets individuals, solopreneurs, and small businesses in need of a quick VoIP system, we have to expect a different standard for Grasshopper pricing. It has to be affordable for the average small business owner who may not have aspirations of running a full-time call center.
Thankfully, Grasshopper keeps things simple with three main pricing tiers:
Solo: $26/month billed annually. One phone number, up to three extensions.
Partner: $44/month billed annually. Three phone numbers, up to six extensions.
Small Business: $80/month billed annually. Five phone numbers, unlimited extensions.
The pricing tiers make sense. A small business with a few partners will likely be satisfied with three or fewer phone numbers, while a small business can get by with a low-budget approach for unlimited extensions.
Keep in mind that these pricing tiers don't reflect add-ons as mentioned above. Ruby® receptionists, call blasting, and professional voice greetings will cost extra.
---
Grasshopper's support
There's good news and bad news when it comes to your customer experience with Grasshopper support. The good news is that Grasshopper is easy enough to set up that you shouldn't have to rely on customer support to hold your hand through the process.
The bad news is Grasshopper's support does leave a little to be desired. If you do have an issue, you can expect to try out a chatbot that will point you to automated responses, or ask you to read its reference materials. In our experience, it was easier to get on the line with a salesperson rather than someone dedicated to offering support.
Best-case scenario? You'll need minimal support as you create your extensions and automate the entire service. But if you do have an issue, it's possible you'll have to do a lot of your own troubleshooting.
---
Benefits of Grasshopper
Every pricing tier on Grasshopper includes its core services. Mobile and Desktop apps, a business phone number, call forwarding, business texting, virtual faxing, VoIP calling, call transfers, custom greetings. No matter which tier you subscribe to, you're getting "the works" — sans the premium add-on features.
What does that mean about Grasshopper's benefits? It succeeds by knowing its audience and keeping things simple.
Simplicity: Grasshopper is VoIP for someone who doesn't have time to worry about how VoIP works. The initial setup is easy, the dashboard management is easy — everything is easy.
Affordability: If you need to research VoIP providers for a business number out of the box, the Solo pricing tier is completely reasonable, even for a new business. Anyone who talks to enough people on the phone through a business number can justify the expense. At the Small Business level, you unlock unlimited extensions.
Mobility: Grasshopper has one of the smoother mobile apps in VoIP, which may be reason enough for on-the-go entrepreneurs to consider it. You don't need to add expensive new equipment. You can run your business from your personal smartphone while keeping it separate from the rest of your life.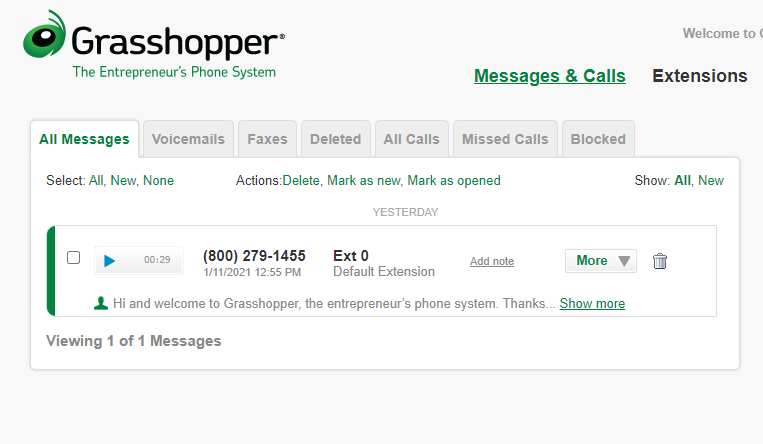 ---
Does Grasshopper stack up in the world of VoIP?
Don't expect the Grasshopper virtual phone system to run like a full-service, sophisticated call center for large enterprises. But if you want a service that you can leverage to sound like one, Grasshopper is an ideal choice for a burgeoning business. What's more, Grasshopper's add-on features do allow for some scalability, so you don't have to worry about changing solutions as your business grows.
If you run your business from your smartphone anyway, Grasshopper is an easy, pick-up-and-go VoIP provider that will fit neatly into your life. If you run your business from an office full of busy people, it might be worth poking around for more robust options. But Grasshopper succeeds by knowing its audience, building its service for them, and delivering with flying colors.
---
Frequently Asked Questions for Grasshopper
What does Grasshopper exactly do?
Grasshopper essentially grants you a VoIP business number that you can run through an existing smartphone. But that's a fast way of saying it. Other features include business texting, a mobile application, voicemail transcription, and setting up extensions so you can forward incoming business calls to an entire team — even if you don't have a physical office.
Is Grasshopper for large businesses?
Not exactly. Its affordable pricing tiers are targeted toward solopreneurs and small businesses. It does include unlimited extensions in its small business tier, but if you have more serious and sophisticated call center needs, it may be worth browsing around. For one-person and two-person operations, however, Grasshopper is ideal for VoIP.
Can I get Grasshopper up and running today?
Do you have a smartphone and an email account? If so, then yes. Grasshopper is one of the least invasive ways to set up VoIP, even if you run your business from home or if you have an office with a few extensions.
The Motley Fool has a Disclosure Policy. The Author and/or The Motley Fool may have an interest in companies mentioned.