Customer service is more important than ever as businesses shift from a one-and-done sales perspective to customer lifetime value (CLV), the total projected revenue generated by a single customer account.
One popular customer service option is Groove, which is built around email-based customer support. We'll go over Groove's strengths, weaknesses, and pricing below, so you can decide if it's the best customer service software for your small business.
---
Who is Groove for?
Groove is a web-based customer service system that includes a knowledge base feature. Its pricing makes it affordable for smaller businesses and startups, but its upper-tier plans are suitable for larger companies. According to its website, users include AT&T, Hubspot, and Shopify.
Groove does not align with Information Technology Infrastructure Library (ITIL) practices. ITIL protocols work to better integrate IT activities with overall business processes and objectives. If you need ITIL help desk compliance, Groove won't be a fit.
---
Groove's features
Groove is a stripped-down customer service solution that uses shared inboxes to provide support in conjunction with a knowledge base feature. It does not offer built-in live chat — you must use a third-party integration — but its website says chat functionality is "coming soon."
It also has a web-based mobile app and a few native integrations.
We'll focus first on its core features:
Shared inboxes
Knowledge base
Reporting
Shared inboxes
Groove uses shared, multichannel inboxes that allow help agents to track and organize customer communications via email, telephone, Facebook, Twitter, and chat. Assign conversations to help agents, and avoid any confusion over who's talking to whom with Groove's collision detection feature.
The Groove inbox includes a list of all conversations, an individual conversation interface, and a customer information pane for agents to enhance the customer service experience. Agents can also leave private notes for each other within the body of a customer conversation.
Additional inbox features include:
Rules: Automatically route certain messages to specific agents.
Tagging: Label conversations for future reference and to track emerging trends.
Canned replies: Save time with preformatted responses to common questions and requests.
Groove's inbox offers the same basic features as its competitors Help Scout and Kayako, without adding anything too complicated or unnecessary.
Knowledge base
Groove's knowledge base also powers your customer service capabilities. Your customers can find information at their convenience, and agents can include knowledge base article links in customer conversations.
Providing this uniform information to customers saves the confusion and misunderstandings that can arise from talking with different agents.
All of Groove's knowledge base themes are mobile-responsive to display correctly on different devices.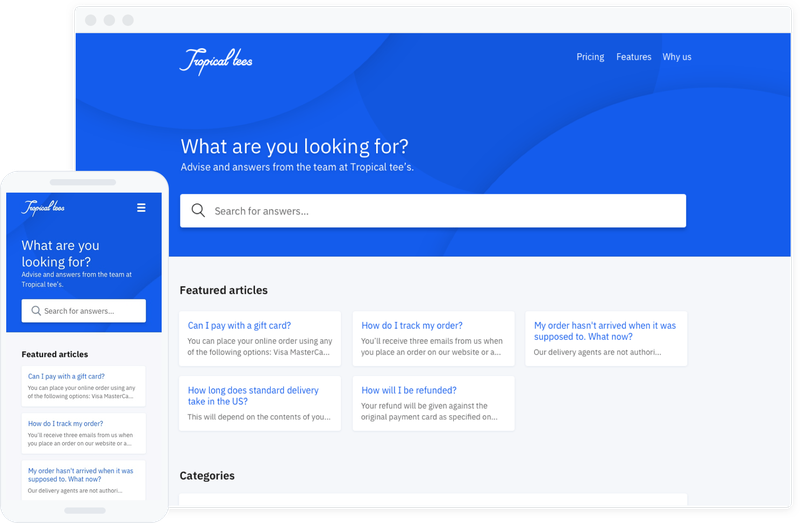 Customers can either go directly to your knowledge base page or access it via the customer support widget included with all plans. If they still can't find what they need, customers can send a support email from the bottom of the widget.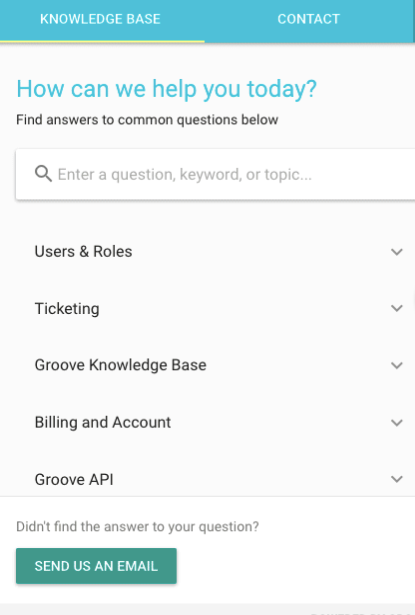 No Groove branding is on any of your customer communications, but you must pay an extra $29/month to remove its logo from your customer knowledge base.
Reporting
Groove reporting includes the performance metrics service managers require for actionable insights:
Conversations: Includes totals for new conversations and customers helped, and daily averages for new conversations, resolutions, and customers helped.
Productivity: Includes averages for overall first response time, resolution time, number of replies per resolution, and percentages of conversations resolved on the first reply and unassigned conversations.
Teams and agents: Includes assigned open versus closed conversations, total conversations, resolutions, customers helped, and conversations per day.
Customer satisfaction (CSAT): Includes a breakdown of "awesome," "ok," and "bad" ratings, percentages of awesome ratings (your CSAT score), customers who left a rating, and conversations rated recently.
Detailed usage analytics are also available for your customer knowledge base:
Total visits, visitors, and articles viewed
Average time spent per article
Percentages of users who performed a search and viewed an article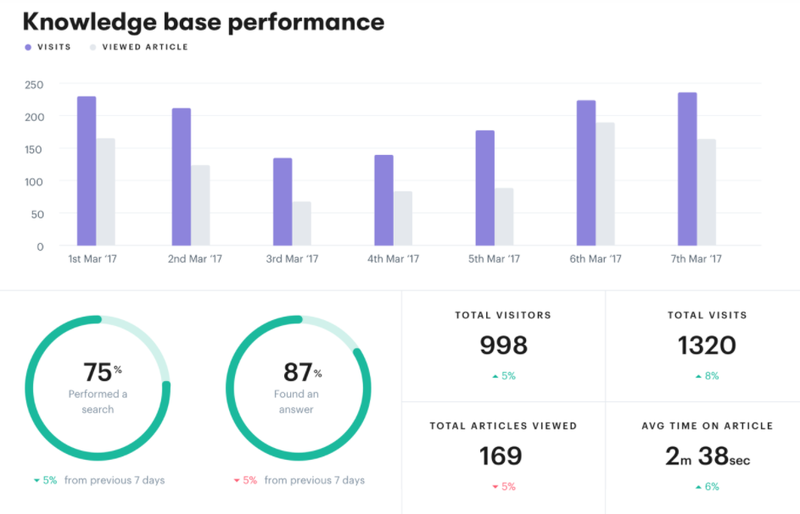 Knowledge base metrics also include lists of your most popular articles, top search terms, and failed searches. Information about failed searches tells you which new articles to produce.
---
Groove's ease of use
Smaller customer service teams already using email for primary customer support will appreciate Groove's features. Shared inboxes mean no emails will fall through the cracks again, and collision detection prevents any confusion between agents about who is replying to whom.
Canned replies make support more efficient and allow agents to focus on customer issues requiring human input. The knowledge base is easy to set up and, as you add articles, will promote customer self-service, freeing up agents from repeatedly answering common questions.
Groove's analytics reporting provides a clear picture of the effectiveness of your overall support operations and individual agent performance. The knowledge base metrics show how customers are using it, and the failed searches info helps prioritize future articles.
If Groove has a weakness, it's customer support and online resources. Email support is available Monday through Friday from 9 a.m. to 6 p.m. EST — expect a longer response time outside those hours — and no telephone support is offered.
Unlike most other software companies, Groove has no online user community or forums, which are a valuable source of nuts-and-bolts information.
Another puzzling fact is that Groove's knowledge base articles and blog posts do not include publication dates. Product information and software documentation live and die by their relevance, which is contingent on their recency.
Going through the knowledge base and blog, it was impossible to tell how old the news about "forthcoming" features was or the exact status of other features in beta testing. Some of Groove's "latest" posts appeared to be at least two to three years old, based on reader comments.
This confusion extends to Groove's pricing page, which lists a quote-based enterprise plan. A customer service rep informed me, however, this plan is not currently available. Features on the pricing page contradict a more detailed plan-by-plan comparison chart available on a separate features page.
---
Groove's pricing
Groove pricing has three plans:
Starter: $12/month per user — Includes one mailbox, support widget, knowledge base, 30-day reporting data retention, internal notes, canned replies, and customer histories and contact details.
Plus: $25/month per user — Adds five mailboxes, unlimited reporting data retention, rules, application programming interface (API) access, third-party software integrations, and webhooks.
Pro: $34/month per user — Adds 25 mailboxes, teams, beta integrations with Salesforce, HubSpot, and Jira, and forthcoming Health Insurance Portability and Accountability Act (HIPAA) compliance and single sign-on (SSO) and Security Assertion Markup Language (SAML) security.
Plans include a 120-day free trial, and you receive a 20% discount when paying annually. Qualifying startups get a 93% Pro plan discount. A fourth enterprise plan on Groove's pricing page is not currently available.
Each Groove plan includes one knowledge base with Groove branding. Unlimited knowledge bases with no Groove branding costs an extra $29/month.
---
Groove's support
Groove support includes knowledge base access and email support via the customer support widget. You can expect a quick response to email queries from 9 a.m. to 6 p.m. Monday through Friday EST.
Replies outside of business hours or on the weekend can be slow, so the knowledge base, which has over 125 articles, is your primary source of information.
Its articles are grouped into categories including product features, advanced settings and preferences, Groove's mobile web app, billing and account management, and frequently asked questions (FAQs).
The Groove blog provides information on customer service and general business topics. Groove founder and CEO Alex Turnbull writes engaging posts that include "Becoming an Entrepreneur: How I Started My Very First Business with Just $300."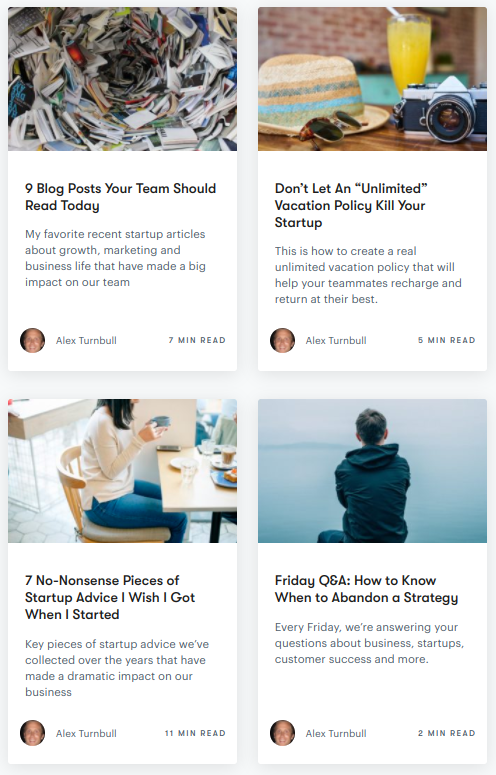 Groove does not offer live chat, telephone support, or online user forums, and training videos are embedded within knowledge base articles.
---
Benefits of Groove
Groove software has additional benefits to help your support team enhance the customer service experience:
Mobile app
Software integrations
API access
Groove is also developing new features: built-in live chat, HIPAA compliance, and SSO and SAML security.
Mobile app
Your customers are on the go, and your help agents need to help them while away from their desks too. The Groove mobile app allows them to:
Assign or reassign conversations to agents
Change conversation status to open or closed
Prioritize conversations
Add notes and tag other agents
Participate in conversations
Insert canned replies
The Groove app is web-based, which means it operates on any digital device with an internet connection regardless of its operating system. Pull up your device's web browser, log into Groove's mobile website, and you're ready to go.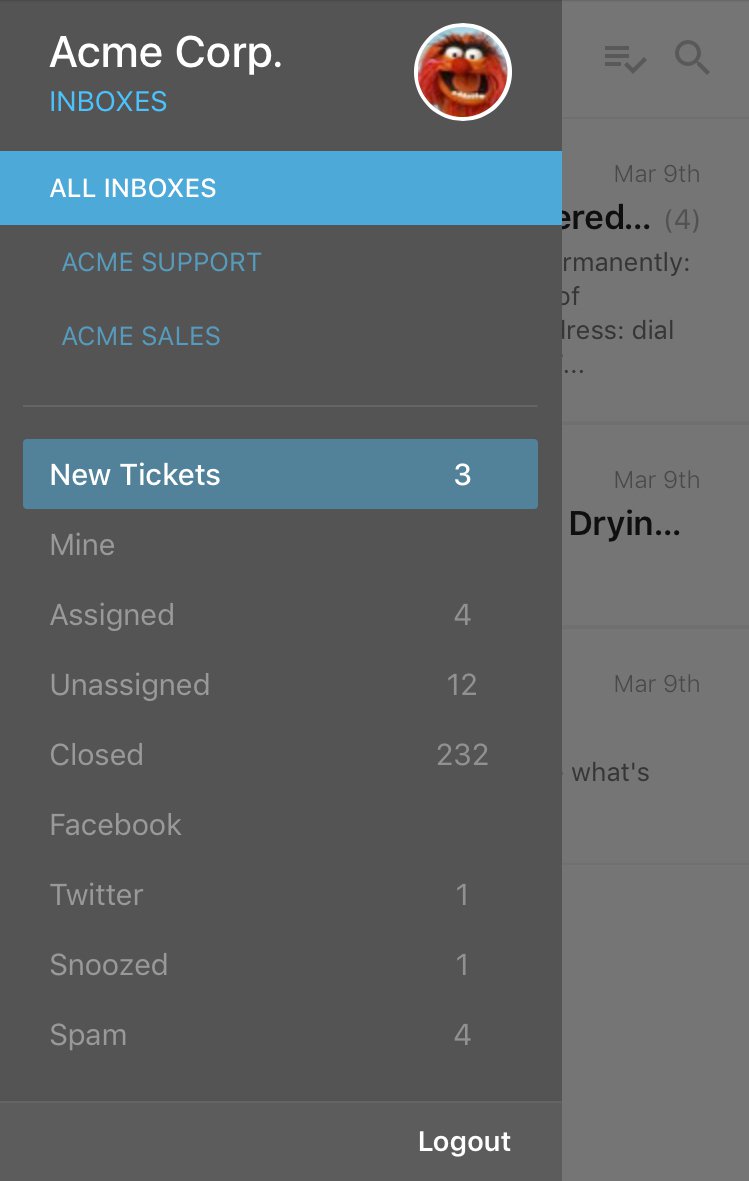 The Groove app is still in beta testing and forthcoming features include attachments and labels, rich text formatting, and push notifications for Android devices.
Software integrations
Your customer service software is only as effective as its ability to communicate with your existing applications. Groove offers 21 native integrations in these categories:
Customer communications
Customer relationship management (CRM)
E-commerce
Marketing
Social media
Software connectors
While the number of built-in integrations isn't large, Groove sticks to the most popular applications in each category, such as the social media platforms Facebook and Twitter, e-commerce software Shopify and Stripe, and email marketing providers Constant Contact and Mailchimp.
Some integrations, including Salesforce, Hubspot, Jira, and WhatsApp, are still in beta testing. If you require integrations with other software, Zapier provides one-way data connections, and Piesync creates two-way connections.
API access
Can't find the exact integration you need? Create your own with Groove's API, which allows you to add Groove functionality to third-party software and applications. Common uses include:
Updating, creating, or responding to Groove conversations from other applications
Importing customer data from another help desk application
Exporting Groove conversations and customer histories
You might also create webhooks, which automatically transmit data when a predefined event occurs. Webhooks are similar to push notifications on your smartphone that show up when you receive a message or have a calendar event happening soon.
---
Groove your way to customer support success
Groove doesn't offer as many built-in features as its competitors, but simplicity has its own benefits. It's less complicated to set up and use but can add extra capabilities through third-party apps and integrations.
Customers care about results, not what's going on behind the scenes, and Groove helps maximize your key support metric: customer satisfaction.
---
Frequently Asked Questions for Groove
Groove's pricing makes it affordable for small businesses, and larger companies will like its available customizations.
Groove's three monthly plans range from $12/user to $34/user and include a 120-day free trial. Receive a 20% discount when paying for a yearly subscription. A 93% discount is available for qualifying startups. A quote-based enterprise plan on Groove's pricing page is not currently available.
You must pay an extra $29/month if you require more than one knowledge base and to remove Groove's branding.
What kind of support can I expect?
Email queries submitted via the customer support widget are answered from 9 a.m. to 6 p.m. Monday through Friday EST. Groove has a knowledge base with over 125 articles but has neither telephone support nor online user forums.

If you need to build out your email-based customer service operations, Groove's email tracking via shared inboxes for agents and knowledge base for customer self-service could be your best bet. Groove doesn't have all of its competitors' bells and whistles, but it's rolling out new features such as built-in live chat and increased data security options.
If you need to build out your email-based customer service operations, Groove's email tracking via shared inboxes for agents and knowledge base for customer self-service could be your best bet. Groove doesn't have all of its competitors' bells and whistles, but it's rolling out new features such as built-in live chat and increased data security options.