I'm not always looking for an experience that will blow my socks off. Sometimes competence is all I really need when it comes to some of the products I test (which is exactly why I drive a Toyota).
HappyFox is one of those software experiences that doesn't reinvent the wheel, but rather takes almost everything I want in a help desk software option and gives it to me in a user-friendly and visually interesting package.
This doesn't mean HappyFox is the best thing since free guacamole at Chipotle, because that's hard to beat. Instead, I'm just happy to review a product that meets nearly all of my expectations.
---
Who is HappyFox for?
Based on pricing alone (at least, the pricing that's available), HappyFox is probably better suited for small to medium-sized businesses. As for ease of use, HappyFox is perfect for users of all experience levels.
This platform is extremely easy to use and navigate, making it great for customer service teams with less experience. If you're looking for a help desk solution that'll work right out of the box, and you're willing to pay a slight premium, then HappyFox is the right customer service software solution for you.
---
HappyFox's features
Issue tracking
Issue management: HappyFox gives you the ability to view, search, update, and interact with issue task cards.
Email to ticket: HappyFox converts issue and request email submissions into support tickets.
Service desk
Self-service portal: End users can access their own support tickets to track solutions progress and check for outages and other updates.
Live website chat: HappyFox chat will help you manage all user chats so you can provide a quality customer service experience without relying on the formal ticket submission system.
Content management
Knowledge base management: Manage all support articles and release notes through HappyFox.
Monitoring
Reporting and analytics: Track and measure support success through the many reporting and analytics tools offered by HappyFox.
Dashboards: Track service desk activity in real time using HappyFox's detailed dashboards.
Additional features
Ticket auto-assign: HappyFox automatically assigns tickets to available technicians using your preferred routing method.
Custom email request templates: Use standard request templates, or create your own custom form to deal with any need or issue.
Social media integration: Connect with your customers using your social media channels by connecting them to HappyFox
---
HappyFox's ease of use
The HappyFox Help Desk doesn't offer anything particularly unique in terms of its features list and functionality, but what it lacks in originality, the beautiful user interface makes up for in spades.
The developers of HappyFox seem to take some of their design cues from other attractive and successful software platforms and apps, such as Discord, Asana, and even the Windows operating system. The interface is exceptionally clean, and navigating this platform is a breeze.
I mean, come on, even the reports are gorgeous. (There's a sentence I never thought I'd write.)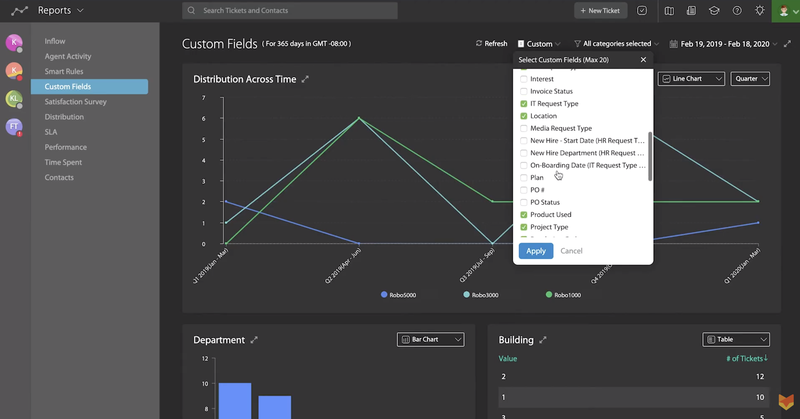 Everything you need to use is easy to find, from ticket creation to creating auto-assignments. This is something I value highly in any software product.
Not only do I want my software platforms to be modern and powerful, but I don't want to spend days or weeks trying to figure out the most basic functions. The goal of technology is to make your life easier, not create new obstacles.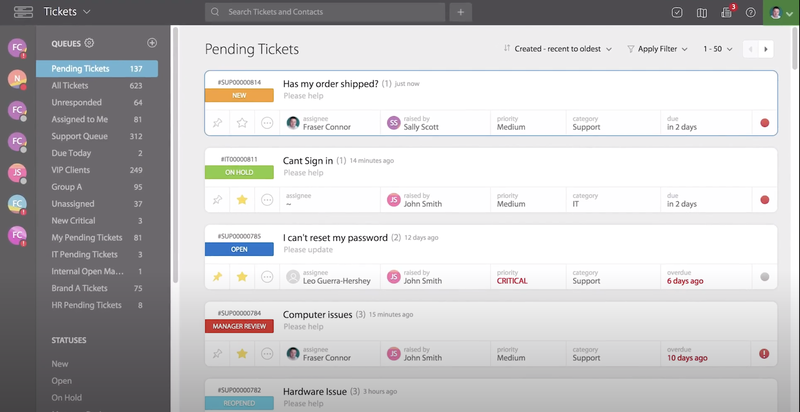 I was particularly impressed by the layout of the ticket management system, with everything color-coded and organized based on your own filter selections. You can organize your tickets through all kinds of filters, such as the date of creation, status, and the person responsible for completing that task.
On top of that, creating new tickets is as simple as clicking the "+" button next to the search bar and entering the relevant information in the fields.
You can do this at pretty much any point in the software; however, the button does change to the more obvious "New Ticket" while you're using other features, such as report building, as you can see in the first image above.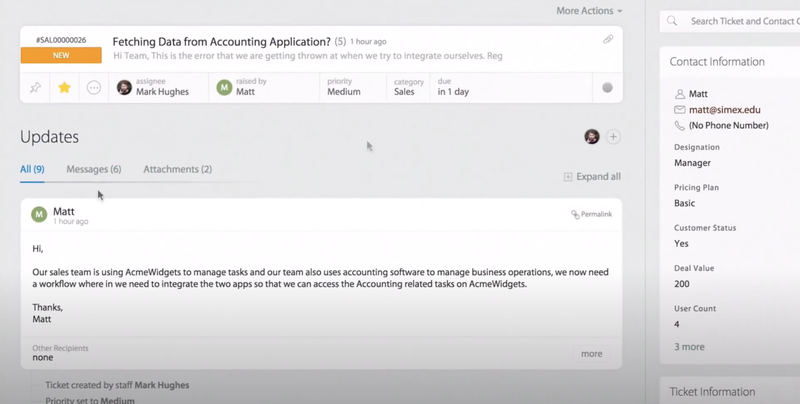 I was a little disappointed to find that HappyFox didn't offer any native call management features. If you want to make and track help desk calls, you'll have to rely on a third-party application that'll integrate with HappyFox.
This is unfortunate because I love the design and navigation philosophy HappyFox uses. I'd love to see how HappyFox might incorporate a feature such as this into its tool rather than relying on another vendor to fill in the gaps.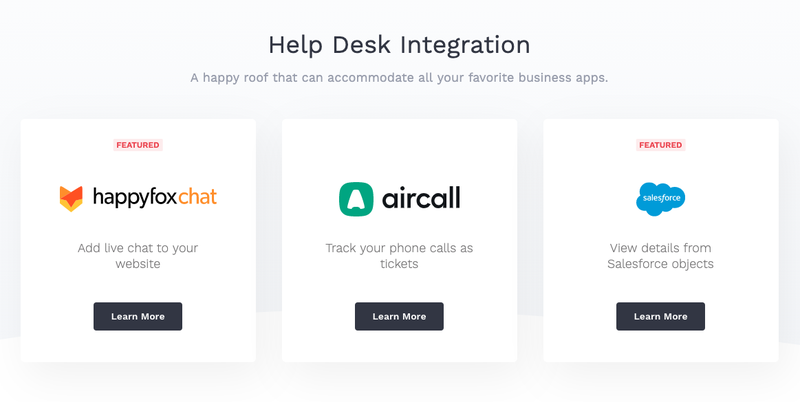 HappyFox might fall on the pricey side as you'll find out in the next section, but when it comes to overall usability and design, perhaps the extra money is worth it.
Sometimes paying a little extra for a tool that's easy to use and can handle all of your help desk needs — minus a few extra features, like support call management — isn't such a bad thing.
---
HappyFox's pricing
HappyFox is not as transparent about its pricing as I'd prefer. Not all of the pricing tiers, whether you're paying per agent or you're opting for unlimited agents, are readily available for customers to view on the website.
Instead, you'll have to enter your information and deal with HappyFox's sales team in order to get the rates you're looking for, and by that point, you're already deep within their funnel.
The only context you're given in terms of HappyFox pricing are these two sentences:
On the agent-based pricing page: "We offer monthly, annual, and multi-year pricing with plans starting as low as $24/agent/month."
On the unlimited agents pricing page: "We offer monthly, annual, and multi-year unlimited agent pricing plans starting as low as $1,049/month."
So, at least we have starting points when it comes to HappyFox's pricing. While HappyFox is a very clean and powerful platform, this pricing is a little above average when compared to some of its competitors, but it isn't too far off.
---
HappyFox's support
While HappyFox is incredibly easy to learn and use, there are all kinds of support options to choose from. These support avenues include video guides, written product guides, ebooks, webinars, case studies, a product blog, email support, and most importantly, phone support.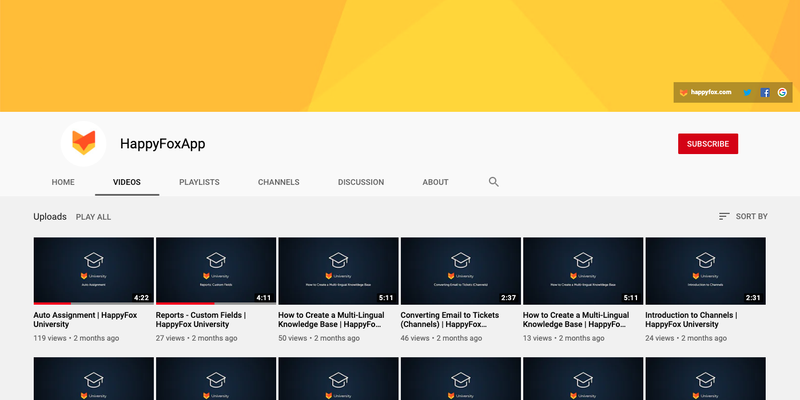 This is an incredibly impressive list of resources to choose from, and I can only imagine a user needing email or phone support for errors and failures, rather than actually needing help using the platform.
---
Benefits of HappyFox
The greatest benefit of using HappyFox over the competition has to be its ease of use. While the platform isn't original when it comes to its features list, it takes functions we already know and love and presents them in a clean and user-friendly package.
After all, it doesn't matter what your software has to offer if your user base can't understand it.
HappyFox even created a substantial support apparatus that'll answer nearly any question or concern you have about using its product.
---
HappyFox is everything you'd need once you get past the price
It seems like every time I review a software product, there's always a catch that makes it a near-perfect option, whether it's a lack of features, subpar design, or the pricing.
In the case of HappyFox, pricing might be the drawback for most users. However, if you don't mind spending a little extra for HappyFox, you won't be disappointed by what you get. It's a great platform with lots of power and an attractive user interface.
---
Frequently Asked Questions for HappyFox
Is there a free version of HappyFox?
Unfortunately, there's no free version of HappyFox. This is definitely a missed opportunity by the vendor, especially considering how fantastic the software is.
Free versions of a product give customers ample opportunity to explore the platform in a limited fashion before deciding to move on to a paid option.
Even if users don't graduate into a higher pricing tier, free versions of software open the door to word-of-mouth spread, leading to more paid customers in the end. Until HappyFox learns this lesson, you'll have to look elsewhere for free support ticket software.
Is HappyFox suited for less experienced software users?
Absolutely. Less experienced users shouldn't have much trouble learning the easy navigation and functionality of this tool in more than a day or two. If you need additional help, HappyFox offers plenty of resources to get users up to speed on all of the features and quirks of the platform.
What kind of customer support does HappyFox offer?
HappyFox offers multiple support options, including product guides, ebooks, webinars, case studies, a product blog, video guides, email support, and phone support. It's great to know that if I'm ever lost, a HappyFox video can probably provide the answer I'm looking for.

If you're looking for a simple and easy help desk solution for your new IT team, be sure to take HappyFox for a test run.
If you're looking for a simple and easy help desk solution for your new IT team, be sure to take HappyFox for a test run.