Business documents are increasingly sent and received electronically, but that convenience doesn't extend to signing them. E-signature software HelloSign helps you escape the hassle of wet signatures and the accompanying need to print a digital document, sign, scan, and email it back.
HelloSign's electronic signature solutions deliver a convenient method to capture legally-binding signatures. It's one of the smaller players in the space, but it is backed by Dropbox, its parent company.
Dropbox's document storage solution is a natural fit for HelloSign, and the two software products complement each other.
HelloSign excels at simplifying the e-signature process. For some businesses, its standard functionality may prove too simple. This in-depth look at its capabilities can help you decide if HelloSign is the right software for your business.
---
Who is HelloSign for?
HelloSign works for businesses of all sizes in any industry. Its features are divided into three subscription types, and you choose the type based on your business needs.
HelloSign's standard subscription offerings provide basic e-signature capabilities, such as setting up documents to request signatures. If your small business requires software to sign or collect signatures a handful of times per month, HelloSign's standard options fit the bill.
Larger companies or businesses frequently requesting signatures require more features. That's where HelloSign's Enterprise subscription comes into play. The HelloSign API (application programming interface) provides a third subscription type if you want to build custom e-signature capabilities into your website or app.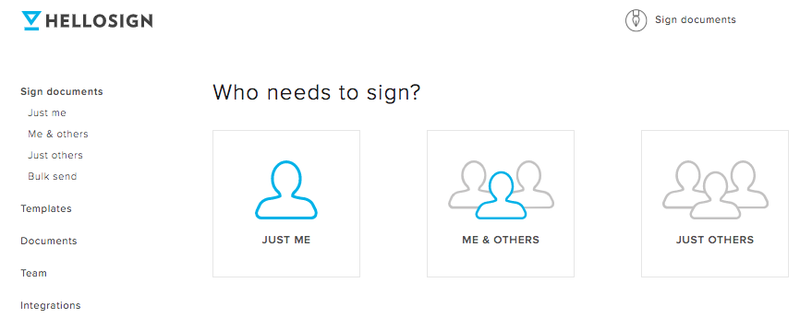 ---
HelloSign's features
Does HelloSign's standard subscription options fulfill the bulk of small business e-signature requirements? Let's focus on these features to determine how well HelloSign meets these basic needs.
Document signing
Whether you need to sign or request signatures, HelloSign's procedure is identical. It's a simple, three-step process:
Upload the document into HelloSign's platform.
Mark the fields requiring signatures, initials, and other necessary information, such as the date, by dragging and dropping these elements onto your document. Complete these fields if you're the signer.
Email the form.
These steps are consolidated on a single screen, so it's easy and quick to get through them. If more than one person needs to sign, apply additional signers and fields to the document. These additional fields are color-coded so each person knows where to sign.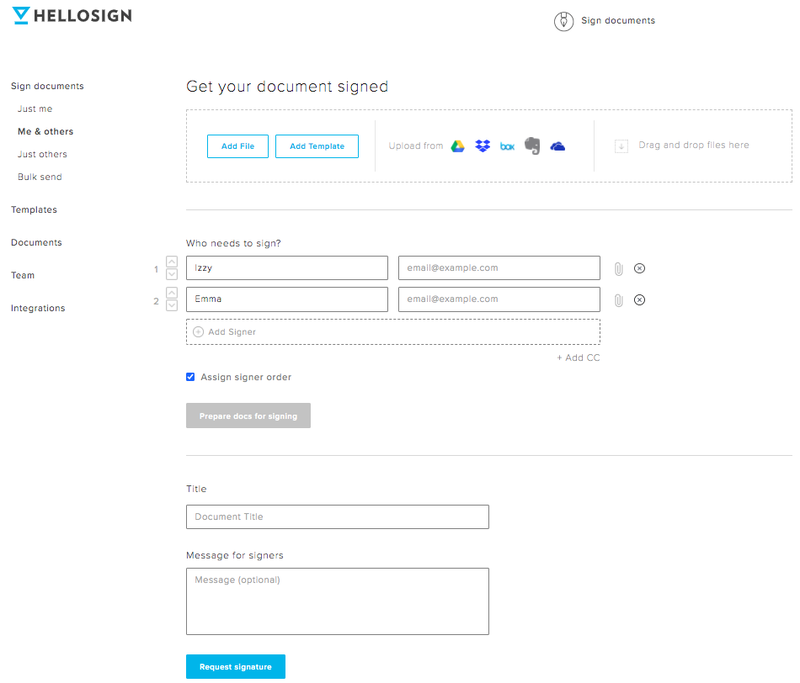 Document templates
If you often collect signatures using the same forms, streamline your work by setting up a template. Templates allow you to mark fields requiring signatures and other information, then save the document for repeated use by you and others in your organization.
Templates are an essential option for frequently-used documents, such as contracts and invoices. HelloSign does a great job seamlessly integrating templates into the e-signing workflow. When you're ready to collect signatures, you simply select the template and send it.
Templates are editable whenever updates are required. Depending on your subscription type, you can set up and use multiple templates.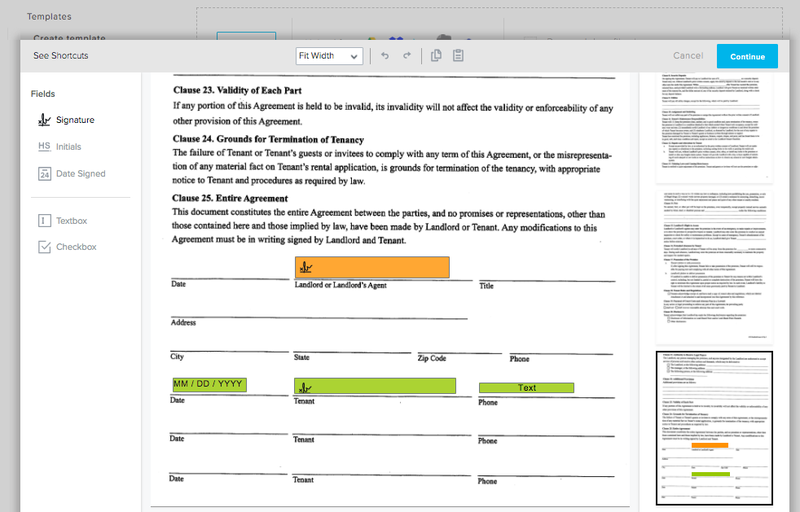 Third-party integrations
A key e-signature software benefit is its ability to streamline workflows through third-party integrations, and HelloSign is no exception. As a Dropbox company, HelloSign naturally allows you to use documents stored in Dropbox.
The integrations don't stop there. HelloSign partners with several popular apps, including Gmail and Slack. Activate the integrations relevant to your business within the platform, install the applicable HelloSign extension, then use them to execute e-signature tasks such as signing a document in an email.
Some integrations, including Salesforce, are only accessible at certain subscription levels. If your business has specific integration needs, contact HelloSign to investigate what's available.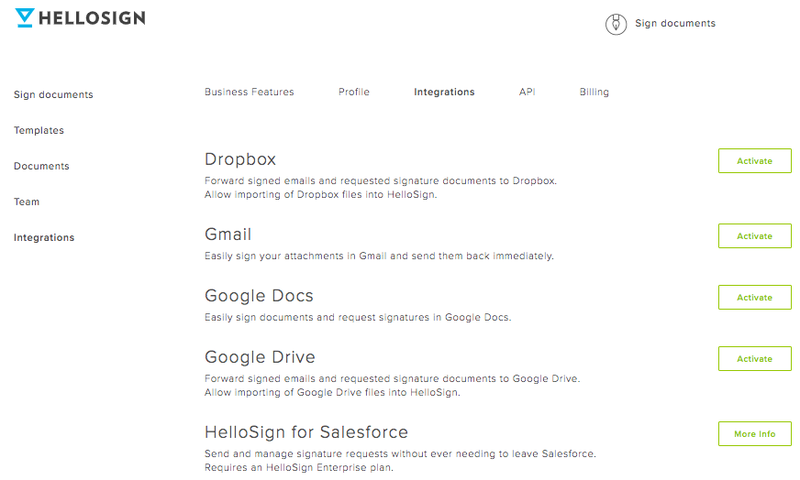 Mobile app
HelloSign's mobile app is designed for one task: signing documents. In this area, the app does its job effectively and efficiently. Import your document from an email attachment or snap a photo of it to bring it into the app. Apply your signature and send. It's that simple.
But simplicity isn't always a good trait. The HelloSign app is simplistic to a fault because its functionality is extremely limited.
The app allows you to sign documents, but it's not designed to request signatures. You also can't use it to track sent documents, which is a helpful feature for those on the go, such as sales reps, who rely on mobile devices to get work done, and need to know quickly when a deal closes.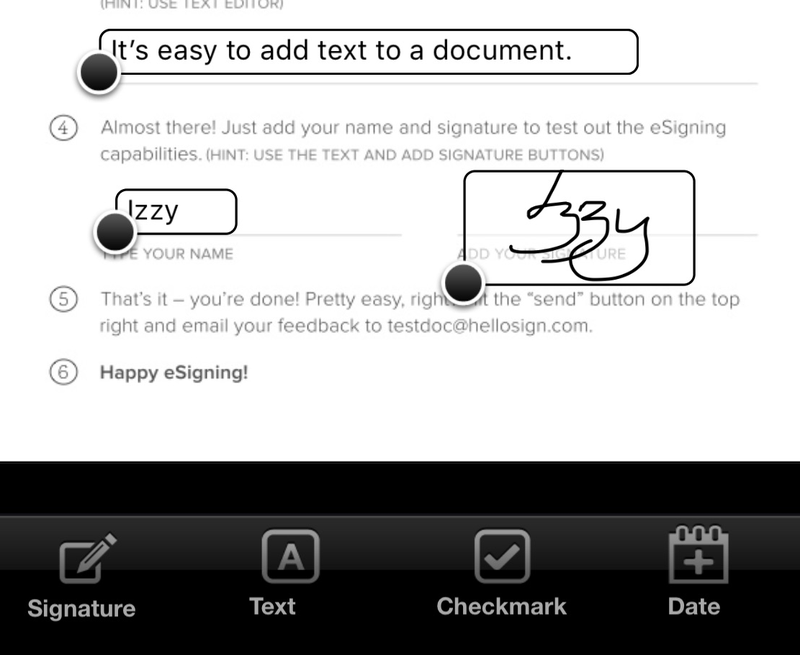 ---
HelloSign's ease of use
HelloSign's clean, simple interface is designed to streamline e-signature workflows. The software guides you through the e-signing steps while making it quick to get through the process. This is a great approach since no one wants to spend time preparing documents.
HelloSign's interface is so minimalistic that the challenge is finding a feature when you need it. For example, HelloSign provides an area where you can view document status, such as those awaiting signatures, but you have to know to click on a document to open a hidden panel.
This panel reveals details, including the list of signers and who has yet to sign.
Depending on your e-signature needs, HelloSign's document tracking can quickly become a frustrating experience. The platform provides overall document status in its interface, but becomes burdensome if you have several documents or signers to track simultaneously.
You receive email alerts for each action taken by your document recipients. When they view your request, you get an email alert. When they sign, you get another alert. These email alerts quickly become overwhelming if you're tracking several documents and signers.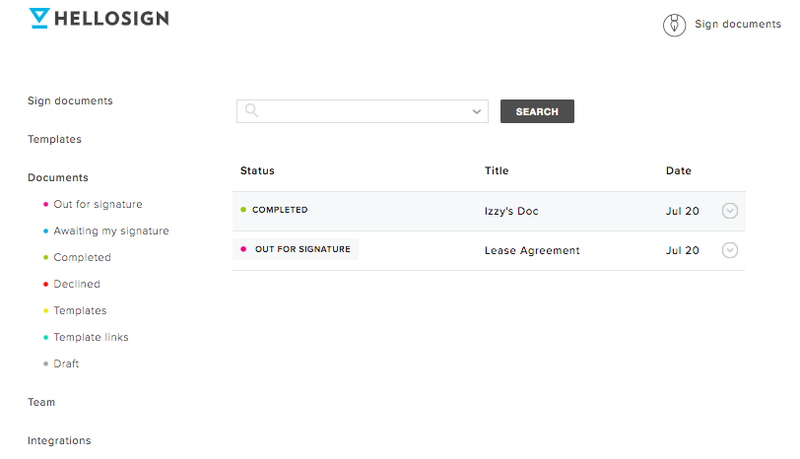 ---
HelloSign's pricing
The company offers four standard pricing tiers, including a free version for individuals and businesses requiring no more than three e-signatures transactions per month.
Both requesting signatures and signing documents count toward this limit, as does making changes once documents are sent. HelloSign considers a bundle of documents sent together as a single transaction, so the free option works for a business that rarely requires document signing.
Unlimited signature transactions are available in the next tier up for $13/month per user when billed annually. For the Enterprise features, pricing starts at $24/month for each user. HelloSign provides separate pricing for businesses interested in its API, starting at $99 per month when billed annually.
The subscription prices are less expensive than those of larger competitors, but these HelloSign alternatives offer more features for the money.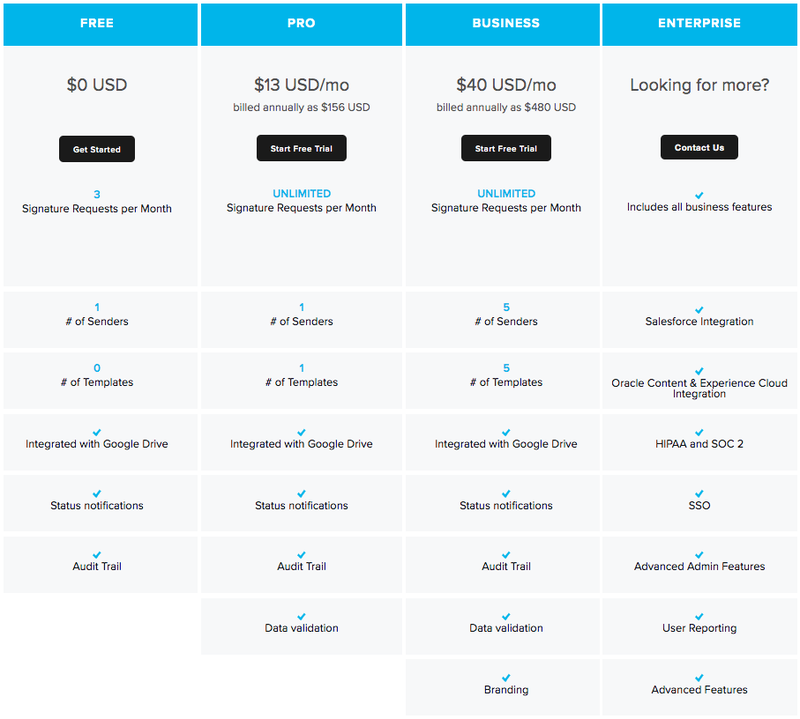 ---
HelloSign's support
HelloSign support consists of a self-serve portal with articles and tutorials addressing common questions. If your question isn't answered there, submit your request via email or through the company's IT ticketing system.
These support options are common in the industry. HelloSign goes a step beyond by holding regular live webinars with product experts to address your questions directly. No phone support is available.
---
Benefits of HelloSign
HelloSign's simple, clean interface makes the digital signing process an easy experience. That's what you want from e-signature software, and it's one of HelloSign's greatest strengths.
If your e-signature requirements are modest, HelloSign's standard digital signature service fulfills the need. The availability of a free version is an ideal option for individuals or businesses that rarely require digital signatures.
If your business frequently manages document signing, HelloSign's enterprise solutions are the way to go. This is where the majority of HelloSign's capabilities live.
---
Is HelloSign right for you?
The key to effectively using HelloSign is understanding your company's e-signature needs. HelloSign offers a free 30-day trial period, so you can test the software to ensure it meets your requirements before buying.
HelloSign's free, Pro, and Business subscription offerings provide limited functionality. Based on your digital signature usage across your organization, you may need to opt for an Enterprise subscription.
Many features, including reporting, are available only for Enterprise accounts. For businesses involved in frequent signature collection, such as real estate or sales teams, an Enterprise subscription is the best option.
---
Frequently Asked Questions for HelloSign
Is a free version available?
Yes, HelloSign options include a free version. It's limited to three e-signature transactions per month. Signing documents and sending out signature requests both count toward this monthly limit, as do changes made after documents are sent.
The free version works great for personal use where e-signature needs occur only occasionally. Businesses requiring frequent document signing for tasks like sending out contracts will need to move up to one of the paid versions, which start at $13/month. The paid options offer a 30-day free trial period.
Does HelloSign allow in-person signatures?
Yes, you can hand someone your tablet and allow them to sign in person. This option is available only for higher-priced subscription tiers, and works only on tablet devices.
The security employed by HelloSign is on par with that used by banks. Files are encrypted and document storage uses a secure server infrastructure. HelloSign's security and privacy controls are annually audited and certified by a third party.
You can add an extra layer of security to the document signing process by requiring signers to use an access code you assign to each document.
Use HelloSign's 30-day free trial to see if this simple e-signature solution meets your needs.
Use HelloSign's 30-day free trial to see if this simple e-signature solution meets your needs.
---
How HelloSign Compares
| Product | Templates | Mobile App | Integrations | Tracking |
| --- | --- | --- | --- | --- |
| HelloSign | | | | |
| PandaDoc | | | | |
| DocuSign | | | | |
| Adobe Sign | | | | |
| eversign | | | | |