When you start a small business, your first key performance indicator (KPI) is unit sales. Beyond price points and product quality, increasing revenue and growing your customer base is also tied to your customer service.
Help Scout is a popular customer service solution because of its ease of use and ability to streamline support operations. We'll go over its pros, cons, and pricing below so you can decide if it's the right choice for your small business.
---
Who is Help Scout for?
Help Scout is a web-based customer support platform that uses an email-style interface and includes a knowledge base tool and chat widget. Help Scout does not use case or ticket numbers; instead, users create shared mailboxes to manage multiple products, brands, or departments from one account.
Help Scout's pricing, which includes steep discounts for qualifying non-profits and other organizations, makes it a good choice for small businesses and larger companies. More than 10,000 businesses in 140 countries use Help Scout, including Basecamp and Grubhub.
Help Scout is not aligned with Information Technology Infrastructure Library (ITIL) guidelines. ITIL's processes work to integrate IT service management (ITSM) activities with overall business processes and objectives. If you want ITIL compliance, you should look at some Help Scout alternatives.
---
Help Scout's features
Help Scout's core features — a help desk interface with shared conversation inboxes and its knowledge base — let help agents concentrate on improving the customer experience. Managers track the performance of teams and individual agents with its analytics and reporting capabilities.
Help desk
Instead of each help agent having a separate, stand-alone inbox for customer communications and help tickets, Help Scout's help desk interface uses shared inboxes, which contain customer email, chat, and telephone conversations, that all help agents can access.
If that sounds like a recipe for confusion, Help Scout's "collision detector" shows in real-time who else is viewing or replying to a message.
In the inbox, help agents can use:
Saved replies: Use canned responses to provide information faster.
Private notes: Leave messages for other agents to ask for help or collaborate on solutions.
Tags: Add tags to messages to facilitate automated service processes and reporting insights.
Agents can switch from the inbox to a one-on-one customer chat with a single click.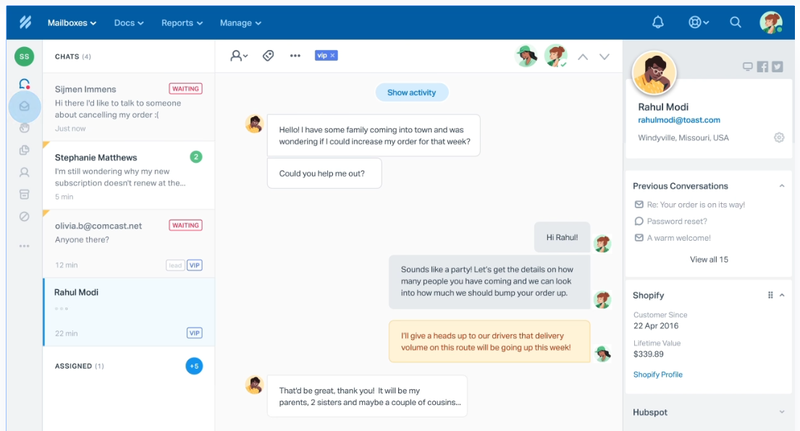 Help Scout's automated workflows perform repetitive tasks using if-then logic to assign conversations, create custom folders, and send bulk replies. For example, you could set up a workflow where a message containing the word "laptop" is sent to your customer service laptop specialist.
Knowledge base
Help Scout's knowledge base also helps improve customer service and satisfaction. Knowledge base articles provide agents with consistent information to give customers, and customers can look for help on their own, which Help Scout says reduces agent-customer conversations by 20%.
Any help agent or manager can use Help Scout's simple post editor to create knowledge base articles that include customizable categories, related articles, and search engine optimization (SEO) keywords.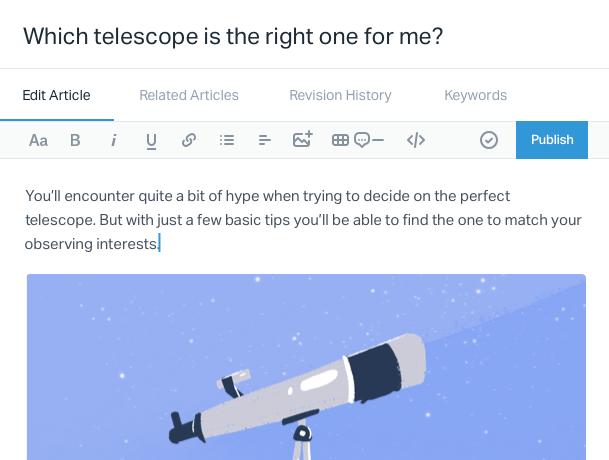 Choose how to embed articles on any web page, including popover or sidebar locations. Or, make them accessible through Help Scout's Beacon chatbot, which we'll discuss below.
Reporting
Measuring the success of even the best customer service software is reliant on the performance data it produces. Help Scout reports provide the actionable insights customer service managers require through the analysis of:
Chats
Emails
Phone calls
Knowledge base documents
Customer satisfaction
Other report options identify your most frequent customers, tags, workflows, and types of saved replies.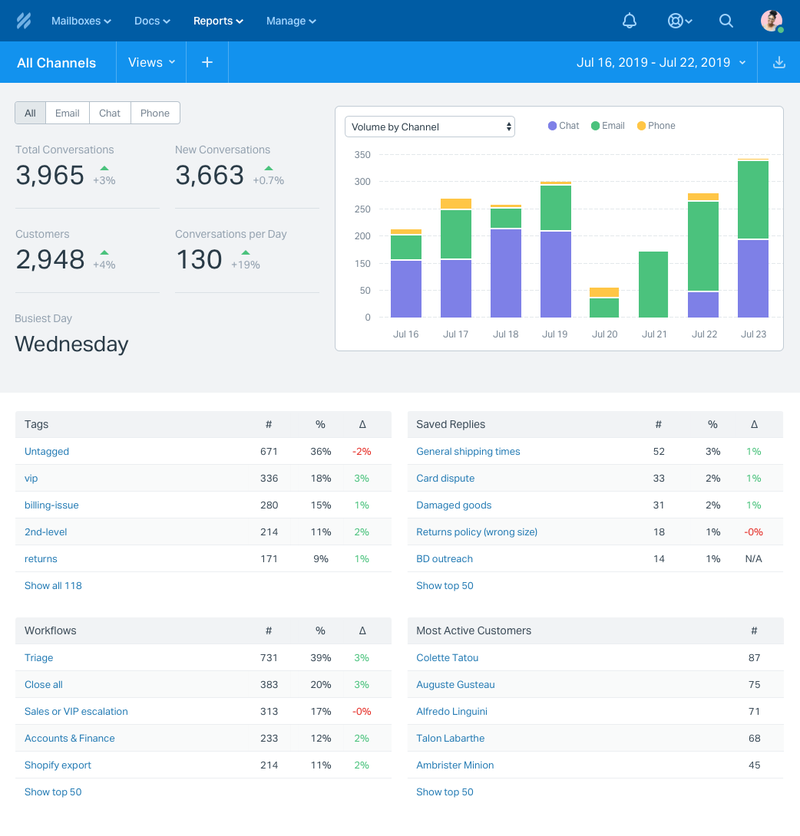 Export data to spreadsheets, or use the Fivetran integration to connect information with your existing business intelligence applications.
---
Help Scout's ease of use
Help Scout earns high marks for its uncluttered interface that makes navigation easy. Your help agents will hit the ground running to improve the customer support experience. Help Scout's 24x6 chat support also provides quick answers to any questions.
Users report that some web browser extensions cause Help Scout to freeze or crash, and the extensions must be reinstalled.
If you're using a browser extension for Grammarly, for example, to ensure all of your communications are grammatically correct, that will be problematic in the middle of a customer conversation.
Other users have noticed accuracy issues in Help Scout's reports due to their sometimes counting data twice. Integrations with other reporting applications can help you avoid this, but given that one of Help Scout's calling cards is its built-in reporting features, this potential issue is even more problematic.
While you can use tags on conversations, that doesn't seem to be the case for individual customers. And for users with one- or two-page websites, the Beacon chatbot will not be that helpful in sharing knowledge base articles because it recommends content based on a page's URL.
---
Help Scout's pricing
Help Scout offers four pricing plans:
Basic: $15/month per user — Includes up to five users, one mailbox and documents site, Beacon, and unlimited conversations and storage.
Standard: $25/month per user — Includes three mailboxes, one documents site, Beacon with live chat, messages, reports, automated workflows, application programming interface (API) access, and more than 50 integrations.
Plus: $40/month per user — Includes 10 mailboxes, one documents site, custom fields and teams, Health Insurance Portability and Accountability Act (HIPAA) compliance, and two-way integrations with HubSpot, Jira, and Salesforce.
Company: Quote-based — Includes unlimited mailboxes and documents sites, concierge onboarding services, a dedicated account manager, and single sign-on (SSO) security.
The basic, standard, and plus plans have a 90-day free trial. Receive up to a 33% discount when paying for subscriptions a year at a time. Significant discounts are also available on a case-by-case basis for non-profits, certified public benefit corporations, and startups.
---
Help Scout's support
All Help Scout plans include 24x6 email and chat, but no telephone support. Users also have access to other online resources:
Knowledge base: Access articles in eight categories ranging from getting started, to account management, to mobile apps and integrations.
Guides: Learn from in-depth information about customer acquisition, support, and retention.
HelpU: Attend live events, subscribe to the monthly video series "The Supportive," and read articles by customer service experts in "Humans of Support."
Newsletters: Subscribe to email newsletters on customer support, growth and culture, and product updates, and choose a delivery frequency of twice a week, weekly, or monthly.
Another support perk is Help Scout's live and archived webinars. Topics in its catalog of webinars include the customer service experience, using help desk, general business, and branding.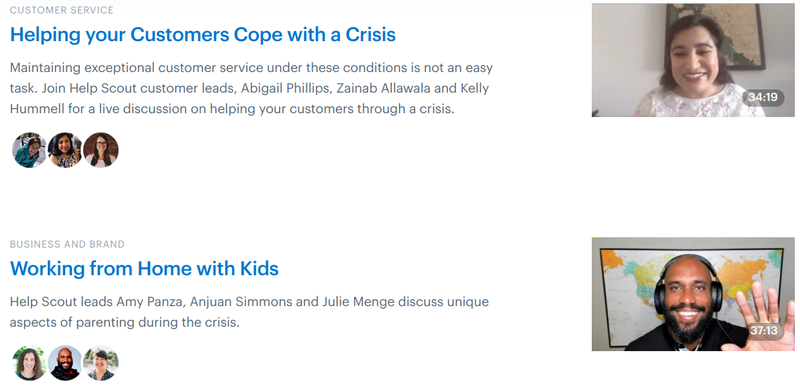 The Help Scout blog also focuses on more general customer service and business topics. Recent posts include "KPIs and Business Practices in the Time of Coronavirus" and "9 Online Customer Retention Strategies to Fuel Your Business."
---
Benefits of Help Scout
Help Scout offers additional benefits beyond its core features that enhance the customer experience. Streamline your help agents' efforts with its customer management information, Beacon chatbot, and third-party software integrations.
Customer management
Help Scout provides the customer history information agents need to offer the best service during each customer conversation:
Contact information
Geographic location
Previous orders
As seen below, Help Scout also provides customer histories via third-party software integrations with Shopify and Salesforce.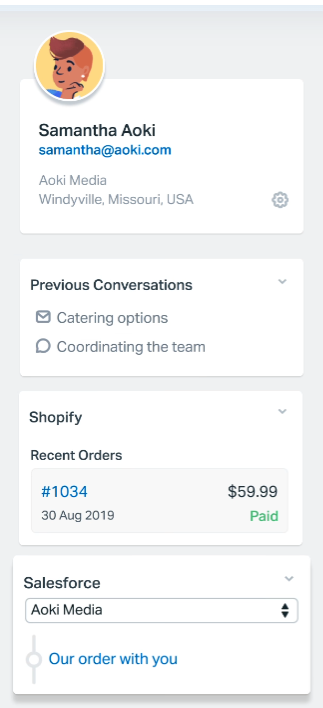 You can also proactively send automated messages for customer onboarding, feedback requests, new feature announcements, and suggested knowledge base articles. Your help agents can configure and send these messages from the web interface or the Help Scout app for iOS and Android devices.
Beacon
Help Scout's Beacon is an all-in-one customer chatbot that:
Suggests relevant content and knowledge base articles.
Collects relevant customer data to aid support requests.
Gives customers instant access to their support history.
Install the Beacon widget on any of your website's pages, and when opened, it provides relevant content and the option to submit a question to a customer service agent.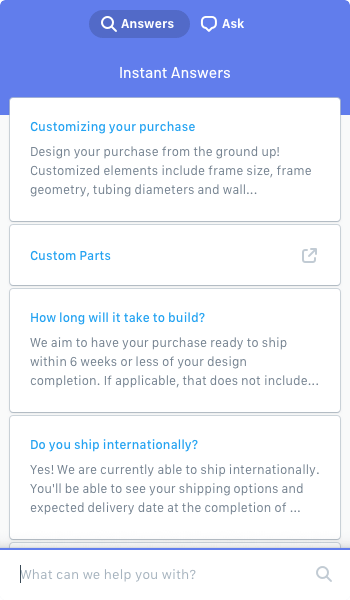 Beacon increases the accessibility of knowledge base articles and information so customer service agents can focus on helping customers with more complex problems and questions.
Integrations
A key factor in choosing software is how well it integrates with your existing applications. Help Scout has more than 75 integrations in seven categories:
Analytics
Communication
Customer relationship management (CRM)
E-commerce
Marketing
Support
Utilities
Help Scout's plus plan includes three built-in, two-way integrations with popular CRM and service desk software solutions: HubSpot, Salesforce, and Jira. With the first two applications, you can access and transfer customer histories and related information.
Or, create Jira incident tickets within Help Scout's interface that update both applications as tickets are resolved.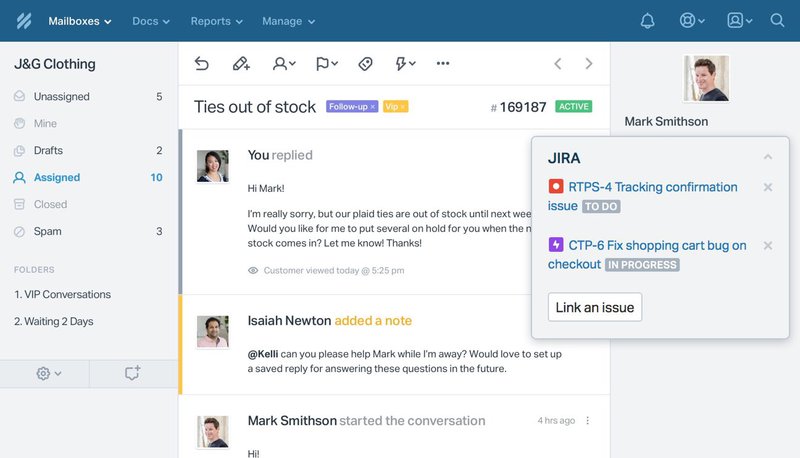 Can't find the app or integration you require? Use Zapier to connect Help Scout to other software, or access the Help Scout API to build your own applications.
---
Up your customer service game with Help Scout
Help Scout may not be a full-fledged IT help desk solution, but it's not trying to be one. Instead, take your existing customer service operations to the next level with Help Scout's shared inboxes and self-service functionality.
---
Frequently Asked Questions for Help Scout
Who should use Help Scout?
Help Scout is a scalable, web-based customer service solution suitable for small businesses and large corporations. Setup is quick, and its user-friendly interface allows help agents to concentrate on improving the customer experience without being bogged down by technical details.
Help Scout pricing has four tiers: a quote-based enterprise plan and three lower-level plans that range from $15/month per user to $40/month per user. Discounts of up to 33% are available when paying for subscriptions annually. The three lowest tiers also have a 90-day free trial.
Help Scout offers significant discounts for qualifying non-profits, certified public benefit corporations, and startups.
What kind of support can I expect?
Help Scout customer service for all plans includes 24x6 email and chat, but no telephone support is offered.
Additional online resources include a knowledge base and user guides. Help Scout also provides general information about customer service skills and business topics via its blog, webinar series, and email newsletters.

Make your customer service operations more efficient with Help Scout's shared inboxes, and never have another support request fall through the cracks. Easy customer access to your knowledge base will reduce the total number of customer conversations so agents can concentrate on questions and requests requiring a human touch.
Make your customer service operations more efficient with Help Scout's shared inboxes, and never have another support request fall through the cracks. Easy customer access to your knowledge base will reduce the total number of customer conversations so agents can concentrate on questions and requests requiring a human touch.