As the world turns to more virtual communications, it's important to keep up with the latest video conferencing software. You also need to decide which type of video conferencing will work best for your business structure, such as soft codec, hard codec, or telepresence.
However, there's a big difference between hosting a remote meeting for your team versus engaging in a confidential discussion with a patient or client. If privacy and confidentiality are top of your list, then it's crucial to find a platform that follows HIPAA standards.
HIPAA video conferencing has become popular due to the COVID-19 pandemic. Fortunately, some of the strict guidelines have been altered or lessened, allowing even more choices to fit your telecommunications needs. But the not so good news is that when the pandemic finally blows over, the strict guidelines will return. Because of this, we suggest investing in a HIPAA-compliant video streaming system that will carry on long after the pandemic.
Feeling stressed? Don't worry, we've done the homework for you. Below are five solid options that meet current and projected HIPAA requirements. In our opinion, these are the best telehealth video conferencing platforms available.
The 5 best HIPAA-compliant video conferencing solutions:
---
1. Zoom for Healthcare
Zoom has stomped its way to the top with an effective, easy-to-use, and affordable video conferencing option.
However, it's important to note that the free Zoom interface is not HIPAA-compliant. Therefore, you must specifically sign up for the Zoom for Healthcare plan, which starts at $200 per month and includes up to 10 hosts.

Here's a quick look at the highlights:
Medical equipment: Here you integrate with medical equipment, such as digital stethoscopes.
Health form access: With a quick click, you can access a patient's electronic records and view them within the call.
Waiting room: Patients can notify their doctor when they arrive in the virtual waiting room.
High definition: HD video and audio is always available.
Whiteboard: Perfect for writing down health plan recommendations or spelling out prescription names.
Recording: This plan allows for recording and transcription, which is helpful for further consultations.
Chat feature: If you're looking for a HIPAA-compliant video chat option, you've found it. Anything you or your client types in the Zoom chat box will be protected by HIPAA regulations, thanks to an AES 256-bit encryption for all meeting data.
---
2. doxy.me
There aren't many telemedicine video conferencing programs completely free that also follow HIPAA standards. But you're in luck — doxy.me has you covered. This one is definitely top of our list when it comes to reliable, confidential, and user-friendly video conferencing options.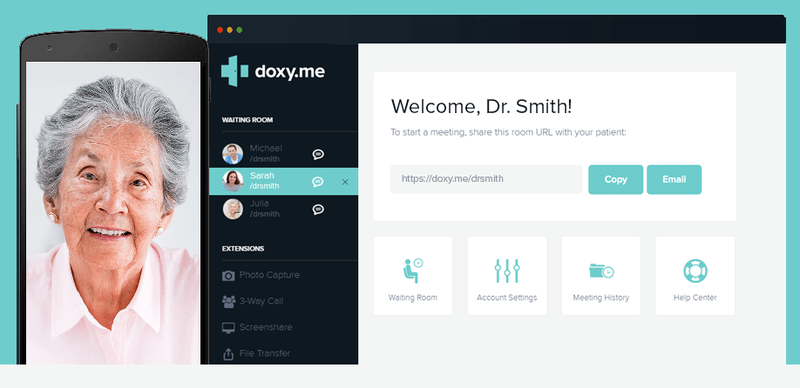 Here's a quick look at the highlights:
No downloads: This is browser-based software, so there's no need to download anything. Just log in and get to business.
Worldwide usage: No matter where in the world you may roam, doxy.me has you covered. They're HIPAA, GDPR, PHIPA/PIPEDA, and HITECH compliant.
Access from anywhere: You and your patients can access the confidential sessions from a laptop, tablet, or smartphone.
Flexible waiting room: You can personalize your waiting room with your image or logo so clients can rest assured they're in the correct location. Furthermore, you can easily rearrange the queue if you see a client check in late.
Simple client accessibility: Clients receive a unique clickable link for their session. This is especially helpful for elderly patients who may feel overwhelmed with extra log-in details.
Free for all: The team at doxy.me believes healthcare should have no financial limitations — hurray! There are no required fees, no time limit, and you can create as many sessions as you'd like. Plus, you even get your own personalized room URL. However, there are two paid plans available, which offer more features such as HD video and the option to do HIPAA-approved audio calls. See the chart below to compare the Free, Professional, and Clinic plans.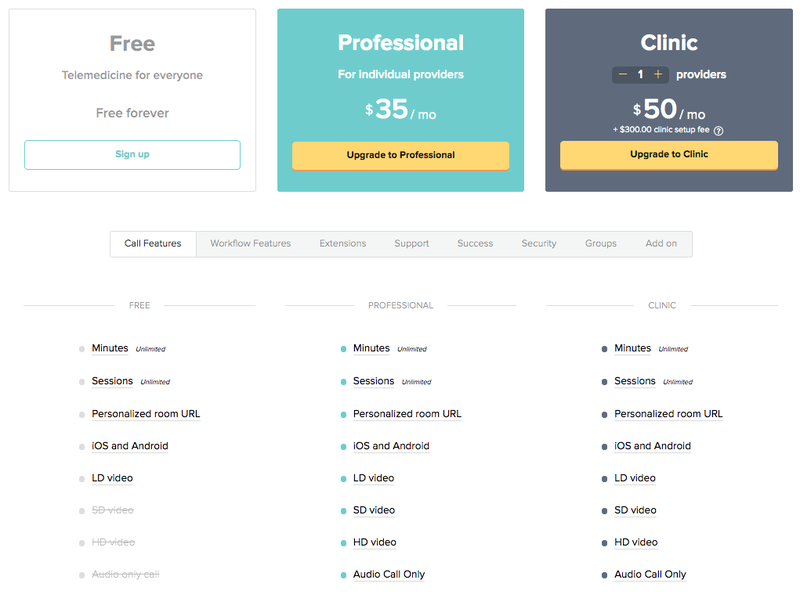 ---
3. VSee
VSee is an all-in-one tool for managing the multiple tasks of telehealth communications, such as scheduling appointments, engaging in high-quality video calls, and managing patient forms.
VSee offers three plans: Free Forever, Basic, and Enterprise. Each plan's features and cost breakdown is listed in the chart below. And all three plans follow strict HIPAA requirements.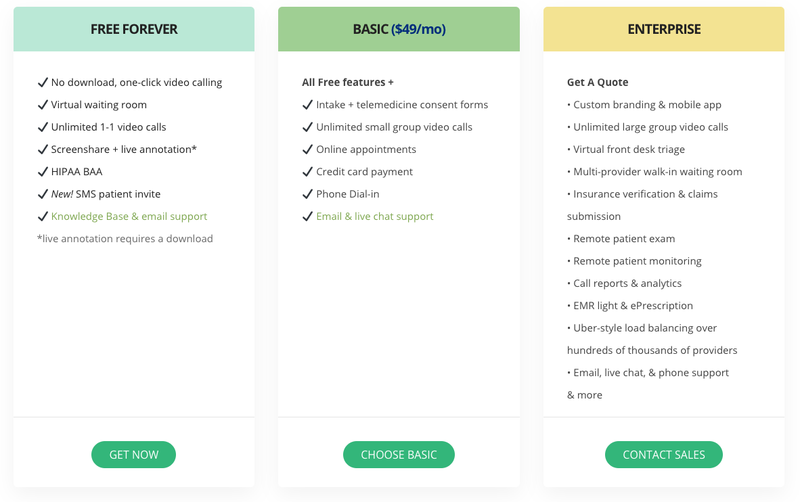 Here's a quick look at the highlights:
Device integration: This state-of-the-art software is prepared to integrate with today's latest technology, whether it's your patient's blood pressure cuff, a wireless scale, or data from a Fitbit. Patients can even share photos during their session and medical professionals can screen-share results from recent scans.
Walk-in appointments: Patients can hop into the virtual waiting room and assess the estimated wait time to see a medical provider. There are also educational videos and live chat available during their wait time.
Admin tasks: Take control of your business's administrative tasks with VSee. You can seamlessly combine intake forms, credit card payments, and bookings all in one program. Plus, there's the option to set up text and email appointment reminders — one less thing for you to have to remember.
Patient video call success: Here they go the extra mile to resolve tech issues directly with the patient, saving your medical team hours of frustration.
---
4. GoToMeeting
Similar to Zoom, GoToMeeting is a mobile and desktop video conferencing platform suitable for both personal and business needs. They offer three plans, all of which follow HIPAA standards.

One key feature is the ability to include multiple participants in a singular session. For example, the basic plan allows up to 150 users to join the call, which makes it an ideal option for webinars, virtual conferences, staff training, or hosting your business's annual Christmas party.
Here's a quick look at the highlights:
High definition: Rest assured you'll have access to HD video and audio for all your meetings.
Meeting locks: Keep unwanted users out during confidential calls.
No time or meeting limits: Have the freedom to go overtime if needed or to schedule as many appointments as your time permits.
Screen sharing: Share documents, health ideas, and more.
Chat feature: This is useful for large webinars or employee meetings. And again, it adheres to HIPAA standards.
The GoToMeeting platform doesn't offer all the bells and whistles as VSee, such as integrated appointment scheduling or device interaction. Despite this, it's a solid option when looking for a high-quality, affordable, and confidential video streaming service.
---
5. Simple Practice Telehealth
This is a user-friendly mobile and desktop video conferencing software specifically designed for healthcare professionals. Just like the other options on our list, it's 100% HIPAA-compliant.
What sets Simple Practice Telehealth apart is its seamless insurance processing feature, making it an ideal choice for both medical and mental health practitioners, or anyone who needs to file insurance claims.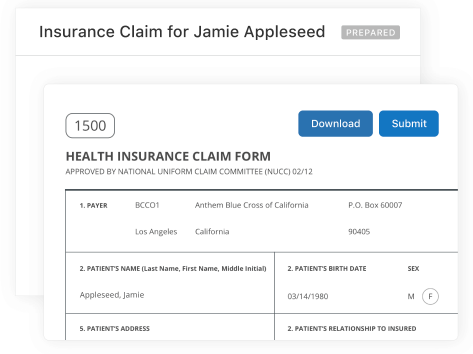 Here's a quick look at the highlights:
Online booking: Let clients take their healthcare needs into their own hands with an easy-to-navigate online booking system.
Insurance processing: Take this tedious task off your to-do list. Just enter the patient's insurance details, the code for your services, and let the software take care of the rest.
Screen sharing: Share important notes, diagrams, goal charts, you name it.
Autopay billing: Your clients have the option to set up auto payments, ensuring they never skip a bill.
Simple client accessibility: Clients are sent a unique clickable link, avoiding the need for complicated log-ins or passwords.
Unfortunately, this software doesn't come with a free plan, although each plan does offer a free 30-day trial period. The Essential plan is designed for a single clinician or someone just getting started. The Professional plan is geared for a more established provider or for practices with multiple clinicians. See the chart below for each plan's features and price. Keep in mind, the insurance filing feature is only available with the Professional plan.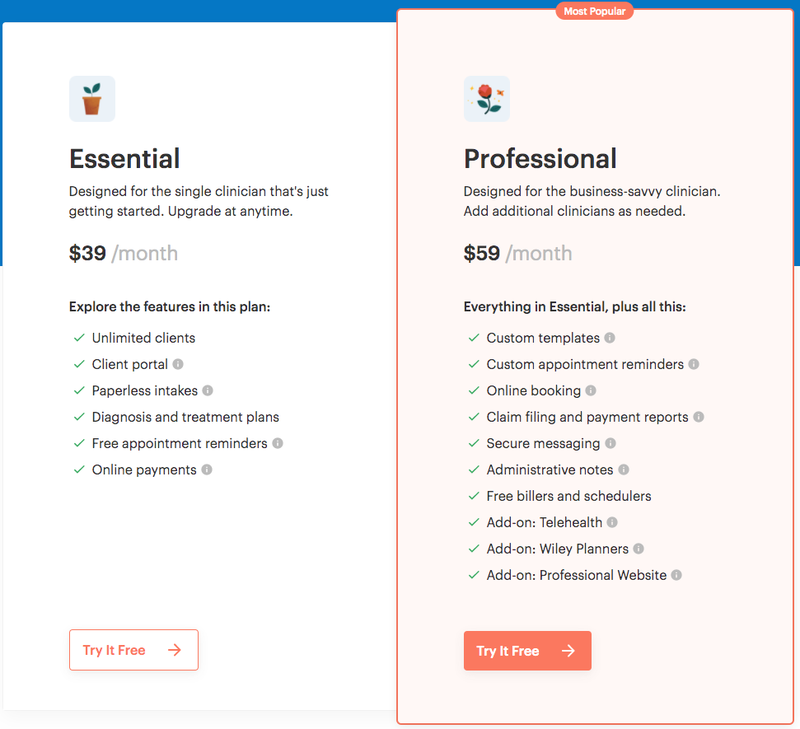 ---
The 4 best practices for HIPAA-compliant video conferencing
Finding the perfect video conferencing solution is tough. We've scoured the options, picking out the absolute best that meet long-standing HIPAA standards. Above all else, these programs are dedicated to safety and security, meaning they will continue to remain HIPAA-compliant long after the pandemic is over.
If you're still on the fence or considering other options, here are four suggestions to help guarantee you have the most secure, confidential, and reliable video interaction possible.
1. Ensure data encryption is offered
A majority of video services — such as Skype or FaceTime — do not offer any type of data encryption. These are fine platforms for hosting a virtual birthday party or chatting with your besties, but do not rely on them for confidential meetings.
All the video conferencing options compiled in this article do offer bank-level data encryption, ensuring your sessions remain confidential — always. If you choose a platform not reviewed here, triple-check for AES 256-bit encryption or higher.
2. Check where the video transmission is stored
You can dig a bit deeper into each platform's offerings by searching for security on their site. This will outline the steps they take, including where and how their platform servers are housed.
Make sure the data isn't being backed up by the provider themselves but instead is in a separate facility protected by biometric scanners and security guards. This level of security may seem extreme, but it's worth taking a few extra minutes to ensure the platform's security is top-level. Why risk a security breach?
3. Look for the Business Associate Agreement (BAA)
This is a contract that ensures HIPAA rules are followed and enforced at all times. In other words, all health information will remain confidential and safeguarded by anyone who has access to it.
The bottom line: Make sure your video conferencing platform has a signed BAA.
Don't worry, we've done the legwork for you. All five video conferencing options above have a solid BAA in place.
4. Improve your at-home communications
First, brush up on how to execute a video conference. Even if you're a seasoned pro, there's always room for improvement.
Next, follow these steps to enhance and improve Zoom calls — even if you're not using Zoom, you can apply many of these tips to other platforms.
Lastly, it's time to revamp your home office setup for optimal privacy. Find the quietest spot in your house, wear headphones, and ensure no eavesdropping children are lurking by the door. For extremely sensitive sessions, consider setting a noise machine outside your office, or consider changing out the door to a solid, noise-blocking material.
---
Maintain confidentiality at all times
If your business deals with any type of health or mental care, it's crucial to ensure all video conferencing platforms are configured to meet current HIPAA standards. No exceptions.
And remember, simply downloading a HIPAA-approved video conferencing software isn't enough. Think about other risk factors, such as other people listening outside your office, accidentally leaving a computer browser open after a session, or relying on an unsecured, public Wi-Fi.
If you feel unsure about your setup, reach out to your video conferencing support team. You can find informative articles on their websites, which can help address various work-from-home issues other healthcare workers may be encountering. Don't be afraid to reach out to your community.
One thing's for sure, we all want our clients and patients to feel 100% safe during these turbulent times.