Running email marketing campaigns during the holidays is the bomb. Not only are people excited to take out their wallets during these special days, but they're also willing to spend more than usual. In fact, during the 2019 holiday season, the average family spent over $1,496.
#mindblown!
If you're eager to get your fair share of online sales during the holidays, then you need to bring your email marketing A-game. In this guide, we'll cover six tips and email ideas seasoned marketers use to get stunning results out of their holiday email marketing campaigns.
6 tips for using email as your holiday marketing tool:
Create an email calendar
Leverage email marketing automation
Segment your email list
Create engaging holiday email content
Add an element of scarcity in your emails
Leverage data and analytics
---
1. Create an email calendar
Use an email calendar to plan your holiday email campaigns so you can visualize how your email marketing initiatives will pan out. It gives you a bird's-eye view of your campaigns, allowing you to see and identify possible gaps or issues even before they occur so you can address them right away.
The best part is that creating an email calendar is uber easy.
An email marketing software program, such as Mailchimp, has a marketing calendar that allows you to plot holidays and schedule your marketing campaigns. This calendar lets you add marketing activities and shows your scheduled and completed social posts, digital ads, and marketing emails.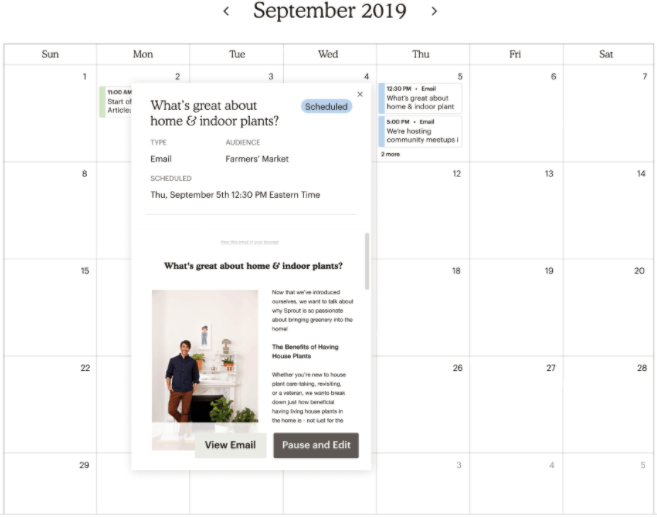 Click an email in the calendar to view its details, including the title, sending schedule, and the content. You can also pause at any time to edit if you need to make changes.
The email marketing calendar also helps you pace your emails. For instance, you can start a series of emails with an announcement two weeks before the offer date, followed by a reminder a week before, and a last chance email a day or two from the offer date to ensure your subscribers won't miss your event.
---
2. Leverage email marketing automation
With automated email marketing campaigns, you can send holiday email blasts while you're out on business meetings, spending time with your family, or watching your favorite Netflix series. Your campaigns will run like clockwork once you've set up your automation workflows.
Check these ways automation can bolster your holiday email marketing efforts.
Respond to inquiries quickly: Email automation tools can be used in many ways. While automation is often used for marketing, it's perfect for customer support, especially during the holidays when people are in shopping rush mode and might need answers to their queries right away. You can create emails that address your customers' inquiries in advance. These emails are then sent automatically once parameters are triggered so your customers can get the answers they need in a matter of seconds.
Set up drip email campaigns: Drip campaigns are mostly used for nurturing customer relationships so you can lead them further down your email marketing funnels. By sending email messages packed with loads of value, your customers will start trusting your company. During the holiday seasons, your email messages become more convincing because you've won your audience's trust, and they're willing to follow your recommendations. ActiveCampaign is a great tool for sending holiday newsletters and other drip email campaigns. It has a drag-and-drop automation builder to help you set up automated workflows easily.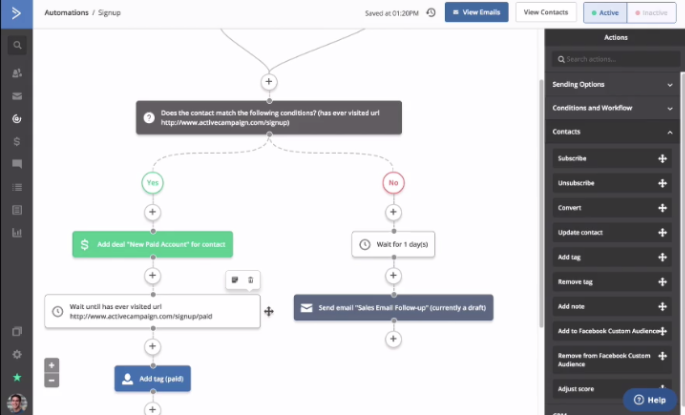 By automating your email marketing workflows, you can run your marketing campaigns 24/7 without opening your laptop and stepping into the process.
---
3. Segment your email list
Grouping your email subscribers based on buying patterns or preferences lets you create targeted emails for your holiday campaigns. Conversions improve when you segment your audiences because you're sending relevant email content and offers.
Consider these segmenting tips when running your small business email marketing campaigns.
Segment your audience based on interests: Sort your subscribers into groups based on the product sections they browsed or product categories they bought from. Doing so helps you offer products that resonate with them.
Separate year-round from seasonal shoppers: Your seasonal buyers have a different relationship with your business than your year-round, loyal shoppers. The former often need more convincing to get them to buy your products. The latter, however, buy out of trust and loyalty.
Identify frequent coupon users: Determine which customers use discount coupons. Doing so helps you create offers and discounts that price-sensitive shoppers like.
---
4. Create engaging holiday email content
Your content can make or break your email marketing campaigns. After all, if it fails to convey your offer's unique value, your customers will ignore it. That's why you need to put a premium on your content, making it engaging, value-laden, and catchy.
Below are some tips to help you create outstanding email content.
Use festive and fun email designs: Use holiday-themed email designs. That way, your customers are reminded of the upcoming holidays, and your email content increases in relevance.
For instance, if you're running a Christmas sale, include the colors red, green, and yellow along with your branding elements. This gives your emails a Christmassy feel.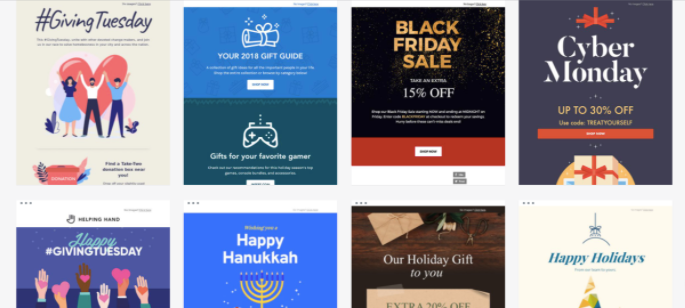 If graphic design isn't your strong suit, use free and customizable holiday email templates. Campaign Monitor has several of these.
Optimize your subject lines: Email subject lines are crucial. So much so, they can signal the success or not of your holiday email marketing campaign. A great subject line leads to soaring email open rates. A poorly crafted one is simply ignored.
Make your holiday email subject lines look professional and relevant to your content, so you avoid getting your emails ignored or tagged as spam.
---
5. Add an element of scarcity in your emails
Knowing the holidays are just around the corner gives your audience more than enough motivation to buy. And if you add an element of scarcity to your emails, a purchase-inducing component in and of itself, your customers' desire to buy shoots up.
It all has to do with the fear of missing out (FOMO). Because your customers don't want to miss out on the experience and benefits of having your product, they'll feel an urgency to make the purchase.
Some of the most common scarcity elements are countdown timers, limited time offers, etc. Showing your limited inventory count can even do the trick. If your customers see you only have a handful of stock left, they won't procrastinate with their purchases.
This email from Puma with a limited-time offer is a perfect example.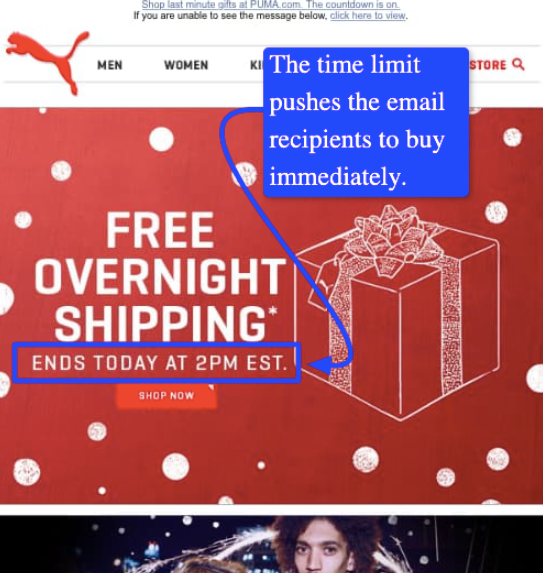 Just adding an element of scarcity to your holiday email marketing strategies will increase conversions. You'll have fuller carts, more clicks, and more sales.
---
6. Leverage data and analytics
Assess your holiday email marketing campaigns' success by focusing on what worked well for your audience based on data, including clicks, opens, and conversions.
Most email marketing software comes with analytics capabilities. It helps identify gaps and strengths in your email campaigns so you can fine-tune your strategy. Use data to ensure you're taking the best approach to run your holiday email marketing campaigns.
---
Make your email marketing campaigns holiday ready
Don't miss out on boatloads of sales during the holidays. Use holiday email marketing to generate engagements, leads, and sales. While the tried-and-tested strategies above are far from complete, using them will help improve your results.