Sending happy holiday messages to your clients can work wonders for your business. It bolsters your customer retention strategies, adds relevance to your marketing messages, and makes you more approachable.
Essentially, showing mindfulness and appreciation to your clients by sending holiday messages humanizes your brand and allows you to build meaningful relationships with your customers.
---
5 best practices for sending holiday messages to customers this year
Show your customers you appreciate them by using these handy tips.
1. Plan your holiday message campaigns
You need ample time to plan for your holiday campaigns to succeed. Think about your content, offers, customer care, even your website design, to ensure everything aligns with your holiday marketing campaigns.
Planning helps you avoid the needless stress and frustration of scrambling to put together your holiday campaigns at the last minute. Create a list of marketing tasks and materials you need before the holidays. That way, your campaigns can run smoothly, and all the materials you need are prepared.
2. Keep it short
Resist the urge to send long and hearty messages. Chances are, your customers are busy with the upcoming holidays and don't have time to read through everything. Keep your business holiday greetings short.
It doesn't take a full page to let customers know you value them. If you're using customer service software for your live chat support, you can include automated holiday messages at the end of every customer interaction.
Long holiday messages are also not ideal for mobile devices since customers need to scroll to read the entire content. This ruins the customer experience. If your customers are busy, they might even find your holiday message annoying.
3. Avoid making your holiday messages too salesy
Tone down the sales talk when sending holiday greetings. Sometimes, being too salesy can turn your customers off and reduce their buying.
Instead of aggressively telling your customers to buy, why not greet them and ask if there's anything your company can do to make their holidays extra special? This builds your image as a company that cares.
When businesses use holiday greetings strategically, they can establish a meaningful connection with their customers, which ultimately leads to more sales down the line.
4. Keep your message generic
Unless you're sure all your customers celebrate the same holidays, or if your business centers on a specific group of clientele, keep your holiday greetings generic. It helps you avoid isolating any individual or group of customers. Consider saying "Warmest wishes!" or "Happy holidays!"
If your customers celebrate specific winter holidays, such as Kwanzaa and Hanukkah, tailor your message to acknowledge those. It's a great way to show inclusivity and appreciation, helping you connect with your clients and improve the customer experience.
5. Personalize the greeting
While it's crucial to keep your holiday greetings generic, add a level of personalization so your message becomes more catchy. Address your clients by their names in your greetings and include exclusive offers based on their previous interactions and purchases. This shows you are aware of their preferences.
When businesses send personalized season's greetings messages, their holiday marketing campaigns become more impactful regardless of the marketing channels they use.
---
Examples of business holiday card messages
Spread holiday cheer and show customer appreciation by taking a page out of these holiday card message examples.
1. Appreciation for customers
Sample message: Happy Holidays. Your business helped us blossom this year.
Get straight to the point by opening with a holiday greeting followed by the reason you appreciate your customers. Here's a brand- and season-appropriate holiday card message example from Green Thumb Landscaping.
2. Focus on friendship
Sample message: Sending thanks this holiday season and always. Your friends at (Company name).
Ending your holiday greetings using "Your friends at" is a great way to connect with your customers since it makes your brand look friendly and genuine.
3. Highlight a shared experience
Sample message: Sending you wishes of warmth, joy, and tranquility this holiday season. Thank you for sticking with us through this challenging year. We couldn't have done it without you.
Convey warmth and gratitude to your customers with a slightly longer message. This highlights a shared experience with your customers and the role they played in your business's success.
4. Personal gratitude
Sample message: 'Tis the season for us to tell you how much you mean to us. Spoiler Alert: It's a lot. All the best, (Company name).
Don't be afraid to get more creative with your holiday messaging. As long as you use appropriate language and the right tone, you're good to go. Throw in some relevant popular culture references and colloquialisms in your holiday messages to convey gratitude to your customers while engaging them.
5. Personalize your greetings
Sample message: Happy holidays, (Name of the customer). We wish you a wonderful holiday season. We're glad to offer you exclusive deals to thank you for being with us.
Personalize your holiday card message by including your customers' names and offering exclusive deals. Giving customers a token of gratitude is a great way to show your appreciation and to engage them.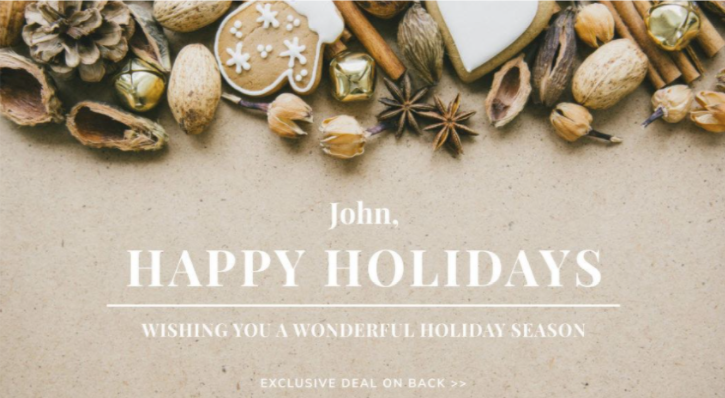 6. Show you value a long-term relationship
Sample message: Thank you for being with us on this journey. We wish you a wonderful holiday season, and we are looking forward to seeing you in the new year.
Let your customers know you appreciate them and you look forward to a better and stronger relationship in the years to come. The message also shows that you want to build a long-term relationship with them.
7. Sound natural
Sample message: It's been quite an amazing year for us, and we owe it all to you. Thank you for the support, and we wish you great success for the coming year.
Sound natural in your holiday card message, as if you're writing to a friend or family member. Doing so helps convey your brand's sincerity in sharing your appreciation and love for your customers, strengthening your relationship with them, and fostering brand loyalty.
8. Be straightforward
Sample message: Thank you for making our jobs easier and more enjoyable. We appreciate working with you and wish you a Happy New Year.
The two words to always remember when creating your business holiday cards are simplicity and sincerity. You don't need over-the-top and wordy declarations of gratitude. A simple thank you can go a long way to show how much you appreciate them.
9. Put emphasis on trust
Sample message: Thank you for trusting in us and best wishes for the holidays.
Reinforce your brand's credibility by thanking your customers for trusting your business. Let customers know you value their trust and appreciate their choosing your brand.
10. Be inclusive
Sample message: Happy (holidays other than Christmas). You are a big part of our success this year.
Acknowledge customers who celebrate holidays other than Christmas. It's a great way to make your customers feel they are included and part of your community.
---
Show your customers some love during the holidays
Acknowledging your customers during the holidays for their patronage and loyalty is one way to build relationships, connect, and build a loyal client base. Whatever strategies you choose to show customers you appreciate them, keep it simple and sincere to make your messages memorable.