Easily one of the best appointment-scheduling software platforms, HoneyBook is a valuable business asset. Starting with its basic function, booking appointments, its clean and easy-to-use interface allows easy bookings and minimizes objections. From there, on the back end, it captures customer data and organizes it.
But HoneyBook provides far more than just scheduling. It also offers one-stop shop solutions for client communication, invoicing, payment collection, workflow creation, software integration, and more.
It may just have "book" in the name, but it can be your go-to software for reporting, emailing, contract creation, scheduling, and payment processing.
---
Who is HoneyBook for?
HoneyBook is for any business that deals with clients. Whether it be a small business or a large enterprise, HoneyBook is adaptable and accommodating across industry and size.
While its primary focus is bookings, it helps businesses with other tasks, including document and communication organization and payment collection.
---
HoneyBook's features
The HoneyBook app is far more than your average scheduler. Thanks to its robust library of features, HoneyBook can start by merely maximizing your scheduling efficiency and further launching your business.
Whether it's streamlining your financials, organizing client communication, or optimizing operations, HoneyBook has a feature for almost every need.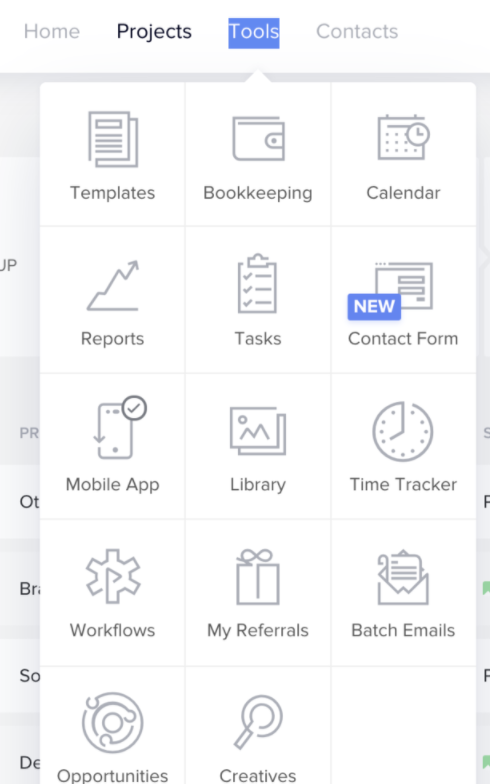 Streamline client communication
Communication is vital, especially when you're dealing with customers and need to retain customer history.
Rather than storing separate text, emails, chats, etc., HoneyBook consolidates all your communications in one place, reducing missed inquiries and email threads.
Online contracts and smart fields
Thanks to the ready-to-use HoneyBook contract templates, you can build and fill in contracts right in the app, then digitally send and track the signing process all from one place.
Don't want to use their forms? You can just as easily import your contracts and create templates within the system and still send and track from one place.
Smart fields are programmed to pull in pertinent client data and information automatically, so you save time from manually typing in repetitive fields.
Scheduling and availability
Setting up availability rules and blocking time means you are more likely to fill your schedule efficiently. Clients can view available days and time slots and select which works best for them.
Manage bookings and agreements
All bookings are created with details accessible to both business and client, including a tracking history. You can also send auto-reminders to customers, so they don't miss their time slots.
Collecting online payments
You can set up invoicing, contracting, and payment collection, all from one place. You can even turn on automatic billing for regular client charges.
HoneyBook makes it easy to accept credit cards, debit cards, and bank transfers with a mobile-friendly payment interface. Instant deposits mean you can have money in your account immediately, without waiting a few business days — with a transfer fee of just 1%.
HoneyBook creatives
Thanks to a solid presence in the wedding industry, HoneyBook has a built-in resource for event networking called HoneyBook creatives. It lets you search for HoneyBook photographers, makeup artists, event rentals, and you can even have your own business featured.
Customization and cohesion
Keep your brand voice consistent with booking pages customized to your colors, logo, typeface, etc. You don't want your booking page to feel like a separate entity from your business, and Honeybook ensures it's a smooth visual experience.
Plus, HoneyBook syncs with many systems such as Google and Facebook for maximum efficiency.
Create workflows
Setting up automated steps and processes in your day-to-day workflows saves you time and eliminates worry that you missed something. Intuitive automation ensures a seamless flow in follow-up.

All-in-one document storage
Paper files and document management, in general, can get messy and just plain overwhelming.
Rather than search through a bunch of different filing cabinets and Google Drive folders, HoneyBook lets you store invoices, correspondence, and contracts in an easily accessible hub.
It includes sharing permissions that can be restricted and expanded as needed for each document, folder, or section.
---
HoneyBook's ease of use
HoneyBook is designed to make your business life easier. From the moment you sign up, the process is intuitive and helpful.
You'll receive onboarding assistance, during which your HoneyBook reps help ensure your subscription is customized to match your business in outward branding and back-end needs.
Customers will love the short booking process, while business owners will appreciate how many workflow steps can be automated, how much data is tracked, and how organized customer and business tracking and documents can be.
Because of HoneyBook's user-friendly design, you likely won't encounter problems. Still, if you do, HoneyBook has a support team available 24/7 which is highly trained, easily accessible, and eager to help.
All around, HoneyBook is easy to learn and use on a daily basis.
---
HoneyBook's pricing
HoneyBook pricing is slightly higher than some schedulers, but it's not expensive, either. And when you take into account all the features and capabilities you get, it's well worth it.
After your initial free trial, for just $34/month, when billed annually, you get a customized onboarding session, training opportunities, an intuitive dashboard, and streamlined scheduling. Plus, abundant options to manage operations, marketing, finances, and sales.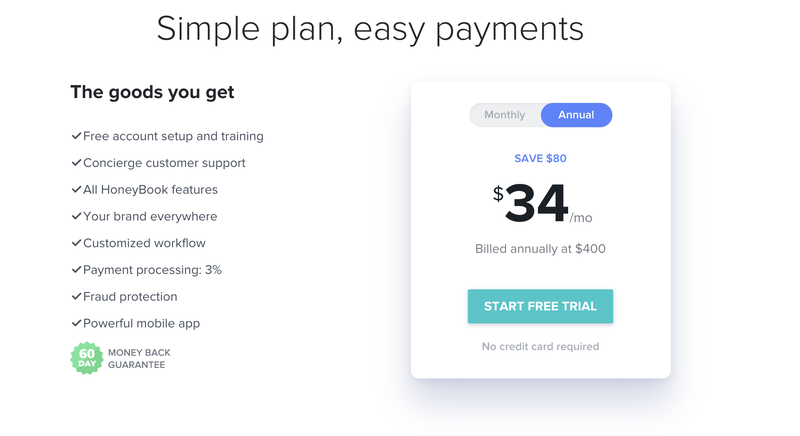 When you look at everything you have access to, that $34/month encompasses a whole fleet of helpful tools in one package.
---
HoneyBook's support
HoneyBook doesn't like to see its clients falter, so they have a 24/7 support team standing by should you need any help.
If you have an issue with the tool, email them to be placed in the ticketing system. For quicker help, you have access to a super-responsive live chat session with a HoneyBook representative.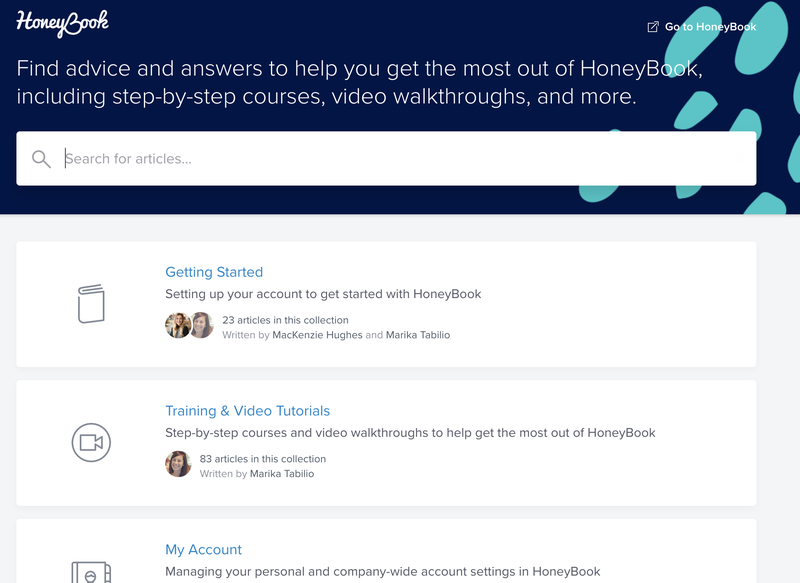 An extensive online library of resources lets you search for the answers to some of your more common or simple questions. It includes articles and videos comprising a comprehensive knowledge database.
---
Benefits of HoneyBook
As cloud-based software, HoneyBook packs a lot of punch without taking up much space.
It's efficient in everything it does, seamlessly weaving together your communication records, contract sends, booking history, payment requests, document storage, project management, and more into one smart hub.
It saves you time and headaches while eliminating the need for extra tools and apps. You can view and track task progress, set scheduling rules, and send out automated customer responses from one dashboard.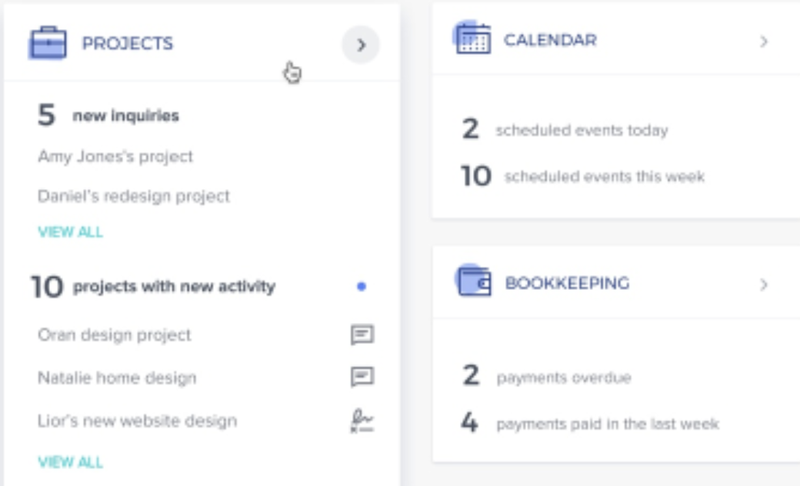 And for all that convenience, HoneyBook still lets you keep interactions and interfaces branded to your company and personalized to your customers, increasing brand awareness.
Besides desktop access, HoneyBook also offers apps for iOS and Android.
---
HoneyBook gets top marks
It's hard to find fault with HoneyBook. If you come to it looking simply for a scheduling solution, you will be pleasantly surprised how much more it offers and how it streamlines your business.
If you come to it expecting multi-functionality, you will not be disappointed. From ease of use to security, and updates to the sheer amount of features offered, HoneyBook is a perennial favorite.
---
Frequently Asked Questions for HoneyBook
Does HoneyBook have a mobile option?
Yes, you can download an iOS or Android app version for on-the-go business management.
Is HoneyBook easy to use?
It's very user friendly, for business owners and customers. The onboarding process ensures you get all the training you need as well.
Does HoneyBook do more than bookings?
It does much more. Scheduling is just the start of its long list of features including client communication, invoicing, project management, bookkeeping, etc.

See if this all-in-one solution will make your company's life easier with HoneyBook's free trial.
See if this all-in-one solution will make your company's life easier with HoneyBook's free trial.
The Motley Fool has a Disclosure Policy. The Author and/or The Motley Fool may have an interest in companies mentioned.