Running a company that involves sending technicians out into the field is a challenging endeavor, whether you're in plumbing or HVAC or carpentry. You've got a lot of moving pieces, you're constantly drawing up invoices, and there's a million things that can go wrong — messing up your day or even your bottom line.
Enter Housecall Pro software. This cloud-based platform aims to make things simple for field service managers, providing a simple way to monitor your team while also automating a lot of the tasks that you probably do manually now, like notifying customers or invoicing.
We were very impressed with this software, and while there are a few drawbacks that may be deal-breakers for some, we believe Housecall Pro will help most managers simplify their operations and free up time.
---
Who is Housecall Pro for?
Housecall Pro is a simple, cloud-based field service management software platform aimed at helping companies keep track of jobs, monitor technician activity, and produce invoices easily.
It comes as both a browser-based software and as an app, and it is aimed primarily at industries such as maid services, HVAC installation and maintenance, plumbing, and similar professions. It has lots of automation features and allows customers to book services through the HouseCall mobile app, making it ideal for companies that want to cut down on a lot of the manual data entry and filling out forms.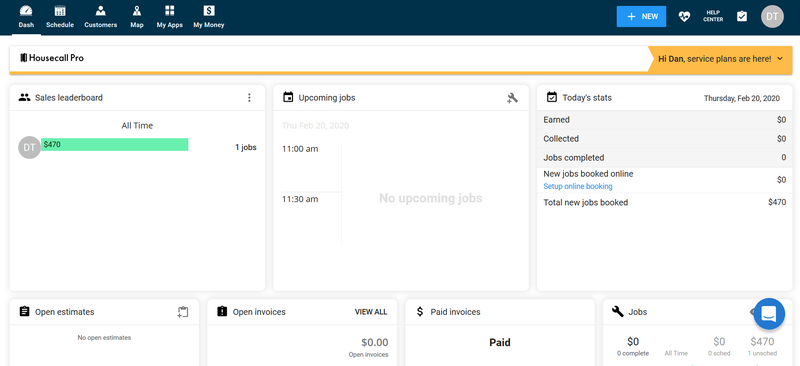 ---
Housecall Pro's features
Housecall Pro does a great job of making a simple, easy-to-use platform, and it has some really solid features that make it easy to manage your team as well as your relationship with your customers.
Customer database
One of the best things about Housecall Pro is its customer database, which is easy to access whether you're on the browser or accessing it on your smartphone. It's easy to dial up any contact and see full customer history and any outstanding jobs or invoices. You can also use it to connect directly with customers, either personally or automatically via notifications.
There are also options for adding "customer attachments," useful for keeping any files associated with that customer, and you can set recurring automatic invoices if it's someone you do business with a lot.

Scheduling
The software features a scheduling calendar that can be toggled between day, week, and month.
Scheduling is as easy as clicking on a time slot, choosing between "job," "estimate," and "event," and then choosing a customer to associate it with and any other notes or attachments that need to be included. Once it's in the schedule, it will show up on the dashboard when its due date approaches.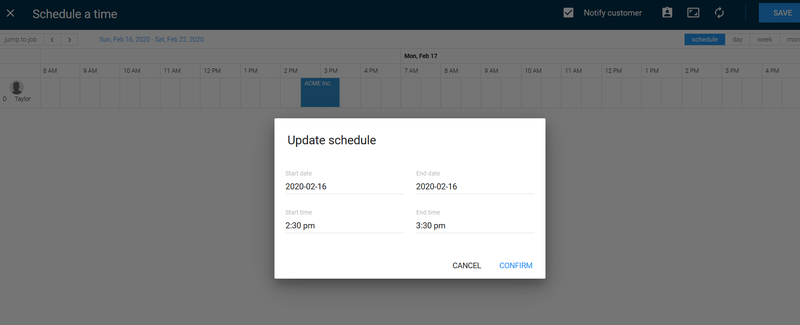 Invoicing
Housecall Pro creates invoices very easily, certainly one of the software's strengths.
When you go to a job, there are a list of icons at the top that shows where the job stands in terms of progress, and when you click "invoice," the software immediately pops up an invoice that is already filled out with all the details. After giving it a quick look-over, you can click "next," which will then pop up an email with all the fields filled out, which you can modify as needed and then hit "send."
Also, the system makes payment easy for the customer, as they can pay directly from the invoice without having to log in to a website or portal.
Additionally, the software integrates with Quickbooks, which makes bookkeeping a lot easier.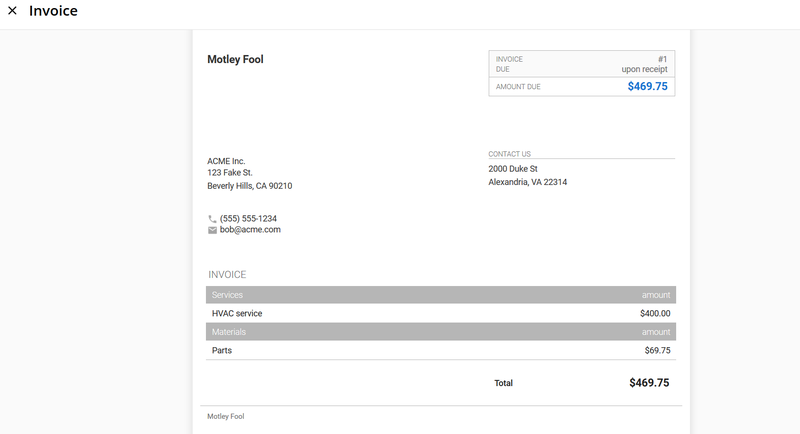 App
For a lot of software options out there, field service or otherwise, the app is an afterthought — barebones and often glitchy.
That's not the case with the Housecall Pro app, which is just as simple to use as the Housecall Pro desktop version and offers basically the same features. You get a similar dashboard look as you would in the browser and handy icons at the bottom help you navigate.
Another cool feature: when you tap on a customer, it automatically loads a picture of the address assigned to that customer via Google Maps, which can be helpful when technicians are out in the field trying to find the location.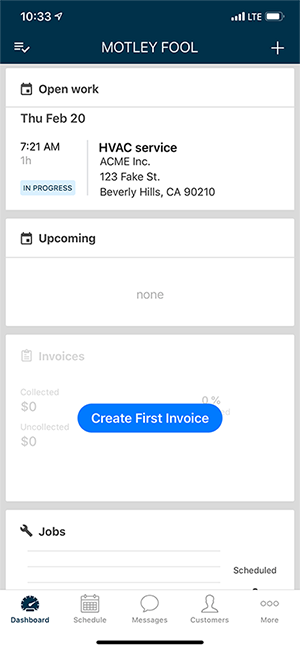 ---
Housecall Pro's ease of use
In this area, the software really shines. The dashboard is split up into blocks showing things like the sales leaderboard, upcoming jobs, today's states, open estimates, open invoices, paid invoices, jobs by tags, and custom reports. You can customize the layout, moving blocks around to increase visibility and adding or removing blocks depending on what you want to see.
The six icons in the top left help you easily navigate to the most important parts of the software: dashboard, schedule, customers, map, my apps, and my money.
And then there's the app, which somehow manages to take the web version and port a very similar look to your phone, so it's seamless to move from one to the other. Because it's on the cloud, any update you make on either the phone or browser will automatically update both.
---
Housecall Pro's pricing
The software is a bit on the pricey side, starting at $49/month for one user if you sign up for a year or $65/month if you want to go month-to-month. It's $109/month with an annual plan, or $149/month if not, for one to five users. For both options, it's $30/month for each additional user.
And if you have more than five users, you're going to want to sign up for their XL version, which does not have a listed price. Instead, the website directs you to contact them for pricing and states that the XL version is "built for current (and future) million dollar businesses."
They do offer a free 14-day trial with no credit card required, so it's easy to at least try Housecall Pro for a couple weeks if you're unsure whether it's worth the price.
---
Housecall Pro's support
Housecall Pro's support is solid, but it does have its downsides. Customers will generally be directed to contact support through the chat bubble that pops up on the website. There doesn't appear to be a way to contact support through the app.
If you want more support than that, be prepared to pay for it. A one-on-one onboarding coach is available only after you sign up for the second subscription tier, and if you want a dedicated account manager and escalated phone support, you'll need to pony up for XL.
---
Benefits of Housecall Pro
Housecall Pro has surprisingly powerful features for a cloud-based app, but its true strength is its ease of use. It does many tasks for you automatically, which is a boon for field service managers tired of manually entering data and filling out forms.
And you can get started right away, without the need for a lot of onboarding or training. It's intuitive, meaning you can start using it as soon as you sign up for an account.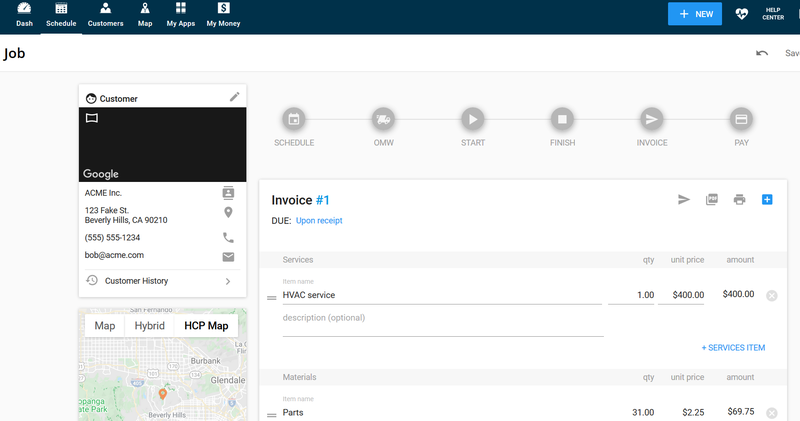 Also, the mobile app is rock-solid, making it truly feel like you're taking the software with you on the go rather than a shadow of it with only the most basic of features. It also has a nice Google Maps feature that shows your technicians what the building looks like when they're on their way to the job site.
---
Housecall Pro impresses with its features, simplicity
All in all, we were really impressed with Housecall Pro. It's simple, cloud-based software, but it has excellent features and it makes field service a lot easier, which is ultimately what it's all about.
It's not perfect, of course. Subscriptions can get expensive, many extra features require an upgrade, and you'll have to pay extra for technical support that goes beyond online chat. Additionally, we would have liked more personalization options for the automatic email and text notifications that go to clients.
However, even the most basic version of this software without all the paid extras does a great job of organizing customers, automating tasks, communicating with clients, and keeping on top of your team. You can pick it up right away and start using it, and it definitely will simplify your business.
---
Frequently Asked Questions
Do you have to pay for extra features?
Unfortunately yes. Many features in the software require an upgrade, and even things like phone support aren't available unless you get a premium plan. However, we think you're likely to find that you are more than happy with the most basic version of the software.
How does it handle invoices?
The software does an excellent job with invoices, generating them automatically with no input from you beyond what you've already entered into the system. It then creates an email that includes the invoices and prompts the customer to pay directly through the invoice. All of this can all be integrated into Quickbooks as well, simplifying your bookkeeping.
Does it communicate with customers?
This is another strength of the software. In addition to contacting customers about invoices, which you can set up to happen automatically on a recurring basis, it will also notify customers about upcoming jobs and send them a text or email informing them that you are on your way to the job site.

If you're looking for an intuitive field service management software with rapid onboarding, try Housecall Pro.
If you're looking for an intuitive field service management software with rapid onboarding, try Housecall Pro.
---
How Housecall Pro Compares