When looking into content management software, one of the big players is Wix. It's super easy to get started for free, and there are plenty of tutorials to create with Wix. There are many pros and cons to using Wix as your site builder, but one of the biggest questions revolves around Wix prices.
Just how much does it cost to utilize various Wix plans? From just trying it out to signing up for one, two, or more years with Wix, there is a plan for every pocketbook.
---
The 5 Wix pricing tiers and benefits of each plan
Wix is one of the most user-friendly website creation tools, with site-building and management being pretty straightforward. You can start with a free Wix website, but the features associated with your chosen Wix website builder tier increase at each payment level.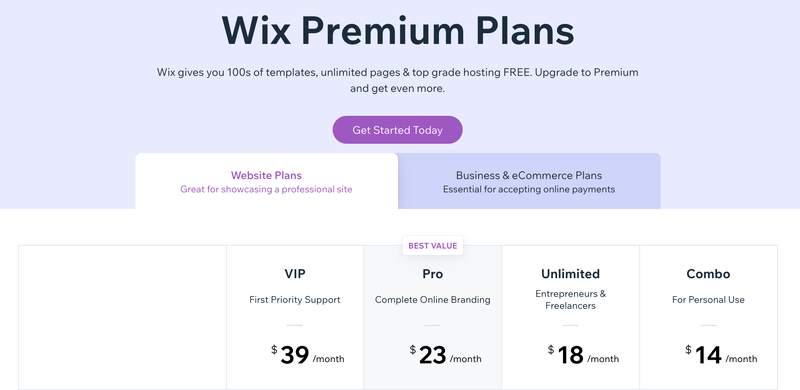 Free
Wix pricing does offer a long term free option, so if you are running a small blog or have minimal content management needs, this $0 option works very well to cover all your bases.
Your site will have Wix branding, and you won't have a custom domain (it will have "Wix" in the URL), but the free plan is an excellent option if you're making a small portfolio site or are testing the waters. What's also pretty nice is that Wix support is included with free plans.
Combo
Wix's first paid tier starts at $14 per month and it removes Wix branding and ads, letting you have a custom domain. It also throws in a free SSL certificate and ups your bandwidth and storage.
You can also connect your Google Analytics account for customized Wix SEO tips. This plan is a great starter option for a professional site.
Unlimited
For four dollars more per month (for a total of $18 per month), the Unlimited plan further increases storage, bandwidth, and video upload time (a full hour), while also adding in a year's subscription to site boosting, calendar events, and traffic analytics apps.
You also can redeem up to $300 in ad credit vouchers. It allows you to build brand awareness and search engine ranking with a professional-looking site.
Pro
At $23 per month, the Pro plan again increases your data and capabilities while also offering professionally created logos and social media logos.
It is an excellent choice if you have large, varied traffic or need to manage multiple sites, as this level provides a streamlined user experience that can handle many visitors at a time.

VIP
Finally, the VIP website plan costs $39 per month and allows for up to 35 GB of storage and five hours of video. Wix also ups the ante with support, giving VIP plan customers priority support preference for front-of-the-line response time and dedicated account help.
This plan is best suited for large companies running sites that require multifunctionality and expect a high amount of daily traffic.
Wix enterprise solution
Meant for enterprises and large businesses, you'll have to call and request a quote for this custom plan. It includes VIP support, top-tier security, team capabilities, and an account manager for your business.
---
Wix has a pricing option for everyone
Wix has pricing plans for everyone from small businesses to creatives, entrepreneurs, retailers, and large organizations.
For beginners and hobbyists, the available free plan is a great option to get started in the site-building world, as you can always upgrade down the road.
If you have more complex needs, you can self-select a fairly comprehensive web management plan for a still-affordable $39 per month.