Three years ago, Peter Klamka left New York. The former investment banker and founder of Cephas Holding Corp., which developed and marketed branded mobile phone products, wanted to "semi-retire" in Las Vegas.
After arriving in Sin City, Klamka "got pulled" into the restaurant business through a friend. At that point, he knew he couldn't sit on the sidelines. One thing led to another, and after three years, he now owns The Blind Pig restaurant and also has a stake in 10 nightclubs.
"If I'm going to be in it and I'm going to be active in it, we're going to win," Klamka says. "It's not going to be a social club. It's going to be a cool place. We're going to create some real value and have a good time."
For him, building a great business always meant looking for the next opportunity. In 2019, he saw what he thought was the next evolution of delivery — ghost kitchens that can produce food for multiple restaurant concepts.
As COVID-19 shut down in-person dining in Vegas and around the country, the market looks ripe for that kind of business. But that isn't all Klamka has on the agenda. The entrepreneur is also creating a COVID-specific subscription service — a panel of doctors who will consult with restaurant owners and others about COVID-specific issues.
---
Shutting down in March
When COVID hit, Klamka's restaurants, like many around the country, had to close their dine-in operations.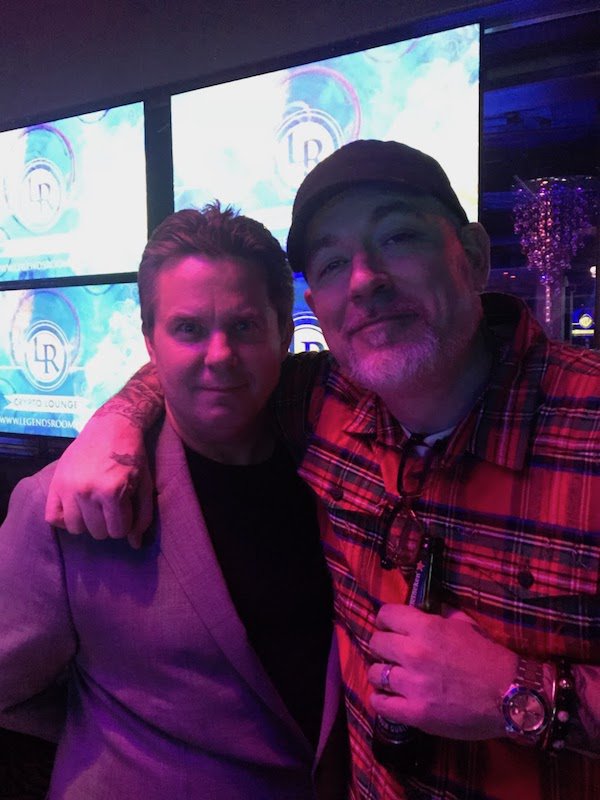 "I have a sports bar in Vegas, literally behind the Bellagio," Klamka says. "With everything closed, we didn't have workers getting off and stopping at our place for a drink or dinner. People would also come to our place either before they went to the club or after the club. When nightclubs went away, it certainly impacted our late night and early morning business because those people aren't going out anymore."
He had expected a big jolt of income when the NFL Draft came to Vegas in April. When the event went virtual, that revenue never materialized. Now that the NFL season has started without fans in attendance, there will be more opportunities lost.
"My restaurant is one mile from the new Raiders stadium," Klamka notes. "I had booked the restaurant for private parties for the NFL Draft, and those got canceled. Nobody is talking about renting out my parking lot for tailgating anymore, either."
---
Adopting delivery and Instagram
After COVID hit, Klamka had to adapt. He laid off staff and immediately adopted online food delivery apps such as DoorDash and Grubhub.
"We fine-tuned the delivery business," he explains. "We focused on delivery, and we have been building out various concepts."
He also did more social media marketing to influence specific customer behaviors.
"I started advertising on Instagram because it was cheap and it reached a specific audience," Klamka says. "You could drive business to specific dishes or specific specials. I had billboard ads and radio ads, but I couldn't drive a customer to my hamburger special there. But I could do that on Instagram."
But Klamka, who has a Bitcoin background after starting a cryptocurrency-backed nightclub, took things a step further. He added QR codes for menus and implemented a lot of contactless payment options.
"The QR code menus were fine," he says. "We have a bunch of under-25 customers, and they liked them. The old people were confused about the QR code reader."
---
Relying on a ghost kitchen model
Long before the pandemic, Klamka says he realized the potential for food delivery in Vegas.
"We saw that delivery was becoming a bigger part of our business," he says. "People were getting deliveries to their hotels. In some cases, it was quicker for us to deliver it to the hotel than it was for the people in the hotel to get their room service when things were busy."
That gave him an idea. Why not create ghost kitchens that could produce food for multiple restaurant brands out of the same commercial production facilities?
"We were already going to do a virtual dining brand," he says. "I didn't realize that it was going to take the place of regular dine-in business."
Klamka's firm, Cordia Corp., has two active online restaurants — Vegas.Pizza and KO Sports Bar and Grill — that operate out of the same kitchen. Klamka, who has worked with Mike Tyson and Michael Jordan on branding deals in the past, would also like to launch celebrity-branded virtual restaurants.
In the summer, it launched a division called Virtual Dining Brands to merge those concepts, add others, and offer the brands in other cities through partners.
Cordia will provide ghost kitchen partners with access to fixed costs, a suite of technology services from vetted third parties, and design services for customized, tamper-proof packaging. The company will generate revenue through the sale of ingredients to its licensees and potential royalties.
"The response for signing up to virtual restaurants has been great," Klamka says. "I have a few celebrity deals that I am working on. There is a lot of interest in adding revenue from the independent restaurant guys. They are all looking to add one or two things that will bring in a few thousand dollars or more a month."
---
Lining up doctors as consultants
If attempting to start a national ghost-kitchen franchise wasn't risky enough in the middle of COVID, Klamka saw another entrepreneurial opportunity arise because of the pandemic.
In talking to many nightclub owners in Vegas about handling reopening and safety, he realized there was a lack of useful and reliable information.
"People wondered how they can do business, especially in Vegas, where we've got people coming in from all over the world," Klamka says. "How do you run a business in COVID and take care of your employees?"
He says he called insurers and public health officials to get answers but couldn't get the information that he wanted.
"They just sent me PDFs from the CDC websites," he says. "So I decided I was going to do it myself. I hired a young doctor who has COVID ICU experience. And then, I added two other experts. I put my team together, and now I'm going to rent them out."
Under the banner of MORE Management, a private club with a membership roster drawn largely from cryptocurrency users and financial services professionals, Klamka wants to provide businesses with answers to their COVID-related questions.
"I have gone out and recruited three medical doctors," Klamka says. "I developed a video education service specifically for nightlife and restaurants. So basically, they can have their own Dr. Fauci."
---
Don't just adjust — think outside the box
When COVID-19 took a large chunk of Peter Klamka's nightclub business, he didn't just adopt delivery methods like other restaurant owners. He thought in bigger terms. He saw a need for health and safety information, so he recruited a team of medical doctors to provide advice to businesses. And, as ghost kitchens gain in popularity, he started restaurant concepts that he thinks can be franchised.
Takeaway No. 1: Be open to new methods of selling
When Klamka wasn't able to make make sales on-site, he adopted delivery apps such as DoorDash and Grubhub. But he went beyond merely using them. He also created restaurant concepts to sell specifically on apps.
Takeaway No. 2: Look for what people need
COVID created a lot of uncertainty in the Vegas nightclub community. Owners needed to understand the science to make business decisions. With good answers hard to find, Klamka found doctors who could provide this information.
Takeaway No. 3: Use technology to direct customers to specials
Klamka didn't just use social media to promote his business. He uses Instagram to encourage certain behaviors such as driving customers to a hamburger special.