As restaurants try to stay flexible and resilient during COVID-19, business closures create a burden, leaving livelihoods dangling. There's simply no way to sugarcoat it: If you're a restaurant owner, you're struggling.
Now, some companies were better positioned to navigate a fast shift to digital-everything. Others weren't. Some continue to stay open even as state governments insist they close. Others have been closed to dine-in guests for months. In short, each obstacle and response is unique to the individual business and its owner.
Going forward, only you can decide how to keep your doors open. It may involve tough decisions or require money you don't have. But standing still and doing nothing is rarely the answer. Discover how restaurants are adapting during COVID-19 and what you can learn from them.
---
1. Explore new revenue streams
Slim profits margins are only one of the general challenges restaurants face. Pre-pandemic, many brands pursued alternative income streams as a way to bolster profits. From catering events to selling food at local festivals, getting your food out to more people is always a win.
But COVID-19 blocked those efforts as well, leaving restaurateurs scrambling to adjust. To regain lost revenue, restaurant owners began offering:
Fresh produce or pantry boxes
Proprietary restaurant items
Do-it-yourself (DIY) meal kits
Delivery or curbside pickup
Ready-to-heat meals
Restaurant merchandise
Grocery supplies as add-on items
Dine-at-home experiences
Virtual events and digital media
Local meal subscription services
How to find and add new income sources
Coming up with new ideas is only one part of finding new income sources. You likely don't have the funds to risk a failed venture, so plan carefully before forging ahead.
Take these steps first to figure out if adding a revenue stream is a good idea.
Brainstorm ideas: Consider various ways you could help customers who still lack time, crave dining experiences, and want to support your business.
Highlight easy options: Look for ideas requiring little to no investment, such as print-on-demand merchandise or meal kits made from existing products.
Validate your ideas: Use social media polls, send surveys to loyalty club members, and ask simple questions via email.
List expenses: Tally up costs relating to your new revenue streams, such as staffing, marketing, online e-commerce software, and packaging.
Determine the long-term feasibility: Decide if your idea is a temporary fix or a long-term solution using a feasibility study.
Develop plans: Create a short business, marketing, and launch plan with actionable steps to drive awareness and sales.
Examples of restaurants innovating to stay open
Restaurants across the nation are looking for ways to help their employees, community, and current customers. Some had the supplies on-hand to pivot to offering other goods. Others expanded their delivery and online ordering options. Find inspiration from these restaurants: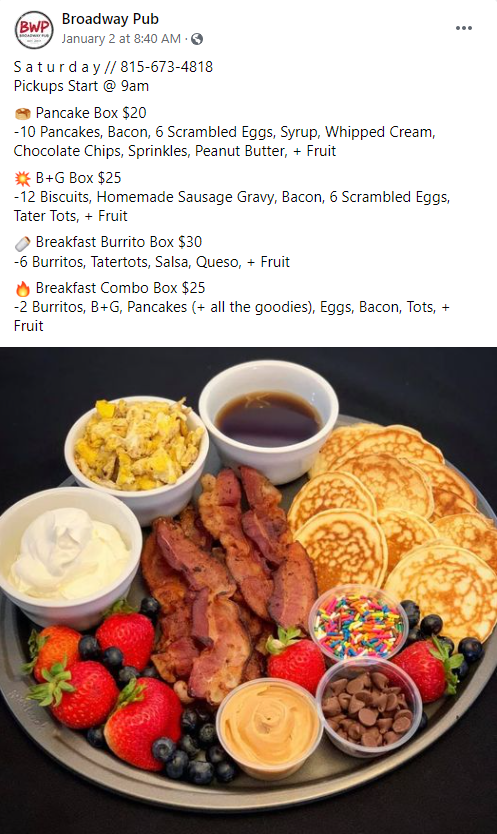 ---
2. Communicate honestly and frequently
Although social media is a key tool for communicating with customers, many small business owners didn't rely on it pre-pandemic. After all, business was booming. Maybe they even knew their customers by name, especially in smaller or rural areas.
But the pandemic and subsequent closures left many restaurants without a connection to their customers. People didn't know if their favorite restaurant was open, or if it was safe to eat out. If you weren't connected to your customers virtually before the pandemic, it's crucial to do so now.
How to stay connected with restaurant guests
Whether you need to build your online community from scratch or bolster your efforts, it's essential to start with a plan. First, consider the best channels for communication. Text messaging, email, and social media are the three top ways to stay in touch.
Next, think about tools that'll help you automate some messages. For instance, social media management tools are one type of software restaurants use. For example, with Buffer's free plan, you can connect up to three social media channels and schedule up to 10 posts in advance.
Decide what you need to communicate and how frequently to post or email. Most restaurants benefit from creating an editorial calendar. Sit down once a month and plan out your must-have posts, such as:
Safety and sanitation protocols
Available dining options
Promotional posts linking to your online ordering channels
Your latest special or dish of the week
Managing customer communications on your own is tough. Set up automation tools and create reminders to stay in touch while handling daily operations.
---
3. Respond to changing customer behavior
According to Epsilon, "80% of consumers are cooking at home." They're also balancing remote work and virtual schooling, making convenience just as important as it was pre-pandemic.
Although consumers want to head back to restaurants, many have concerns about dining out. Yet differences exist by region and demographics.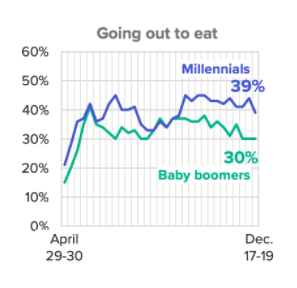 How to learn what your guests want or need from your restaurant
Consider your target market's characteristics and the ways their lives are affected. Start by reviewing customer demographics, then think about your local circumstances. Have your guests lost their jobs? Switched to virtual work?
Once you figure out their pain points, identify ways your restaurant can help. Perhaps you can offer curbside pick up throughout 2021 or introduce family-size breakfast or lunch delivery specials.
Tailor your promotions to your target audience and soothe any processes to ensure your guests feel they're getting convenience and value.
Examples of restaurants adapting to changing behavior
Dunkin' knew many of their customers were unfamiliar with online ordering. The company developed step-by-step guides to ease their concerns, including videos and articles highlighting the method's safety and ease of use. Dunkin' also expanded delivery from 2,000 stores to 4,000 while adding curbside pickup to stores without drive-thru windows.
The Blind Pig restaurant embraced Instagram as a way to reach customers while increasing its use of contactless payment methods. According to a recent interview, The Blind Pig incorporated QR codes for ordering, which went over well with its under-25 crowd.
---
4. Assess efficiency and performance
To stay afloat, restaurant owners must identify new ways to improve their restaurant's efficiency. Undoubtedly, you already kept an eye on labor and food costs before the pandemic. So finding new ways to cut costs may prove to be a challenge.
However, reducing costs and adding revenue are the only ways to balance your budget. Statista reports that the foodservice industry lost:
$130 billion in sales between March and October
2.1 million jobs by the end of November
Roughly 110,00 restaurants due to permanent or long-term closures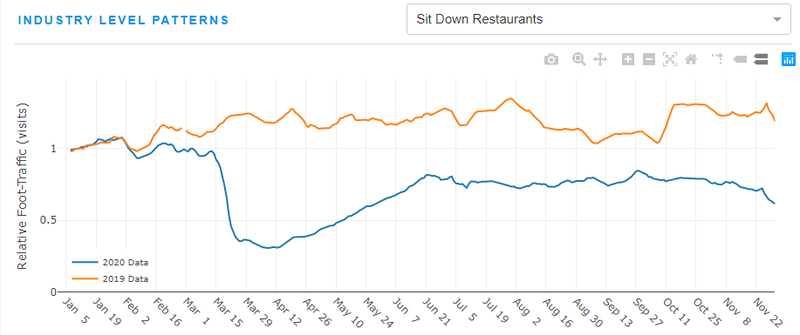 How restaurants plan for the future
In many ways, it's time to head back to the drawing board. Restaurateurs should analyze each business process from using technology like scheduling tools to reconfiguring their kitchens.
Develop resiliency by creating short and long-term goals for sustainability. Ways to do this include:
Use your restaurant POS system and inventory functions to rethink your menu
Adapt your menu and pricing to maintain ongoing takeout and delivery
Consider replacing third-party delivery with in-house solutions
Cross-train employees to flow between positions as needed
Review your existing restaurant layout to support higher off-premise sales
Take a closer look at ways to increase restaurant profit margins
---
Take steps to increase your restaurant's resiliency
Consumers are anxious to get back to normalcy, and a time will come when your seats will be full once again. However, things like off-premise dining and online ordering were growing trends pre-pandemic, and they will continue in 2021.
Although there isn't one perfect solution to the restaurant industry's woes, you can reassess your business and make improvements while looking ahead to better times.