Going into 2020, Christopher Hoyt and his wife Audrey knew things would get crazy in March.
Little did they (like many people) know what the year had in store for them.
On March 15, the same night the Hoyts' son Theodore was born, Governor Jay Inslee ordered a widespread lockdown in their home state of Washington, and revenue dropped 50% at their small business, The Pioneer Collective, which provides coworking spaces.
Survival depended on creativity, communication, technology, and trial and error. While the Hoyts have not laid off any team members or cut health insurance for employees, they've reduced their workers' hours to 20 per week. At one point, their revenue had fallen to about 25% of its pre-pandemic average monthly volume before increasing to 50% in the summer.
But staying in business is still an uphill battle.
---
Falling into coworking
The Hoyts didn't set out to start a coworking business.
In 2014, Christopher had left Microsoft and was working for an online travel startup. Aubrey had left finance and was in design school. "We were just stepping all over each other in our one-bedroom apartment," Christopher says.
The couple was looking for a small office space for Chris's startup when their broker took them to Seattle's historic Pioneer Square neighborhood and showed them a 6,000-square-foot space in a 1906 brick building. They fell in love with the space and decided to sign the lease, build out a coworking space, and sell memberships to the public.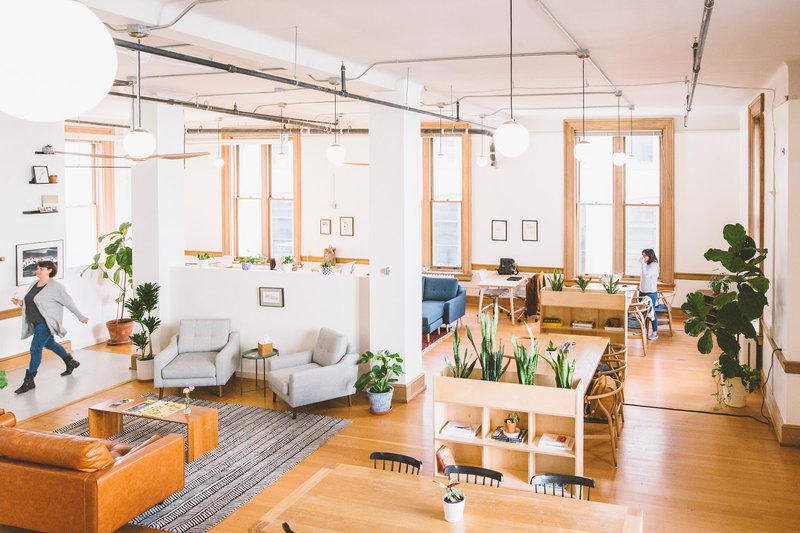 The Hoyts started adding corporate meeting rentals and found a lot of demand for private offices. They added space in a historic former courthouse in Tacoma as their second location and expanded in the Pioneer Square building. Now The Pioneer Collective occupies 14,000 square feet in each location.
Before the pandemic, one-third of their revenue came from meetings and events, one-third came from coworking memberships (where users rent a dedicated workstation or pay for use of a "hot desk") and one-third came from private offices. "We found that sweet spot," Audrey says. "Things were going well, and then COVID hit."
---
Hosting production services
When COVID shut down their locations, the Hoyts focused on communicating with their members. They developed a website called "The Work from Home Survival Guide," which provided resources for navigating grants, emergency funding, and loans. To lighten the mood, they also offered playlists and recipes.
Slack was also an essential communication tool. "That kept everybody connected," Audrey says. "Even if people were not physically in the space, they were seeing the announcements and communicating."
The Hoyts wanted to keep their team busy and maintain morale. So, they also renegotiated rates with customers and allowed them to pay what they could. "We wanted to put our finger in the dam and try to get this under control," Christopher says. "Then we started realizing that this could be a two-year shutdown of our core business lines."
As income was drying up, the couple looked for ways to diversify their revenue streams, such as converting conference rooms into a virtual classroom studio for online learning and training.
Early on, Chevron signed up to use the space for a three-week training course produced by The Pioneer Collective. Initially, the class was going to occur onsite in Texas. Since the instructor was based in Seattle, it was easier to conduct the class there, given the COVID lockdowns.
"It was lucrative, and we're like, 'Hey, we may have something here," Christopher says. "After that one success story, we just didn't have that much trouble convincing other corporate clients that it was something they needed."
Eventually, the Hoyts converted some of their larger rooms to production spaces and handed them over to outside production teams. Companies came in to produce training videos (many of them COVID-related).
"We have a fitness company that has created video content for yoga, HIIT [high-intensity interval training] and other classes," Christopher says. "They used one of our large classrooms as their studio. People needed space because they were still producing things, but had no space because everything was closed."
Eventually, the Hoyts invested more money into their virtual memberships, which include mail handling, a professional business address, a few drop-in days, and access to member amenities like conference rooms and vendor discounts. Their general manager, Jamie Hinders, grew that business 110% from January through November. Hinders listed The Pioneer Collective's services with partners like iPostal1 and Spheremail, which provide lead generation and administrative support for mail handling.
They also began chopping up larger enterprise suites into smaller offices for individuals. They could transform these spaces in as little as a week. Christopher says there is a lot of demand from team leaders and individual employees who want to escape their home and work without distractions.
"It's something that typically we wouldn't do because it's expensive and it was working fine before, but now we're investing in the hope that we can salvage some revenue out of these spaces," Christopher says.
---
Relying on tech tools
As the Hoyts have built their coworking business and then survived COVID, technology has provided a considerable boost. Human resources software can be enormously helpful to small businesses. The couple relies on Gusto to help manage that function. "Those Gusto and SaaS applications saved us countless hours," Christopher says.
The Hoyts use a middleware program called Zapier to connect their accounting with QuickBooks, and their marketing and payment processing with Stripe. They have tried to use COVID as an opportunity to fine-tune their communication and improve the member onboarding experience, including the activation of their amenities and systems. To do that, they partnered with UK-based Office RnD, which builds software specifically for coworking spaces.
Before COVID, Christopher moved his wireless dashboard into the cloud with Amazon Web Services so he could access it without being on-site.
"I can do ID administration from my house or from one location to another," Christopher says.
The company relies on Region 6 as its systems integration partner. "They've configured Brivo systems in all our locations for easily customizable remote access," Christopher says.
---
Expansion on the horizon
Coming into 2020, the Hoyts were expecting to hit $1 million in revenue in their Seattle location. Ultimately, they'll probably hit half of that. To prioritize cash flow, they've offered many incentives for members to prepay and lock in a workspace for 2021. They were also able to secure a paycheck protection program (PPP) loan and made some cost-cutting moves.
"We restructured our largest costs," Christopher says. "We were able to negotiate a lot of contracts with vendors, and we restructured all of our lease agreements."
While some question the decision to extend lease agreements in this environment, the Hoyts remain bullish on coworking. They think the pandemic will make flex space even more appealing in the future as companies look to cut office costs and maintain flexibility.
The Hoyts are so optimistic about the space that they plan to add a third location in the Pike Place Market or Belltown areas of Seattle.
"We're just trying to find strategies that will allow us to tread water for this indeterminate amount of time because we feel like there are going to be a lot of big opportunities out there for us," Christopher says.