Michael Sturba and Rachel Duguay met while working in the theme park industry in California. Michael was a third-party supplier to Universal Studios and The Walt Disney Company who helped oversee specialized merchandise and operations in Orlando, Anaheim, and Shanghai. Rachel worked as a hostess and bartender at Disneyland.
As their relationship bloomed, and they planned their future, they also developed an idea for a small business.
"I had a printing background, and we were looking for a fun product to produce," Sturba says. "One of the tricks in theme parks is to play with scale. They take an ordinary object and make it really big or really small. That pumps up the fun factor. So we just played around with things and came up with a tiny configuration for puzzles."
The two initially designed and produced the puzzles out of their apartment in Anaheim. Seeing an opportunity to sell the puzzles online, Sturba signed up for Shopify classes in Los Angeles to learn how to develop a website. But there were limits to what the couple could do.
"We didn't have a lot of time because we had regular jobs," Sturba says.
But when COVID-19 shut down the economy, suddenly time was plentiful.
---
Relying on Shopify
When COVID hit, Sturba and Duguay were both furloughed. Like many in a similar situation, they spent a lot of time wondering about their long-term future. With a business model and a background using e-commerce platforms to sell through Shopify classes, they decided to focus on producing the puzzles.
"We have all of this knowledge we got from Shopify," Sturba says. "That is the engine of our website."
Sturba and Duguay started playing around with Facebook ads. They bought their first ads on March 31 for $5, and sales started to trickle in.
"I think we had like $232 in sales, which at the time was humongous for us," Sturba says. "We were like, 'Oh my God, we can pay our rent!'"
The couple invested their profits back into more Facebook ads, and sales continued to grow.
"We were shocked how amazing it worked because we had never really had that much exposure to Facebook ads," Sturba says. "We took all of these Shopify classes, and it taught us things like search engine optimization and Facebook and Instagram marketing."
Initially, the MicroPuzzles founders only had a few different puzzles. As they've expanded the puzzle offerings, they're up to 45 now and have used Shopify to keep their website updated.
"We can basically take any idea or product and put it online in an afternoon," Sturba says.
---
The puzzle-making process
Making puzzles is a time-consuming process. Initially, Sturba and Duguay outsourced the printing. Then they started printing images for their puzzles and gluing them to a cardboard core. Then they would glue another colored sheet on the back and cut the piece on a rotary die cutting machine.
Early on, the couple also enlisted volunteers to help. They would drop off puzzles with neighbors in their apartment complex, mainly retirees, and those people would break them down and package them.
As both sales and puzzle designs increased, Sturba and Duguay revamped the process to make it scalable. In January 2020, they bought a used printing machine, which they modified to produce puzzles. In April, they purchased two more.
"Now, if an artist comes to us with a puzzle design, we can reset their artwork on a 4-by-6 scale and print the puzzle," Sturba explains.
Sturba and Duguay handle the fulfillment process themselves, printing labels, packing the puzzles, and taking them to the post office.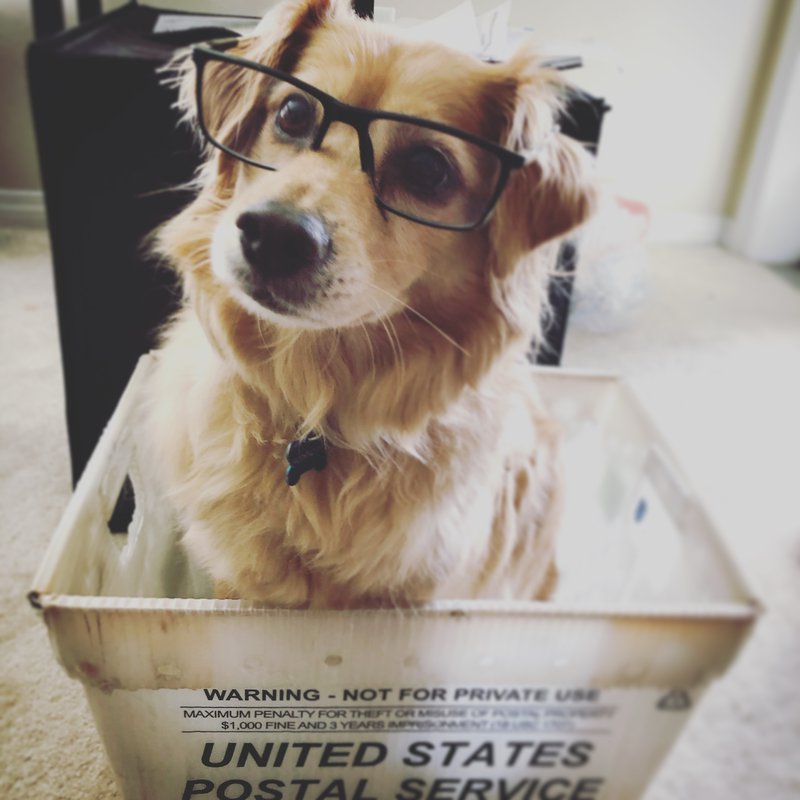 If a customer calls or emails about a missing piece, they get a new puzzle through the company's puzzle insurance program and a profuse apology from Brian in the shipping department. The apology includes a picture of Presto!, their 13-year-old golden retriever mix, who plays the role of Brian, wearing glasses and sitting in a U.S. Postal Service shipping box.
"Sometimes people come on a little strong," Duguay says. "Then all of a sudden they get the puzzle and then they're like, 'Oh, it's the dog!'"
And, just as suddenly, any tension evaporates.
---
Partnerships and publicity
Even before COVID, Sturba and Duguay were aggressively marketing their puzzles. When Sturba lived in Florida in the 1980s, he would frequently visit Ron Jon Surf Shops. In October 2019, he decided to go on LinkedIn, find the company's buyer, and send him a note asking for permission to send him a puzzle.
The buyer said yes, and Sturba and Duguay, who were in Orlando at the time, drove the puzzles to him. Three days later, Ron Jon was carrying MicroPuzzles. They also were able to get The Magic Castle in Los Angeles and several gift shops in Laguna Beach to carry their puzzles.
After the pandemic, Sturba used a similar approach with the morning team at KTLA, a local television station. He sent a care box to the station, and a producer responded by asking about the business.
"Then a couple of days after that, they put us on the morning show, and that was unbelievable," Sturba says.
MicroPuzzles has also partnered with a couple of charities, including the Alzheimer's Association, Actors and Others for Animals, and Art With Intention.
"Art With Intention uses kids with autism and adults with brain trauma, and they make artwork," Duguay says. "We put their artwork on our puzzle."
MicroPuzzles donates $2 from each of those puzzles sold to the program. These partnerships provide Sturba and Duguay with a chance to give back and provide excellent exposure for their puzzles.
---
Moving out and up
As sales continue to grow, Sturba and Duguay have had to expand beyond their apartment. Since April, the couple has sold $280,000 of merchandise off of their website, including 35,000 puzzles. In October, they decided it was time to expand by renting a warehouse space in Anaheim.
"We just moved from a one-bedroom apartment to a two-bedroom apartment thinking that was going to help," Sturba says. "Then we found a little place in Anaheim that has a flex space. So it has a little office up front and then a warehouse in the back."
The couple has also branched out with a subscription service where customers can receive limited-edition, artwork-themed puzzles each month for special events, such as Mother's Day and Halloween. The subscription, which costs $22/month, includes designs that are not available on the website or to the general public.
"The subscription box has taken off pretty well," Sturba notes.
Once the pandemic ends, Sturba expects to start looking for distribution through specialty retail, business-to-business, and brick-and-mortar giants, such as Walmart.
The two are prepared to devote themselves to building MicroPuzzles and are now hiring their first employees.
"We weren't looking to make tons of money, though that would be nice," Duguay says. "We want to build a brand."