One hallmark of project success is adherence to agreed-upon timelines, which is why schedules are plotted during the project planning stage to facilitate project implementation. Making a timeline in Google Docs is free, but it can easily become time consuming because you'll have to do everything manually. There are better and easier ways to create a timeline.
With Gantt charts, for example, you can create an initial timeline, and then make adjustments — e.g., adjust due dates, change the person responsible for a task, add dependencies, etc. — throughout the project's life cycle by dragging and dropping elements to reflect changes. You can also mark important milestones on a Gantt timeline chart. This way, they're easy to spot.
Although you can do all these things with a Google timeline, too, you'll have to manually add every detail you want your timeline to show. Still, if you're interested in trying it out, here's how to make a timeline in Google Docs.
---
1. Open a Google document
If you're new to Google Docs, open a new document by typing drive.google.com in your browser's address bar. Next, if you haven't already, sign in using your Google account. Then, click on the New button, and select "Google Docs" from the menu choices.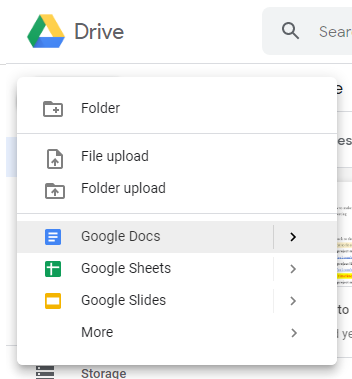 You'll be redirected to a new, untitled Google document. Name the document accordingly. (You can name the document now or later — whichever works for you is fine.)
---
2. Set the page's orientation to landscape
You want as much space as possible for your timeline. Since Google documents are set to portrait (vertical orientation) by default, you'll have to change the page's orientation to landscape (horizontal orientation). Do that by clicking on the File menu on the upper left-hand side of your Google document, then select "Page setup."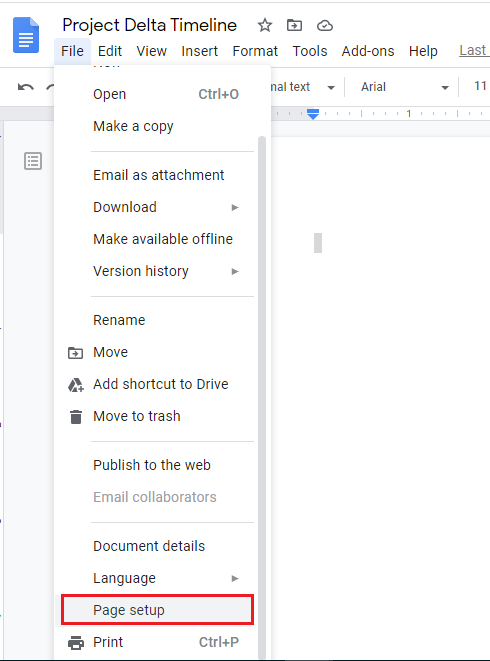 The page setup box will appear. Tick the radio button marked "Landscape," then click on the OK button.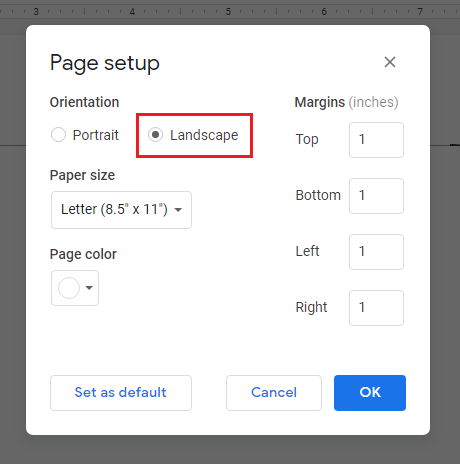 ---
3. Open the drawing tool
We'll be using the Google Docs drawing tool, which is also Google's chart maker, to create a timeline. The built-in tool lets users draw lines, manipulate text and shapes, and add color to an otherwise plain and boring document.
To start, click on the Insert menu on the upper left-hand side of your document. Select the Drawing option, and then click on "+ New" to open a blank canvas, which will appear on top of your document.
Take note that aside from drawing directly into a Google document, you may also use Google Drawings to create a timeline, save it to Google Drive, and then insert it into your Google document once ready.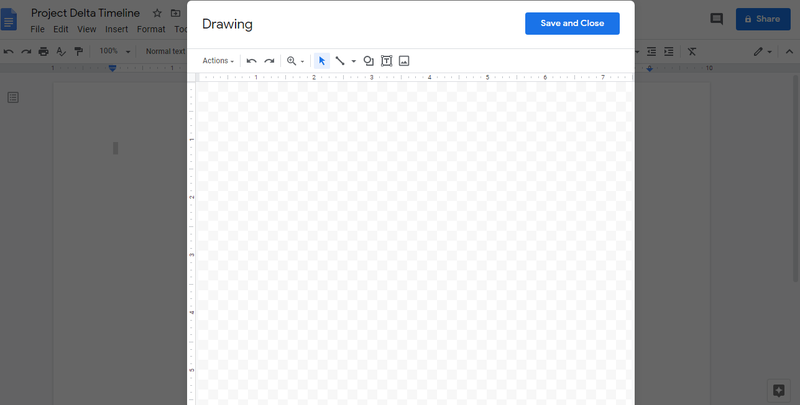 ---
4. Create your timeline
With the drawing canvas ready, we can now start making a timeline.
From the top toolbar of your drawing canvas, click the drop-down button next to the Line tool, then select the Arrow option from the drop-down.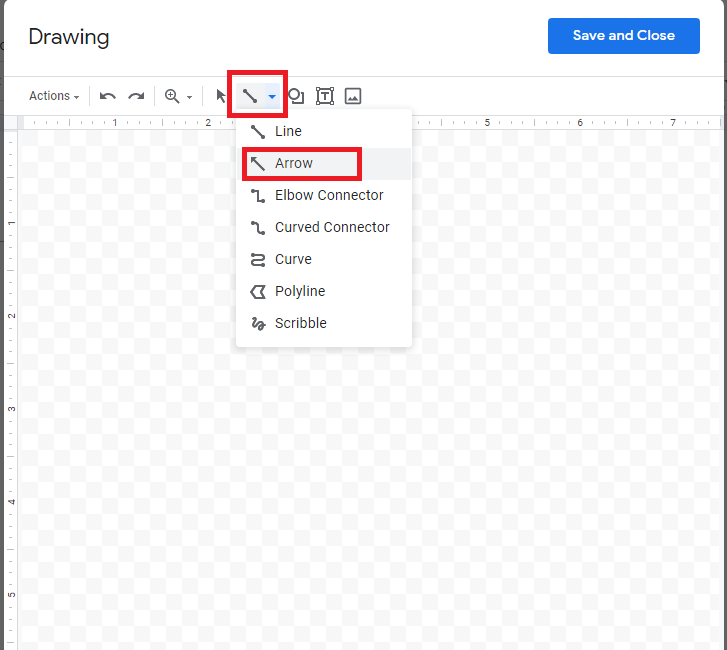 Next, starting at one end of your canvas, click and drag the line horizontally to create your main timeline. You want the line to be nice and straight, so use the grayed-out grid in the background as a guide.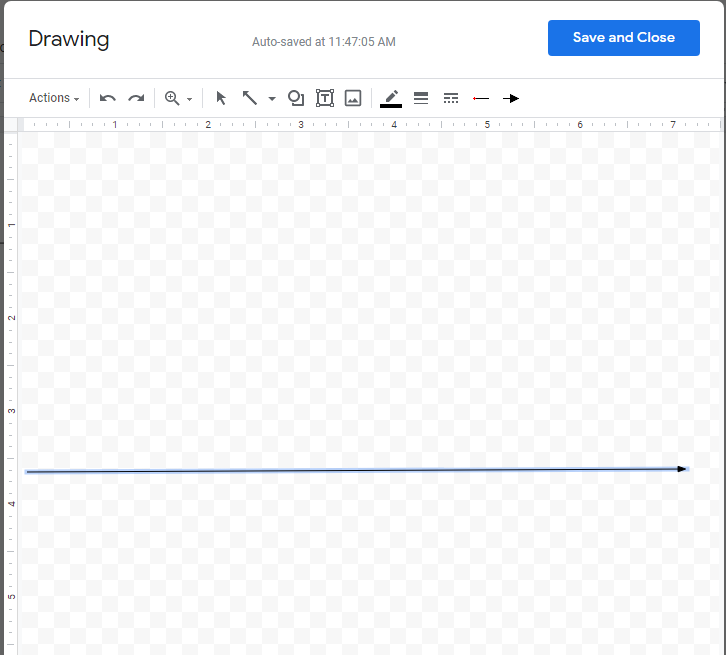 So both ends of your horizontal line have arrows, click on the Line start icon on the toolbar, and then pick an arrow type from the drop-down menu. You may also change the line's thickness by choosing a larger pixel weight from the "Line weight" menu.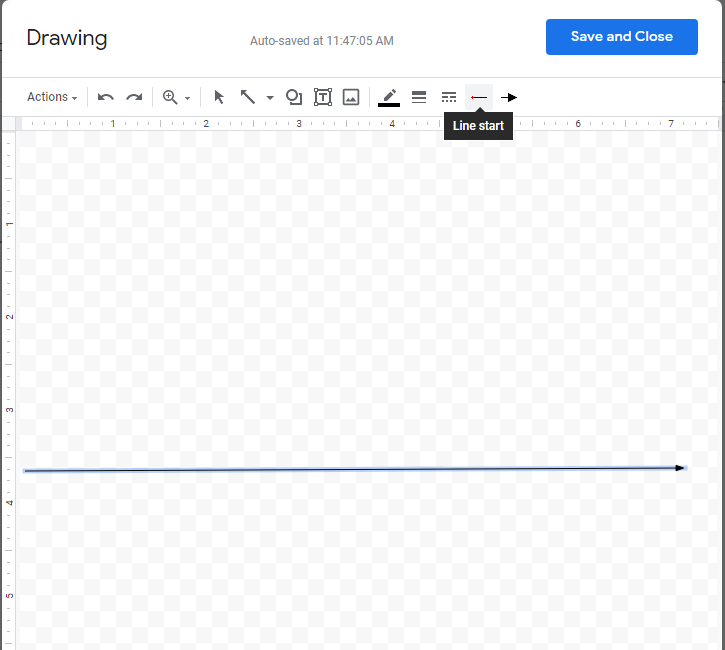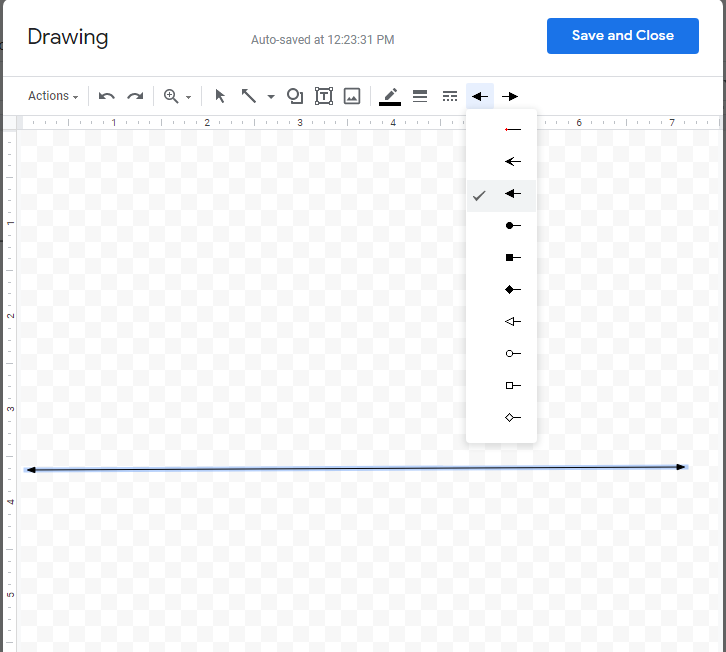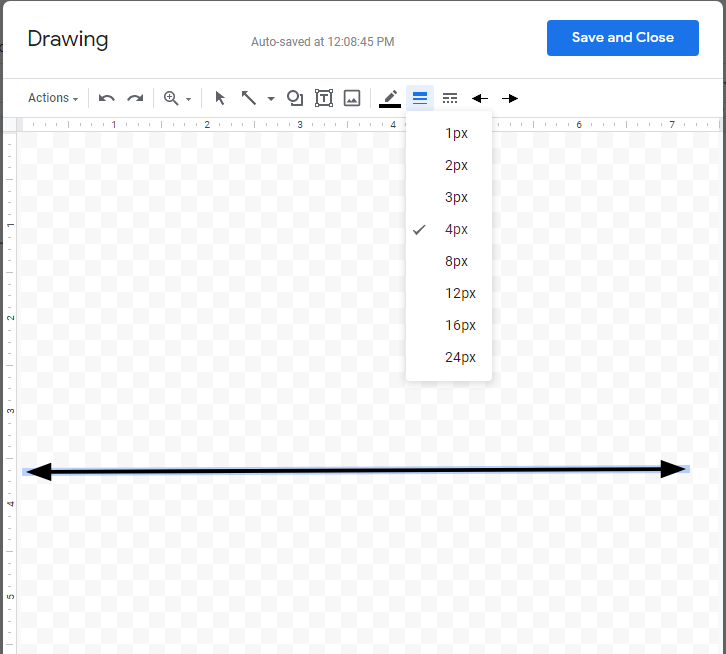 ---
5. Add timeline events or project tasks
Now we're ready to add tasks or events to the project timeline. To do that, from the top toolbar, click on the boxed "T" text box tool, click on an area above or below the horizontal line, then type in a time or an event. Drag a corner or side of the box to resize and reposition the text box as needed.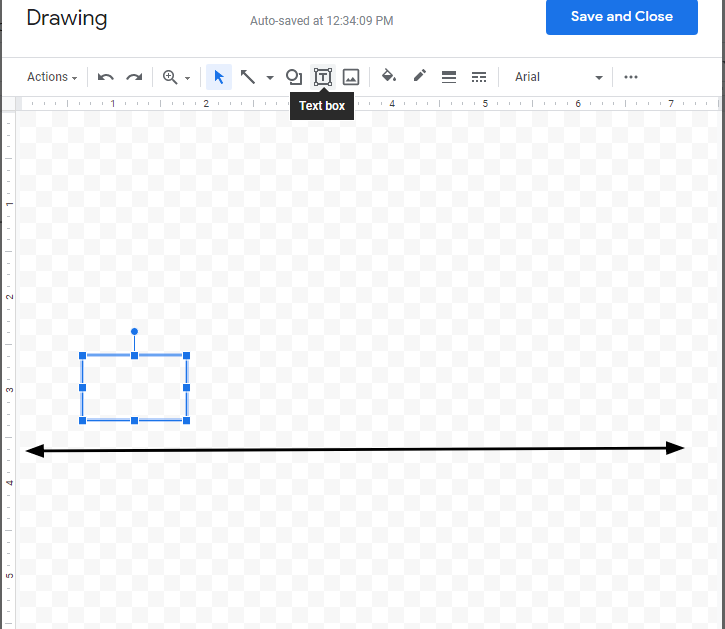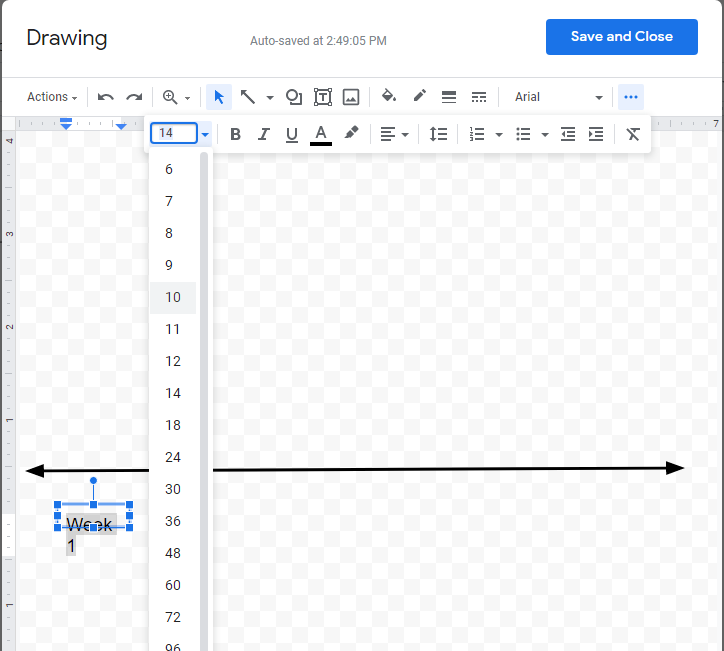 Copy and paste the first text box to duplicate the styling and format. Then edit the text as necessary. When you're done, your timeline may look something like this: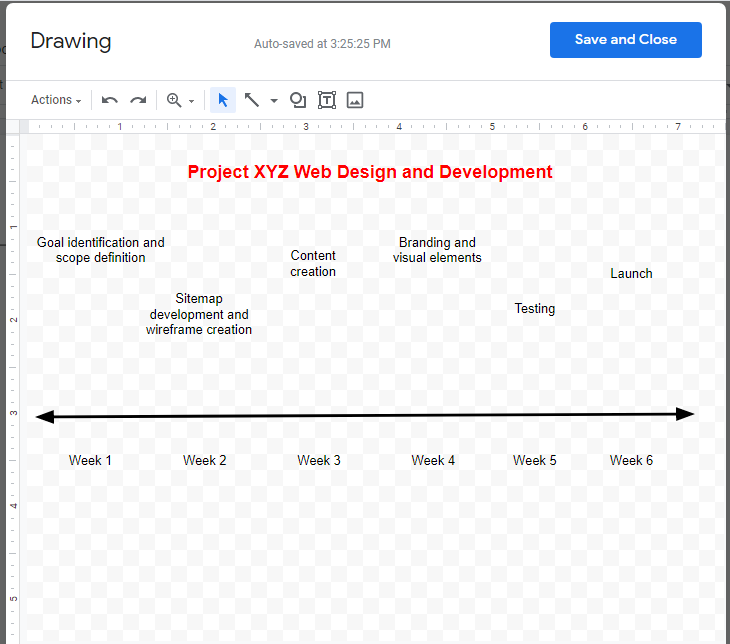 Now, connect the project tasks or events to their respective time points with vertical lines. To do that, go back to the Line tool in the toolbar (see the first image in Step 4), then select "Line" from the choices.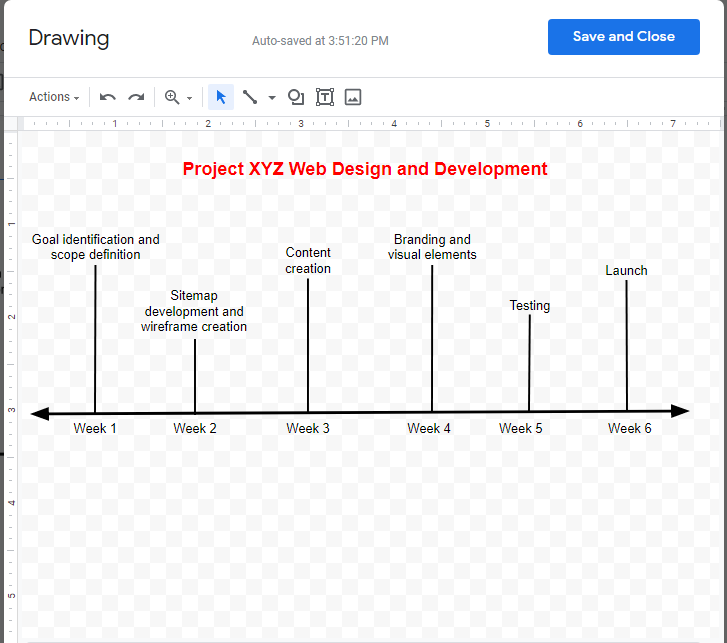 ---
6. Add images (optional)
You may add images to your timeline to spruce things up a bit. From the Image tool in the toolbar, insert an image by:
Pasting an image URL
Uploading an image from your computer
Selecting an image from your albums or Google Drive
Performing a Google search
Once inserted, resize the image and position it as appropriate.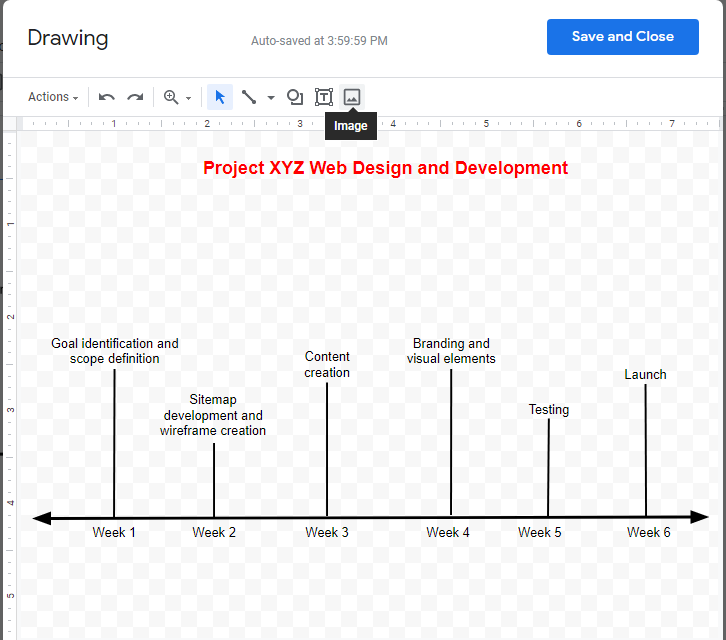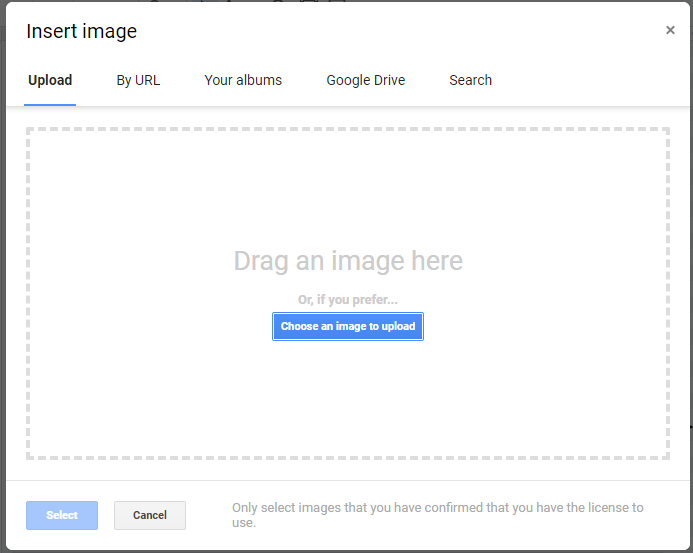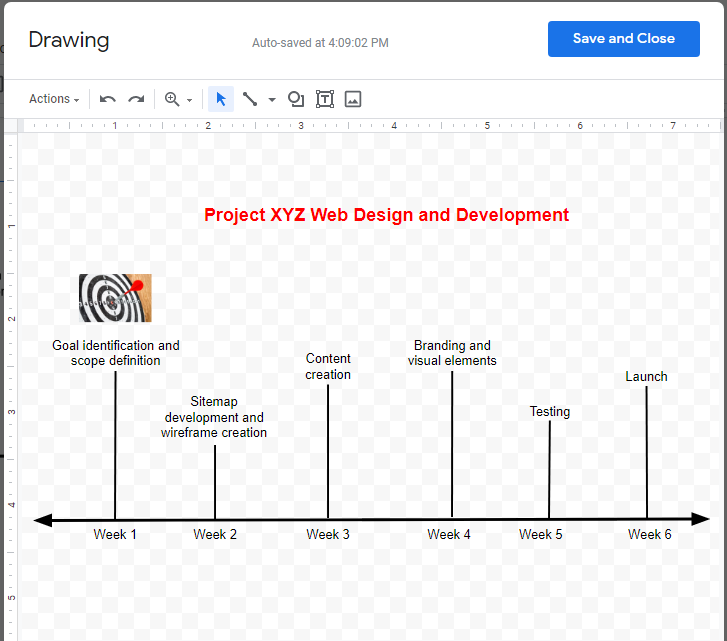 ---
7. Save your timeline
When you're done, click on the blue "Save and Close" button on the top right to add the timeline to your Google document. If you need to go back to the drawing canvas to make changes, simply double-click on the timeline.
If you're worried that your timeline or any of the elements in it isn't properly aligned, enable the horizontal and vertical guides from the Actions tool in the top toolbar.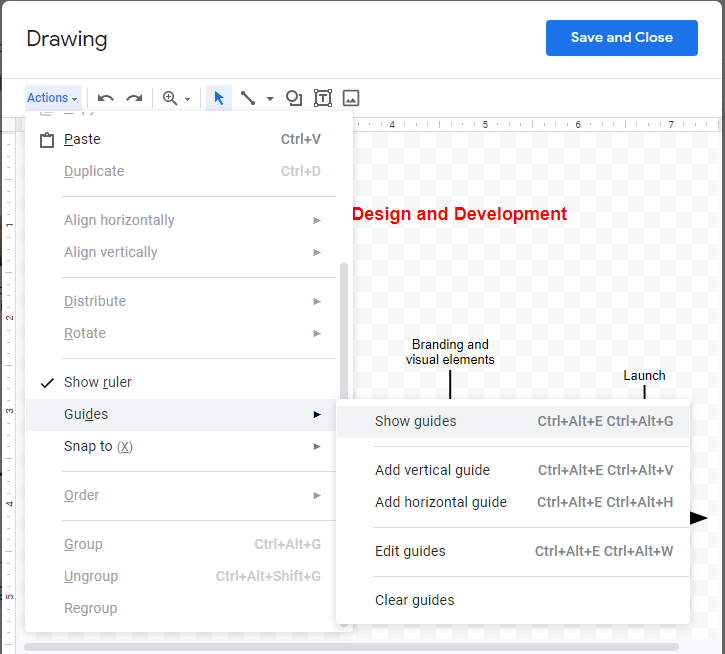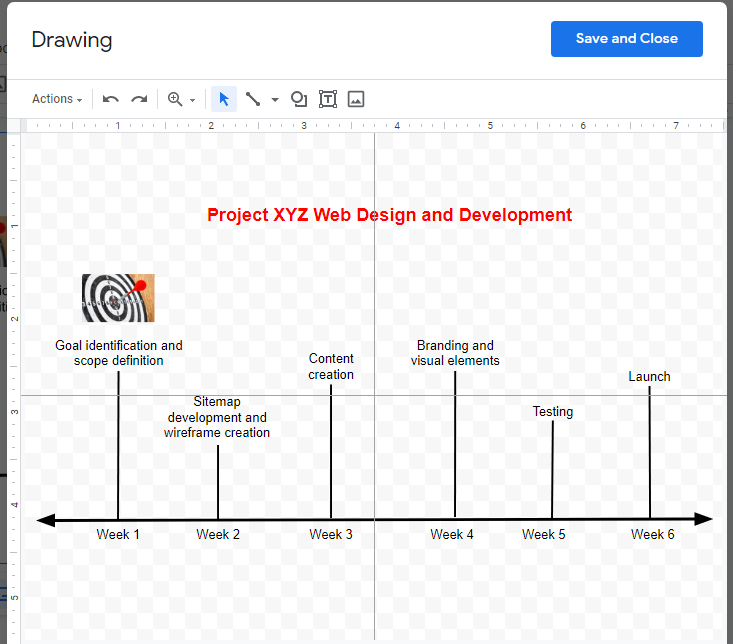 ---
Staying on top of your project's schedule
Using Google Docs to create a timeline so your team and relevant stakeholders can better visualize the project schedule is an option project managers can definitely explore. However, as we mentioned in the beginning, it's a time-consuming process, even when you have ready-made templates on standby.
Plus, when projects go live, scheduling changes usually happen, which means you'll have to manually update your timeline to mirror what's happening on the ground.
No matter the approach, methodology, or framework you're using to tackle projects — whether you're using waterfall, agile, or project cycle management — a better and more efficient way to keep projects on schedule is by using project management software with built-in Gantt charts, such as TeamGantt, Smartsheet, and Wrike. Drawing and timeline tools such as Visme, Venngage, and SmartDraw for structuring the different phases of your project are also worth checking out.