Small businesses have limited time, money, and resources. But that doesn't mean that they can't be mighty marketers. Here are eight great marketing strategies that will help you market your small business so you can increase your revenue, grow, scale, and ultimately reap the rewards of a thriving business.
---
1. Fuel word-of-mouth marketing
The old school and most basic form of marketing is still an effective way to market a business. It begins with a satisfied customer who is ready to tell anyone and everyone about their great experience.
When a friend asks for a recommendation, the happy customer raves about your business. Following the recommendation, the friend gives your business a try, and now you have a new customer, brought to you by word-of-mouth marketing.
And believe it or not, this basic method has even more reach in 2020 as friends and neighbors connect via social media and Facebook groups, often exchanging insights about the best products and services to use.
The real beauty of word-of-mouth marketing is that this method can be low to no cost to the business owner if the product or service speaks for itself. In the world of ever-changing technology, business owners can offer prompts and motivation to encourage satisfied customers to spread the word.
Programs that include monetary incentives, free products or services, coupon codes, and other perks for referrals add layers to word-of-mouth marketing and can increase its efficacy. However, keep in mind that perks walk a fine line. If you decide to fuel conversations about your business with offers or extras, you may dilute the message's authenticity, and your potential customers may see right through it.
Word-of-mouth marketing works best for businesses that leave a lasting impression, such as excellent customer service, an incredible product, great value for the price, or a fantastic all-around experience. But business owners beware — it also affects businesses that leave a negative lasting impression and can prove detrimental as word gets around.
Overall, it is best to get a handle on the current conversations around your business or services. Then, weigh the investment, approach, and outcomes to decide how you want to influence a word-of-mouth marketing campaign and what may work best for you.
---
2. Engage through social media marketing
Another cost-effective digital marketing tool for small businesses is organic social media, which includes updates, images, videos, and other content posted from your business accounts.
When social media entered the marketing scene in the early 2000s, it leveled the playing field by allowing smaller businesses to expand their online presence and compete with the big players.
This is because every business — big or small — gets the same amount of real estate on a profile page to make an impression. Social media success variables lie in the content published and, of course, paid social advertising to complement the organic efforts.
As a whole, social media marketing includes all social platforms such as Facebook, Instagram, TikTok, LinkedIn, etc. The biggest mistake small business owners tend to make when using social media is trying to be on every platform all at once and posting the same messages and content across those channels. However, this "spray and pray" method is a waste of time and effort, and there is a much better way to do it.
The smarter, more effective approach is to determine which social media outlets will reach your audience and create content that works well on that specific platform. For example, everyone loves watching products and services in action, so give them what they want.
Grab a smartphone
Make some short videos (10-30 seconds)
Post your videos on Instagram
Also, consider venturing over to TikTok if you have rhythm and can provide entertainment in the form of arm dances. However, if TikTok isn't your style or the audience isn't your focus, stick to Instagram and Facebook. Use the channels your customers frequent and create great, relevant, brand-reflective visual content that resonates and connects you with the right people.
Posting content on your profiles that reflect your business, brand, and values becomes a representation (and often a first impression) of your business through images, copy, and tone. This is a great way to share real-time information and give your business a voice and share its personality with existing and potential customers.
The moral of the social media story is that less can be more, but it must always be relevant. (Think back to that good old Oreo cookie tweet during the 2013 Super Bowl power outage). If you want to dig deeper or need some guidance organizing your approach, check out this social media guide for small businesses.
---
3. Use email marketing and drip campaigns
While there seems to be a common misconception that email marketing is dead, take a peek at your inbox, and you will quickly realize that it is very much alive. However, the old way of sending emails no longer works. The evolution of email marketing is a more sophisticated approach that involves targeted messaging and audience segmentation for optimal performance (e.g., open rates and click-throughs).
Email marketing is a bit more complicated than just writing up a message and sending it. Most businesses with an email database use a dedicated platform such as MailChimp or Constant Contact to distribute email messages to their audience. As mentioned, the email recipients are likely segmented into groups based on specific preferences selected during the email sign-up process.
For example, if you have an email sign-up form on your website, you may ask individuals to subscribe to specific lists such as promotions, newsletters, or updates. Based on the user's preferences, you can add their contact information to specific lists and only serve them up relevant information based on what they want to consume.
There are also email drip campaigns. These are lead-generating campaigns that send carefully crafted email messages to individuals based on specific actions and within a predetermined cadence.
For example, have you ever shopped online and added something to your cart but then decided you weren't ready to purchase? About an hour later, it is likely that you received an email asking if you "forgot something," and the email shows the exact item you placed into your cart but never purchased.
This is an example of a targeted email campaign and it is specific to users who abandoned their cart before purchase. The flow demonstrates how to use personalized and relevant email communication to boost conversions and drive revenue.
As a small business, you want to offer relevancy using a targeted, segmented email database that will keep you connected to your audience. However, you also want to be sure you are executing your campaigns with thought to ensure you are effective and not a pain in the inbox. Check out some helpful email marketing tips for small businesses to create effective email campaigns.
---
4. Create a great content marketing plan
Content marketing focuses on creating and distributing valuable, relevant content that attracts, retains, and converts a clearly defined target audience. This approach is very strategic and eliminates the use of irrelevant content just for the "sake of posting something," meaning every piece of content produced and distributed has a focus, goal, and purpose.
An example of generating leads is using a webinar to engage your target audience and offer value before asking them to invest in your product or service. Consider a commercial HVAC company in NYC that launches a webinar titled, "How to Create a COVID-Safe Commercial Space to Keep Doing Business Safely." This webinar could prove to be a great lead generator because it meets the following criteria:
The webinar offers value right away. No matter what, a participant who joins this webinar will definitely learn something about creating a safe environment from real-life HVAC experts who know their stuff.
The HVAC company is targeting its audience. If they seek commercial builders or property managers, they hit the nail on the head by tackling a current, relevant challenge that requires education.
The information will help the company qualify leads. Because the webinar topic is very likely news the audience can use right now, their participation shows their interest in seeking professional advice. This gives the HVAC company a chance to be consultative in their approach and ultimately offer their services.
The webinar scenario is simply one approach to content marketing. Content spans across your business and all marketing channels; you will absolutely need a solid marketing strategy. The strategy will help you review all content to ensure consistency and cohesiveness, so your approach works in tandem to create a multichannel customer experience.
---
5. Plan and launch events
Events come in all shapes and sizes (and right now, most are digital). Big, small, in-person, or digital, events are attainable for small businesses and can be a direct source of engagement, collaborations, and connections, and ultimately a way to expand your footprint.
Another powerful thing about events is that they can be simple. An online happy-hour event hosted by a retailer can showcase products and encourage a group shopping experience and engaging conversation.
More complex events can include balls or galas, often benefiting nonprofits or other causes. These events take a lot more time planning, organizing, and executing. However, they can help your business shine and make a lasting impression. Regardless of the event format or size, at the core, it is a great way to create awareness for your business and reinforce your founding values and commitment to your customers, community, or causes.
To get started with events, consider what truly matters to your business. Ask these questions:
What is unique about what you do or how you do it?
How can you share a fun, unique, engaging experience with others and support your business's core values?
What would be valuable for your business and for your customers?
Brainstorm some ideas, determine your budget and scope, and then work with partners or professionals that can bring your vision to life.
---
6. Give paid advertising a shot
Another set of marketing techniques is under the paid advertising umbrella. While this may seem a bit daunting for small business owners who do not know a lot about advertising approaches and budgets, learning how to advertise your business may be easier than you think. The key is to start small.
Approaching a paid marketing strategy requires a set budget (which is likely a percentage of your total marketing budget, which may fall at about 10-20% of your total revenue) and a realistic goal. This means that when you launch a paid advertising campaign, you want to be sure that what you expect to happen as a result is possible.
An example of a popular paid advertising approach is search engine marketing and using Google Ads. Google Ads can be activated using a pay-per-click (PPC) technique or pay-per-impression (CPM). Either method allows you to create a campaign with parameters that will target your specific audience.
In short, to use Google Ads, you create ad copy, bid on search terms (there is a whole science to this that you can explore), and then set a budget and pay for clicks or impressions.
The goal is to capture your audience when they are searching for specific keywords or phrases that pertain to what you have to offer. The science lies in finding out which search terms will work. And the art is creating compelling copy that motivates the user to take action.
There are also traditional advertising options that still exist and can generate positive results. Consider purchasing ad space within a media outlet (print or online) that shares your audience. Or you can create paid social media ads that can help you remarket to visitors who were on your site but left without taking action.
If you want to consider paid advertising, evaluate your budget, review some of the available advertising outlets, and work to align a paid campaign with an organic campaign to get the biggest bang for your buck.
---
7. Optimize your Google My Business profile
With Google being the chosen search engine of most and serving up results for an estimated 3.5 billion searches per day, you had better believe that an optimized Google My Business profile has an impact.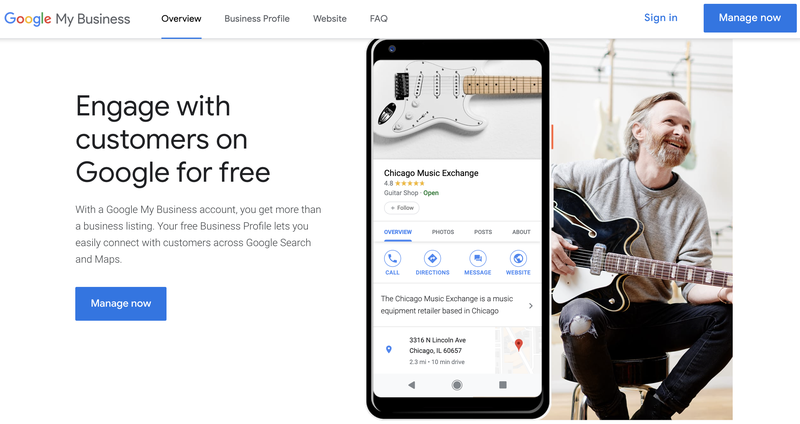 When a user searches for a product or service, Google serves up results that match the query. Suppose your small business is a local storefront, restaurant, fitness studio, or any other business with a location.
In that case, Google offers results based on the information provided on Google's business profiles. Therefore, an optimized profile will increase your business's chances of showing up in the keyword-related search to someone with an IP address near your physical location.
As a bonus, Google responded to the pandemic by making updates to business profiles. The goal was to offer free (that's right, free) tools for small businesses that may be struggling. The profile upgrade provides more ways for owners to share information about their business, promote events, specials, or discounts, and easy to find ways to contact a business, make a donation, or buy a gift card directly from the business profile.
Again, all of the Google My Business resources are entirely free. All you have to do is claim your business profile and start adding content. Set a reminder to update your profile once a month (or more frequently, if possible) with current promotions, events, and images that will get your business noticed.
---
8. Leverage your network
One thing many small business owners forget about is their network. Sometimes, hitting up your network of friends, family, and supporters and asking for referrals, testimonials, or to share your promotions will immediately give you a boost.
Using your network is tied closely to the first strategy mentioned here (word-of-mouth marketing) but really focuses on defining a specific ask and then reaching out to your inner circle to get what you need. It is a proven fact that those who appreciate you and your business want to support you.
An example is a friend or family member who launches a new product line for their small business. While they assume their friends and family members saw their personal Facebook posts and already know all about their business, they fail to open up a dialogue about what is going on and how their network can help.
However, when the business owner sends out an email asking their friends and family to share a link to their new product line, their newsfeed immediately blows up with shares, comments, and likes. They start to get attention from a new audience that expresses interest in the business. This is how you can leverage your network, but you must ask for what you want.
---
Become a mighty marketer
Marketing your business is a series of strategies that you refine through trial and error. You don't know what works until you try it. And you don't know what doesn't work until you try it. Therefore, exploring various marketing ideas and organizing them into a marketing strategy will help you determine the best approach. If you feel stuck or need to keep exploring some ideas, check out these small business tips.
One last but essential thing to know about marketing is that you don't have to do everything all at once, and it doesn't have to be perfect. However, you have to do something to learn and to get results.