Whether you own a growing business or are self-employed, accounting software such as QuickBooks Online can help you better manage your finances by offering a simpler way to reconcile your bank and credit card accounts. Even small business accountants appreciate the automated reconciliation feature in QuickBooks Online that can have your accounts reconciled in minutes, not hours.
We'll provide you with a quick reconciliation tutorial, highlight the steps necessary to use this handy feature, and give you a heads-up on what to look out for when using the reconciliation feature.
---
Overview: What is bank reconciliation?
Bank account reconciliation is used to ensure that your general ledger balance and your bank balance match. This is done by noting discrepancies between the two accounts, finding the missing information, and making any additions or corrections in your general ledger.
For example, if your bank regularly charges you a service fee each month, it will not be posted into your general ledger, leaving you with an inaccurate balance. Assuming there are no other outstanding transactions that need to be posted, once you record the bank service fee in your general ledger, your bank balance and general ledger balance should match.
---
What to consider before you reconcile using QuickBooks Online
While connecting your bank account directly to an accounting software application such as QuickBooks Online makes it easier to track and match transactions, you still need to complete the reconciliation process.
You may need to take into consideration when reconciling your accounts whether you've connected your bank accounts to the application or you're just uploading your transactions electronically at month-end. Here are a few other things you may want to consider when using QuickBooks Online.
1. Your bank statement and your general ledger rarely match
While it reduces the amount of time you need to expend working on reconciling your accounts, the odds of your bank statement and your general ledger matching immediately is pretty slim. It's not that there aren't advantages to connecting your bank account to your software, but it doesn't do all the work for you. The only time the two will likely match is if there's no activity on the account.
2. Keep track of outstanding checks
If you pay your vendors or your employees with a check, you'll need to keep track of those checks. Most importantly, you'll need to know how much in outstanding checks you have at the end of the month.
For example, if you pay your vendors with a check run on the last business day of the month, none of those checks will have cleared the bank by the time you're ready to reconcile your account. While outstanding checks don't require an additional journal entry, since they're already recorded, you will want to subtract them from your ending bank balance to reconcile the balance with your general ledger.
3. Always look for mistakes
It's easy to assume that large financial institutions don't make mistakes, but they do. A few years back, I had checks belonging to someone else clearing in my account for three months in a row. If I hadn't looked at the checks that were clearing to match them with my transactions, chances are I never would have spotted them.
This is particularly true if you're having difficulty reconciling the two balances. Always look to see if something cleared your account that just doesn't belong there.
---
How to do a reconciliation with QuickBooks Online
QuickBooks Online makes it much easier to reconcile your bank accounts, and it can reconcile credit card accounts as well. Keep in mind that while the application does a good job of automatically matching transactions between your general ledger and your bank account, you'll still have to do some work, particularly if a high number of transactions are processed through your account.
To get started reconciling your accounts, just follow this easy three-step process.
1. Choose the account you wish to reconcile
In QuickBooks Online, you can choose to reconcile any of your connected accounts, as well as bank accounts that are not connected. If you want to reconcile your checking account, you would just choose checking from the drop-down menu. You can also reconcile various asset and liability accounts using the reconciliation feature.
Always make sure that your beginning balance in QuickBooks Online matches your beginning balance on your statement. If you didn't do a reconciliation for the previous month, these balances may not match. Once you're certain they do, you can enter the ending balance that's on your bank statement as well as the statement ending date.
2. Begin reconciling the account
If you have connected your bank accounts with QuickBooks Online, it's important that all of your downloaded transactions have been matched with recorded expenses. These transactions will also need to be categorized before continuing with the reconciliation process.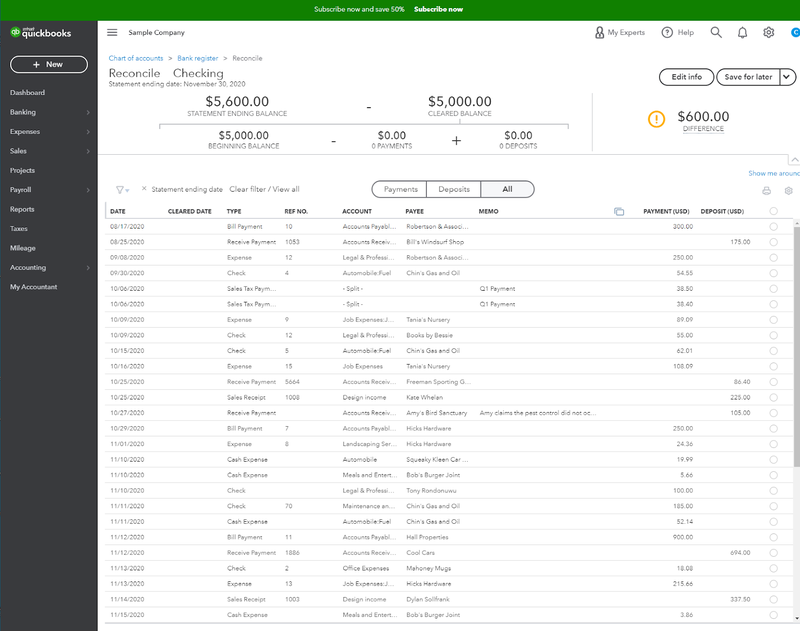 Once this is completed, any difference between the two balances will be highlighted on the reconciliation page. If you have very limited transactions for the month, your QuickBooks Online and bank statement balances may match, which is rare but would indicate that further reconciliation is not needed.
3. Compare statement totals with QuickBooks Online totals
The last part of the reconciliation process is to compare statement totals with QuickBooks Online totals. Once an expense on your statement can be matched with a recorded expense, you can click on the circle next to the amount to match the two amounts.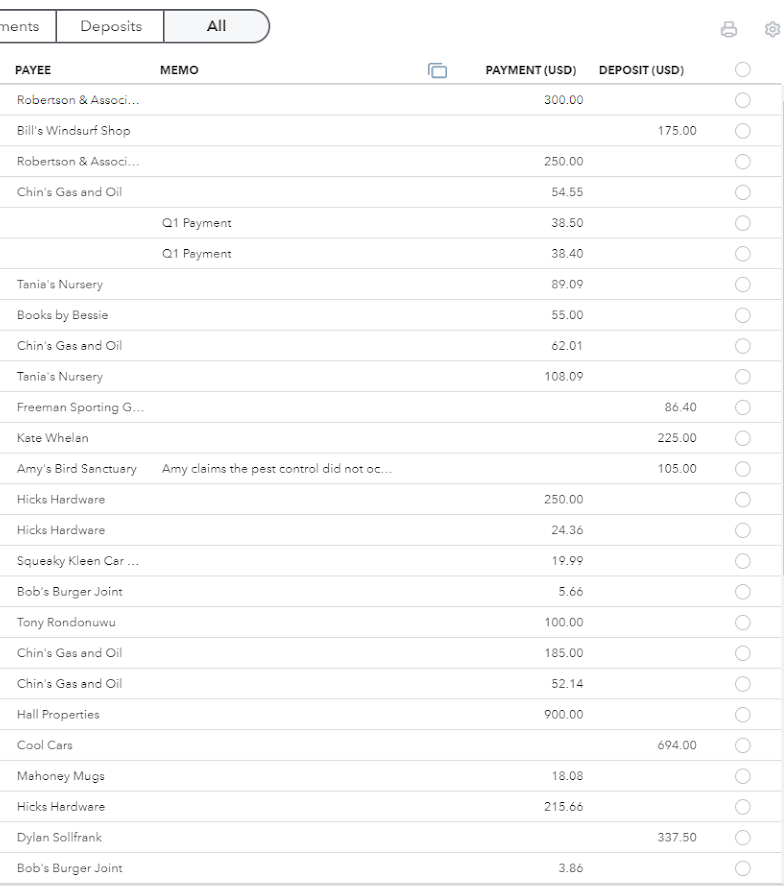 You should continue this process until all transactions have been accounted for by following the same process whether your bank accounts are connected or you've entered transactions manually.
Be sure to note any transactions that appear in QuickBooks but are not on your statement, as well as any transactions on your bank statement that do not appear in QuickBooks. These reconciliation discrepancies should make up the difference between the two.
For example, if your statement displays a bank fee or other charge, it's likely the charge has not been recorded. You can run into the same issue if you use your charge card to pay a bill but forgot to record it in QuickBooks Online.
If that's the case, all you need to do is record transactions in QuickBooks Online using the Expense screen above. Recording the expense will work to reduce the difference between your bank statement and your QuickBooks Online balance, providing you with your reconciled balance. The same process would need to be completed for deposits made but not recorded in the general ledger by posting them in the Receipts feature.
---
Reconciling accounts is easier using QuickBooks Online
If you dread reconciling your bank accounts, using the reconciliation feature in QuickBooks Online will make the task a lot easier. As a bonus, you can also use the reconciliation process to manage your chart of accounts activity, so you can be confident that your account totals are accurate, which means that your financial statements are accurate as well.
If you're a QuickBooks Online user, stop spending hours reconciling your accounts and start using this time-saving feature today.