I once received an email with the opener "Hi Kevin."
I'm sure you can guess what I did with that message. But that's not the worst.
There was the "Hey Buddy" email (from someone I'd never heard of), the "Dear Sir/Madam" opener and the "Happy Friday" greeting (I read the email on a Monday).
Whether you're sending a cold sales email, checking in on a new client, trying to promote your business, or reaching out to a contact about starting a partnership, the greeting and opening sentence are crucial if you want to engage the recipient and achieve your goals.
At a glance: How to properly start your email
Choose your email opening to match your goal and your audience.
Be concise, keep it short, and get to the point quickly so you don't waste anyone's time.
Outline what you can do for your contact first before jumping into explaining who you are.
If you use email marketing software, you can automate manual processes, ensuring you send appropriate emails with relevant content.
---
What to consider before beginning your email
Before we get to the important topic of what to say in your email (and how to say it), let's take a step back.
Your time is valuable, as is that of your customers, partners, and business contacts, so you need to first decide whether email is the best channel and then get clear on who you're writing to and the goal of your email.
1. Is email the best channel?
Nearly 105 billion emails are sent each day, and this number is expected to reach 246 billion before 2020. It's easy for an email to get lost in the deluge of electronic communication pinging around every day, so consider whether you should use a different channel before clicking send.
Would picking up the phone be more effective? Could you send a LinkedIn or Facebook message?
Would a face-to-face visit be more appropriate — either at their offices or at a trade show or other event?
You could even take an omni-channel marketing approach and start with one of these tactics before following up with an email. Or ask your customers and contacts how they would prefer to hear from you first.
2. Who is your target audience?
The tone and content of your email will vary depending on who you are emailing and how well you know them. While I cringed when I got an email that opened with "Hey Buddy" from someone I didn't know, the same opening might have been appropriate from someone who I regarded as a friend.
If you're emailing someone who is already familiar with your business, you don't need to explain what you do and can get straight to the point.
But if it's a cold email, you need some explanation and a way to engage the recipient straight away.
3. What's your goal?
Make sure you have a clear goal before you start writing an email. If the reason you're sending an email isn't immediately clear to the recipient, then they'll delete it. Don't waste anyone's time.
The goal of the email will also dictate how you address the recipient, as well as the content and structure. Writing an email to discuss a potential partnership requires a different approach than emailing to try to make a sale.
---
Ways to start an email
Getting someone to open to an email is hard enough; getting them to read and respond is a whole different ball game.
That's why you need to tailor your email intro based on your target audience and overall goal. Check out the examples below for information on how to communicate with different audiences in the right way.
Email openers for professional contacts
Try to find a genuine way of connecting with professional contacts that shows you have a reason for emailing and that you have put thought into your email.
This could be an event you've attended, an article they shared that has interested you, or even a compliment on something they have done or said.
Here are some great opening examples for professional contacts:
It was great to see/meet you at [event]
Congratulations on [recent accomplishment]
I know you're an expert in [topic]
I found your comment on [topic] in [group or forum] interesting
[Mutual friend or business contact] recommended that I get in touch with you about [project]
Email opener for semi-formal business contacts
If you already know your contact, you can use more creative, informal openings based on what you know about them.
This could be events they have attended, articles they have shared, or casual greetings. Here are some ways you can reach out to semi-formal business contacts:
I hope you enjoyed your [vacation/weekend/other event]
I enjoyed reading your article on [article name]
I'd like to get your advice on [topic]
I hope you're having a great [day/week]
Email opener for potential clients and cold emails
Many people open their emails to people they don't know with "I hope you are well," but we recommend avoiding this superfluous greeting and get straight to the point.
Explain what you can offer the person you are emailing and how you can do that straight away. Here are ways you can start cold emails:
I can help companies like yours by ...
I recently helped a company in the same industry as you [achievement]
I'm reaching out about ...
Did you know [relevant statistics relating to their business]
I noticed your company recently …
I heard the news about your company [news] and wanted to explain how I can help.
Would you like to know how your business could [achievement]?
Email opener for follow-up emails
If you've previously connected with someone — whether that was in person, on the phone, or via email — then make sure you lead with that information, so they know you are emailing for a reason.
Here are examples of how you can start follow-up emails: 
As promised, I'm emailing to ...
As we discussed on our call …
I'm emailing to follow up on …
Following our discussion about [topic], I'm getting in touch to ...
---
Tips for starting an email that gets you a response
You've got your recipient's attention with an engaging opening, but now you want to drive them to take action, whether that be by responding to your email, signing up for an event, or visiting your website.
Here's what you need to do to make sure your email gets you a response.
1. Write a catchy and appropriate subject line
With 35% of people opening emails based solely on the subject line, you need to put time and effort into this task.
While writing a catchy and engaging subject line is key, make sure it's appropriate for the context of the email. Be interesting, but don't be too informal if you've never met the person before, and make sure the subject line is relevant.
Email marketing software ActiveCampaign does a good job by putting the hefty benefits you can expect from its software right in the subject line. 

2. Get to the point quickly
We're all pushed for time, so make sure the body copy is as concise as possible. Many people will just skim an email to decide if it's relevant, so you need to make your goal clear straight away. Use plain and simple language so they know what they need to do if they want to further engage with you.
This email from shipping integration software Zenkraft is a great example. It's short with a bulleted list so it's easy to skim. And it includes an obvious CTA button at the bottom.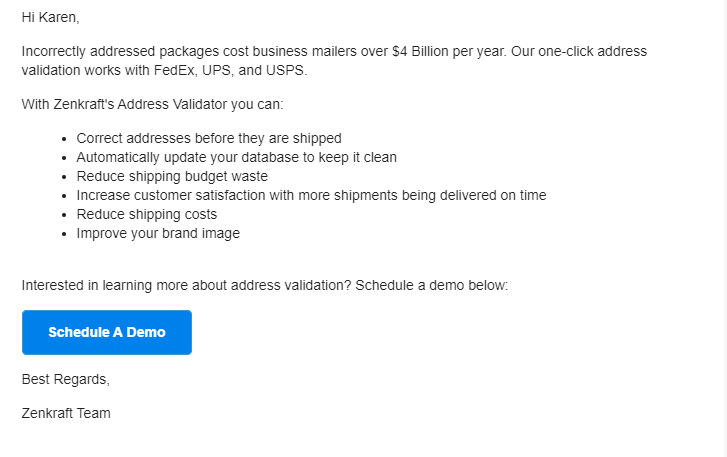 Also, remember to sign off with your contact details so they know who you are.
3. Explain the benefits first
If you want to attract someone's attention, and fast, you need to explain what you can do for them. Lead with the benefits of what you're offering and then explain how you can help them achieve that better than anyone else afterwards.
Online advertising company Wordstream leads with the benefits — improving your Google Ads performance — before explaining how the company can help you achieve that.

4. Add a call-to-action
What's the point of your email? What are you trying to achieve? If you don't include a call-to-action (CTA) then your recipients won't know, and they certainly won't spend the time trying to find out. Make them specific, rather than vague, So, instead of "get in touch", explain how to get in touch. "Give us a call" would be better.
The CTA doesn't have to be right at the bottom of the email, especially as there is no guarantee a recipient will make it that far. Add one where it feels natural, and consider using several throughout the email to reflect the different stages of the sales funnel.
5. Use email marketing software
Using a professional email format will improve how you communicate with customers, colleagues, and prospects. The easiest way to eradicate mistakes, such as spelling someone's name wrong or including an inappropriate greeting, is to create templates for each purpose and then reuse them.
Email marketing software comes with pre-built templates for a variety of different purposes and audiences. These solutions can also provide personalized automated follow-up emails at set intervals to reduce the time it takes to send a reply and to ensure you're always responding appropriately and promptly.
Some of our favorites include Aweber, Mailchimp, and MailerLite.
---
Considering the full message
All good things must come to an end, and that includes emails. Understanding how to start an email is key, but so is knowing how to end an email.
And then all you have to do is make sure you're sending your email to the right people at the right time while tracking who has responded and thinking about what your next step can be.
Easy, right?
Maybe that sounds a little daunting. Email marketing software can help with all of that, and more. Check out a few of our favorite email softwares, like Mailchimp, SendPulse, and MailerLite, to find out which one is right for your business.