While this topic is relevant every day of our lives, the importance of staying focused is becoming a worldwide discussion as millions of people are forced to work from home in order to halt the spread of COVID-19.
Many people, myself included, already have lots of experience working from home, but for most of the workforce, this is probably a very new experience.
That's why I want to impart some lessons from my experience managing my own schedule, tasks, and productivity in order to help you remain focused at work. Considering the circumstances, you could consider this a list of tips for working at home, but these strategies are just as applicable to the office as well.
I'm not going to tell you when to work or how to work since those preferences are unique to all of us. Take me, for example: I'm writing this at 1:41 in the morning because that is usually when I am most productive as far as writing is concerned.
A little unorthodox, right? Instead, these tips and strategies will help you enhance your work performance no matter the time of day or style that you prefer.
7 tips to focus on work easily while distractions are happening around you:
Get organized
Drink plenty of water
Create a daily to-do list
Listen to music
Hide the distractions
Set deadlines for yourself
Don't forget to take breaks
---
1. Get organized
The perfect way to destroy your focus is by operating in a disorganized space. Disorganization does nothing but create dozens of little tasks for you to work through every time you need to find something to complete your work.
If you're dealing with a disorganized workspace, even the most miniscule tasks, such as stapling papers together, can turn into an five-minute quest to find the stapler, locate the lost box of staples, and finally complete this task that should've only taken five seconds.
Tips for getting organized:
Organization is more than just "cleaning things up." Here are two key tips for helping you organize your work life.
Use color coding: This is one of my favorite organization techniques. Color coding your materials, such as notes, document folders, and drawers will help you store and locate everything you need as quickly as possible.
Establish set locations for certain materials: Everything from pens to computer files should have its own designated area in order to avoid clutter.

Research has shown

that clutter leads to stress and anxiety, which is just another factor that'll wreak havoc on your focus.
---
2. Drink plenty of water
It seems as though hydrating is the solution to a lot of our problems. Dehydration can cause headaches, make you feel hungry when you're not, and even hurt your ability to focus at work.
Yes, I know — water is extremely boring. It's the liquid equivalent of watching C-SPAN at the DMV, but it's one of the key things your body needs to function properly throughout the day, including to improve concentration.
Tips for incentivizing yourself to drink water:
I can hear what you're thinking: Tips for drinking water? However, considering the fact that the majority of Americans are "chronically dehydrated," it seems like these tips are exactly what everyone needs.
Get your own water bottle: This functions as both a tip and an environmentally friendly suggestion. I prefer to use a water bottle with a measurement level on the side so I can keep track of how much water I drink during the day. Hold yourself accountable!
Try flavored or carbonated water: I'm not the biggest fan of plain water so I always look for ways to hydrate in style. I'm either drinking water with lemon juice or drinking carbonated water in order to hide the bland taste of plain H2O.
Drink … (wait for it) ... water!: There aren't many magical tips for drinking water. At a certain point, you have to just make the decision to drink more water.
---
3. Create a daily to-do list
This was one of the magic bullet solutions I adopted for maintaining my focus and productivity. Creating a list I can reference back to whenever I forget what needs to be done gives me the motivation I need to buckle down and finish whatever I am working on that day.
Once you've created a hierarchy of tasks using a prioritization matrix or whatever other method you prefer, it's crucial that you create your to-do list in order to keep track of your daily progress.
Tips for creating a daily to-do list:
Here are a couple tips for helping you prioritize and structure your day so you can focus on getting the work done rather than stressing over your organization.
Keep your tasks realistic and manageable: I never schedule two large writing assignments in one day because I know that just isn't realistic. Setting attainable goals will help motivate and focus your work due to the abundance of progress you'll witness each day. Checking off tasks on a list is actually very cathartic.
Keep your list where you'll have it readily available: Personally I like to keep my to-do list on my phone using Microsoft To Do, but it's best that you choose a solution that works for you.
---
4. Listen to music
I've used music as a way to focus on my writing for years now and it's always my number-one solution to a distracted brain. Now, this technique might not work for everyone.
I have ADHD so my brain is both my best tool and worst enemy. While it is great for coming up with new ideas on the fly, it does tend to wander to a thousand different subjects a minute, which at times makes focusing difficult.
Music is usually the perfect antidote to my wandering mind, and blocks out any of the little distractions that would otherwise pull my attention away from the task at hand.
Research suggests that this solution is counterproductive for some and beneficial for others, so give it a try and see if some background tunes are just what you need.
Tips for listening to music:
Obviously not all music is the same and therefore certain songs will most likely produce different levels of focus. Here are a couple tips for using music to your advantage.
Try to avoid music with words: This is especially true for writers. Listening to the lyrics can ultimately prove more distracting than any silence. Instead, opt for soundtracks, classical music, or any other type of lyricless tune.
Don't listen to your favorite songs: If lyricless classical music or soundtracks are just not for you, then try to at least pick out songs that you don't know so you don't find yourself singing along and while you try to work.
---
5. Hide the distractions
Hoo boy, here we go. Whether it's your smartphone, social media, YouTube, your office TV, or your cat walking across your keyboard (it's been a daily occurrence here in my office while I work from home), there are distractions everywhere.
Minimizing distractions is one of the best ways to maintain your focus while working, whether you're in the office or at home.
Tips for hiding your distractions:
Now, I'm not saying you should lock your cat away in a closet or something. My cat is an adorable Maine coon and she deserves full reign and dominion of this household. However, I do have a couple tips that'll help you minimize those other distractions and leave you free to focus on your work.
Turn off the data on your phone: This is my girlfriend's go-to method for staying off of social media in the workplace, which I really need to start doing myself at certain times. By turning off your data, you still are accessible for phone calls and work texts, but you eliminate all of your social notifications from Facebook, Twitter, or whatever other internet-based application is sucking away your attention.
Use a browser focus application: Maybe your phone isn't the problem; instead it's your propensity to surf the web on your computer that takes up all of your focus. Applications like

StayFocusd

are the perfect solution for limiting your ability to access time-wasting websites.
---
6. Set deadlines for yourself
There's nothing quite like a hard deadline to hold yourself accountable. This is a particularly powerful technique that I use to motivate myself to work. I am constantly setting deadlines for myself to write articles, finish projects, and complete the chores that need to be done each day.
Tips for setting deadlines for yourself:
While the strategy seems self explanatory, I have a couple tips that'll make it easier for you to set deadlines and stick to them.
Announce your deadline to your superior: I typically let my editors know when they ought to expect an article submission from me, not just so they know when they'll receive content, but also to hold myself accountable.
Only grant yourself allowances if absolutely necessary: This technique requires a lot of self discipline. We've all been in the position where we make excuses for why we can push off a task to a later date. At the end of the day, it's up to you to only grant those exceptions when it is absolutely necessary and not just when it seems convenient.
---
7. Don't forget to take breaks
We aren't machines, and it's obvious that none of us can continuously work forever. It's important to schedule regular breaks in between your work sessions in order to maintain your focus, drive, and sanity.
Tips for taking breaks:
That's right, I even have a couple tips for helping you relax. Is this considered mansplaining? I'm not sure but here it goes.
Try to break away from technology: Not every break should be going from your glowing computer screen to a glowing television chock full of binge worthy Netflix shows. It's important to get a break from technology in order to rest your eyes and recuperate your mind. Personally, I like to schedule hikes for my extended breaks (this is a benefit I enjoy about living in Oregon) but if that's not your thing, it doesn't matter what you choose so long as you're taking some time away from staring at glowing rectangles.
Get up and walk around: Make sure some of your breaks include some movement away from your desk. Walking around is the perfect way to get your blood flowing freely, which will help you focus better once you return to work.
---
The best project management tools to help you stay focused at work
Now that you're armed with some strategies for maintaining your focus at work, here are some of my top picks for project management software to apply those tips and stay focused.
I've accounted for different users and selected these organization apps based on their user needs, with each one representing a specific demographic.
1. Microsoft To Do
This is my number one, go-to productivity app for prioritizing and organizing my personal and daily work tasks. First off, I love that the app is free, unlike other similar apps that hide certain features behind subscriptions. Second, I love the simple user interface and intuitive nature of this tool.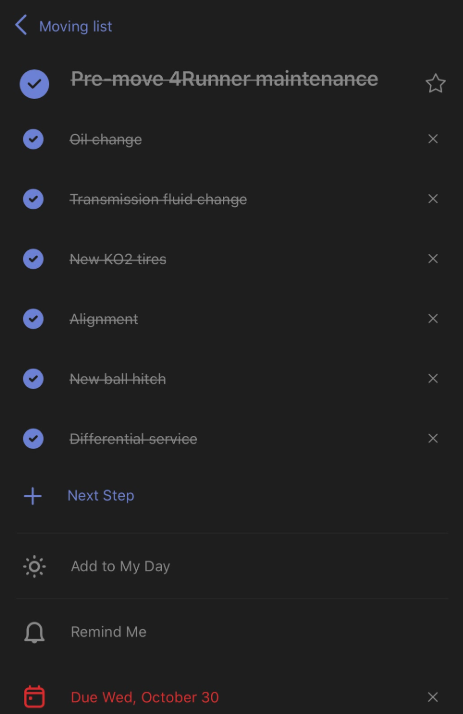 I even used Microsoft To Do to organize and plan my cross-country move from Washington D.C. to Portland, Oregon. That was my first test drive for that application and I've used it ever since.
Planning out my daily, weekly, and even monthly tasks on this app is fantastic for keeping myself focused on my work. This is a great tool for single users and freelancers; however, it is not very conducive to organizing team-based work, so keep that in mind when using it.
2. monday.com
When it comes to managing teams, tasks, and project planning, it's hard to find a better platform than monday.com. I named this project management tool my top-rated pick on The Blueprint, and for good reason.
monday.com incorporates nearly everything you'd need to manage a team-based project in an easy-to-understand package at a relatively reasonable price.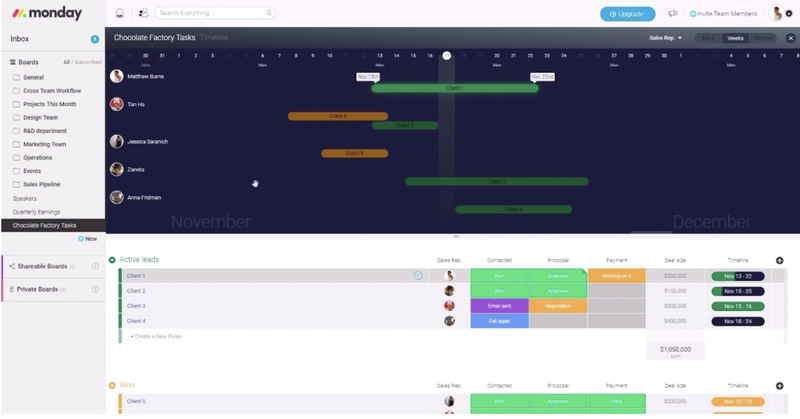 When it comes to maintaining focus, this is a great tool for keeping your team accountable for their work and managing workloads in order to avoid burnouts that kill focus and motivation.
That being said, I wouldn't recommend this platform for single users due to the fact that most of the features would be wasted and left unused. This is definitely a better pick for larger teams with bigger budgets.
3. Basecamp
I chose Basecamp as the perfect middle-of-the-road tool for both larger teams and single users.
Basecamp is great for organizing your tasks in a simple list and/or calendar format (perfect for creating a project schedule), it offers a fantastic free software option for freelancers, and it is hands down the easiest project management tool that I've ever reviewed.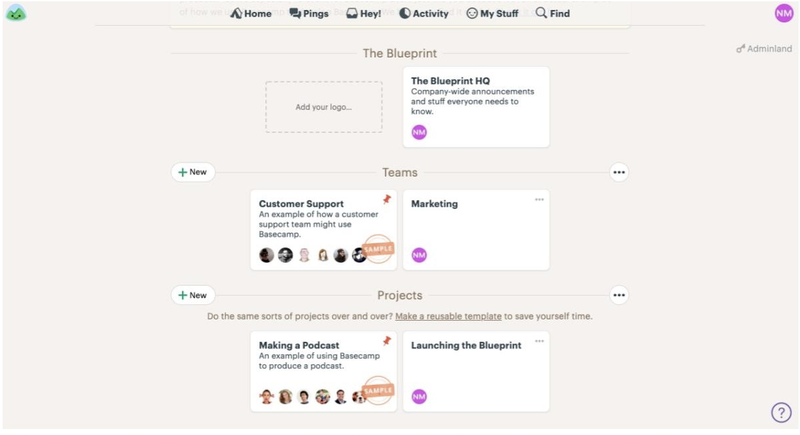 You'll have no issues adapting Basecamp to most basic projects. However, it's important to keep in mind that this is not a robust system that offers complex task management features such as task dependencies, native work reports, and Gantt charts.
This is the perfect tool for tracking your projects and holding yourself accountable while you focus on your work.
---
The Blueprint wants to help you improve everything about your work
Whether it's finding a new software option, marketing strategy, or general work practice, we at The Blueprint want to help you find the right tools, resources, and business strategies that'll take you from good to great!
It doesn't matter if we're dealing with uncertain times or it's business as usual, we're always releasing new and helpful content in the form of software reviews, comparisons, and how-to guides.