The power of good copy is vastly underrated. But if you want to boost open rates and increase the number of clicks, you need to supercharge your email copy.
While impeccable spelling and grammar are obviously key, it goes way beyond that. Every piece of copy you put in front of your prospects or customers needs to be well thought out if you want to win business and garner loyalty.
Take a look at the email marketing examples below to get inspiration for how you can put our tips into action.
The 5 best tips for writing high-converting marketing emails.
Write an engaging subject line
Don't forget the preview text
Stay on-brand
Make your copy compelling and easy to understand
Add multiple calls to action
---
1. Write an engaging subject line
A subject line is the first thing a subscriber sees. Given the large volume of emails people receive every day, the subject line needs to be interesting enough to make them open the message. Some tips on email copywriting best practices for putting together a good subject line include:
Keep it short and concise, eliminating any filler words
Make it topical
Include stats or numbers
Keep it simple
Don't be misleading
Be honest but not offensive
Stay on-brand
Use emojis if they fit with your brand
Another top tip is to personalize the subject line. This can be as simple as adding the recipient's name — which you can easily do with email marketing software — or you can segment your email lists and send content tailored to a subscriber's past behavior, demographic data, or interests.
British fashion retailer Next personalizes all its email communications, whether for a sale email, newsletter, or abandoned cart message. The subject of this cart abandonment email uses the name and emojis, which can be effective when sparingly used.

---
2. Don't forget the preview text
While preview text has been around for several years, it's something many companies neglect when creating email newsletters. While all email providers show the sender and subject line, some, such as Gmail, show additional text alongside the subject line. This is known as preview text.
Preview text gives you the opportunity to add additional information about your subject line. This means you can still keep the subject line short but also provide enough information to encourage your recipient to open your email.
Sports retailer lululemon writes catchy but short and simple email subject lines and then complements them with more specific detail in the preview text.

---
3. Stay on-brand
When you're first starting out, it takes time to work out how you want to portray your brand. You need to work on your tone of voice, brand personality, and style. These will naturally evolve over time, or you may even make a conscious shift to a different brand identity.
It's important to have your brand identity top of mind when writing email marketing copy. While the current trend for brands is to be quirky and funny, if you want to stand out from the crowd you need to develop your own email writing style.
Choose words, sentences, and email structures that accurately portray your company's brand identity. If you're working for a medical device company, then it probably isn't appropriate to be telling jokes and writing in an informal manner.
There are also circumstances when you need to take a more serious tone, so don't be tone deaf.
What's most important is making sure you're engaging with your audience and that what you're saying resonates with your target customers. This applies to all elements of your email — the subject line, calls to action (CTAs), or images. All of it needs to align with your brand identity.
Running event organization parkrun normally sends thoughtful emails that consider both the audience and the goal. They stay true to the organization's mission and values, which are to be inclusive and bring people together through a sense of community.
The tone of this email marketing campaign is thoughtful and sensitive, but it's also engaging and concise.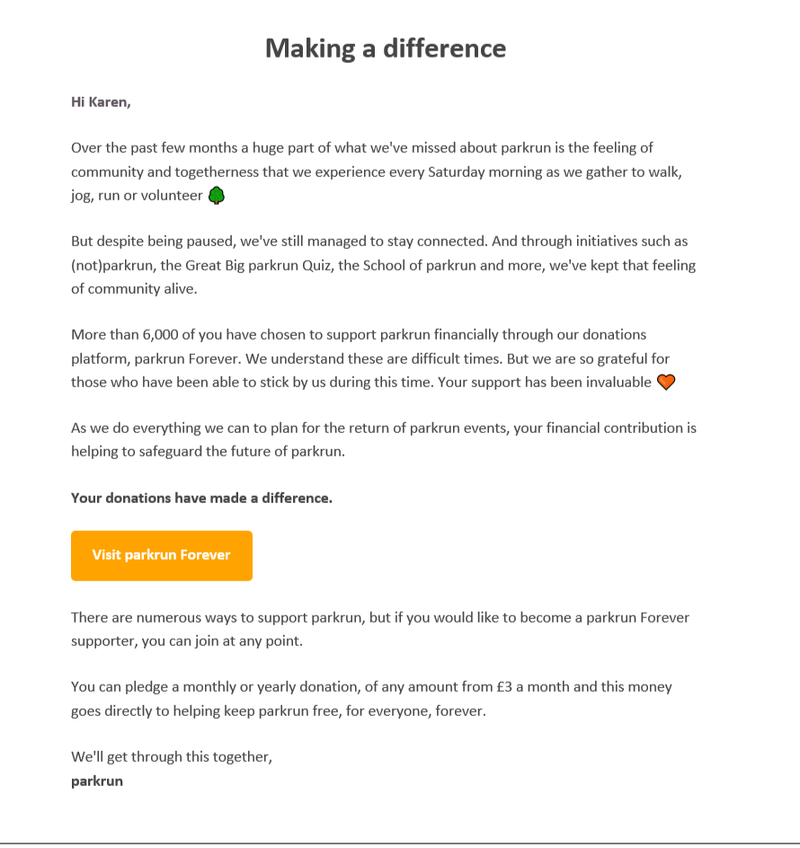 ---
4. Make your copy compelling and easy to understand
The aim of any marketing email is to connect with your audience and compel it to take action, no matter which part of the marketing funnel you target. To do that, you need to find ways to engage with people through the words you choose. This is why it's important to know your audience.
Refer to your buyer personas and craft copy that matches user behavior and intent. Use data you've already collected on email subscribers and current or past customers. If you use an email marketing solution, you can easily collect, centralize, and analyze your data.
No matter what your house style says, one email marketing best practice you should adhere to is keeping copy to a minimum. Readers are pressed for time, and if they can't quickly find out what they want to know, they will bounce. Make your emails scannable so readers can quickly find the information they need.
Sports retailer Sportsshoes.com keeps text to a minimum, instead using striking images and strong CTAs to encourage recipients to read and click.
---
5. Add multiple calls to action
What's the goal of your email? It's important to establish what you hope to achieve with each email campaign idea before you start creating text and designing the message.
Do you want to sell certain products? Get people to subscribe to your social media channels? Or build your email list?
Once you've determined your goal, you need to add CTAs that will lead users to click on the links in your email. Some marketers only add one CTA at the bottom of the message, but that assumes all recipients will read the entire newsletter. (Spoiler alert: They won't.)
That's why you need CTAs throughout the copy, and they need to be carefully worded. If your CTAs are ambiguous, or it's not obvious that it's a clickable link, then you won't get clicks. Spend time thinking about which words you should use to encourage users to click. Test different options to see what works best.
This email from cosmetic brand Charlotte Tilbury has multiple CTAs throughout the message. While it's a good idea to use different CTAs, the "Shop Now" text is clear and straight to the point.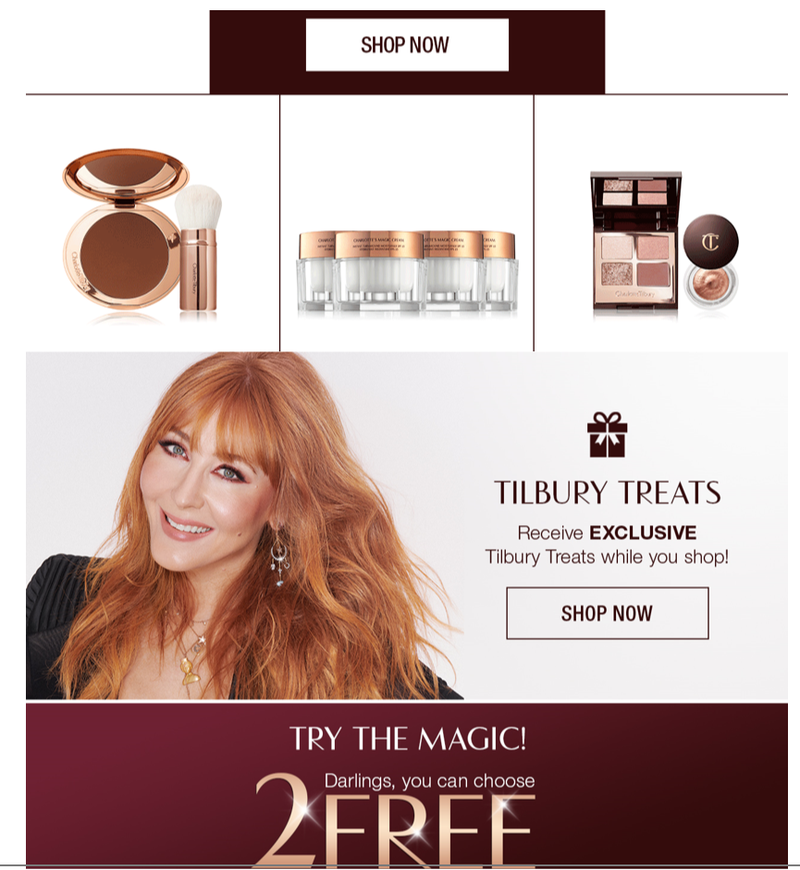 ---
Remember to test and track everything
You're unlikely to get your email marketing strategy and copy right the first time, so don't beat yourself up if you don't immediately get results.
A much bigger crime than not getting immediate results is not testing different elements and tracking what works and what doesn't. You need to know what you can do to improve your performance.
Today's crop of email marketing solutions lets you A/B test just about everything from subject lines to preview text to images to CTAs to body copy. You can test multiple versions of the same email to see which one drive the best results and then make changes based on these data.
This testing never ends. What works today might not work tomorrow, so you need to constantly test and track to reach your goals.