Press releases are great branding and credibility tools for a business and function as an integral part of a marketing campaign. They generate publicity and enable increased integrated marketing as they use multiple media channels. Marketers who incorporate press releases into their marketing plan may be able to reach customers they aren't targeting with their advertisements.
When it comes to small business marketing, press releases are a great way for small local businesses to quickly get their message to the community. According to Pew Research, 77% of Americans get their local news online. Press releases spread your message to online news outlets and social media influencers.
---
Overview: What is a press release?
A press release is an official, succinct news announcement that organizations issue to the news media. They often are just a page or two long. Companies provide just enough information so news outlets have sufficient information for a story.
Press releases inform customers and prospective customers about new products and company updates. They are a unique way of outsourcing marketing as journalists are tasked with writing news pieces about the company.
---
Types of press releases
Press releases serve a few purposes. They are used to announce new products, recall products for safety issues, inform investors of a change, or announce a merger or acquisition. Each different type of press release is slightly different and focuses on different details.
New product launch press releases
New product press releases announce the launch of your latest product. They focus on the features and benefits of the product. New product releases can include visuals of customers using the product.
Event press releases
These releases can be used to announce events to ensure that they are well-attended. Event press releases should spark the reader's interest with details that make the event unique. They should also include the important details of the event. Event press releases need to be sent out in a timely manner — if they are sent out too late, people will have scheduling conflicts and won't attend the event.
Mergers and acquisitions
Investors, especially, are interested in a company's mergers and acquisitions. These should include which companies are merging or being acquired and when it is happening. You may also want to include a projection on how it will impact the company in the future.
Product updates
Product update press releases will let the public know about new features and benefits that are available. One brand that is constantly releasing product updates is Apple, which recently updated its iPhone 12 to iPhone 12 Pro Max.
Executive hirings
Press releases often are written for changes in executive staffing. Investors are interested in knowing who is running the company they are investing in and what their plans for the future are. These often include information about the new executive's background and experience.
---
How to write a press release to boost brand awareness
A great press release boosts brand awareness by generating attention from large media outlets, influencers, and social media. Keep your brand development in mind as you write the release. A well-written press release aligns your brand strategy with your brand objectives.
Follow these steps to ensure that your press release sparks interest and develops brand awareness.
1. The press release format
Press release writing is made easier with a well-structured press release template. It starts with an enticing title with an italicized subheading that summarizes the news.
The news location is located in the opening line. Next, two or three paragraphs add information. Important facts and figures are usually bulleted in the information section. At the bottom of the release are the company description and the contact information. In sum, your press release should contain:
Title
Italicized subheading summarizing the news
News location and news peg in opening line
Informational paragraphs
Bulleted facts and figures
Closing paragraph
Contact information
2. Create an irresistible headline
The goal of a press release headline should be to impress the journalist. Most journalists receive over 200 email pitches per day. If your headline doesn't stand out, it won't be opened. Be succinct and spark interest with unique details. Keep your headline under 10 words and use those words to summarize the key points of the story.
3. Write your lede
The lede is the first paragraph in the press release. It only contains about 35 to 45 words, but it sums up the most pertinent aspects of the press release. It should answer the "5 Ws" as concisely as possible.
Who: Who's involved? Which company?
What: What is happening?
Where: Where is this occurring?
When: When will the event or story take place?
Why: Why should I care? Why is this relevant to the media outlets?
You may want to include facts and statistics in your lede. Impressive statistics will often hook the journalist and provide context and credibility for your story. They are a great way to spark interest.
4. Write your body paragraphs
The body of your press release is the place to describe all the relevant details of the story and how your brand is involved. Keep these paragraphs focused on the relevant details.
Use the most important details at the beginning of the body. Provide the journalist with all the information they need to create the story. Don't leave out important elements and factual gaps. Remember, the journalist is not looking for a research position.
5. Insert supporting quotes
Quotes boost credibility and add personality to the press release. Readers connect with a story through quotes. When writing a press release, the quotes you use will be from your spokesperson.
Spokespersons are usually one of the founders or senior team members of the business. This is the person that will represent your business. They will likely be asked for further interviews if your story gets published, so make sure that the spokesperson is up to the task.
Select quotes that deliver the reason behind the story. The quotes should communicate passion and the brand's message. When writing quotes, introduce the spokesperson with their full name and position, then begin the quote. Your goal should be two or three paragraphs of quotes.
6. Closing paragraph
The closing paragraph helps the journalist to see that your business is one to watch and one that deserves their attention. Wrap it up with an endorsement or favorable market data that points to what's in store in the future for the business.
7. Add the media contact details
Include the media contact details in a section at the bottom of the page to allow journalists to get in touch with you. This should include your business email address and phone number to use as a point of contact if they want to reach out to you.
---
3 examples of press releases you can learn from
Examining press releases can give you a good idea of how to write your own press release. In these examples, Peloton issued a press release to announce a partnership, Wow Wow Lemonade introduces new menu items, and Apple updates its iPhone 12 products.
1. Peloton
A press release announcing the partnership of Beyonce and Peloton does a great job at getting right to the point. As you see, it includes the brand and the influencer involved in the headline. It grabs attention by referring to the partnership as "unprecedented."
The lede sums up the brand partnership and why it is unique. It involves a powerful award-winning singer and a leading fitness brand.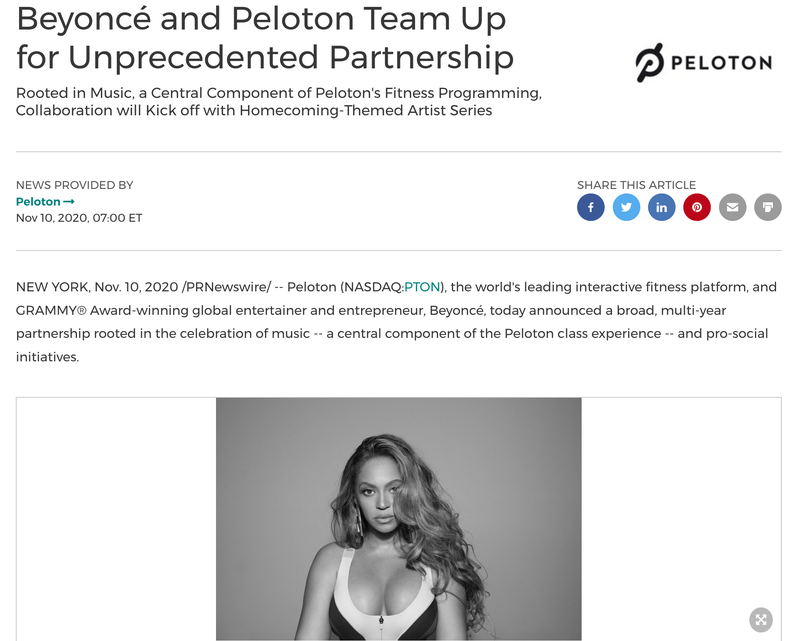 The body paragraphs elaborate more on how Beyonce will be working with Peloton specifically to market to black students getting ready for homecoming.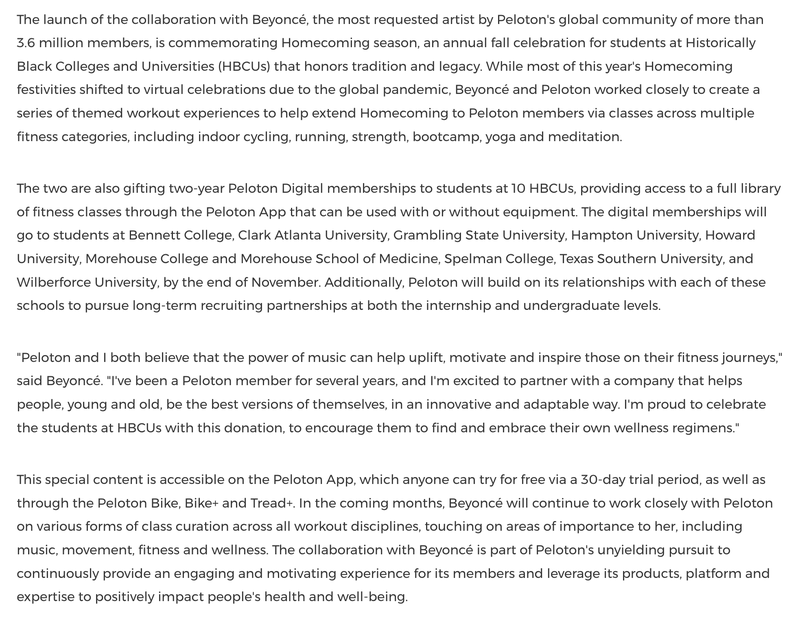 After the main body paragraphs, we see the supporting quotes from the Peloton spokesperson:
In this press release, the closing paragraph is used to give more information about the Peloton business.

2. Wow Wow Hawaiian Lemonade
Here's an example of a product update press release. Wow Wow Hawaiian Lemonade announces new options for its lunch menu. The title entices you to keep reading and discover what new options Wow Wow Hawaiian Lemonade will be serving up.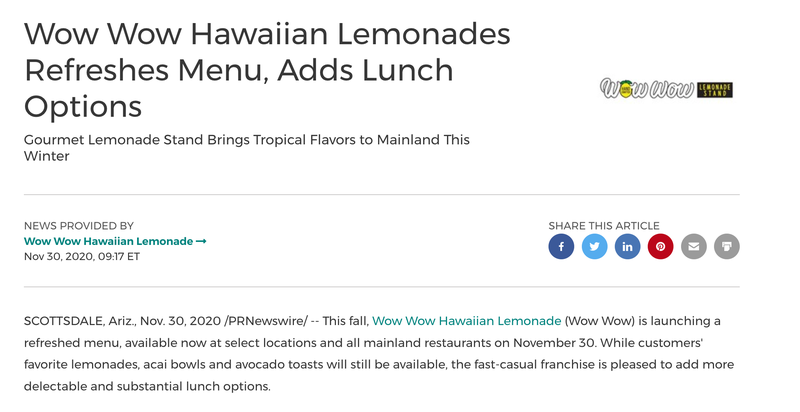 This lede lets the reader know that they are keeping the customer favorites and adding some delectable new items.
The body paragraphs give us information about how they decided to add some grain bowls and flatbread sandwiches to their menu. It gives information about the delicious ingredients that they will be using in these new dishes.

The concluding paragraph summarizes what will be on the menu and how Wow Wow will continue to serve its customers. It also includes the contact information for more details on the updated menu.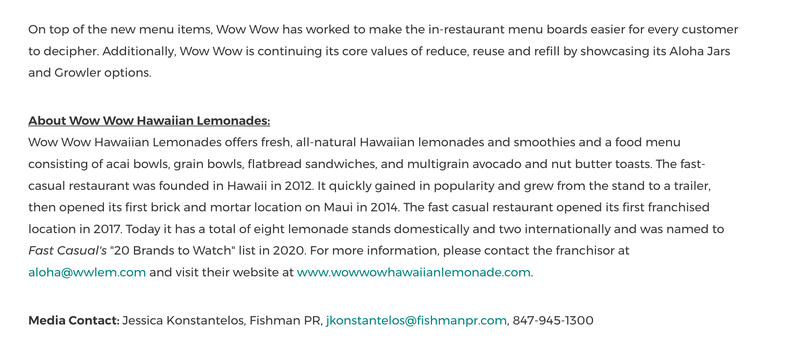 3. Apple
In the example below, Apple issues product update releases to generate new excitement and sales. Apple announces the new iPhone 12 Pro Max and iPhone 12 mini are now on sale.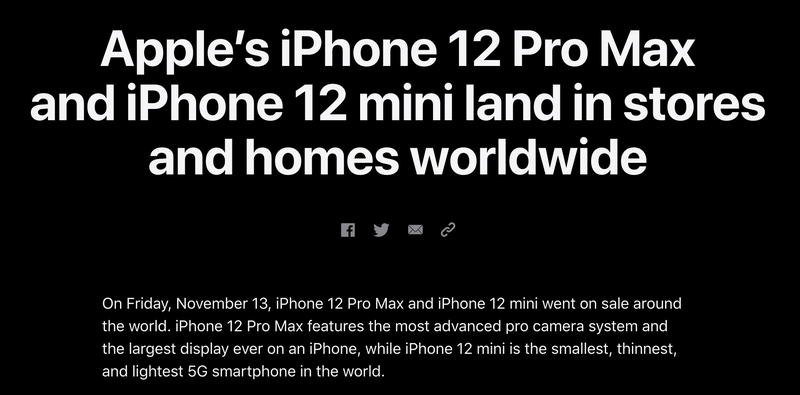 The lede lets you know when these new iPhone products will go on sale. It also details why these two versions of the iPhone are unique. One is the smallest, thinnest, and lightest 5G smartphone available. The other one has the most advanced pro camera system.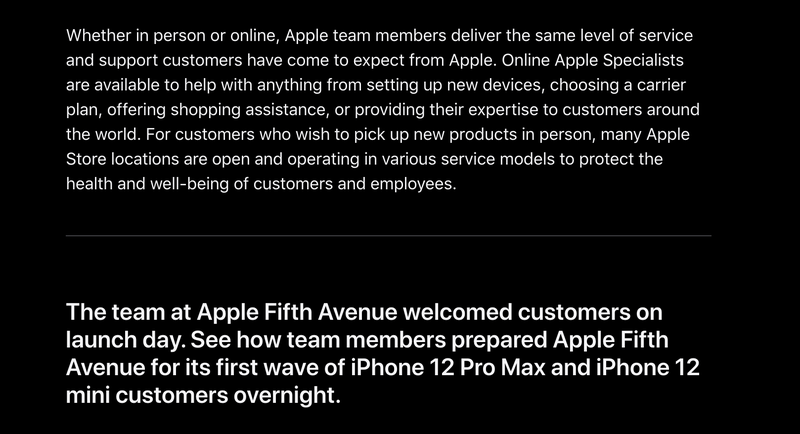 Apple uses the body paragraphs to emphasize their commitment to customer service. In this press release, Apple also uses visuals of customers using its product.
It closes with the contact information laid out in a simple format. They include the email addresses and the phone numbers of the media contacts.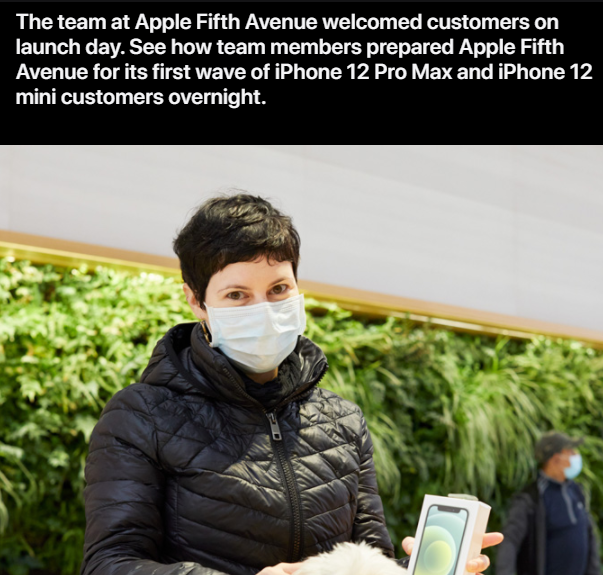 ---
Creating success with press releases
Press releases are a great way to keep the public updated on what is happening with your company. They are a key component of a great positioning strategy. Regular press releases should be a component of an integrated marketing plan. Start putting out a few different types of press releases on a regular basis to master the art of press release writing.
As you write your press release, make sure that you have an attention-grabbing headline, a succinct message, and the contact information journalists need to contact you. Once you've created a well-written press release, you need to distribute your press release. This can be done by contacting journalists or using a press release service to spread the news.