H&R Block was founded in 1955 by brothers Henry and Richard Bloch. Today, with more than 12,000 retail tax offices worldwide, H&R Block is probably the best known name in tax preparation.
Expanding on their retail offerings, H&R Block now offers tax preparation software that you can install on your desktop or laptop computer as well as an online tax preparation application that has grown in popularity in recent years.
---
Who is H&R Block for?
H&R Block Online offers a variety of plans that are suitable for everyone from single filers with uncomplicated returns to sole proprietors and small business owners who want to maximize their small business deductions, while also preparing their personal return.
---
H&R Block's features
With an uncluttered user interface, H&R Block is a good choice for those completing their own tax returns online for the first time.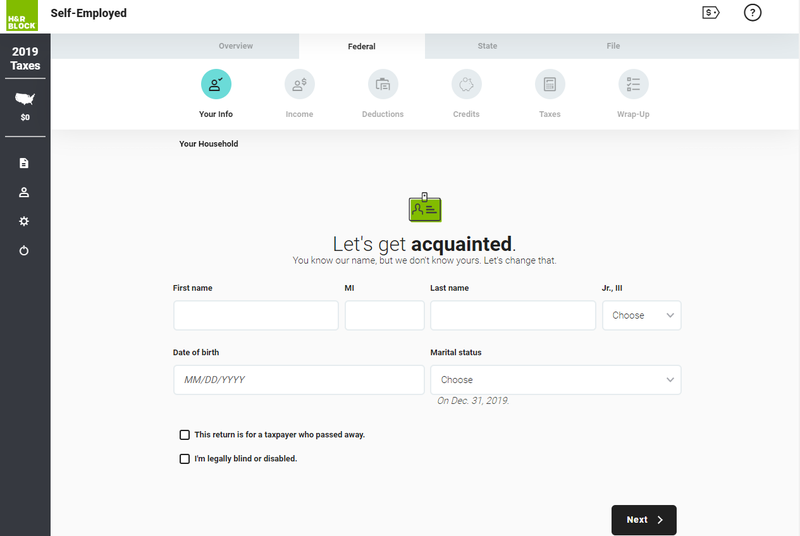 H&R Block offers four plans, including a free plan for those with uncomplicated returns, as well as H&R Block Deluxe and H&R Block Premium plans.
However, business owners will want to use their Self-Employed Online plan, which offers complete business income and deduction tools as well as a tax entry process designed for ride-share drivers.
Some of the useful features in the Self-Employed Online plan include:
Business Partner: The Business Partner tool provides assistance in finding deductions common for your type of business.
Business Booster: A nice option for startups, the Business Booster lets you calculate and deduct any business startup costs.
Business Snapshot: The Business Snapshot provides you with all of the details related to your business in one single location.
Another great tool for business filers is the Small Business Tax Prep Checklist, which you can download from the H&R Block website. The checklist details all of the income and expenses you may need to include when preparing your tax return.
Manages self-employment and small business income
H&R Block allows you to enter your income from your small business as reported on 1099-NEC. You can also snap a photo of your 1099-NEC or import it directly into H&R Block, eliminating the need to enter multiple forms.
Maximizes deductions
H&R Block helps you maximize all of your deductions, not just those related to your business income.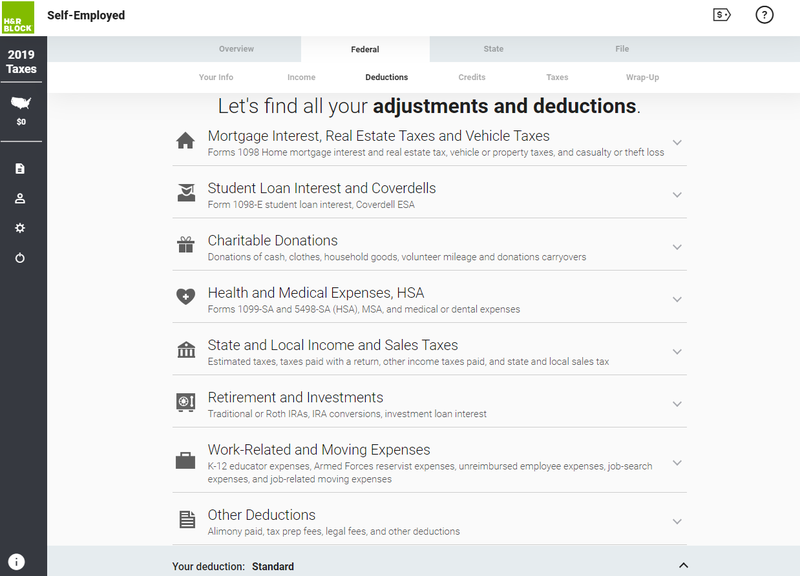 When entering your business expenses, H&R Block automatically categorizes them and places them on IRS Schedule C, which is filed with your 1040. Schedule C is required in order to report self-employment or small business income.
The application will also lead you through the process of entering a home office deduction, if it applies to your situation, as well as vehicle and asset depreciation.
Imports W-2 and 1099 information
Along with importing W-2 and 1099 information, H&R Block also lets you import 1095-A, 1098, 1098,E, 1098-T, 1099-B, 1099-DIV, 1099-INT, and 1099-R. Along with importing, you can also snap a picture of the document and upload it directly to the application.
Mobile apps
H&R Block offers a mobile app for both iOS and Android devices, allowing you to prepare your complete tax return using your smartphone.
Like the online version, the H&R Block app includes two-factor authentication which is available as soon as you create your account.
Using your cell phone, you can also upload a PDF of any related tax documents, including last year's taxes, as well as W-2s and 1099s.
One-tap help is also available directly from your mobile app.
Data Security
H&R Block has numerous security measures in place for online users, including a secure connection that automatically encrypts all data.
The application uses bank-level encryption during the transmission process to the IRS, and all data facilities where servers are stored are physically secured 24/7.
---
H&R Block's ease of use
Once you set up a username and password, you can use any of H&R Block's plans for free, paying when you're ready to file.
If you used H&R Block last year, you can access your tax return immediately. If you used another company to file your return, you have the option to upload it to H&R Block, though you don't have to.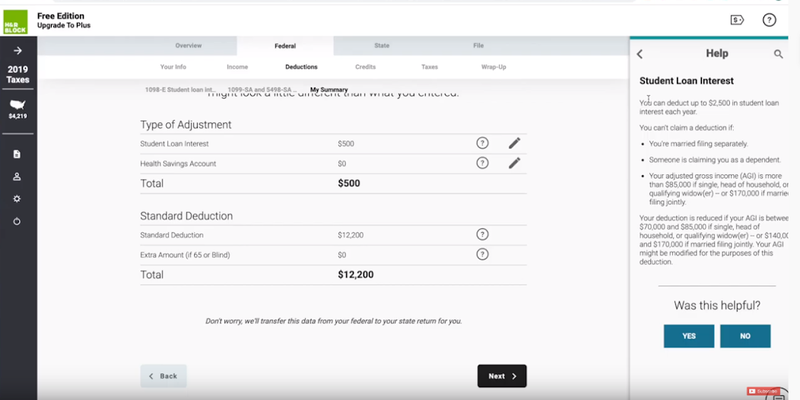 The user interface is easily navigated, with the onboarding questions appearing in the main part of the screen, while a menubar to the left keeps a running total of your refund amount or what you owe.
The menu bar also allows you to access your previous tax documents, account settings and information, or save your return and log out of the application, while the My Block option takes you to H&R Block website.
The application guides you smoothly through the entire tax preparation process, prompting you to enter the necessary details in order to get started on your return.
Once you add personal details such as your name, date of birth and marital status, you'll navigate to the next screen to add your Social Security number, as well as the name, Social Security number, and telephone number of your spouse.
While this is especially nice for new users, the onboarding process can drag on, with only one or two questions asked on each screen.
The final step poses general questions such as legal status, and whether you have dependents. You can then begin entering income and deduction details, along with any credits and taxes already paid.
Finally, the wrap up allows you to review the completed return for accuracy and add anything that may have been omitted.
---
H&R Block's pricing
H&R Block offers four online plans and pricing levels. With the exception of the Free Online plan and the Online Assist option for the Free Online plan, all other plans charge extra for state filing.
If you're unsure which plan is right for you, H&R Block will assist you in choosing the correct plan.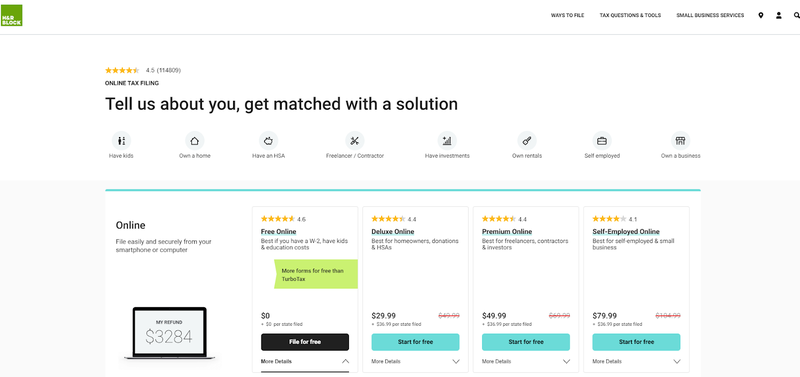 While a free plan is available for uncomplicated returns, regular plans start at $29.99 for federal filing, going up to $79.99, with state filing available at an additional cost of $36.99.
| Plan | Best for | Regular Price (Federal Only) | Federal Filing with Online Assist | State Filing Cost |
| --- | --- | --- | --- | --- |
| Free Online | Standard W-2 filing | $0 | $39.99 | $0 |
| Deluxe Online | Homeowners and those with charitable contributions | $29.99 | $69.99 | $36.99 |
| Premium Online | Freelancers, contractors, and investors | $49.99 | $109.99 | $36.99 |
| Self-Employed Online | Self-employed and small business owners | $79.99 | $139.99 | $36.99 |
An Online Assist plan is also offered for those that want real time access to accounting professionals.
---
H&R Block's support
H&R Block offers a variety of self-help options, including a searchable knowledge base, technical support, online filing assistance, and tax guidance for users.

While the Free Online version of H&R Block only offers chat assistance, all of the other plans offer both chat and phone support.
For on-demand assistance, you can also sign up for the Online Assist plan which includes complete tax preparation along with on-demand assistance from an enrolled agent, tax expert, or CPA.
---
Benefits of H&R Block
H&R Block offers their customers more tax filing options than the competition, with in-person filing, online filing, and a downloadable version available.
In its second year, H&R Block also offers Tax Pro Go, which allows you to have your taxes prepared by trained professionals online.
H&R Block also offers excellent help and support options mentioned earlier, along with the Tax Pro Review option, where a tax pro will review and sign your tax return and file it on your behalf.
---
Preparing taxes doesn't have to be difficult
Even if you've never prepared your own taxes before, H&R Block makes it easy, with intuitive user screens, an easy onboarding process, and the ability to import all tax documents including your prior year return. The ability to snap a picture of your W-2s and 1099s means a lot less work for you.
---
Frequently Asked Questions
Can I really file my tax return for free?
Not if you are a business owner. Though H&R Block does offer a free option, it is only for uncomplicated federal returns, and if you have to file a state return, it will cost you $36.99.
Does H&R Block offer a mobile app?
Yes, H&R Block does offer a free, full-featured mobile app for both iOS and Android smartphones, allowing you to enter information, request assistance, and file your return all from your phone.
Is there a live support option?
Technical support is available by telephone for all plans except the Free Online plan. For tax-related assistance, you can upgrade to the Online Assist plan, that gives you on-demand help from a tax professional such as an enrolled agent (EA) or CPA.

Looking for an online tax preparation program easy enough for anyone to use? Be sure to try H&R Block
Looking for an online tax preparation program easy enough for anyone to use? Be sure to try H&R Block
The Motley Fool has a Disclosure Policy. The Author and/or The Motley Fool may have an interest in companies mentioned.